Trump is not worth giving up liberty for
Hold him morally responsible for the riot at the Capitol. But let's not sacrifice free speech to do so.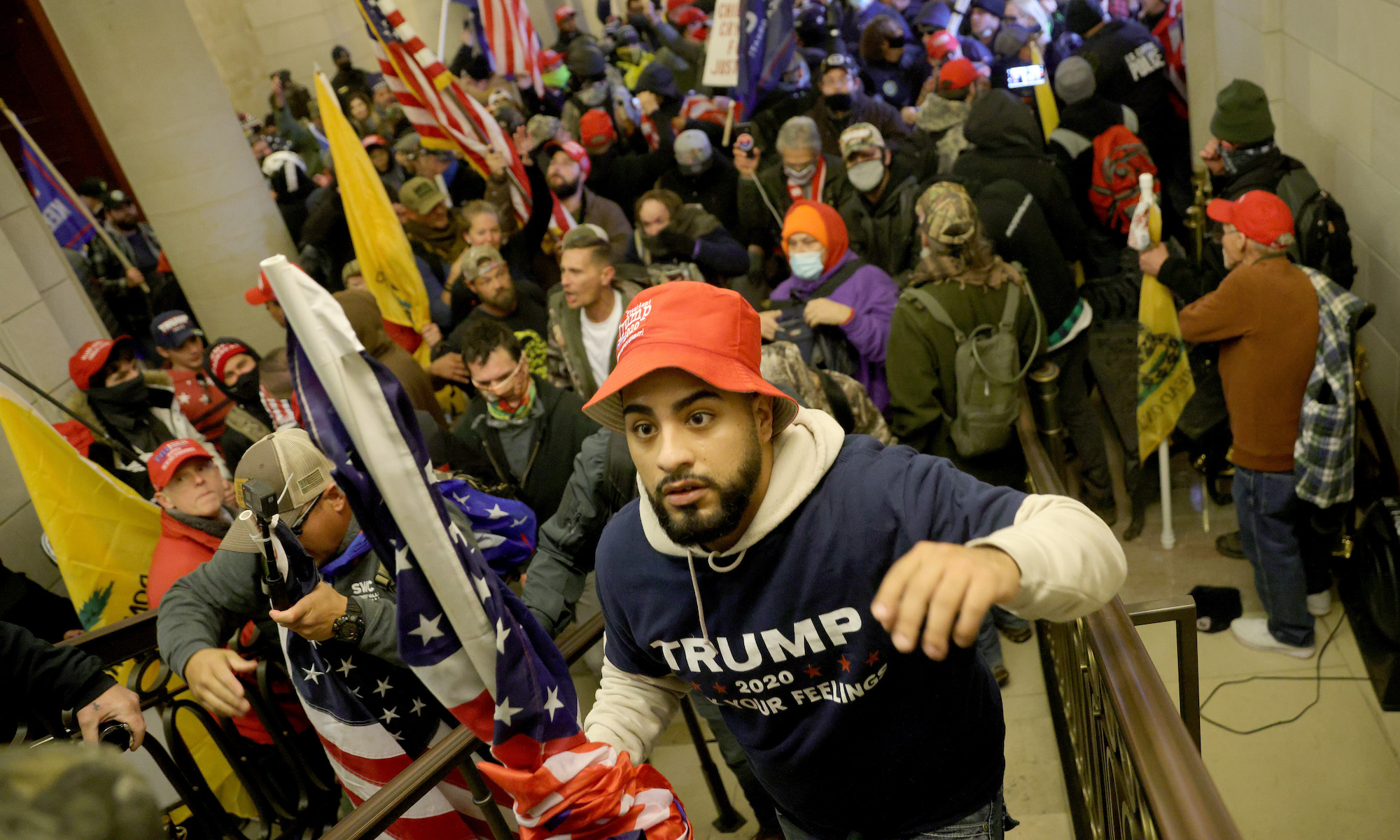 'Deplorable' is much too mild a criticism of the violent Trump fans who attacked, ransacked and defaced the Capitol last week, reportedly smearing the walls with shit and beating a police officer to death with a fire extinguisher. Their rampage was both stunning and predictable – the eruption of Trump Derangement Syndrome that many of us have long feared. This self-identified law-and-order president assured his rioters that they were 'very special' and he 'loved' them, echoing his previous praise of the armed thugs who stormed the Michigan state capitol as 'as very good people'.
Holed up in the White House, he watched the mob he had inspired with pleasure, according to credible and very plausible accounts: Republican Senator Ben Sasse reported hearing from administration officials that 'Donald Trump was walking around the White House confused about why other people on his team weren't as excited as he was as you had rioters pushing against Capitol Police trying to get into the building… He was delighted.'
Of course, he had reneged on his promise to join the surge to the Capitol, after actively encouraging it. But he should not and probably will not be prosecuted for incitement. Put aside the possibility that he will issue a questionable self-pardon, or that he'll smarten up and resign on condition that an acting President Pence pardon him for multiple, prosecutable federal offenses, like his recorded demand to Georgia's secretary of state to 'find' thousands of votes invalidating Biden's statewide victory. Trump's inflammatory call on his fans to march to the Capitol, like many of his rantings, was depraved and potentially dangerous, but to protect political advocacy, incitement is very narrowly defined under US law as speech that is intended and likely to cause imminent illegal action. Trump toed that line (as he has in the past), but he did not quite cross it. Let us not try holding him legally liable for Wednesday's attack, without ever minimising, ignoring or forgetting his moral and political responsibility for inspiring it.
He shares that responsibility with Republican leaders and media stars across the country who helped spread his big, treacherous lies about a fraudulent election (contradicted even by his former attorney general and fixer Bill Barr). He shares that responsibility with the eight senators and 139 House members who voted for autocratic, outrageously unconstitutional efforts to invalidate election results in states that Trump lost but wanted to win. They voted to hand Trump the election even as they reconvened after narrowly escaping a violent mob spurred on by the lies to which their votes would lend additional credence.
Donald Trump will leave office in days but many members of Congress who have enthusiastically aided and abetted him will remain behind, deceiving and exploiting his fervent fans, some of whom will continue justifying if not engaging in violence. Social media is rife with chatter promising violent confrontations in Washington and across the country as Biden's inauguration nears. We can hope that the astonishing failures of federal law enforcement to prepare for what had been a promised attack on the Capitol will not be repeated.
The more we learn about that attack the more chilling it becomes. It killed five people and injured many others, but could have ended in mass casualties, assassinations (vice-president Pence and House speaker Pelosi were reportedly targeted), and perhaps a prolonged hostage crisis, engineered by a contingent of armed militia members and white supremacists. They remain active.
As FBI director Christopher Wray warned months ago (to Trump's displeasure), white-supremacist groups pose a significant domestic terror threat. That threat, evidenced in the Capitol attack, does not justify new domestic terror legislation, which would likely be more successful in violating civil liberties than deterring terror. But it does require competent law enforcement and honest, patriotic elected officials committed to debunking instead of disseminating deranged conspiracy theories.
Maybe the power of Trumpists will finally begin to decline. Republican leaders who enabled Trump for four years are turning on him in the wake of the attack on the Capitol and Democratic upsets in two Georgia Senate races that his incessant, obsessive lies about a rigged election helped ensure. As House and Senate Republicans cowered in safe rooms, waiting for rioters to disperse, maybe some realised that big lies have big consequences. The attack on the Capitol was not Kristallnacht, and its perpetrators represent a minority of Americans, but it could have been the Reichstag Fire. It doesn't have to happen here.
Wendy Kaminer is an author, a lawyer and a former national board member of the American Civil Liberties Union.
Picture by: Getty.
To enquire about republishing spiked's content, a right to reply or to request a correction, please contact the managing editor, Viv Regan.