A despicable attack on American democracy
Trump is to blame for the carnage at the Capitol, and Trumpism now stands discredited.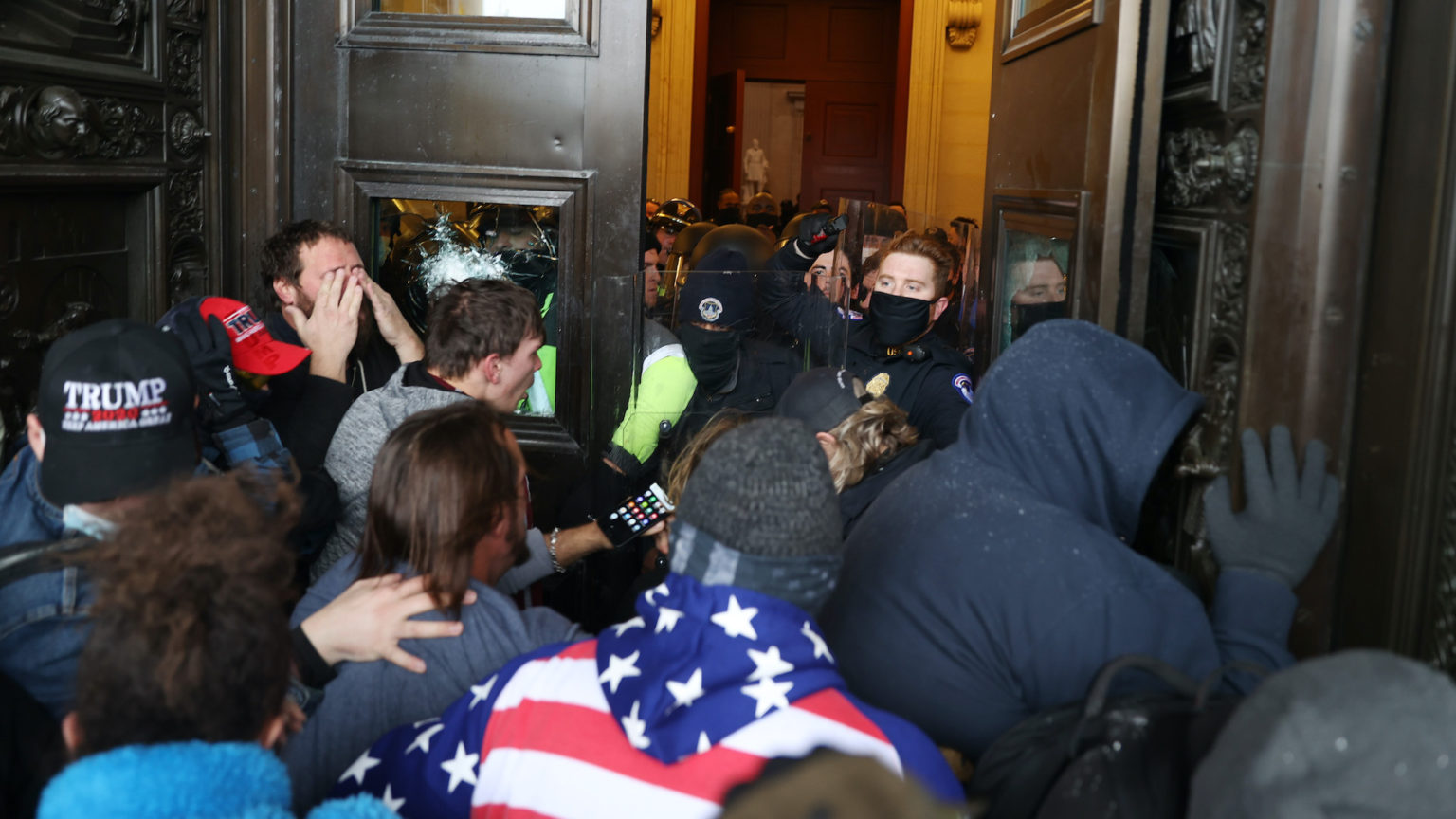 Most Americans watched with horror and disgust yesterday as a pro-Trump mob stormed the Capitol. No, this act was not a coup, but it was appalling and despicable nonetheless. It was an attack that struck at the heart of American democracy.
This was not a peaceful protest, like the marches that are regular events in DC. Arriving at the Capitol, rioters tore away barriers, assaulted police, climbed up walls, smashed windows, tore up offices. Yes, there were bizarre and carnival-like scenes, with guys in horn-hats and other weird costumes taking selfies on the floor of the senate. But no, this was not a joke. It was a violent attack, leaving four dead, including a woman who was shot and killed inside the Capitol.
Some will say, 'what about' the riots of the summer? Democratic Party leaders' tolerant stances towards those riots may have somewhat normalised the notion of public violence and destruction, but that fact doesn't excuse yesterday's escapades. These attempts to relativise – and ultimately say 'so what' – about what happened also overlook two key features about today's events.
First, consider the place. The Capitol is a sacred monument in America. Not in a religious sense, nor in a triumphalist way either. It is a secular type of sacredness, because it upholds the ideal of the people's democracy, where representatives come together to express the will of the people. You only have to watch the movie Mr Smith Goes to Washington to know that this is not an elitist notion. The ransacking of the Capitol today – something unheard-of in our lifetimes – shocked so many because it is a type of desecration.
Second, consider the context. The mob's cause was not worthy, or even one that had any basis in reality. This was an attempt by a small minority to thwart the majority's verdict in an election, all based on the conspiracy theory that there was massive voter fraud. As the mob entered the Capitol, members of Congress were in the process of certifying the results. And for hours the rioters did stop the process – but thankfully Congress reconvened later in the evening to complete the electoral count.
While every individual storming the Capitol is ultimately responsible for their own actions (and should be prosecuted for them), Donald Trump deserves a large share of the blame for inciting them – inciting them to attack Congress in order to stop his rival from taking office.
For weeks Trump fanned the flames we saw today by claiming the election was stolen, and seeking to overturn the outcome. He called on his supporters to descend on Washington, where it would be 'wild', and warned others that they might become violent if they don't get their way. In a speech earlier in the day yesterday, Trump said:
'All of us here today do not want to see our election victory stolen by emboldened radical Democrats. We will never give up. We will never concede. It will never happen.'
Trump repeatedly told his supporters that election officials were corrupt, that legal avenues had been exhausted, that they needed to take back their country – and to head up Pennsylvania Avenue to the Capitol. It's not a large leap from that message to the charge on Congress.
Worse, Trump did not condemn the rioters. The president who last year threatened to give Antifa and others who laid siege to a federal courthouse in Portland 10 years in prison had no words of warning to yesterday's mob. In a video recorded a couple of hours after the attack, Trump repeated his lies about the election being stolen, and told the people smashing windows and trying to stop the election certification: 'We love you. You're very special.' In a later tweet, he was even more sympathetic, saying 'These are the things and events that happen' when an election is stolen. Gleefully, he concluded: 'Remember this day forever!'
This feels like the end for both Trump and his diehard supporters. It's like they know, deep down, that they are defeated, and they just want to burn things down as they exit. There is no higher purpose. In a tweet, the journalist Jennie Jarvie put it well: 'What a fitting (almost) end to Trump's presidency. Not a coup. Not an insurrection. But a weirdly threatening, blustery stage show, smashing windows and storming Congress only to fly the Confederate flag in the Senate chamber and pose for photos in Pelosi's office chair.'
Indeed, it is the anti-political aspect of yesterday's events that is so despairing. The destructiveness without real purpose is a form of nihilism, not radical politics. It is an indication of how degraded Trumpism has become. During his inauguration four years ago, Trump said he was elected to deal with 'American carnage'. Now it seems that all he can do is encourage carnage.
After the events of yesterday, Trumpism stands discredited in the eyes of many. But it is important that we don't let his demise bring down the entire populist project with him. Now, more than ever, it is important for those who want to orient politics around the needs and interests of working people to distance themselves from Trumpism. And the foundation of that argument needs to be based on building up democracy, not tearing it down.
To enquire about republishing spiked's content, a right to reply or to request a correction, please contact the managing editor, Viv Regan.