2020: the year civil liberty was suspended
We must not allow lockdown authoritarianism to live on after the pandemic.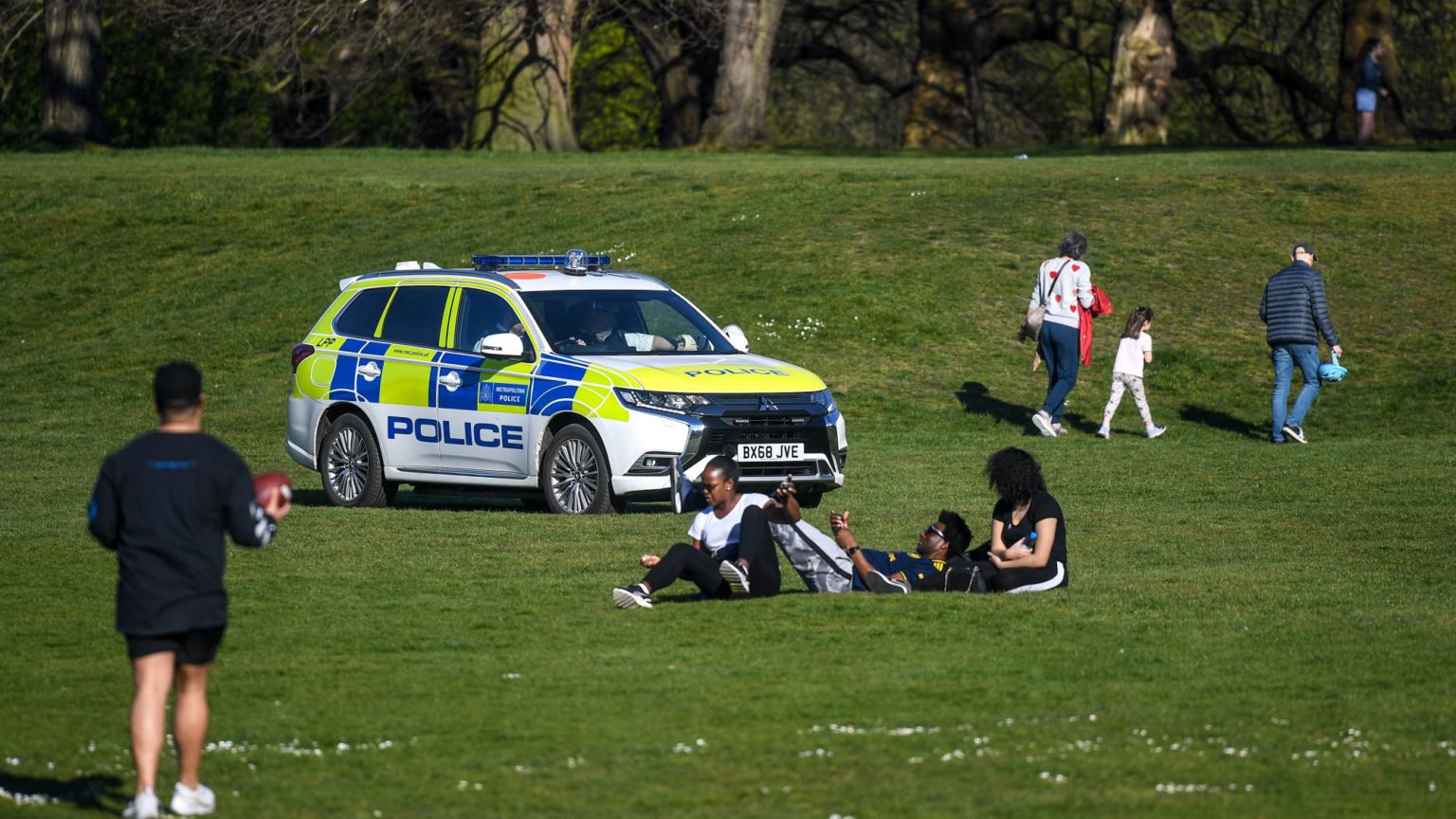 2020 was a year in which civil liberties were suspended in the UK in an unprecedented fashion. The law became involved in micromanaging our behaviour like never before. Regulations introduced new criminal offences with almost no notice whatsoever. Most recently, Christmas was cancelled for millions of Britons at the stroke of a pen. The line between the citizen and the state has been trampled over.
The first Covid lockdown was announced on 23 March. Within two months, the Metropolitan Police had issued 973 Fixed Penalty Notices for breaches of Covid laws. Prosecutions for the new offences hit the headlines when Marie Dinou was prosecuted on an entirely false basis. Footage emerged of people being reprimanded for being in their own front gardens. By May, research found that black, Asian and ethnic-minority people were 54 per cent more likely to be fined than white people.
While some forces complained that enforcing the lockdown would be impossible, due to a lack of resources, other forces took to their new powers with aplomb. In April, Northamptonshire chief constable Nick Adderley said his forces had given the public a 'three-week grace period' to 'understand what was expected of them'. He warned that police officers could start searching shopping trolleys to ensure that shoppers were not buying unnecessary items. Derbyshire police put out bizarre adverts featuring drone footage of dogwalkers in the Peak District, claiming that this amounted to 'non-essential travel'. Public spaces like parks and walkways were closed at short notice, even though they represented essential outdoor areas for those who lacked gardens.
The regulations which enforced the lockdown bypassed all the normal avenues of democratic scrutiny. It became accepted that control of the virus required extraordinary powers being granted to the government. There was little political opposition, with the Labour Party consistently calling for the government to take the restrictions further. One rare voice of dissent came from retired Supreme Court Justice Lord Sumption, who described the developments related to the lockdown as a 'slide towards a police state'.
Freedom to protest also took a battering. In the summer, Black Lives Matter protests could proceed while anti-lockdown protests were greeted with a heavy-handed response and mass arrests. There genuinely appeared to be one rule for the elite-approved BLM protests and another for protests against the government's lockdown policy. This sets a terrifying precedent.
The lack of any democratic scrutiny meant that absurd language made it on to the statute book. One set of government regulations made 'mingling' illegal. There was widespread confusion about the distinction between guidance and law, which has continued into the debate around Christmas. Priti Patel herself has said that the police will 'enforce the guidance', even though the police have no power to 'enforce' anything which isn't in law.
This frenetic lawmaking has undermined the traditional protections that existed between the individual and the state. Civil liberty is a principle that certain areas of life should be immune from the regulation of law. Those in power now appear to believe it is acceptable to use the law to keep us safe, even when that means major restrictions on how we live. There is a real risk that this tendency will be gleefully applied to other areas of life. If it is acceptable to suspend civil liberty in the face of a pandemic, then why not in the face of global warming?
In 2021, we need to fight for our freedom like never before. But we also need to reassert the line between the citizen and the state. We must put the law back in its box. It is only with a properly constrained set of laws, and a properly enforced line between the power of the state and the individual, that our culture of freedom can start to be rebuilt. We cannot let legal freedom continue to be a casualty of the coronavirus pandemic.
Luke Gittos is a spiked columnist and author. His latest book, Human Rights – Illusory Freedom: Why We Should Repeal the Human Rights Act, is published by Zero Books. Order it here.
To enquire about republishing spiked's content, a right to reply or to request a correction, please contact the managing editor, Viv Regan.