It's still a wonderful life
Frank Capra's classic always reminds us that a life lived with others is the only one worth living.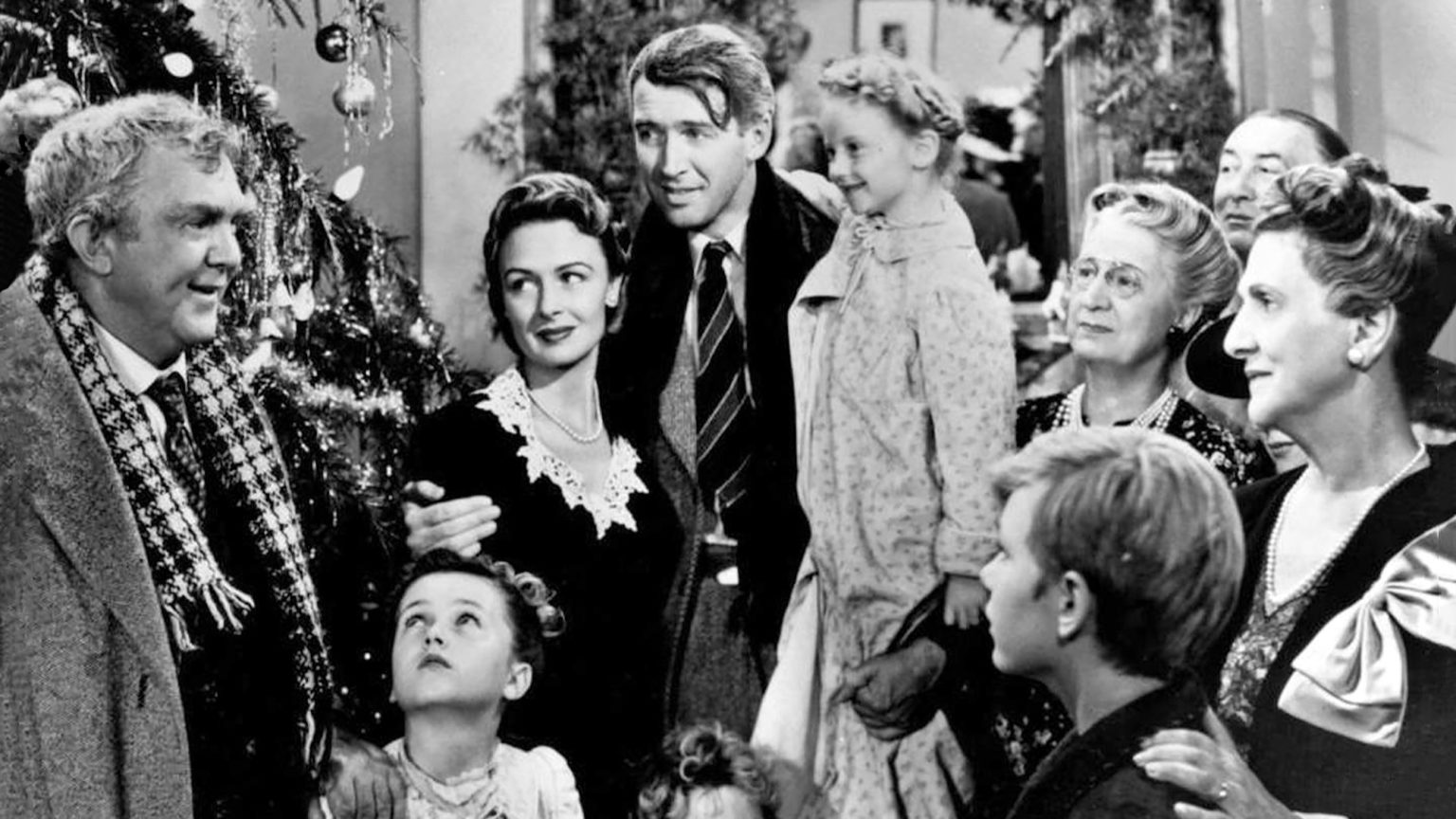 It is a strange Christmas, a corona Christmas without guests or parties or carols. And yet there are some things that will remain the same. There's a Christmas tree decorated with several generations of handmade ornaments. There's the music: Etta James singing 'Merry Christmas Baby', and 'Winter Wonderland'. And, in the run-up to the big day, we as a family always make a point of sitting down together to watch our favourite Christmas movies: Home Alone, Elf, Die Hard. But of all the films we watch there is one favourite we reserve especially for Christmas Eve: Frank Capra's 1946 classic, It's a Wonderful Life.
Each year, we watch George Bailey's rise, fall and redemption. We scowl at Mr Potter, feel a lump rise in our throats when George finds Zuzu's petals restored to his pocket. We laugh and cry with relief as the well-wishers crowding George's living room break into song and a jingling bell confirms that Clarence the angel has finally earned his wings. Truly, it should be the most schmaltzy movie ever made, but somehow it manages to deftly skirt the edges of light and dark, veering from the hokey slapstick of Uncle Billy to the utter despair of wishing – not for death – but to have never been born in the first place. It is unlike anything in contemporary culture. George Bailey is definitely not living his Best Life. He is at the mercy of fate: his father's death, the run on the bank, and Mr Potter – who never gets his comeuppance. In the end, there are no promises of easy solutions. The building and loan will squeak by, the finial on the bannister will remain broken. George will never build skyscrapers. But it is still a wonderful life because he has friends.
No matter how many times we see it, or how many years have passed since we watched it with our own parents, it never grows stale. If anything, it seems to resonate more deeply as we grow older – especially now when we cannot be close to our friends and families. It is as American as can be, and yet people the world over watch it and understand. Perhaps this is why it is regularly listed as one of the best films ever made. But It's a Wonderful Life is special to our family for another reason: we live in Bedford Falls.
I don't mean this in the sense that all Americans live in Bedford Falls. I mean we literally live 15 minutes down the road from Seneca Falls, New York, the most likely model for the Bedford Falls of the movie. We know the bridge over the canal where George contemplates suicide and the lock keeper's house where he and Clarence dry off under blankets. We know the glass factory referred to in the movie, and we know how long it takes to drive to Elmira where the bank official is eager to return for Christmas. The divided Main Street with its trees and shaded benches looks just as our own did before it was widened to make room for more cars. The Brignalls, Wileys and Pietrocarlos who people our town are the close cousins of the Gowers, Wainwrights and Martinis of Bedford Falls. There are even still a few Mr Potters – everyone knows who they are – pushing their weight around, just as there are still Baileys defying them.
The story the film is based on is somewhat different. In The Greatest Gift, by Philip Van Doren Stern, the protagonist George Pratt stands on a bridge wishing he had never been born. A mysterious stranger grants his wish and allows him to see what the world would be like without him. Though the story is set in Bedford Falls, there is no building and loan, no Mr Potter, no Italian immigrants and no angel. Mary does not remain a spinster, but marries a different man who treats her badly and chases George (who is pretending to be a brush salesman) from the house. In the end he runs back to the bridge and begs the stranger to give him back his life.
As compelling as the story was, Capra, who bought the rights to it in 1945, understood that it would need work to become a film. In order for Bedford Falls to be everyplace, it first needed to be a real place with real people. Seneca Falls in the Finger Lakes region of New York seemed to fit the bill. Perhaps the name reminded Capra of the story, or maybe he felt an affinity for an area where thousands of Italian immigrants like himself chose to settle (Capra's aunt lived in a neighbouring town). Whatever the reason, the imaginary town of Bedford Falls bears more than a passing resemblance to Seneca Falls. Most poignantly, it was the scene of a tragedy in 1917 when a young Italian labourer, Antonio Varacalli, jumped into the canal after a woman threw herself off the bridge in an attempt to commit suicide. He saved her but was himself drowned. The people of town were so moved by his sacrifice that they renamed the bridge in his honour, and, in an effort reminiscent of the final scene of the film, they came together to contribute enough money to realise Varacalli's dream of bringing his family over from Italy. Though most of this is conjecture, it is still great fun, and Seneca Falls has made It's a Wonderful Life its own, with a museum, an annual festival and a 'George Bailey' award given to honour an individual for improving the lives of his or her neighbours.
And yet, driving through Seneca Falls and surrounding towns today, it is sometimes hard to imagine the scenes that inspired Capra. Like so many places in America, the downtown areas seldom bustle with anything approaching the energy of the fictional Bedford Falls. There are a few shops, tobacconists, a craft brewery or pizza place, but lots of empty storefronts. The pharmacy with its apothecary jars and soda fountain is long gone, replaced by a tattoo parlour.
There are a few factories left, but most of the old mills have been converted for other purposes, or left to the pigeons. The rolling farmland near Seneca Falls has given way to a great stinking landfill and mountains of trash have replaced orchards and cornfields. There is a new casino, and a prison. Mobile-home parks have sprung up on the edge of town. Many of the once-prized, bricks-and-mortar homes closer to the centre have been bought up by slum lords who rent their ramshackle properties to anyone who qualifies for the federal section-eight housing assistance programme – a more reliable source of rent than their tenants' meagre wages.
Opioid addiction has left its mark on the region, too. Overdoses are frequent and deadly, and everyone knows of someone who bounces from one rehab centre to another, between brief fits of sobriety. Families, especially those with young children, have become so fragile that the local elementary schools are locked up, not for fear of school shooters, but because of the problem of noncustodial parents slipping their kids out the back door. It is, in a word, 'Pottersville'.
How did this happen? The economy changed but the local economy did not evolve alongside it because the communities found they could no longer shape their own futures. These communities became expendable to the people born in them and to the nation as a whole. In a strange way, It's a Wonderful Life foreshadows the fate of America's small towns, and perhaps the fate of the nation, because it shows what happens in a world without Georges.
It's a Wonderful Life was made when America stood at a crossroads. When 'the cataclysmic aftermaths of war', wrote Capra in his autobiography, were breeding 'gnawing doubts in man'. GIs returned to sweethearts or wives they married in haste and to children who scarcely knew them. Couples lived with their in-laws in fraying Victorian homes, or depression-era bungalows where family members rubbed elbows but felt worlds apart. It was as if all the time-worn obligations and duties that bound people together, and sketched out the parameters of individual lives and gave them meaning, were falling away. Americans were beginning to ask themselves if their sacrifices had been worth it.
Frank Capra understood this disillusionment all too well. Capra joined the army after the Japanese attack on Pearl Harbor, and spent most of the war making the 'Why We Fight' series of propaganda films. Though lauded – Winston Churchill praised the first, Prelude to War, as the 'most powerful statement of our cause' – he returned to Hollywood to find that his reputation had faded. 'It was disconcerting', he wrote, 'to be introduced to an upcoming actress or director and have them ask "Frank Who?"'. To make matters worse, the Cold War was ramping up to what would eventually become the witch hunts of the McCarthy era. Even by 1945, it was becoming difficult to work with old collaborators, like the screenwriters Dalton Trumbo or Clifford Odets, who were under investigation for their involvement with the Communist Party. Capra was especially sensitive because, in addition to having been born in Italy, his film, Mr Smith Goes to Washington, which took a stand against government corruption, had come under attack from none other than Joseph P Kennedy (the patriarch of the famous Kennedy clan). Kennedy claimed Mr Smith had caused 'inestimable harm' to American prestige. Even with his war record, Capra knew he was not immune to investigation.
It was against this backdrop that Capra began work on It's a Wonderful Life. He seems to have intuited that how Americans would answer the question 'was it worth it?' would change the destiny of the country. The worst thing, he thought, would be for them to draw the conclusion that their sacrifices didn't matter. The film was his answer.
Capra offers up two visions of America's possible future. In one, George is thwarted at every turn, but comes to realise that in spite of all his troubles, he is the richest man in town because he lives a life connected to others through sacrifice. The other is a world without George. No one is saved because George is no longer there to change the destiny of other people so that they (like his brother Harry, who saves his fellow airmen) can save others. There is no ripple effect. In Pottersville it is every man for himself.
In reality it happened slightly differently. After the war, Americans decided that their sacrifices had not been worth it. They began to resent the obligations and connections that once made life meaningful. Instead they shook the dust of their crummy little towns off their feet. They let the building and loan go to the wall, went to college and never looked back. The ethos of connectedness, of being part of a 'We' that animates It's a Wonderful Life, gave way to an ethos of 'Me'.
Still, It's a Wonderful Life gets us in the gut every year. Maybe living for ourselves isn't all it's been cracked up to be. Maybe we're just tired of Pottersville. Or maybe on some level we understand that life may not be perfect, but when we are deeply, hopelessly, inconveniently entwined in the lives of other people, it's still wonderful.
Nancy McDermott is a writer based in New York. Her new book The Problem with Parenting: How Raising Children Is Changing Across America is published by Praeger. (Buy this book from Amazon(UK).)
Picture by: Liberty Films.
To enquire about republishing spiked's content, a right to reply or to request a correction, please contact the managing editor, Viv Regan.