The Millwall Revolt
Football fans have had enough of the virtue-signalling nonsense of Black Lives Matter.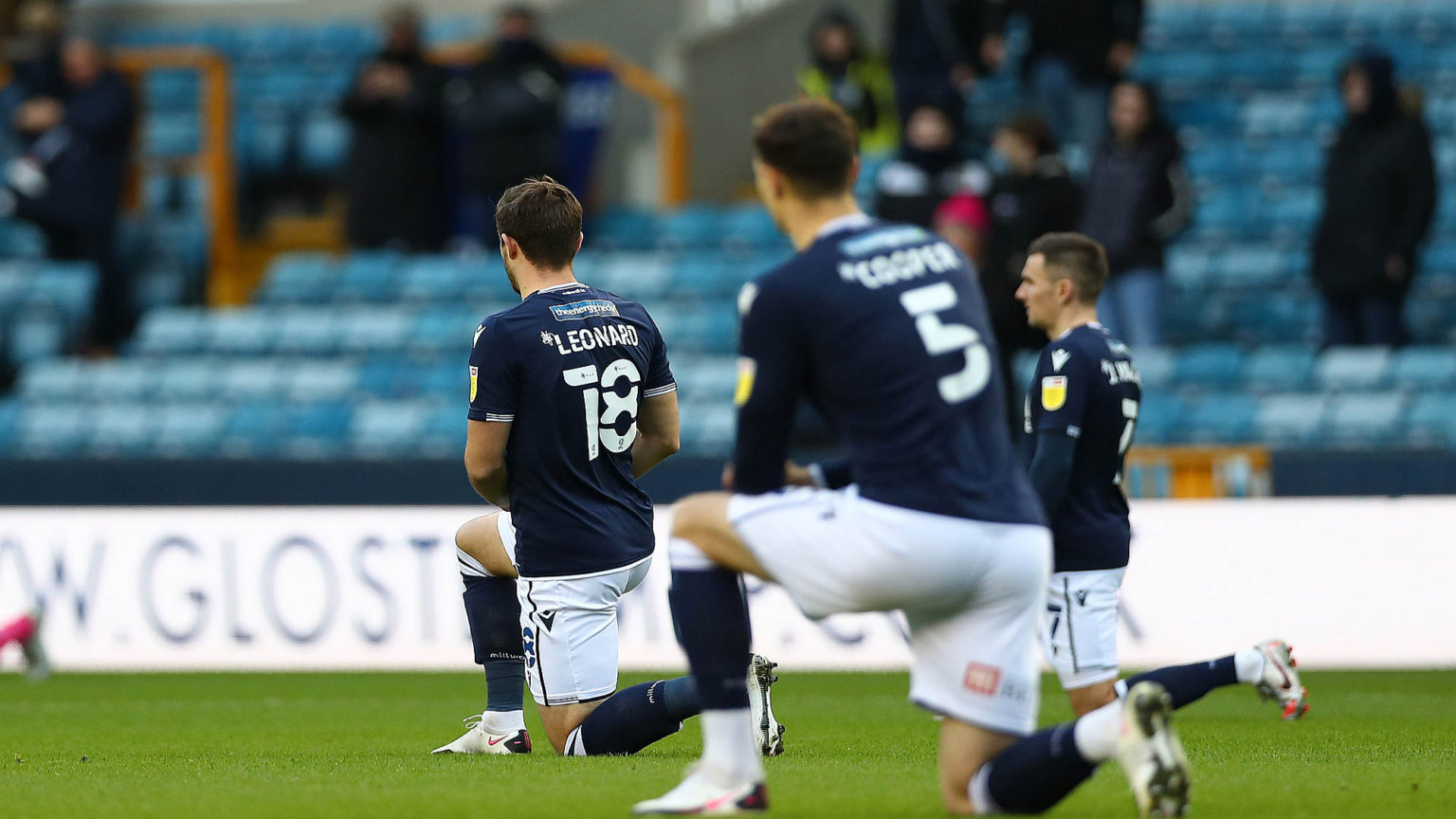 Nothing horrifies the woke elites more than the noises made by working-class people. Whether they're saying 'Let's leave the EU' or complimenting a member of the opposite sex on the street, the sounds and statements of the throng often have much of the chattering classes reaching for their smelling salts. So it is no surprise that a 30-second outburst of booing among Millwall fans when their players 'took the knee' yesterday has led to Guardianistas across the land thumbing their thesauruses in search of the shrillest words with which to condemn this foul guttural cry of blind hate, etc etc. 'Is this fascism?!', they wonder out loud. Yes, dear, of course it is.
The offending noise occurred at the Millwall v Derby game. As has bizarrely been the case for months on end, players for both teams 'took the knee' before kick-off. Quite why British football players are still bowing down in sorrow over a police killing that took place months ago and thousands of miles away is anyone's guess. A group of Millwall fans, who came to watch a football game, not yet another spectacle of obedient subjugation to the politics of identity, booed and jeered. Everyone's shocked. Which is mad. It would have been far more shocking — and disappointing — if fans hadn't booed.
Of course, the anti-working-class left and the NuFootball commentariat (who love the beautiful game but loathe its ugly fans) instantly found the Millwall fans guilty of racism. They had no proof, naturally. No proof whatsoever that the booing fans were driven by irrational hatred of people whose skin colour is different to their own. But you don't need proof when you're a puffed-up member of the woke elite. All you need to see is a large group of portly working-class men making a disagreeable noise and, boom, that's racism. Case closed.
But here's the thing that everyone whose capacity for critical thinking hasn't been completely erased by the religion of wokeness understands perfectly well — booing Black Lives Matter is not the same as booing black people. Indeed, football is possibly this country's greatest success story when it comes to challenging racism. The ugly racism that sometimes exploded at games in the 1970s and 80s has almost completely fizzled out. Around 30 per cent of professional players are black. Kids worship them; fans cheer them. The fans who booed the taking of the knee have no doubt whooped with joy when a black player scored a goal. And that's because football fans don't hate black people — they're just sick of being looked down upon by elites who dress up their suspicion of working-class crowds as 'anti-racism'.
Here's what is remarkable about the Millwall booing. Yesterday was the first time since the outbreak of the Covid pandemic that fans were allowed back into live games. And the first thing some fans did (including West Ham fans, reportedly) was register their disapproval of the colonisation of the beautiful game by the divisive cult of identity politics. For months, the footballing authorities, heartily backed by the middle-class media and the big sports broadcasters, injected the BLM ideology into the game. They flashed anti-racist messages on TV screens and pressured all players to bow down to the BLM worldview. But they could only get away with this because the great unwashed, as much of the sporting commentariat no doubt views them, had been cleansed from the terraces. Well, now these noisy, rude people who have no doubt ruined many a game for posh football fans like Marina Hyde and Ash Sarkar are back. And they're saying 'Nope'. Nope to the subjugation of football to the diktats of the identitarian elites.
It is not a mystery as to why the BLM worldview was foisted on to football even more than it was into other areas of public life. It's because in the eyes of the new elites, the kind of people who watch football are vulgar, dumb racists. They require re-education. Their chants must be policed, they must be prevented from standing up at games, and even when they were forced to watch games on TV over the past few months of lockdown they had to be subjected to constant 'anti-racist' messaging. Football fans are not, as their supposed betters insist, dumb. They know what's going on. They know their sport has been hijacked by the identitarian elites with an eye for cleaning out the allegedly prejudiced minds of the masses. That's why they booed.
The Millwall incident was fairly minor in the scheme of things. But the furious, even demented response to it is incredibly revealing. It confirms that there is a chasm-sized gap between the elites and ordinary people. And it confirms that the woke elites will brook no dissent whatsoever to their divisive agendas of critical race theory and woke re-education. I predict more booing. I hope there's more booing. Football had successfully become a post-racial game in which working-class black men can achieve great things and where people from all backgrounds come together to whoop, cheer, compete and, yes, insult each other (that's football, folks) — the last thing it needs is to be poisoned by the neo-racialism of the new elites. Kick that racism out.
To enquire about republishing spiked's content, a right to reply or to request a correction, please contact the managing editor, Viv Regan.