Ethiopia at war with itself
This bloody conflict between ethnic elites will only benefit the few.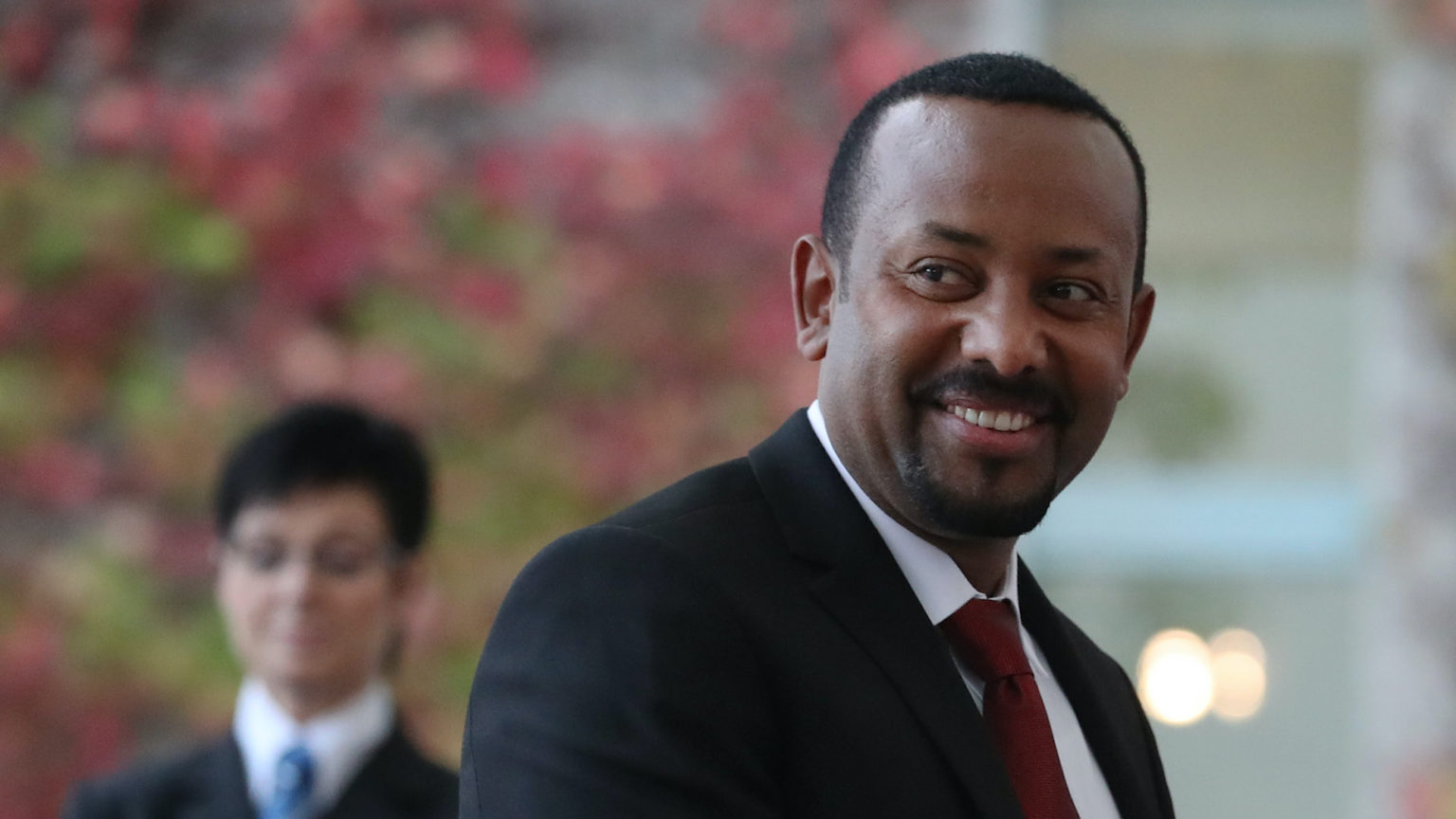 In October 1984, Western publics glimpsed the suffering of the inhabitants of Ethiopia's northern region of Tigray, as footage of emaciated children and their desperate, starving parents, recorded in and around the regional capital of Mekelle, was beamed around the world.
But the famine and subsequent drought was never entirely the natural disaster it was made out to be. Rather, it was the aggravated byproduct of a war Ethiopia's then government was waging against the Tigray People's Liberation Front (TPLF), an armed liberation movement with a Marxist-Leninist gloss.
Today, government forces and allied militias have once again embarked on a military operation against the TPLF. But this time, we know little of the suffering it is causing. Phone and internet access to the region has been cut. And journalists have found reporting nigh-on impossible. We know from hospital pleas for support and supplies, including body bags, that many have been killed. And we know from the influx of Tigrayan refugees into neighbouring Sudan that the month-long assault has already displaced many thousands.
But precise details remain sketchy. No one is even sure if the TPLF is still fighting. Prime minister Abiy Ahmed claimed this weekend that government forces had taken control of Mekelle, stating that 'the main operation is successfully concluded'. But on Monday, TPLF president Debretsion Gebremichael said Tigrayan forces were still fighting close to Mekelle and had shot down a government warplane.
But, through the fog of this conflict, one thing is clear. That is, despite the superficial parallels between this government assault on the TPLF and that of the mid-1980s, things are very different this time round.
Back then, the TPLF, which was founded in 1975, was part of a network of ethnic independence movements allied under the banner of the Ethiopian People's Revolutionary Democratic Front. As part of the EPRDF, the TPLF was fighting a brutal civil war against Mengitsu Haile Mariam's military junta – known as the Derg – which was backed by the Soviet Union.
After 17 years of prolonged and bloody fighting, the EPRDF finally took power in 1991, with TPLF the dominant faction. This meant that in the post-civil war era, Tigray's rebel army, despite Tigrayans accounting for just six per cent of Ethiopia's ethnically diverse population, had become the dominant force in Ethiopian politics. The TPLF's very own Meles Zenawi served first as president and then prime minister of Ethiopia until his death in 2012. And the national army and intelligence services were dominated by Tigrayans, who went on to cement control in other sectors, too. Debretsion himself was made the deputy head of the national intelligence agency, before becoming the minister of communications and information technology.
Formally, of course, it was all meant to look very different. The Ethiopian constitution of 1995 established a federal system in which 'all peoples' were granted the 'right of self-determination'. This system comprised 10 semi-autonomous, ethno-linguistic regional states, each with its own police and militia, and two chartered cites.
But under the leadership of Zenawi and the EPRDF, Ethiopia was not as federal, nor the regional states as autonomous, as the constitution promised. In fact, under the EPRDF, with the TPLF ascendent, Ethiopia was effectively dominated by one party. Regional, ethnic sentiment, having been emboldened by the ethno-federalism of the constitution, turned into regional, ethnic resentment among those now lacking a say in government. Conflict was never far from the surface. And, unsurprisingly, when it did threaten to erupt, the national government under both Zenawi and his weak successor Hailemariam Desalegn responded brutally and repressively.
Not that it worked to quieten the discontent, especially in Abiy's own ethnic region of Oromia. It was there in November 2015 that protests erupted over plans to expand the Ethiopian capital Addis Ababa into the Oromia special zone and displace local farmers. After a violent crackdown in which hundreds of protesters were killed and detained, a wave of unrest subsequently swept through Oromia and into the Amhara region during 2016. While the protests were eventually suppressed, it was still enough to bring down Hailemariam, who eventually departed government in 2018.
Abiy, his replacement, looked like a unifying, reforming prime minister – at least to outsiders. A member of the Oromo Democratic Party, he initially released political prisoners, reiterated commitments to democratic reform, and, most notably, struck a peace deal with long-time antagonist Eritrea. It was enough to earn him last year's Nobel Peace Prize.
Yet, at the same time, he set about consolidating his own power base. Over the past year, thousands of activists demanding more autonomy from Addis Ababa have been arrested, including one-time ally and Oromo opposition figure Jawar Mohammed. And, despite rising through the EPRDF himself (as part of the ODP), Abiy created a new political vehicle – the Prosperity Party – to replace it in December 2019, in an effort to marginalise the EPRDF's dominant party, the TPLF. Indeed, it was this move which set in train the events that led to the start of the conflict in Tigray in November, with the TPLF accusing him of building a dictatorship and, later, using Covid as an excuse to postpone this year's General Election. Matters came to a head, not with the TPLF's attack on an army base near Mekelle, but with its decision in September to defy federal government and hold its own elections. This prompted parliament to vote to sever all ties with the TPLF government in Tigray.
In many ways, then, what is happening in Tigray at the moment is very different to the conflict waged by the Derg against Tigray's guerilla army in the 1980s. What we are seeing now is the culmination of a struggle among Ethiopia's ethnic elites, brought to power by the post-civil-war settlement. The only difference between Abiy and the TPLF's cast of leaders is the ethnic badge.
The constellation of international forces this time around is also utterly changed. During the civil war, the Ethiopian government was backed by the Soviet Union. Since the 1990s, it has been steadfastly supported by the US, especially as a regional bulwark against militant Islam. So determined has been the support that Ethiopia has arguably emerged as the US's most important partner in Africa.
And no leader has perhaps received more backing than Abiy himself. Earlier this year, a US House of Representative Congressional Delegation announced that it was to 'embed senior US government officials at key Ethiopian economic ministries and operations for a sustained period of time'.
The EU has also thrown its weight behind Abiy. The day after her inauguration last December, Ursula von der Leyen chose Addis Ababa for her first foreign visit as Commission president. She declared, 'I am here today to show the European Union's full commitment to supporting Ethiopia and its people on their future path'.
All of which makes it somewhat odd to see calls for the 'international community' to do something, resolve the conflict, sort Ethiopia out, etc. If it does not, one pundit warned, 'it will not only be the Ethiopians who ask why the international community did little to prevent a regional catastrophe'. The only problem with this narrative, of course, is that the 'international community', from the US to the EU, has long been doing something in Ethiopia – supporting a succession of rulers that serve its regional interests, not those of Ethiopians.
There is no easy solution for the peoples of Ethiopia. But, as ever, it will have to come from them, not the international community.
Tim Black is a spiked columnist.
Picture by: Getty.
To enquire about republishing spiked's content, a right to reply or to request a correction, please contact the managing editor, Viv Regan.