Policing men, demeaning women
Making misogyny a hate crime would end legal equality for men and women.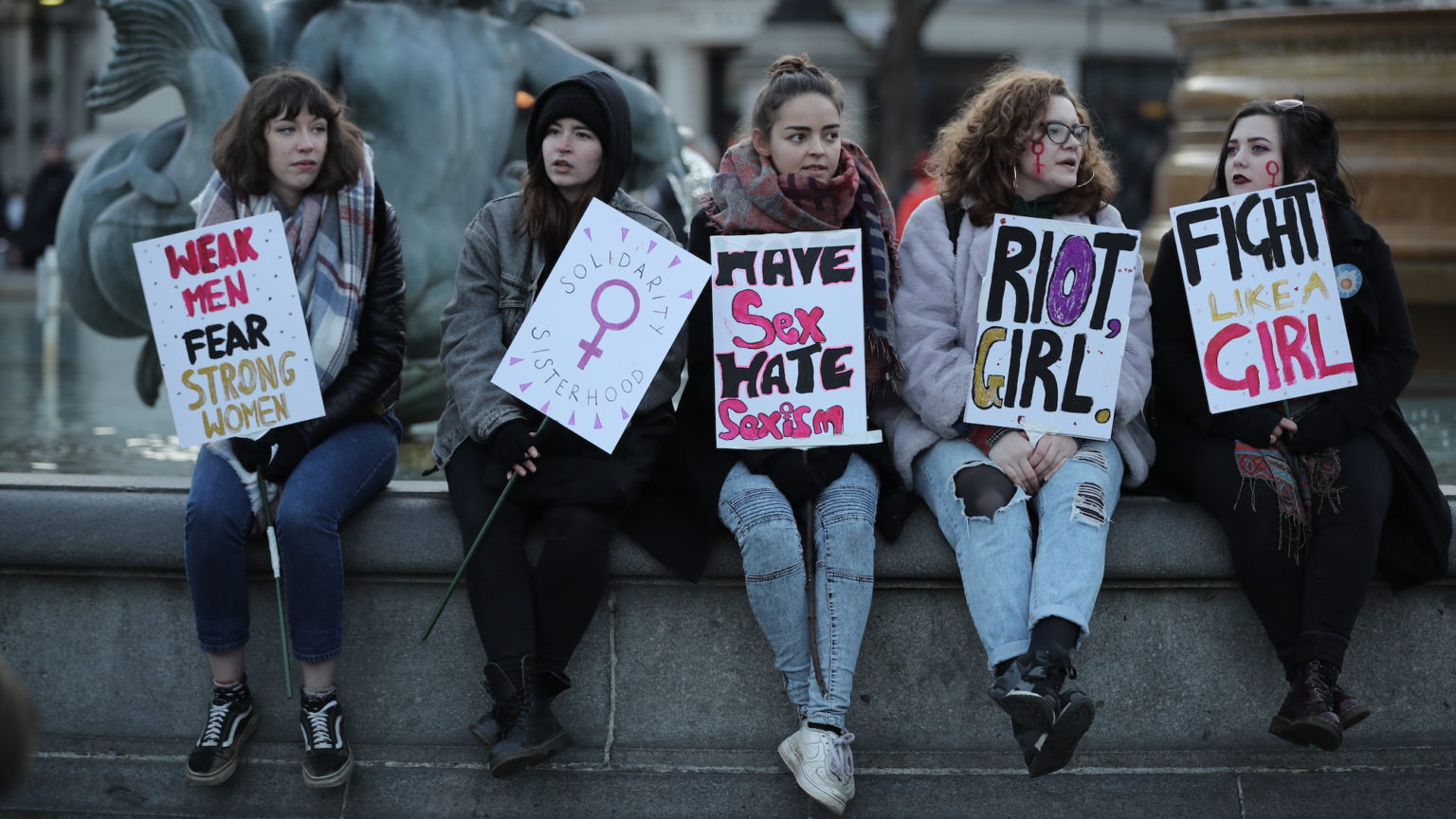 The Law Commission's proposals for reforming hate-crime legislation in England and Wales are a box of authoritarian horrors. As previously noted on spiked, members of this anti-free speech quango want to end the so-called 'dwelling exemption' which would criminalise dinner-table conversation. They want to prohibit the distribution of 'inflammatory cartoons' and police the speech of football fans and social-media users alike. If its proposals pass into law, it will be quicker and easier to specify what we are allowed to say rather than what speech is forbidden.
How has it come to this? Why is free speech held in such low regard that it is now acceptable for lawyers to propose legislating its every remaining manifestation out of existence? One answer lies in the subheading to the Commission's consultation: 'Reforms to hate crime laws to make them fairer, and to protect women for the first time.' Outrageously, it seems that women are being used as an excuse to ramp up hate-crime legislation and curtail free speech.
Over recent years, the idea that women are emotionally vulnerable and need special protection from free speech has been widely promoted by feminists. Whether or not the Law Commission's proposals are accepted, a Hate Crime (Misogyny) Bill is already making its way through parliament. If passed, it will make 'motivation by misogyny an aggravating factor in criminal sentencing' and 'require police forces to record hate crimes motivated by misogyny'. Unsurprisingly, it has the backing of high-profile feminist campaign groups and prominent individuals such as the Fawcett Society and Stella Creasy MP.
The looming deadline for the Law Commission's consultation is now further focusing the minds of activists who rely on dodgy research to make it seem that women and girls run a daily gauntlet of abuse. Lurid headlines like 'Parents lock up daughters amid surge in sex pests' promote claims such as those from charity Plan International, that half of girls and young women (aged 14 to 21) were harassed on Britain's streets over the summer by being catcalled, followed, groped, flashed or upskirted.
The problems with this kind of research are obvious. Lumping together all these different kinds of harassment makes for a large number of victims. But there is a huge difference between a 14-year-old being groped while walking down the street and a 21-year-old woman being catcalled. And let's not forget catcalling can include everything from whistling to yelling abuse. Not only is it strange to include 14- to 21-year-olds in the same data set, Plan International also surveyed parents about their children's experiences. It's not unreasonable to be sceptical about what exactly young women choose to share with their parents. But none of this matters to activists. They have their headline: half of those polled want a new law criminalising all forms of sexual harassment.
The Law Commission notes a 2018 report from the Equality and Human Rights Commission which found a high prevalence of sexual harassment in UK workplaces. It also cites Amnesty International's 'Toxic Twitter' research to argue that women are more likely than men to be the target of online harassment and abuse. And it points to the treatment of female MPs as another cause for concern. Unsurprisingly, the Women and Equalities Committee of the House of Commons concluded in 2018 that 'sexual harassment affects the lives of nearly every woman in the UK'. But dig deeper and none of this so-called research is worth the paper it's written on. It only proves what activists set out to discover.
Nevertheless, the Law Commission is happy to assume all women share a common experience of victimhood. It argues that an attack on one woman poses a threat to all women: 'Gender-bias crimes affect women collectively, similar to the way that burning a cross or vandalising a synagogue affects an entire racial or religious community. The act does not just affect one individual; rather, it affects an entire group, making the targeted community feel fear and, sometimes, a sense of inferiority.' This is as patronising as it is sexist. Age, income, work, education and geography are just some of the many factors that shape women's lives. And there are no deep psychic bonds forged through the possession of female genitalia.
The Law Commission seems convinced that women are an oppressed minority. But today, thanks to the efforts of a past generation of feminists, women and men have legal equality. However, if misogyny becomes a hate crime, this will no longer be the case. Women will no longer be men's equal. Instead, they will be a specially protected group. This is demeaning. It ignores the fact that although some women – just like some men – face real hardships and disadvantages, millions of women are successful, wealthy and powerful.
Existing laws already, rightly, prohibit sexual violence and harassment. Proposals to expand the law now seem driven by a desire to 'send a message' about the importance of protecting women. Using the law in this way criminalises men and tells women they are victims of a hostile society. Almost every interaction between men and women risks becoming subject to policing.
Ironically, the Law Commission's proposals would do nothing to protect women in the one area where misogynistic abuse is rampant today: in the discussion around women's sex-based rights. Women who challenge the idea that 'trans women are women' and defend female-only spaces and provisions can face not just verbal abuse, but also physical violence. Yet, under the Law Commission's proposals, such women would be branded as perpetrators of hate crime against people on the basis of their gender identity.
If women are to stand any chance of defending sex-based rights and maintaining equality before the law, we need to argue for free speech. A vital first step would be to work alongside men in getting the Law Commission's hate-crime consultation rejected outright.
Joanna Williams is currently researching hate crime in her role as director of the Freedom, Democracy and Victimhood Project at the think tank, Civitas.
Picture by: Getty.
To enquire about republishing spiked's content, a right to reply or to request a correction, please contact the managing editor, Viv Regan.