The House of Lords has signed its own death warrant – again
But there is little sign as yet of anybody willing to carry out the sentence.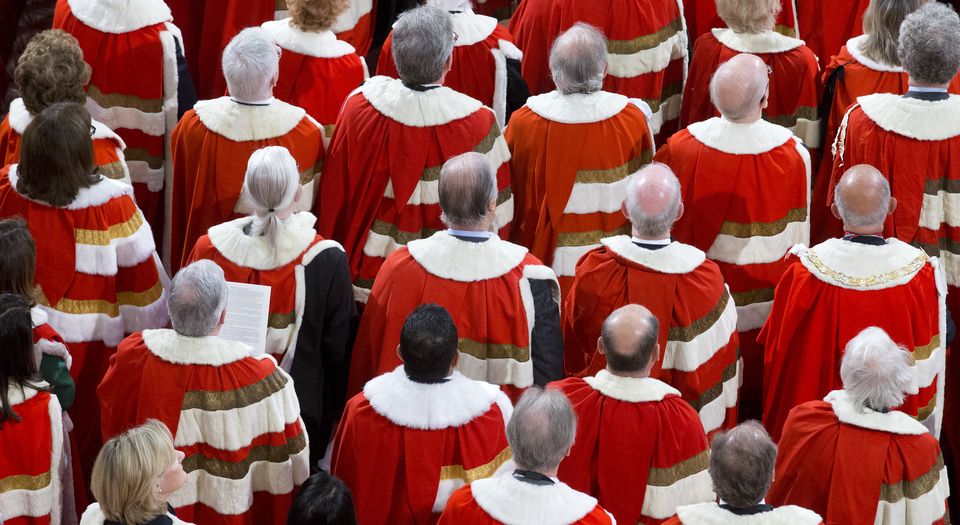 The House of Lords has just signed its own death warrant – again. By voting down key clauses of the government's Internal Market Bill, the Lords confirmed that it is an archaic excrescence which has no place in a 21st-century democracy.
But then, the House of Lords had no place even in a 17th-century pre-democracy – which was why Oliver Cromwell's revolutionary House of Commons abolished it in 1649. Yet now, 371 years later, hundreds of unelected peers still sit in Westminster seeking to thwart, not only a government elected with an 80-seat majority in the Commons, but also the Brexit demanded by 17.4million Leave voters.
The Internal Market Bill's clause 42 would give the government power to alter the EU Withdrawal Agreement provisions on the Northern Ireland protocol. On Monday, the Lords voted to remove it by 433 votes to 165, a vote described as a 'crushing' defeat in the media and celebrated by Remainers and deluded leftists across social media. But what other outcome would they expect from a collection of more than 800 unelected peers, with an inbuilt anti-Tory, anti-Brexit majority? The 'Bollocks to Brexit' party, aka the Liberal Democrats, might have only 11 elected MPs, but why worry when they have no fewer than 89 appointed peers swanning about in the Lords?
A Labour frontbencher called Lord Stevenson (no, me neither) denounced the bill's 'egregious clauses'. If anything is egregious about this affair, it is the spectacle of somebody like Lord Stevenson, who was apparently an adviser to failed Labour prime minister Gordon Brown and has never been elected in his life, having the power to stop an elected government.
The House of Lords is not only undemocratic, as an unelected and unaccountable establishment club. Worse, it is also anti-democratic, since its very existence is a barrier to the expression of the electorate's will. It exists only to act as a brake on democracy. That is why it should not be reformed, but abolished.
It is also why, even if the government's bill really was as 'egregious' as is claimed, democrats should still oppose the Lords voting it down. The starting point is not whether the Lords votes the 'right' or 'wrong' way. The real question is why anybody in the House of Lords should have any power to vote either way on anything at all.
The government has said it will reintroduce the controversial clauses in the Commons, in which case they should eventually pass into law, as is the constitutional convention. Labour's arch-Remainer Lord Adonis, however, has claimed that on this occasion, the Lords will be on 'firm constitutional ground' in continuing to resist. In which case, democracy demands that Britain's (unwritten) constitution should be torn up and the House of Lords torn down – figuratively at the very least.
Let's be in no doubt as to the issue at stake here. The Lords and other Remainers who oppose the bill's attempt to alter the Withdrawal Agreement are banging on about the inviolability of international law – as if it were holy writ handed down from above on tablets of stone. This legal cretinism is a smokescreen.
The big issues, as in everything to do with Brexit, are sovereignty and democracy. Is the UK a sovereign state, able to decide its own laws without being dictated to by EU commissions and courts? And is it a democracy, where a government overwhelmingly elected with a popular mandate to 'get Brexit done' cannot be thwarted by the peers, judges or other elitist barnacles clinging to and dragging down the system?
As some of us observed at the time, Boris Johnson certainly made a mistake in signing the dreadful Withdrawal Agreement last year, the sort of surrender treaty you normally swallow only after losing a war. His government has since belatedly sought to extricate itself from that EU trap, standing for election on a pledge to break all political ties with the EU and now giving itself powers to amend the Agreement in the event of there being no trade deal. The Lords should have no role at all in saying 'yea' or 'nay' to its proposals, or to the clean-break Brexit we voted for.
Democracy is under threat today more than at any time since the Second World War. The primary threat comes not from 'populists' (aka politicians who contest democratic elections and win millions of votes), but from an establishment seeking to invest more and more power in unelected and unaccountable institutions, from modern courts, commissions and quangos to that leftover rubbish of the Middle Ages, the House of Lords.
As spiked has argued all along, Brexit is only the beginning of the democratic revolution we need. The abolition of the House of Lords must be another key step in giving back meaning to our democracy by bringing together the demos – the people – with kratos – power or control.
The House of Lords may have signed its own death warrant again this week. But there is little sign yet of anybody willing or able to carry out the sentence. The idiot left is too busy cheering the peers for stymying democracy, or arguing about who does or doesn't deserve to wear the ermine. Johnson's 2019 election manifesto also pledged to establish a constitution commission to inquire into and propose democratic reforms, but it has yet to appear.
If Boris really wants to sort out the mess, he should hold a referendum on abolishing the House of Lords. Let us vote to deny unelected lords any right to interfere with democracy. In return, we will give the privileged peers back the one right that is currently denied them – the precious democratic right to vote in a General Election, same as the rest of us plebs.
Mick Hume is a spiked columnist. His book, Trigger Warning: Is the Fear of Being Offensive Killing Free Speech?, is published by Harper Collins. (Order this book from Amazon(USA) and Amazon(UK).)
To enquire about republishing spiked's content, a right to reply or to request a correction, please contact the managing editor, Viv Regan.