Stop all this Jacindamania
The liberal elite's fawning over Jacinda Ardern is creepy and embarrassing.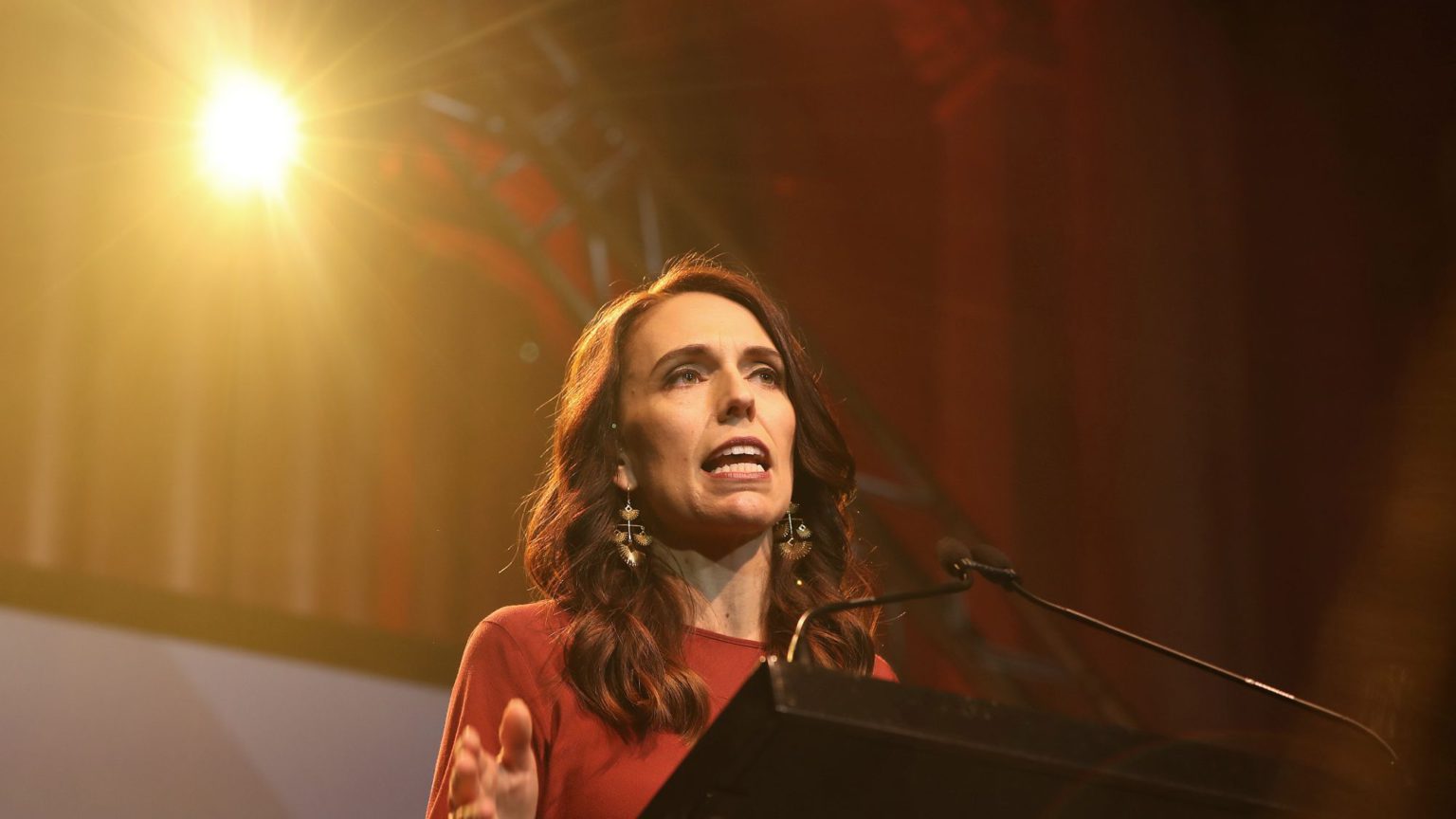 Could Jacinda Ardern be more loved? New Zealand's prime minister led her party to a landslide victory in last week's General Election, winning 64 out of 120 seats and scoring the Labour Party's best performance in five decades. But it's not just New Zealanders who are celebrating – the whole world seems gripped by Jacindamania.
World leaders have queued up to declare their love. Boris Johnson tweeted his congratulations, adding 'the UK and NZ have great things to look forward to'. London mayor Sadiq Khan said he and Ardern shared a vision 'for an inclusive, fairer and greener future'. Justin Trudeau went one better, tweeting, 'There's so much we can do together and I'm looking forward to all of it' (which I find kind of creepy, but each to their own). Even the Dalai Lama got in on the act: 'I admire the courage, wisdom and leadership [of Jacinda Ardern], as well as the calm, compassion and respect for others she has shown in these challenging times.'
All of this is fair enough. But what's strange is that the result of an election in a country with 5.6 sheep to every human (down from a peak of 22 sheep per person in 1982), and a population smaller than Yorkshire, should attract such global attention.
Explanations are not in short supply. Jacinda Ardern is a woman. She's young(ish). And she's cool. The contrast between Ardern and the geriatric men currently slogging it out for US president most definitely helps keep the love coming.
But dig deeper and what really drives Jacindamania is that Ardern is not a populist. She has long been heralded as a challenge to so-called strongmen like Trump and Bolsonaro. Now, her victory – and the resounding defeat of newly formed populist party Advance NZ – is being taken as a sign that the public has rejected 'populism, conspiracy theories and scepticism about Covid-19'. Advance NZ won just 0.9 per cent of the vote and will not enter parliament. Interestingly, even devotees attribute Labour's victory over Advance, in part, to the absence of the 'Murdoch press' in New Zealand and the fact that, two days before the election, Facebook removed Advance NZ's page from its platform for spreading Covid-19 misinformation. Even Ardern's fans seem to think it was these factors that won it for her, rather than any particular vision she may have for her party and the country.
It is easy to see why the tub-thumpers in Britain's own Labour Party, having recently overseen their own party's biggest electoral defeat in almost a century, are seeking solace in the knowledge that someone, somewhere, however insignificant, can lead a vaguely left-of-centre party to victory. But it's still worth asking: what exactly does Ardern's Labour Party stand for? After one full term as prime minister there still seems to be little sense of her party's vision. Instead, the vacuum at the heart of the New Zealand government is successfully covered up with the authoritarian, the woke and the twee.
Ardern's electoral success is mostly put down to her handling of the coronavirus pandemic. Only 25 New Zealanders have died from Covid-19 and the country is slowly beginning to emerge from lockdown. Until Sunday, New Zealand had gone three weeks without one recorded case. As part of Ardern's widely praised 'elimination strategy', New Zealand was placed under a strict national lockdown on 25 March. At this point, there had been only 102 recorded cases of Covid-19 on the island and not one single death. Ardern insisted she was 'not willing to put the lives of her citizens in danger' and closed the national border. Since the middle of March, only a tiny number of people have been able to enter New Zealand, and even then under strict quarantine rules.
The cost of this widely celebrated authoritarianism is that New Zealand's biggest export industry – tourism – has imploded. Prior to coronavirus, tourism directly generated 5.8 per cent of GDP and indirectly contributed to an additional four per cent. Almost 15 per cent of New Zealanders worked in tourism. Not any more. Many of these people are now out of work and the collapse of tourism is one of the main reasons why New Zealand's economy is now heading into recession for the first time in several decades. But for the global Lockdown Left – those who see no contradiction in supporting free movement in Europe one minute and celebrating New Zealand pulling up the national drawbridge the next – throwing so many people out of work is a small price to pay for demonstrating the success of their favoured approach to tackling coronavirus.
No matter how deep New Zealand's forthcoming recession, and how high the levels of unemployment, all will no doubt be forgiven – abroad if not at home – because Ardern shares the same woke values as every other member of the global elite.
Prior to the pandemic, Ardern received international praise for her response to the horrific right-wing terror attack on two mosques in Christchurch in which 51 people were brutally murdered. Ardern not only condemned the attack, but also refused to say the attacker's name in parliament, declaring instead her wish that the names of the victims should live on. Images of Ardern, hair covered with a scarf, hugging relatives and kissing survivors, were beamed around the world.
According to the Guardian, Ardern's obvious compassion was all the more significant 'at a time when governments in Europe and the United States are either brazenly anti-Muslim and xenophobic or at best silent on the matter of immigration and Islam'. What's notable is that so many British commentators clearly felt far more comfortable praising Ardern's response to the Christchurch attack than they did commemorating the victims of the Manchester Arena bomber, or those of any of the other Islamist terror attacks that have taken place in the UK.
Ardern's authoritarianism is sugar-coated in love, while the devastating economic recession comes with a side order of woke. This, it seems, is enough to keep Jacindamania buzzing. She might enter a coalition with the Greens! There are now more gay MPs in New Zealand than in any other parliament on Earth!
But if Ardern plays to the admiration of the global opinion-forming set, rather than listening to the citizens of New Zealand, things might look very different when the next General Election comes along.
Joanna Williams is currently researching hate crime in her role as director of the Freedom, Democracy and Victimhood Project at the think tank, Civitas.
Picture by: Getty.
To enquire about republishing spiked's content, a right to reply or to request a correction, please contact the managing editor, Viv Regan.