'I was an ordinary 20-year-old. Now I'm a target of the Chinese state'
Australian student Drew Pavlou says he's been assaulted, suspended from university and harassed online for speaking out against the Chinese regime.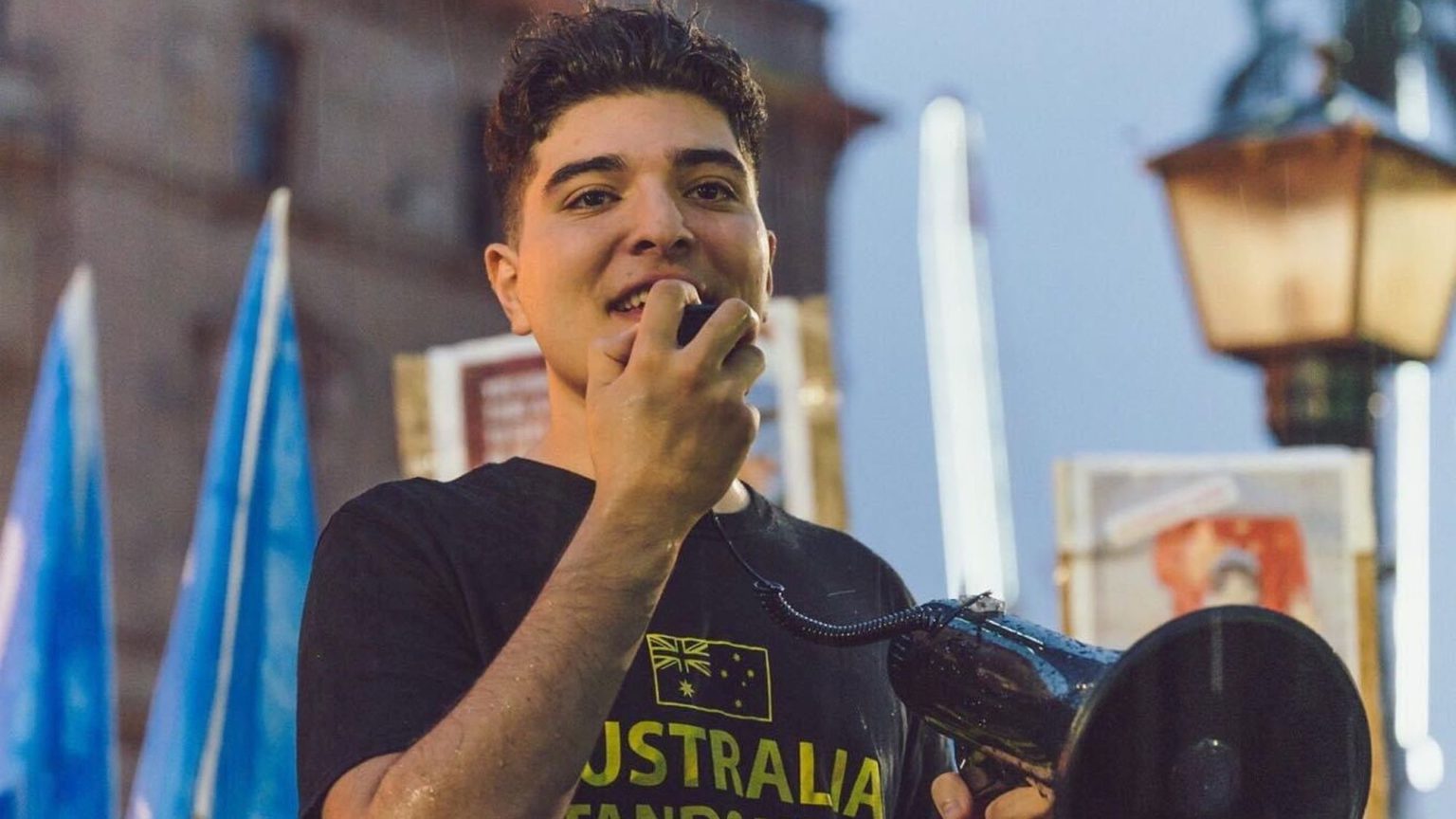 Concern about the Chinese state's influence in the West has been growing in recent years. Relations with Beijing have soured accordingly, with numerous countries rejecting Huawei's 5G provision and more actively criticising China's authoritarian regime. But the degree of influence China already exercises in Western nations is greater than some realise.
It is feared universities are one means through which Beijing seeks to exercise influence overseas. Such anxieties are particularly high in Australia, whose largest trading partner is China. Some are worried Australia is becoming entangled in the Chinese Communist Party's (CCP) web of influence.
Drew Pavlou is a 21-year-old student from the suburbs of Brisbane. In July 2019, he organised a peaceful protest highlighting alleged links between his university, the University of Queensland (UQ), and the Chinese state. At a time when the people of Hong Kong are facing an authoritarian crackdown, and Beijing is interring millions of Uyghur Muslims in camps, such connections would be all the more unsavoury.
But his small group of protesters was confronted by some 300 supporters of the Chinese regime, many of them concealing their identities with masks and sunglasses. Things rapidly turned violent. 'I was sitting down, leading the sit-in, and they ripped the megaphone from my hands. I got up to confront them and was punched in the ribs and mouth, and things devolved into a brawl. Someone sneaked up behind me and punched me in the back of the head', Pavlou says, speaking to me from Australia. 'We had drinks with spit in them poured over us. Some students from Hong Kong were choke-slammed to the ground, some were bitten.'
Why the violence? 'It was intended to try to force people into silence', he tells me. Then things got worse. On the evening of the protest, the names and images of several protesters, including Pavlou, were spread across Chinese social media. 'One Chinese student, who was part of our crowd, had his address, student papers, refugee papers and citizenship details leaked.'
Pavlou faced abuse and death threats from trolls after he was named as a separatist in Chinese state media, which he describes as being 'an open invitation to attack me'. In China, separatism is a capital offence – it is punishable by death.
Things escalated even further the following day, when the Chinese consul-general in Brisbane, Xu Jie, praised the 'spontaneous patriotic behaviour' of the 300 counter-protesters. Xu Jie is an adjunct professor at UQ.
Normally, you might expect a university to defend a student attacked for standing up for democracy and human rights. But Pavlou says there was no such support offered to him. On the contrary, UQ joined the campaign against him.
He says he was unable to get UQ's senior administration to meet with him. And so he decided to run for UQ's governing senate, which contains the chancellor and vice-chancellor. 'The idea was that if I got elected they could not continue to ignore me', he says.
Pavlou was elected, but the pile-on continued, and UQ eventually put forward a 186-page document of allegations against him, after which he was suspended as a student. 'The level of pettiness and vindictiveness on display was remarkable', Pavlou says. 'It is well demonstrated by one of the charges included in the document: the claim that I had used a pen in a campus art shop without paying for the pen, and then put the pen back on the shelf and walked out.'
Publicity around the case began to build. Former prime minister Kevin Rudd criticised UQ for its handling of the case. What's more, 42,000 people signed a petition supporting Pavlou. Major international newspapers picked up the story. Even UQ's chancellor, Peter Varghese, expressed concerns about Pavlou's suspension, and announced a special meeting of the university senate to look into it.
Pavlou's lawyers have brought legal proceedings against UQ worth 3.5million Australian dollars in damages; the case has gone to the Australian Supreme Court.
But at an appeal hearing a year after the protest, UQ sought to uphold the suspension. 'If I was UQ, I would have just given this up months ago', says Pavlou. 'Every day it drags on means more bad press for the university. It has been catastrophic for public relations. University graduates will not donate to the university anymore, and yet it keeps going. It is a case of sunk-costs fallacy.'
In a statement released in May, UQ said:
'The university's policies are not driven by politics, and we completely reject the claims that this ongoing disciplinary matter is a free-speech issue; student disciplinary matters are initiated in response to complaints made to the university… We cannot respond or engage in discussions on our student disciplinary matters – even if this means we cannot correct inaccuracies that misrepresent the university.'
But there are questions to be asked, and not just about UQ. Are Australian universities more broadly putting themselves in a compromised position? And what motivates China to invest in them?
There are plenty of advantages to such investment for Beijing, says Pavlou: 'It gives them economic leverage as well as access to expertise… For example, the branch of the Confucius Institute at UQ was set up by Hanban, an institution tied to the Chinese government. It is very focused on things that are important to the Chinese regime, such as military concerns relating to nanotechnology and aeronautical engineering.' The Confucius Institute is a worldwide education programme run by the Chinese government. The US has recently designated it a 'foreign mission', reflecting concerns that it seeks to promote Chinese state interests abroad.
Pavlou cites a famous example from UQ. 'Heng Tao Shen, a professor at UQ, develops AI technology to be used in surveillance. He used that technology to create a startup called Koala AI.' The start-up's technology has been used for state surveillance in Xinjiang.
But the advantages are not purely technological. 'There is also the reputational aspect. There are a number of courses at UQ that are funded by the Confucius Institute.' This raises questions as to whether Beijing may be able to influence those courses.
Cuts to Australian university funding have created a shortfall that those universities have been forced to make up through other means, Pavlou says. 'As more international students are brought in, the universities' revenues increase. The reduction in public funding means universities have looked to international students and China is the big cash cow in that area.'
Brits should be worried, too, he says. Beijing's project of gaining a foothold in Western educational institutions is part of its wider campaign for foreign influence, and its reach goes far beyond Australia. The University of Cambridge, in particular Jesus College, has been accused of having close ties to Beijing. The question of Chinese influence on UK universities is contested, though. A report by the Higher Education Policy Institute warned against overemphasising the negative aspects of UK-China university cooperation, suggesting a break-off of relations would do great damage.
Hearing him speak, it is easy to forget Pavlou is so young. 'I cannot even begin to describe how weird this whole experience has been. I went from being this ordinary 20-year-old from the suburbs to having the Chinese state media attacking me day after day.' But he clearly has the stomach for a serious fight.
I ask him where he sees the battle going in the future. He mentions that he is waiting on the result of his appeal hearing. 'Even if I end up being exonerated we will continue to seek damages from the university for its bullying conduct. Someone has to answer for it.'
Several weeks after I originally spoke to Pavlou, UQ announced it was reducing the length of his suspension, but upholding it nonetheless. It removed Pavlou from the university senate and warned he would be arrested if he set foot on campus. In response, he tells me: 'We will fight it in the courts.' The Supreme Court case continues.
'I am not going to let sleeping dogs lie', says Pavlou. 'This keeps going.'
Paddy Hannam is a spiked intern. Follow him on Twitter: @paddyhannam.
To enquire about republishing spiked's content, a right to reply or to request a correction, please contact the managing editor, Viv Regan.