Beware the rise of the trans-aware cops
Why are the police producing animated films about non-binary fruits?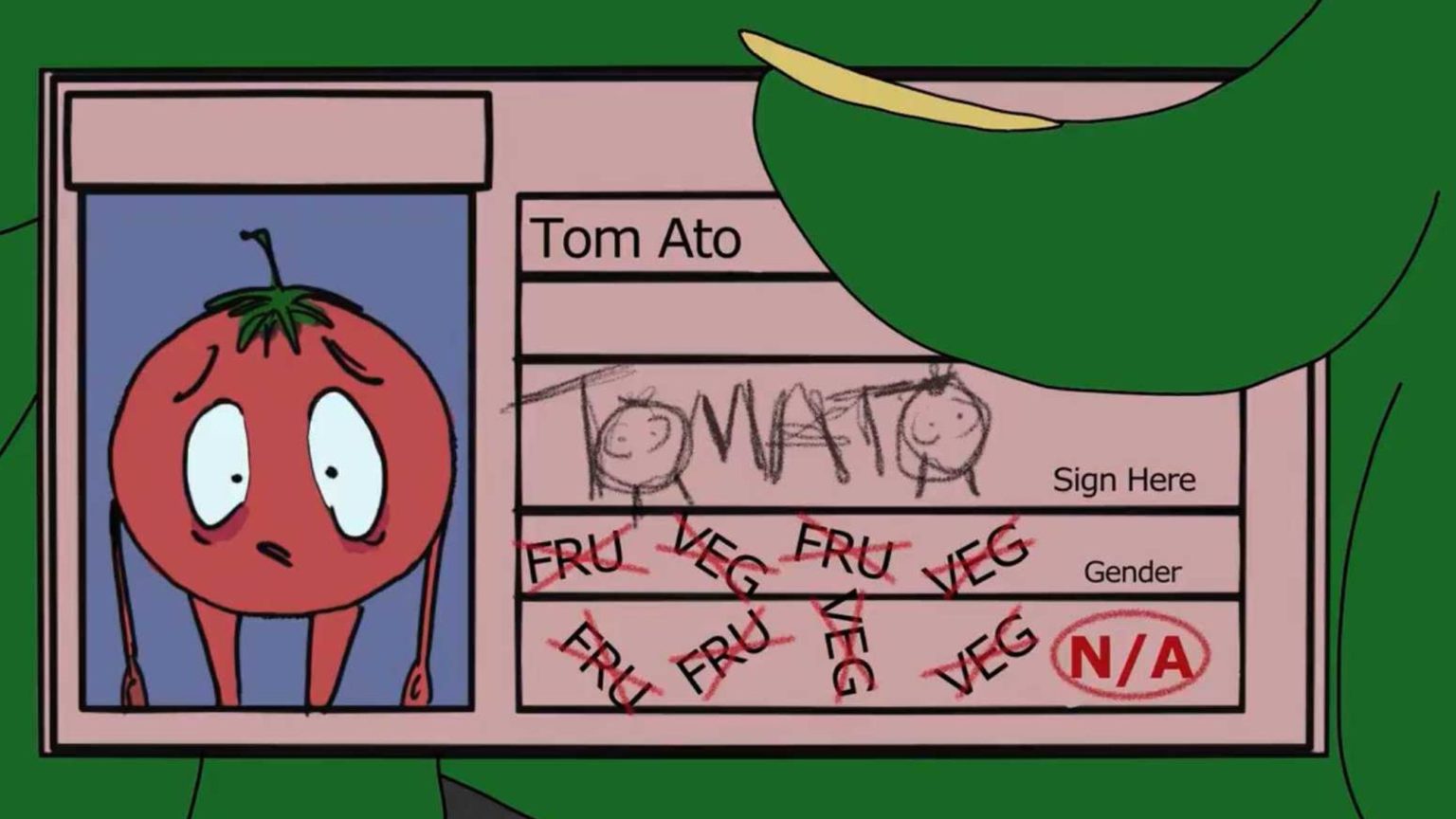 In a media request to a British police force, I found myself typing the words 'is the tomato character supposed to be non-binary?'. Reporting from the front line of the culture wars has brought me into the orbit of some bizarre campaigns and characters; from gender-fluid bankers to adult babies who demand the right to wear nappies to work. But asking for clarification from Devon and Cornwall Police about the supposed gender identity of a fictional tomato was a new low in what seems to be a battle against common sense.
Devon and Cornwall Police released an 80-second-long animated film featuring a sad tomato struggling to exist in a world where the boundaries between fruit and vegetables are rigorously enforced. After queuing to get into a nightclub the brave tomato protagonist is laughed at by heartless security guards (represented by a marrow and stick of celery) for apparently neither fitting into the 'fruit' nor 'vegetable' category. The somewhat downcast tomato is then confronted by a binary choice of 'fruit' or 'vegetable' toilets, which is apparently triggering.
Shaken and afraid, one might imagine the tomato to redden with shame, but it's impossible to tell because, well, it's a tomato. When walking home the tomato sees a (presumably bitter) lemon spraying the words 'tomatoes ain't no fruit' on to a wall. Our brave tomato hero (or possibly heroine) then proceeds to report this fragrant fruity vandalism as 'hate crime' to a sympathetic blueberry police officer with a moustache and rainbow badge on his helmet. The blueberry tells the viewer 'don't let other people's actions dictate who you are'. This somewhat bizarre animation was released in time for 'Hate Crime Week' and naturally, Devon and Cornwall coppers have been thoroughly mocked.
The infantile animation is an imperfect analogy designed to reflect the experience of those who do not identify with their sexed bodies; namely, those who consider themselves either 'transgender' or 'non-binary'. It is clearly an attempt to raise awareness of so-called hate crimes against those who think of themselves as in some way trans. But despite hyperbolic claims to the contrary, there has been no increase in hate crime. Figures on hate crime released by the Home Office earlier this week from the Crime Survey for England and Wales show a '38 per cent fall in [hate-crime] incidents between the combined 2007/08 and 2008/09 and the combined 2017/18, 2018/19 and 2019/20 surveys'.
Devon and Cornwall Police initially declined to respond to the media request I sent, telling me that questions about the gender identity of the featured tomato ought instead to be a Freedom of Information request. However, when challenged on Twitter, Devon and Cornwall Police tried to distance itself from the obvious analogy by claiming, 'this video is set in a world where the inhabitants are anthropomorphised fruits and vegetables'.
The animation's message about the harm done by single-sex toilets is also at odds with the most recent announcement from Liz Truss, UK minister for women and equalities. Last month, when announcing the results of the Gender Recognition Act consultation to parliament, Truss made it clear that while 'the Equality Act 2010 clearly protects transgender people from discrimination', the same act 'allows service providers to restrict access to single-sex spaces on the basis of biological sex if there is a clear justification'.
The reason for demarcating 'single-sex spaces on the basis of biological sex' is simple enough; on average men are more violent than women, no matter how they identify. Ministry of Justice figures from 2017 show that 98 per cent of those convicted of sexual offences, 92 per cent of those convicted of carrying weapons and 88 per cent of those convicted of violence against the person are men. For a local police force to reject single-sex toilets potentially puts women and girls in danger, and misrepresents the very law it ought to uphold.
As Rob Jessel, spokesperson of the campaign group Fair Cop explained to me:
'This video makes a mockery of the police code of ethics, which requires officers to serve "without fear or favour" and avoid any action that could be perceived as partisan or political.
'The citizens of Devon and Cornwall would be far better served if the police refrained from spending money on cutesy but misleading videos, and instead focused on improving the way they serve victims of rape and sexual assault. In 2017/18, Devon and Cornwall sent just one in 20 rape cases to the Crown Prosecution Service for a charging decision, less than half the national average.
'There is an immediate negative impact on public trust in the police when they are seen so clearly to take sides in a hotly contested political debate and encourage the erosion of women's rights. We are entitled to ask some hard questions now about who the police think they serve.'
The slogan 'transwomen are women' may be both political and nonsensical, but it is now etched into the structures of civil institutions, including the police. Indeed, there are 31 different British police forces that pay for membership of trans lobby group Stonewall's 'Diversity Champion Scheme' – the Crown Prosecution Service and Ministry of Justice are also members. Stonewall has actively campaigned for the removal of single-sex spaces in order to accommodate those who identify as trans. Stonewall's definition of 'trans' is somewhat expansive, including:
'gender-queer (GQ), gender-fluid, non-binary, gender-variant, crossdresser, genderless, agender, nongender, third gender… bi-gender and neutrois.'
These terms have no basis in law and are about as relevant to human rights as the preferred pronouns of a tomato.
The debate about whether rights should be upheld on the basis of subjective 'gender identity' or objective 'biological sex' is a live political issue, and the implications for women's access to single-sex services should not be reduced to facile discussions about lavatories or trivialised by infantilising 'educational' cartoons.
Clearly, a tomato is a fruit; just as a potato that's painted red is still a potato and not a tomato. Telling the truth about biology, whether human or plant, should never be a police matter. As hate crime is based on one's subjective experience, I have reported Devon and Cornwall police force's cartoon to the police as a hate crime; I eagerly await the response from the vegetables on duty.
Jo Bartosch is a journalist campaigning for the rights of women and girls.
Picture by: Getty.
To enquire about republishing spiked's content, a right to reply or to request a correction, please contact the managing editor, Viv Regan.