We must not trade freedom for safety
The more we try to 'stay safe' the more insecure we feel.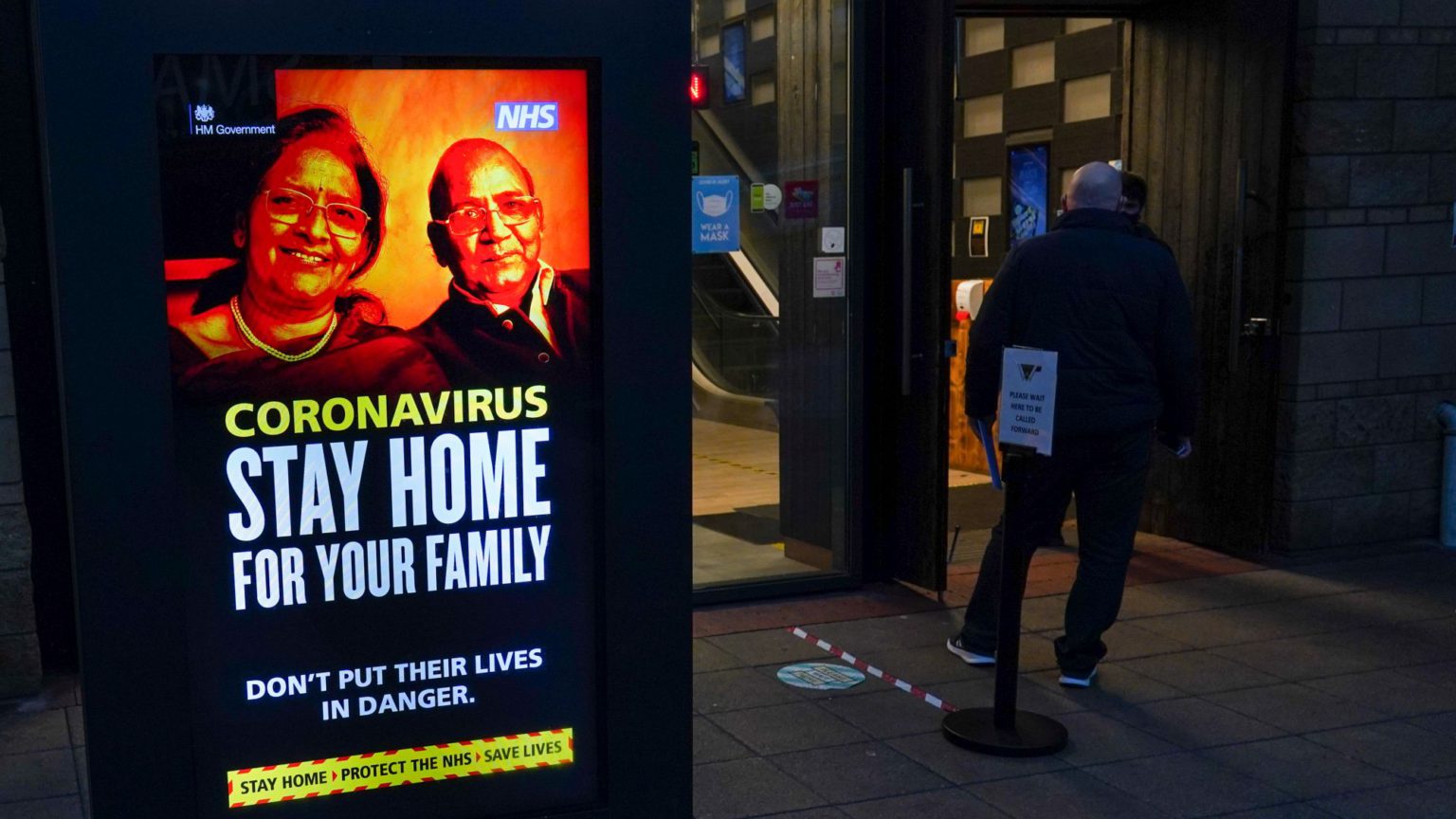 It appears that, thanks to the pandemic, we have found plenty more things to be fearful about. Who would have imagined a year ago, for instance, that 54 per cent of Americans would be worried about touching coins or bills in case they caught a virus?
What's more, the nature of fear today seems to be exacerbating conflict and divisions both within and between communities. The spirit of solidarity and unity that usually emerges in response to disasters or threats is now entirely absent. Instead, the response to the pandemic has been politicised and polarised. People are fighting over what we should fear the most – be it the virus itself or the economic impacts of the lockdown.
The toxic influence of identity politics has further complicated matters. Hence whether you wear a mask or not has been turned into a statement of one's political identity, a sign of one's virtue and superiority. Far from finding common ground in the face of a threat, we have arguably become more divided and fearful than ever.
Fear and morality
Aristotle's Rhetoric offers one of the first explicit philosophical reflections on the nature of fear. In it, he writes that 'fear may be defined as a pain or disturbance… due to a mental picture of some destructive or painful evil in the future'. Aristotle believed that the most effective antidote to this fear of the future was 'confidence'. By confidence, he meant the possession of a mental picture of the 'nearness of what keeps us safe', and 'the absence or remoteness of what is terrible'. Confidence therefore reassures an individual that he or she has the capacity to deal with the future. Meanwhile, uncertainty reflects an absence of clarity and confidence about the future.
Modern society has developed scientific and technical instruments for dealing with uncertainty – or managing risk, as it is now known. But while these play a crucial role in engaging with uncertainty, society's confidence towards the future does not just depend on technical know-how and the calculation of risk. It also depends on a moral consensus through which people can make sense of their experience. A society can feel confident that it can deal with relatively significant threats if it possesses this moral consensus.
But it is difficult to develop a moral consensus if people are afraid to share their thoughts with one another. And here we have a problem today. One of the least acknowledged but most corrosive fears haunting public life at the moment is the fear of sharing one's opinion with those who might hold different views. Self-censorship is now widely practised in society. A survey published this summer found that nearly two thirds of Americans felt discouraged from stating opinions they believe others may find offensive.
Self-censorship is not simply a free-speech issue, then. It is also stopping us from forging any sort of moral consensus. As I argue in my book How Fear Works, it is the absence of precisely this moral consensus – this common web of meaning, this shared understanding – that drives the culture of fear in the 21st century.
The deification of safety
In an increasingly privatised and morally fragmented society, in which people are afraid to speak their minds, there is one value that now cuts across the divides – namely, safety. All sides now seem to justify their arguments in its name. So supporters of Donald Trump want to 'Keep America Safe', while anti-Trump college radicals want 'Safe Spaces'. So advocates of harsher lockdown measures want to keep people safe from the virus, while opponents of lockdown measures want to keep people safe from economic harm. People on all sides today have internalised the belief that safety is the moral good that trumps every other concern.
The sacralisation of safety may have preceded the pandemic, but it has since acquired an unprecedented momentum. When New York governor Andrew Cuomo declared that 'if everything we do saves just one life, I'll be happy', he highlighted the absurdity of the obsession with safety. No one is against the saving of a life. But what if the attempt to do so deprives millions of their ability to live their own lives?
In pandemic Britain, too, safety has acquired the status of a quasi religion. Think of the casual manner with which universities have been transformed into minimum-security prisons in the name of protecting the safety of their inmates. The restrictions imposed on students are meant to make them feel safe. But as soon as these restrictions are implemented concerns are raised about their impact on students' mental health. One way or another, university students are always in an unsafe space.
Perversely, the quest for safety actually enhances people's sense of insecurity. It turns every human experience into a potential safety issue. Even the exhortation to 'stay safe' has become ritualistic. It has become a way of saying that we can never take our security for granted, and that we are constantly at risk.
Sadly, given the obsession with safety was growing before Covid, it is unlikely it will disappear once a vaccine is developed. Indeed, there are signs that millions of people will refuse to be vaccinated on the grounds that it could be unsafe to do so.
To address this divisive culture of fear, then, we do not need a vaccine. We need to be willing to address the question of what it is that binds us together in a common moral community. Only then will we develop the confidence to face down our fears.
The freedom-safety trade-off
Increasingly, the demand for imposing more restrictions in order to protect us from Covid resembles the classical anti-democratic demand for security instead of freedom. The politicisation of people's fear for their own safety was most famously articulated by the 17th-century English philosopher Thomas Hobbes.
In the aftermath of the upheavals of the English Civil War, Hobbes sought to harness individuals' desire for self-preservation in order to justify his theory of sovereignty. He argued that people, driven by the fear of death, would be willing to give up their freedom in exchange for the safety provided by an all-powerful sovereign. '[People] agree to create a sovereign because they are afraid of one another', he wrote.
Judging by the numerous health warnings that now accompany the most mundane of activities, it is not the fear of death but the fear of life that motivates 21st-century advocates of safety and security. Unlike Hobbes' politics of fear, the politicisation of safety intrudes on the minutiae of people's lives. Hence, over the course of the pandemic, concerns have been raised about the safety of people living in lockdown. It is feared they may drink too much alcohol, become too obese, or become violent towards their children and spouses.
Many people throughout history have drawn attention to the threat a politicised concern for safety and security poses to freedom. This point was recognised by Alexander Hamilton, one of the Founding Fathers of the United States. 'Safety from external danger is the most powerful director of national conduct', he wrote in November 1787. He warned that 'even the ardent love of liberty will, after a time, give way to its dictates', which will 'compel nations' to 'destroy their civil and political rights'. With a hint of fatalism, Hamilton suggested that 'to be more safe, [people] at length become willing to run the risk of being less free'. Another Founding Father, Benjamin Franklin, was unequivocally against the practice of trading in freedom for safety. He famously remarked that, 'those who would give up essential Liberty, to purchase a little temporary Safety, deserve neither Liberty nor Safety'. Franklin was right to issue such a warning. After all, relieving people of the burden of freedom in order to make them feel safe has been a mark of authoritarian regimes throughout history.
Not that trading in freedom for security ever makes people feel safer. Quite the opposite. It heightens people's awareness of the lack of control they have over their lives. And it thereby enhances their sense of insecurity.
We have seen this in the response to Covid. Many of the restrictions imposed in the name of protecting people have only served to heighten people's sense of insecurity. And that is a very real problem. The prerequisite for containing the destructive impact of this pandemic is community solidarity. But anxiety about the threat posed by others, politically and virally, actually undermines solidarity and therefore weakens our capacity to deal with the threat posed by the coronavirus.
Politicians and policymakers' deification of safety is therefore an obstacle to overcoming the challenge posed by Covid. It is intensifying the public's anxieties and insecurities about the future, not assuaging them. And it is inhibiting the development of the very thing we need to face down our fears – namely, moral solidarity.
Frank Furedi's Why Borders Matter: Why Humanity Must Relearn The Art Of Drawing Boundaries is published by Routledge.
Picture by: Getty.
To enquire about republishing spiked's content, a right to reply or to request a correction, please contact the managing editor, Viv Regan.