A lockdown on dissent
The attempt to shut down debate on Covid infantilises the public.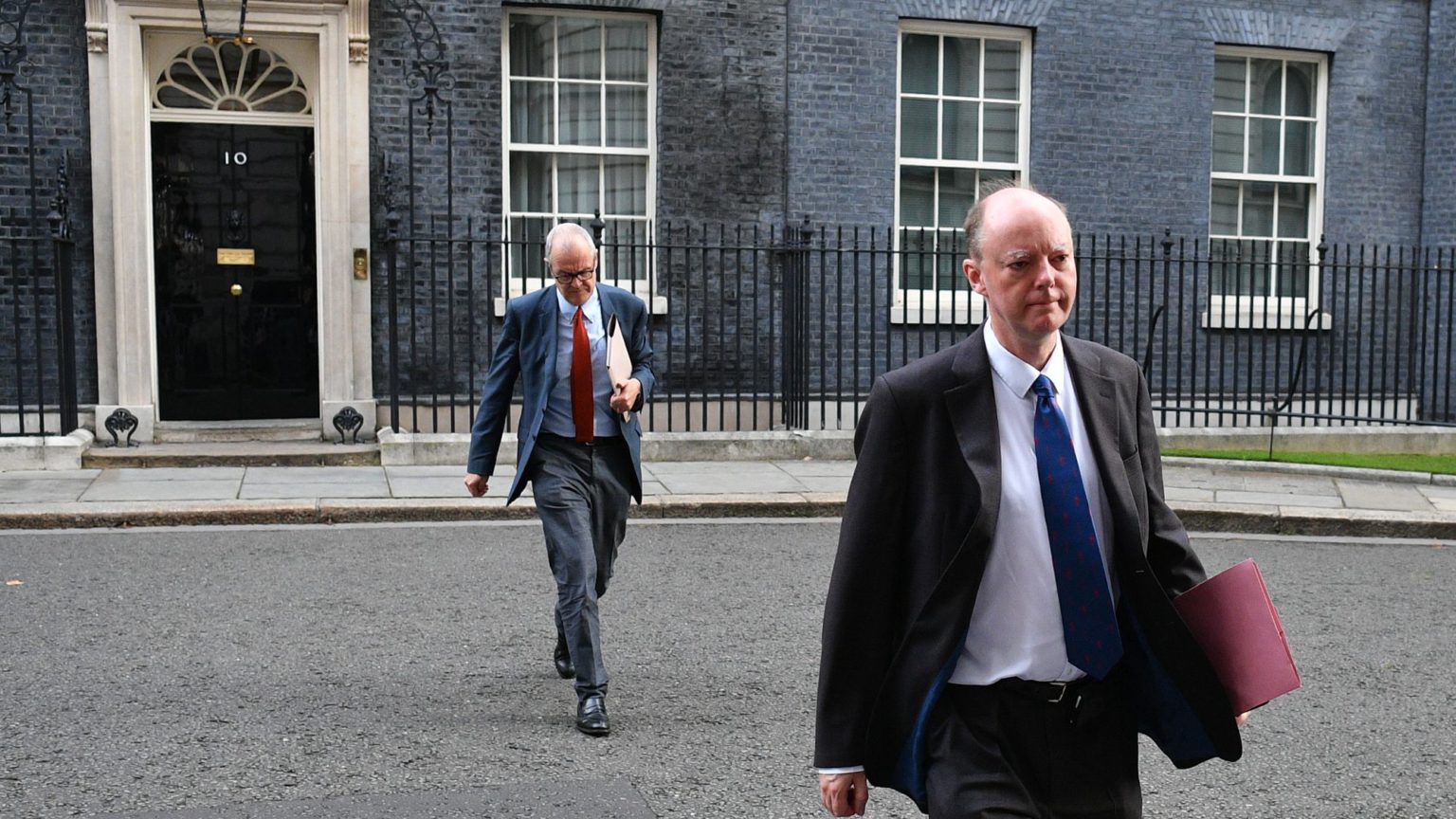 It's not just pubs, restaurants and gyms that are being shut down in response to an increasing number of people testing positive for coronavirus. Debate is being curtailed, too. When the government's chief scientific adviser and chief medical officer held a press conference last month to show off graphs with exponentially rising red lines, they left without taking a single question. Science had spoken: there was nothing more to discuss.
Yet, from the time news first broke of the Covid-19 pandemic, the science has been anything but settled. There have been protracted public disputes about the role of children in spreading the virus, the efficacy of face masks, the benefits of ventilators, how long people have immunity post-infection, and even the nature of coronavirus symptoms. There is still no real consensus on how best to respond to this new threat.
Back in April and May, despite knowing that much of the science was uncertain, the overwhelming majority of people kept to the strict lockdown rules. But now, as some parts of the UK face a return to full lockdown, it seems government ministers and their advisers, as well as many journalists, have decided that the public can no longer be trusted with uncertainty and we must be protected from any disputes over 'the science'.
Last month, following the Whitty and Vallance fear-fest, a group of 32 scientists – led by Sunetra Gupta and Carl Heneghan from Oxford University and Professor Karol Sikora, former chief of the World Health Organisation's cancer programme – penned an open letter calling on the government to reconsider its approach to suppressing the virus. They warned that lockdowns led to 'significant harm across all age groups' and asked the government to focus instead on more targeted measures. In response, they were accused of 'spoiling for a fight with the establishment'. Sections of the media were criticised for giving their views a platform and for having 'a tendency to amplify minority positions, particularly if they appear to confirm the right-libertarian worldview'. Challenging the apparent consensus was a 'dangerous distraction', which would do 'damage to public discourse'.
In other words, talk of disagreement may lead people to question and challenge the restrictions they are asked to endure – and that cannot be permitted. So now, with the publication of the Great Barrington Declaration, written and signed by infectious-disease epidemiologists and public-health scientists who are concerned about the physical and mental-health effects of lockdown, the gloves are off.
Of course, anti-lockdown scientists should be subjected to the same rigorous criticism as pro-lockdown scientists. But this is not what is happening. As Fraser Myers has pointed out on spiked, the Great Barrington Declaration has prompted a barrage of censorship and smears. It has been 'signed by fake experts!', shrieks the Guardian, which finds much hilarity in 'Dr Johnny Bananas' and 'Prof Cominic Dummings'. Another yawn-inducing piece points out that the think-tank backing the declaration, the American Institute for Economic Research (AIER), is 'part-funded by right-wing American billionaire Charles Koch'. The Observer, meanwhile, points to the AIER's libertarian leanings, complaining that science has been 'co-opted by shady ideological interests'. This is not advancing a scientific critique – it is simply an attempt to discredit by association. The aim is to present any dissent from lockdown as coming from a 'fringe group of scientists' who are out of sync with 'most of the public-health experts in the world'.
We have been here before. Prior to coronavirus dominating every headline, we were told that the 'scientific consensus that humans are causing global warming is likely to have passed 99 per cent'. Questioning this 'consensus' was – and still is – heresy. When it came to Brexit, if you challenged the experts you found yourself labelled mad, thick and low-information. The exact same urge to label Brexiteers as stupid plays out four years later in the bid to discredit the Great Barrington Declaration. All the same assumptions are there. The little people can't be trusted with ambiguity and uncertainty. They need stark and simplistic messages. They need to be told not to kill their granny. Any hint of dissent must be removed from public discourse or the idiots will 'let the virus rip'.
There are real problems with this approach to public debate. Scientific progress, like all knowledge, advances through challenge. Besmirching the reputations of those who don't fall into line, or implying they have spurious motivations, chills debate. Important questions will go unasked. And rather than promoting trust in experts, squashing dissent in favour of one consistent message has exactly the opposite effect: it promotes conspiratorial thinking. For a time over the weekend, the Great Barrington Declaration was removed from the first pages of Google in a number of countries. This plays into people's fears that facts are being withheld and they are being manipulated. Yet when a safe vaccine against Covid-19 is developed, people will be expected to trust scientists.
Not even the most watertight scientific conclusions can tell us how to deal with coronavirus. Our response is shaped by a host of ethical, economic and political considerations. The people whose lives are impacted most by lockdown restrictions need to be allowed to participate in these debates. This means trusting us all to cope with ambiguity and scientific uncertainty.
Joanna Williams is currently researching hate crime in her role as director of the Freedom, Democracy and Victimhood Project at the think tank, Civitas.
Picture by: Getty.
To enquire about republishing spiked's content, a right to reply or to request a correction, please contact the managing editor, Viv Regan.