Don't mourn the Elephant and Castle
The shopping centre has been hailed as a bulwark against gentrification. But it really had to go.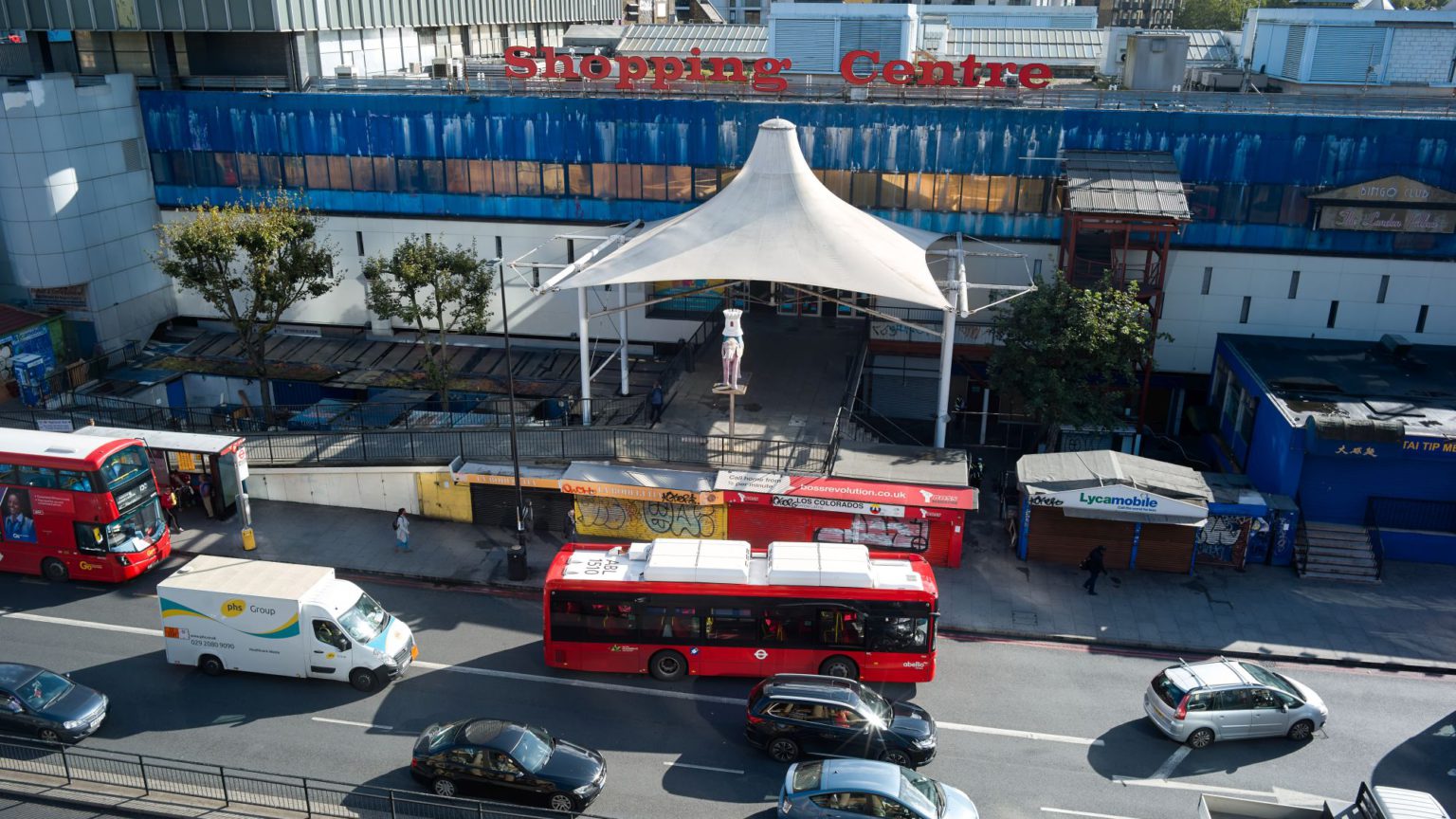 On Thursday last week, the 55-year-old shopping centre at the Elephant and Castle closed for good. It is due to be replaced in the next five years by a new shopping area, new homes and improved underground and rail access.
The centre, the first of its kind in Europe, was part of the postwar modernising plan for the area. Its brutalist architecture was no doubt cutting edge at the time. But, as urban historian Ben Campkin notes in his book, Remaking London, it never became the shopping destination for Londoners it was originally envisaged to be. It was never fully occupied, opening in 1965 with just one floor of shops in operation, according to a local who was there at the time.
In recent years, the centre has really shown its age, especially as new, shinier shopping centres have emerged. As OnLondon's Dave Hill put it: 'Though hailed at the start as a great consumer breakthrough, the building dated rapidly and, as is the way of these things, later acquired a cult status as its bad reputation solidified. Its appearance in an episode of [gritty BBC crime drama] Luther spoke for itself.'
The centre was a bit like an embarrassing family member. It inspired a chippy parochialism among south Londoners – we could be as rude as we liked about it, but would defend it if anyone else was. It was a dump, but it was our dump.
That might explain some of the mournful commentary on its closure. For many locals and traders, the centre has been a defining part of the area for a generation or two. Its closure is part of the final stages of a decade-long development of the area. The Elephant and Castle and the adjoining Heygate estate have become a byword for the negative effects of gentrification: poor financial and planning decisions by local authorities; greed of property developers and foreign investors; private profit over community needs; and, in some people's minds, social and racial cleansing. If the Elephant and Castle was previously known for its ugly shopping centre, today it is perhaps better known for its bland and tasteless modern architecture.
There are real issues about the redevelopment of cities, and the costs for existing Londoners being out-priced or displaced by new ones, many of which local campaigners have been covering for years, often with good cause. For all that's happened in the area over the past decade and more, the shopping centre, for some, has become their last stand against gentrification, displacement and private profit. It has become Elephant's Alamo.
The campaign to save the shopping centre has received a great deal of media attention over the years. But not everyone wants it to stay. Some are just happy that some money is finally being spent on the area and that the 'eyesore' is being removed. What's more, London's communities have always ebbed and flowed around the city. Places and people change.
Nostalgia from locals and traders is understandable. But there is also a more patronising and middle-class desire to preserve what's left of the old Elephant and Castle in aspic, through 'defending and saving' the centre. This attitude finds an authenticity and assumed nobility in urban dilapidation. The Guardian, for instance, holds up the shopping centre as an 'anti-Westfield' – a bulwark against the new, the bland and the capitalist.
This allows some the chance to fetishise the lives of others – lives they'll never actually have to live themselves. Celebrity QC Jolyon Maughan lamented that: 'London will never see its like again.' I wondered if he was being ironic. But no, he really seemed to be arguing that the closing of a shopping centre was a 'strangely moving event'. Perhaps Maugham has a second or third home nearby (in addition to his renovated Sussex windmill). Maybe he was a regular and will miss buying his plastic storage boxes from Price Busters and t-shirts from Peacocks. But, let's be honest, this is just gritty urbanism porn for the other half, isn't it?
The working-class locals, of all backgrounds, whose interests many eulogists claim to be defending, deserve much better than a run-down shopping centre. So for me, it's goodbye Elephant and Castle shopping centre – I quite liked you in your outrageous pantomime pink phase, but it's really time for something new. And you smelt of wee.
Justine Brian is a writer.
Picture by: Getty.
To enquire about republishing spiked's content, a right to reply or to request a correction, please contact the managing editor, Viv Regan.