Europe's migrant crisis is still with us
The devastating fire at a refugee camp in Greece revealed how little has really been solved.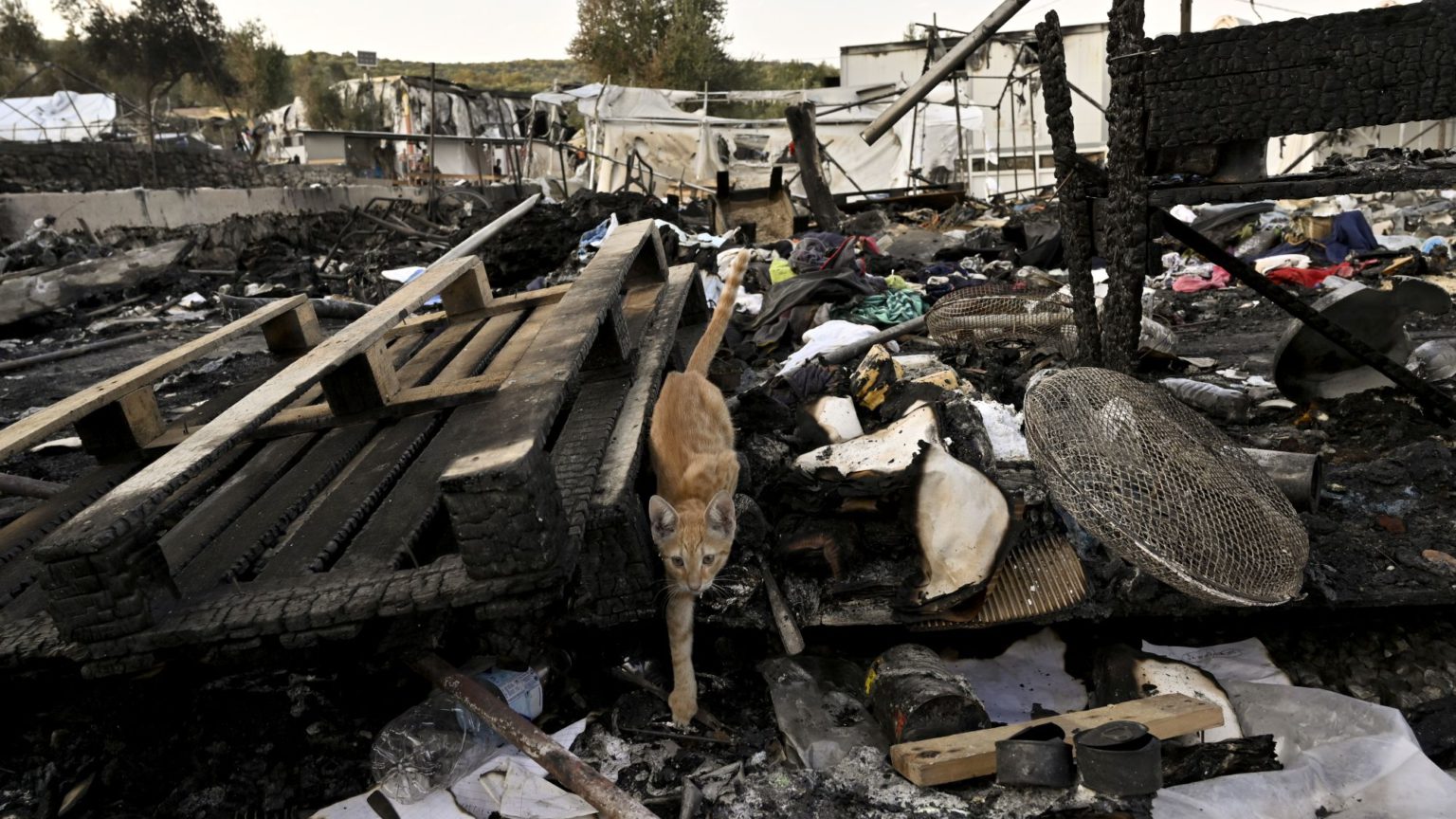 Earlier this month, a fire destroyed Greece's largest migrant camp, in Moria on the island of Lesbos. The exact chain of events is still unclear, but it seems that it started when local authorities imposed a lockdown on the camp, after 35 inhabitants tested positive for Covid. Many of Moria's migrants, having languished in barely habitable conditions for years, and reluctant to be shut in their tents, decided to protest the lockdown measures. This led to clashes between Greek police and some of the protesters, during which fires were lit that then spread through the camp. Since then, Greek authorities have charged four Afghan asylum seekers with starting the fires.
Most of Moria's near 13,000 residents – over four times its original holding capacity – were forced to flee the camp. They sought refuge in nearby churches and olive groves, and used bamboo reeds for makeshift shelters. A temporary camp has now been set up elsewhere on Lesbos, at Kara Tepe, near the port of Mytilene, where it is said to be housing 9,000 of Moria's former residents. However, many are said to be fearful that Kara Tepe will turn into 'another Moria'.
Humanitarians have been quick to describe the situation at Moria as 'the moral failure of Europe'. And PR departments at refugee charities have been flooding social media with memes calling out the lack of humanity shown by Europe towards Moria's inhabitants. Yet, rather than moral posturing, it may be more useful to look at why the Greek islands became home to overcrowded, under-resourced refugee centres like Moria.
It starts in 2015, when, in response to the migrant crisis, German chancellor Angela Merkel announced that 'German flexibility' will be needed, and that European states 'must share the responsibility for refugees seeking asylum'. As hundreds of thousands moved through the Balkans and Hungary towards Germany, Merkel then went further, proclaiming there would be 'no limit' to the amount of people Germany could take. By December, however, she had changed her mind, and announced Germany would be reducing the inward migration flow.
By then, it was too late. Her mid-2015 announcements, deliberately or not, effectively amounted to an invitation to vast numbers of people from North Africa, the Middle East and parts of South Asia, to make their way to Europe. And whether factored in or not, it was the southern countries of Europe (which are also the most economically stricken), that disproportionately paid the price for Merkel's unilateral decision. Indeed, in 2015, the flows of people into southern Greece and Italy quickly sped up. In the Greek islands, for example, nearly 10,000 people a day were arriving throughout September 2015. The result was the emergence of overcrowded migrant camps like Moria.
Of course, in 2015, Merkel famously declared 'Wir schaffen das' ('we will manage'). But if she had listened to those states on the EU's southern periphery she would have heard the retort, 'we won't be able to manage'. This remains the case today, as shown by the sight of Greek riot police firing tear gas at restive migrants, corralled in overcrowded, unsanitary refugee camps. Columnist James Forsyth anticipated as much, when, in 2015, he warned that 'Merkel has exacerbated a problem that will be with us for years, maybe even decades'.
It is rightly pointed out that a migrant camp like that at Moria was a time bomb, a humanitarian crisis waiting to happen. People can only live amid unsanitary conditions, and with a lack of clean water or electricity, for so long until they reach a tipping point. That tipping point arrived with the imposition of lockdown measures. It should provide a warning for the numerous other migrant camps across Europe, where people are living in similarly squalid conditions.
The migrant crisis is often spoken about now as something that is in the past. But as the tragedy at Moria demonstrates, this crisis is still with us today.
Patrick Hess is a writer.
Picture by: Getty.
To enquire about republishing spiked's content, a right to reply or to request a correction, please contact the managing editor, Viv Regan.