How Western liberals betrayed Charlie Hebdo
It is not just Islamists who have no interest in defending freedom of speech.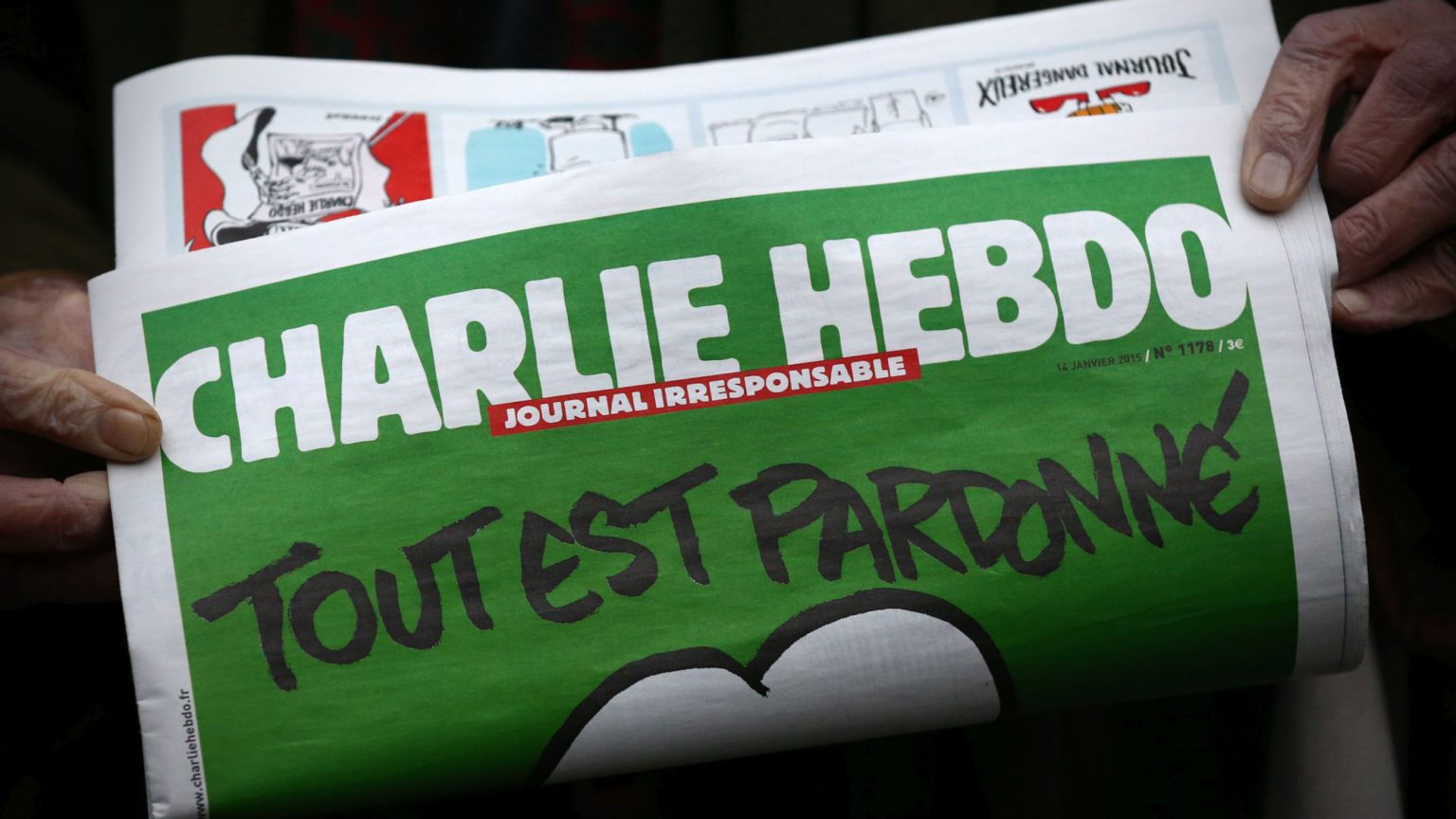 Five years after the terrorist attacks in Paris that left 12 dead, including 10 journalists from the satirical magazine Charlie Hebdo, the long-awaited trial of the suspected accomplices finally started on 2 September.
On the eve of the trial, Charlie Hebdo decided to republish the cartoons of Muhammad that motivated the attacks in 2015. The editors saw it as a necessary act of courage. Its editorial asserted that the cartoons 'belong to history, and history cannot be rewritten nor erased'. It argued that to refuse to show the cartoons ahead of the trial of those accused of assisting in the slaughter of the people who helped to produce them would be an act of 'political or journalistic cowardice'.
But many saw matters differently. They were quick to lambast Charlie for what they deemed to be another offensive attack on Muslims and their faith. Unsurprisingly, the Turkish foreign ministry swiftly condemned the cartoons, arguing that 'it is not possible to justify this insult and disrespect toward Muslims by saying it is freedom of press, art or expression'. It also claimed that such acts empowered a 'new generation of fascists and racists'. The prestigious Al-Azhar University in Egypt joined in the condemnation, stating that 'these offensive cartoons… embed hate speech further and inflame the emotions of faithful followers of religion'.
But even within more liberal-minded countries, many have denounced the decision to republish the cartoons. In the UK, Imam Qari Asim (who also happens to be the deputy chair of the government's anti-Muslim hatred / Islamophobia working group) wrote to the Independent to condemn the 'disgraceful' and 'deliberately offensive' cartoons. He said that Muslims 'respect freedom of speech, but not when it incites hatred'.
The New York-based Pakistani author and professor Asma Barlas similarly lambasted Charlie in an op-ed for Al-Jazeera. She said it 'should be possible to condemn violence by Muslims without giving a free pass to those who defame and vilify their religion, their prophet and their scriptures'. Barlas also said that Charlie's cartoons 'punch down' on a marginalised and vulnerable group by reproducing a pattern of domination through humour. She concludes 'that defending domination in the name of freedom just confirms that not all conceptions of freedom are equally worth defending'. Clearly freedom of speech is quite low on her list of freedoms to defend.
Such criticisms of Charlie are all too reminiscent of those made of it in the aftermath of the 2015 attack. Back then, many overnight experts on Charlie, French journalism and society made wild allegations, including claims that Charlie Hebdo was an 'Islamophobic' and racist far-right paper – a laughable claim for anyone with a minimum of exposure to French culture. But such ignorant reporting and criticism did mean that much of the nuance and political context behind the cartoons was lost, as activists hammered Charlie for its alleged racism without much pushback from embarrassed pundits and journalists.
Pressured by activist groups, most major media companies also shied away from sharing the cartoons. And in 2020, once again only a select few publications decided to share the cartoons, most of them in France.
What today's critics of Charlie have failed to notice is that this was the first time since 2015 that it has published cartoons of Muhammad. Its editors argued that they did not want to publish cartoons of Muhammad for the sake of it, not least because of the risk it poses to people's lives.
This raises an important question: have the slayers of Charlie Hebdo won? Have Islamists, in alliance with the identitarian left, managed to stifle free speech? After all, the publication of cartoons of Muhammad has effectively become impossible for anyone without professional 24/7 security or a good lawyer to fend off legal attacks from activists. Even the benign act of sharing the cartoons on Instagram has led to the suspension of the Instagram accounts of two French journalists – although Instagram apologised, citing 'an error', and reinstated the accounts.
Moreover, we have also started to see the emergence of de jure blasphemy laws, a consequence of the rising political influence of the victimhood narrative and leftist identity politics. The Hate Crime Bill in Scotland, for example, provides a chilling example of how we are reinstating blasphemy laws in the name of anti-discrimination and anti-racism. In France, an online hate-speech law, which was thankfully largely hollowed out by the French constitutional court, had similar aims. It wanted to mandate social-media platforms to take down certain speech flagged by users within 24 hours, which would have encouraged social-media platforms to censor massively without much restraint.
What the terrorists started to do, we have unconsciously continued in the name of anti-discrimination. It means we are treating Muslim citizens as if they are especially fragile individuals incapable of dealing with opinions that lambast or mock their beliefs. And, what's more, we are sacrificing fundamental liberal values in the process.
We can only hope that in the following weeks, the Charlie Hebdo trial provides a timely wake-up call for our political leaders and our journalists who seem all too willing to sacrifice basic freedoms at the altar of identity politics.
François Valentin is a masters student in public affairs at Sciences Po in Paris. He is also host of the Uncommon Decency podcast on European politics and culture.
To enquire about republishing spiked's content, a right to reply or to request a correction, please contact the managing editor, Viv Regan.