The Supreme Court is no friend of progressive politics
Ruth Bader Ginsburg certainly championed equality. But real change doesn't come from the anti-democratic court.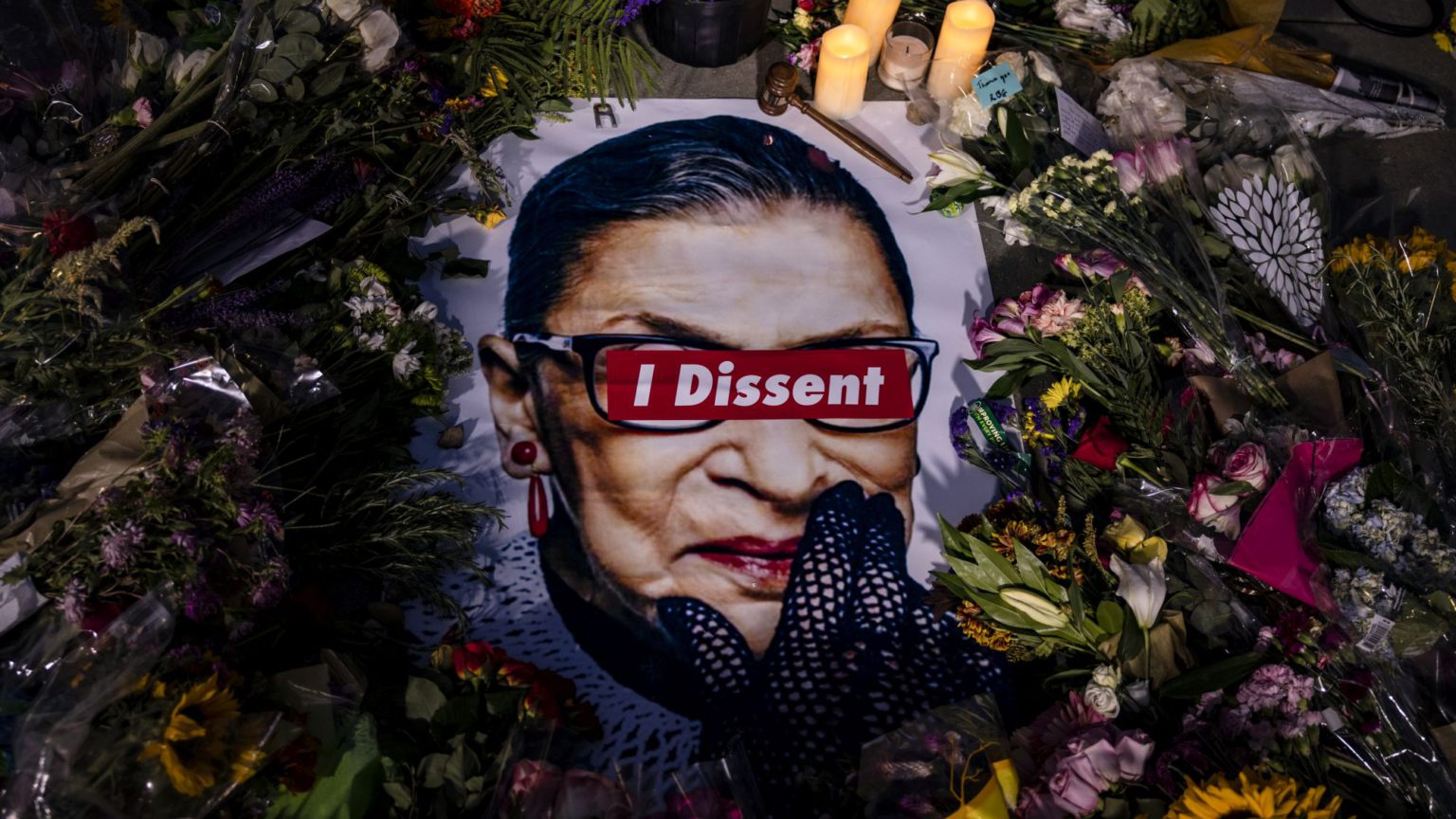 Supreme Court justice Ruth Bader Ginsburg died last week. She was 87 years old.
Ginsburg reportedly dictated a dying wish to her granddaughter which read 'my most fervent wish is that I will not be replaced until a new president is installed'. Nevertheless, President Donald Trump and Senate majority leader Mitch McConnell have vowed to press on with nominating a new justice before the US election on 3 November.
Ginsburg famously refused to stand down while Barack Obama was president, despite going through surgery for her cancer in 2009. Some have argued that it was her veneration by sections of the left that kept her going. In 2013, she had a Tumblr account devoted to her which gave her the name 'Notorious RBG'. A Netflix documentary about her career presented her as a trail-blazing champion of equality.
This was hardly undeserved. Ginsburg argued significant cases before the court in advance of gender equality during the 1970s. She was lukewarm in support of reproductive freedom in her earlier judgments, but in later life she was a vocal supporter of a woman's right to choose. Some commentators have highlighted how the American pro-choice movement has a fight on its hands following Ginsburg's death, with some anticipating an attack on the judgement of Roe v Wade.
Democratic leaders have suggested they could run the election on a platform of 'structural court reforms'. Some have interpreted this to mean that a Democratic Congress would 'pack the court', by changing the number of justices to increase the number of progressive justices. Former presidential candidate Pete Buttigieg has suggested that the court should consist of five Democrats, five Republicans and five 'apolitical' justices, in order to counter the effect of a conservative majority. To achieve this, Democrats would need to regain control over both Congress and the White House.
But it is not Ginsburg's death that poses a threat to progressive values in the US. Nor is it the current constitution of the court or the number of justices. It is the reliance that activists have come to place on the Supreme Court as their chosen vehicle for pushing change. These proposed reforms show how dependent the American left has become on litigating for radical change, rather than arguing for it on the streets and in public.
Historically, the US Supreme Court has often held back progressive social change – even in the face of democratic pressure. Frederick Douglass once remarked that slavery could not be defeated by relying on anti-slavery jurisprudence in the Supreme Court, but instead through 'the court of common sense and common humanity'. The historian Howard Zinn has described how the court failed to even hear a case by US soldiers who refused to fight in Vietnam, on the basis that there had been no formal declaration of war by Congress. Nor did the court enforce the First Amendment when Congress made it illegal to criticise the First World War. As Zinn says, 'those rights only come alive when citizens organise, protest, demonstrate, strike, boycott, rebel and violate the law in order to uphold justice'.
The position that the court holds in American democracy is well illustrated by the discussion around voting rights. One of Ginsburg's famous dissents was in the case of Shelby County v Holder. The decision invalidated a 'coverage formula' that meant certain jurisdictions had to seek 'pre-clearance' from the federal government before passing new voting laws. In the aftermath of the decision, new voter-identification laws have passed in many states, making it harder for certain people to vote. Some commentators have described the decision of the court as 'setting a new era of white hegemony'. Voting laws can lead to democratic outrages, such as voters being denied a vote on the basis of minor debts to the state. But these are democratic problems which have to be resolved by state legislatures. Attempting to fix problems with democracy through the law has always been a fool's errand. Ginsburg's death does nothing to change the fundamentally conservative character of the court, which has often come up short in defending fundamental rights.
Philosopher Alexis de Tocqueville remarked that 'a more imposing judicial power was never constituted by any people' than the US Supreme Court. Ginsburg's death highlights how the court still holds too much power over American democracy. Progressives in American should not attempt to neutralise a Trump appointment through changes to the court's composition. They should argue for restricting the court's power and increasing the power of the legislature. The power of popular movements can be far more consequential than the decisions of the Supreme Court. This is a lesson from history that American progressives seem unwilling to learn.
Luke Gittos is a spiked columnist and author. His latest book, Human Rights – Illusory Freedom: Why We Should Repeal the Human Rights Act, is published by Zero Books. Order it here.
To enquire about republishing spiked's content, a right to reply or to request a correction, please contact the managing editor, Viv Regan.