George Bernard Shaw's views do not diminish his legacy
RADA students want his name to be removed from one of its theatres as part of an 'anti-racism action plan'.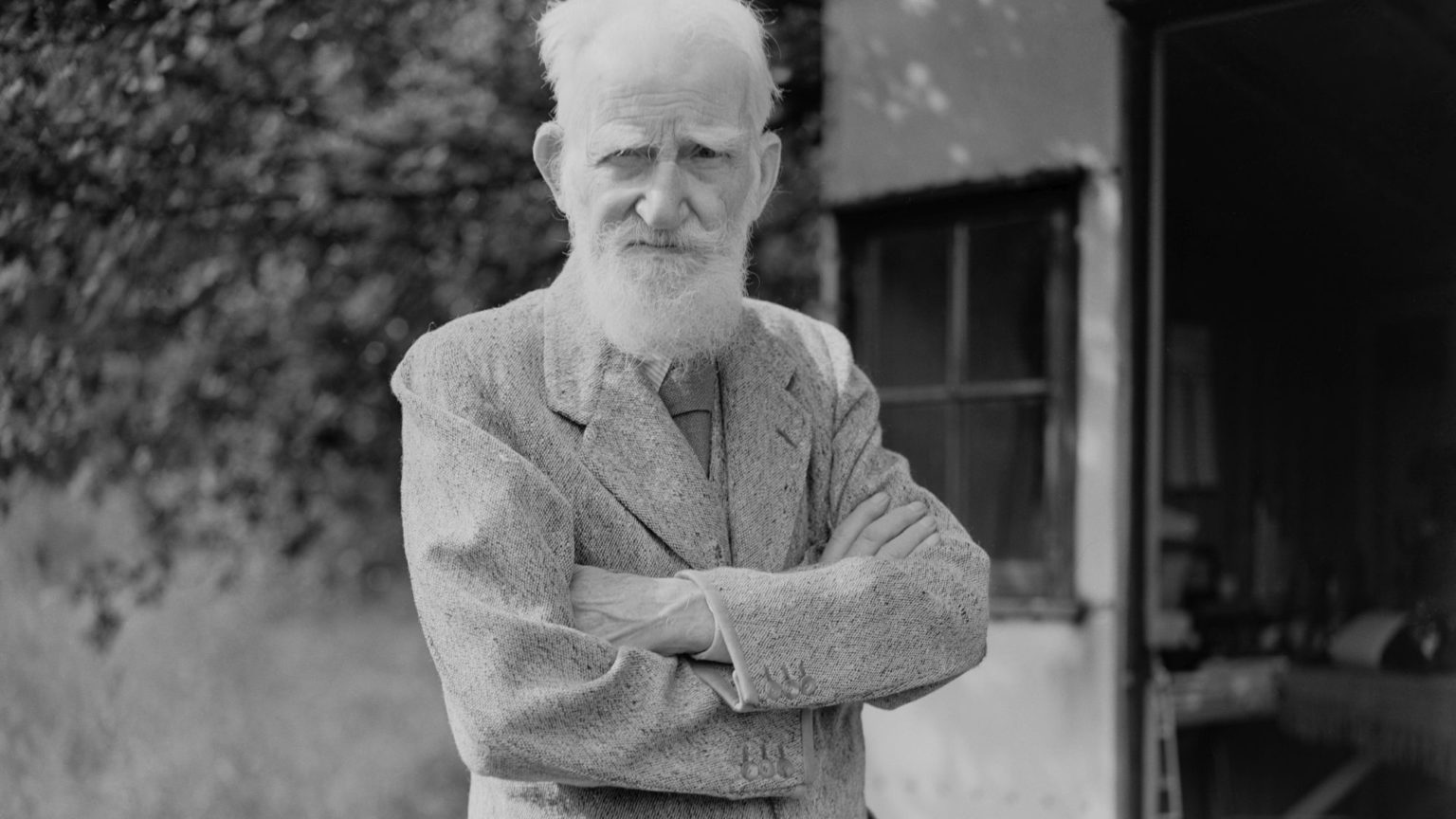 One of Britain's oldest arts institutions is to erase its connections with the most important English-language dramatist after Shakespeare. George Bernard Shaw has become the latest victim of the woke purge of cultural institutions following the Black Lives Matter protests this summer. Students at the Royal Academy of Dramatic Arts (RADA) have called for the college to remove the playwright's name from one of its theatres because of his supposed support for racist eugenics. The school's student body presented the proposal as part of an 'anti-racism action plan' to RADA's ruling council and RADA has since promised to act.
Back in July, Edward Kemp, director of RADA, issued a lengthy apology to the Black Lives Matter movement, in which he confessed that RADA was institutionally racist. 'We are profoundly sorry for the role we have played in the traumatic and oppressive experiences of our current and past black students, graduates and staff', he said. 'We are sorry for our inadequate response to the Black Lives Matter movement.'
It seems to matter little that Shaw was one of the earliest members of RADA's council and a major posthumous benefactor. He also gives his name to the Shaw Fund, through which RADA financially assists emerging writers. According to the Telegraph, royalties from Shaw's plays brought £78,000 to RADA last year alone.
Among its other proposals, the anti-racism action plan calls for a ban on performances of Restoration comedies, because of their connection with Empire. Students also complained about John Osborne's landmark play, Look Back in Anger, because of its apparently exclusionary effect on BAME students. RADA's curriculum is also to be 'decolonised', 'master-and-servant' exercises will be cut from improvisation classes, and training in received pronunciation will be 'de-centred'.
The decision by Britain's most elite performing-arts school to single out George Bernard Shaw for attack is astonishing. Shaw's 60 plays are credited with killing off Victorian melodrama, ushering in the realist 'theatre of ideas' and revolutionising comedic drama. He influenced a spectrum of writers from the 1880s to the present day across Europe and America – from Noel Coward to Eugene O'Neill to Tom Stoppard. Even Shaw's critics like TS Eliot and John Osborne were influenced by him.
Shaw was awarded the Nobel Prize for Literature in 1925 and the Order of Merit in 1946, which he refused. His entry in Encylopedia Britannica describes him as 'the most trenchant pamphleteer since Swift, the most readable music critic in English, the best theatre critic of his generation, a prodigious lecturer and essayist on politics, economics, and sociological subjects, and one of the most prolific letter writers in literature… He helped mould the political, economic, and sociological thought of three generations.'
Many writers have attempted to portray Shaw as an apologist for both Stalinism and Nazism, though they tend to draw on a handful of comments he made in the early 1930s – a time when both movements were in their infancy, before their most wicked atrocities had been committed. Academic opinion is divided on whether Shaw sincerely believed the most provocative things he said, or whether he was simply being characteristically rhetorical, contrarian and ironic.
Shaw was always questioning orthodoxies. He was an early adopter of vegetarianism and was against vaccinations. He spoke out against both sides in the First World War, and against English rule in Ireland, though he wasn't republican. He made trenchant attacks on the values of polite Victorian society, especially concerning its hypocritical sexual conduct.
Despite what the students of RADA claim, there is no evidence he was a racist. He mocked the rampant anti-Semitism of his day. According to Michael Holroyd's 1997 biography, he espoused racial equality and argued for interracial marriage.
In fact, Shaw should be counted among the Edwardian progressives. Most notably he was a radical feminist and tireless critic of the inequalities of capitalism. Unfortunately – though it may seem counterintuitive to us today – these principles led him to the dark and dangerous idea of what he called 'creative evolution' – ie, eugenics.
Shaw wrote variously in support of eugenics and lectured to the Eugenic Education Society. According to the Canada-based anti-eugenics pressure group Eugenics Archives, Shaw did not subscribe to the idea of 'controlled breeding'. Instead, he reasoned that reducing poverty was paramount because civilisation was deteriorating due to income inequalities. He believed that the only way for the human race to improve was by making sure that natural instinct, unrestricted by social forces, would guide reproduction.
While this thinking is certainly backward today, such notions were very popular in the early 20th century – particularly on the left. William Beveridge, DH Lawrence, Marie Stopes, John Maynard Keynes, Emmeline Pankhurst and many others were supporters of eugenics for the same reasons as Shaw.
Should the work of these individuals also be cancelled and their honours removed? Singling Shaw out for condemnation when his ideas, however wrongheaded, were widely shared across society is fatuous. We cannot judge individuals or societies of the past by the standards we hold today. The Guardian newspaper, originally part-funded by cotton mill owners, supported slavery in America. It also wrote in support of eugenics. That is no reason to shut it down. Eugenics is a dreadful (and simply wrong) idea that has no place in a modern liberal political calculus. But the fact is that real historical figures are complicated and their lives cannot be reduced to nursery-rhyme morals.
Shaw might have held some obnoxious views. But he also held enlightened ones. For instance, he wrote a sublime play about persecution in a culture war: Androcles and the Lion. Its central idea is a powerful truth: that one must have an end outside oneself in order to make life worth living.
RADA has given the world Harold Pinter, Albert Finney, Glenda Jackson, Diana Rigg and countless other world-class actors who really understood theatre. Its current staff and students seem content to revel in their ignorance by dismissing Shaw out of hand on the basis of a partial reading of his life. If only they would learn from the past and engage seriously with Shaw's work. Maybe then they would heed the warning within it: that an identitarian, narcissistic obsession with one's own moral superiority diminishes life for all of us.
To enquire about republishing spiked's content, a right to reply or to request a correction, please contact the managing editor, Viv Regan.