The new colour line
Too much of what passes for anti-racism today entrenches racial difference.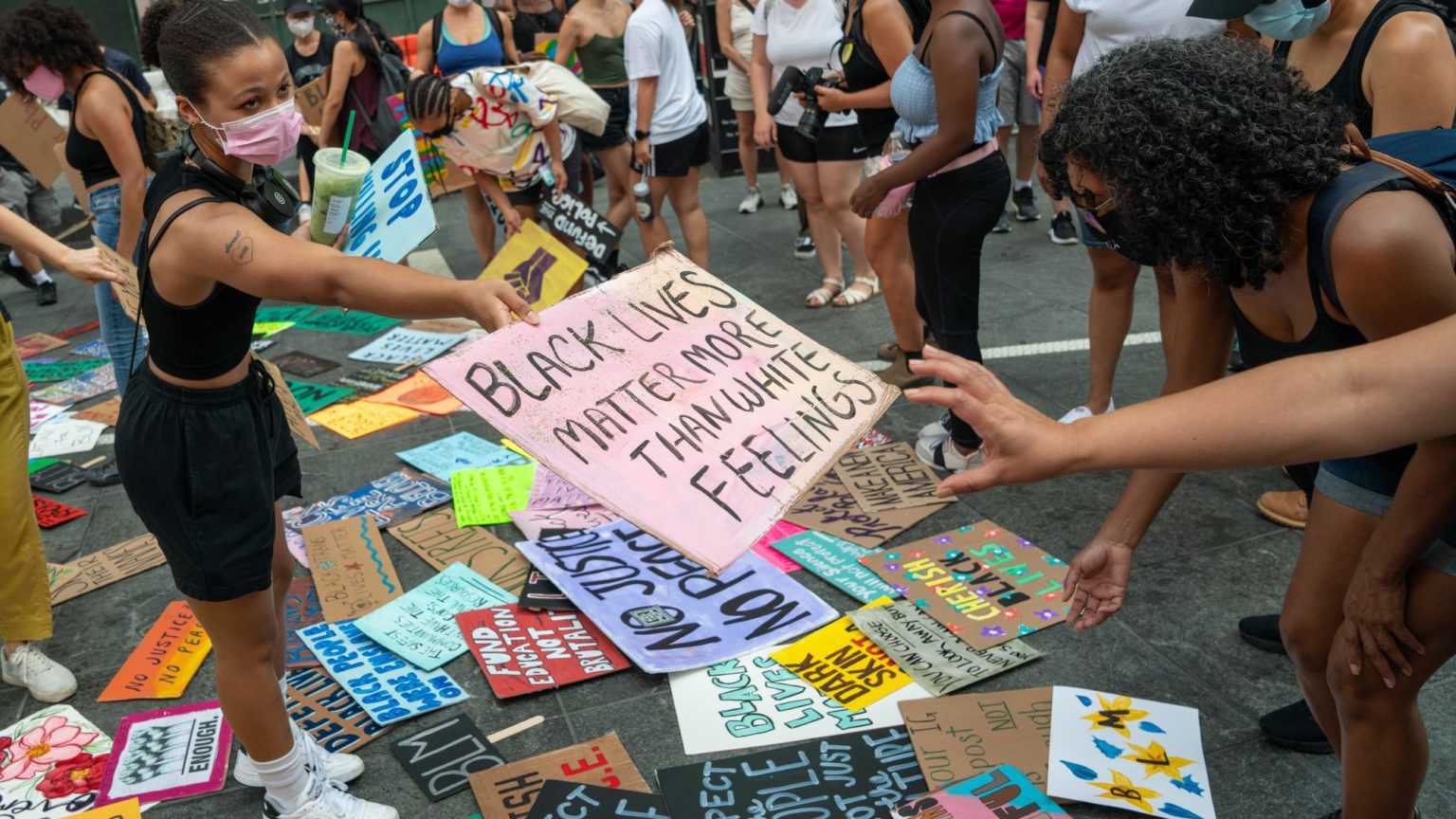 The American sociologist WEB Du Bois will be forever remembered for saying that 'the problem of the 20th century is the problem of the colour line'. Although the 20th century has passed, this statement remains more pertinent than ever in the era of identity politics. For it is no longer just racists who hold to the colour line, but anti-racists, too. They obsess over racial identities, eulogise identitarian divisions, and subordinate their thoughts and praxis to race. Indeed, anti-racists are gripped by what the philosopher and cultural theorist Kwame Anthony Appiah called the 'racial fixation' — the idea that race determines everything essential and decisive in people.
In his widely acclaimed book, In My Father's House: Africa in the Philosophy of Culture, Appiah distinguishes between racialism and racism. Racialism is the view that 'there are heritable characteristics, possessed by members of our species, which allow us to divide them into a small set of races, in such a way that all the members of these races share certain traits and tendencies with each other that they do not share with members of any other race'. Although racialism underpins racism, a racialist is not necessarily a racist, not least because he may not believe that the differences among races justify treating members of one race differently to another. Indeed, many people in the world today believe in some 'racial essence' – that there are real differences among races, so that one race shares something in common that another race does not.
Racism, however, not only assumes that there are different racial essences. It also ascribes moral qualities to those different 'racial essences' – for example, virtue and intelligence belong to one race and do not belong to another. And, from this point, the racist then argues that members of one race are superior to another.
Today, however, it is not just the racist that exploits racialist assumptions. It is the anti-racist, too.
Take, for example, the campaign to establish a 'Free Black University' in Britain to educate black people about racial justice. According to the proponents of this idea, British universities are so steeped in the legacies of colonisation and colonialism that they are incapable of addressing racial injustice. The only way to do so, therefore, is through the establishment of a separate university for black people, complete with a decolonised curriculum. Though seemingly well-intentioned, this anti-racist project is underpinned by racialist ideas. In this case, it assumes that the black race is uniquely defined by the experience of racial discrimination, which means it needs separate institutions to address its particular needs. This, in effect, results in a form of racial segregation, a new 'colour line'.
Moreover, establishing segregated universities in line with the experiences of black and white people inhibits the very interactions between and among people that are necessary to overcome racial prejudice. What we need, then, are reforms within universities – already underway in Oxford and Cambridge – that enable the intermingling of people to promote mutual understanding.
A racially segregated university falls into another trap, too. Like pan-Africanism, it erases the distinctions between black societies, and ignores the innumerable differences between black people. Reality is always more complicated than ideology. What groups of people share is not an essence but merely a common name. There is no unique essence to being black – not even colour or language or religion or class. Indeed, a cursory glance at the African continent reveals all sorts of languages, cultures, religions, colours and class divisions. And beyond Africa, the history of black people in the UK is not the history of black people in Mexico, Spain, France, Australia or Israel. Try as we may, we cannot possibly chart one single narrative, or one single historical experience, for black people.
Yet it seems to me that, as a consequence of racialism, promoters of a segregated university tend to assume that black people must have a single authentic essence – based on their singular, homogenous experience of racial discrimination. Does this mean that I cease to be black if I have not experienced white discrimination? That seems to be the logical implication of the thinking behind a black university.
Such racialist logic will only alienate those many black people who do not share this grand narrative of blackness. For it is a narrative that excludes African perspectives, and focuses only on the experiences of a few black persons in the US and Britain. The black world is much more than the US and Britain. As an African, what I experience in Africa is not racism, but xenophobia and ethnocentrism.
Black people – like everyone else in the world – have multiple and overlapping identities. These are not determined by their genetic make-up or a shared essence but by the diverse conditions within which they develop and appropriate their varied identities. For instance, I am black, but I am also male, straight, Igbo, Christian. And, most importantly, I am human, educated in different cultural settings from which I have taken up myriad values. All these identities make up my unique personality. But the racial fixation of a segregated black university collapses the various complex identities of black people into one single essence — 'blackness'.
What we need are not singular, racial narratives about how to live our lives; rather, we need multiple narratives, which are only possible when persons of different cultural, ethnic and racial backgrounds converse with one another in neutral, multicultural, educational environments. A segregated black university militates against these cosmopolitan environments. Instead, it institutionalises an ideology of 'essential difference' among races. It is the sort of thinking that suggests whites can never understand blacks and reinforces a sense of 'black victimhood'.
Another example of the racial fixation is the statement 'white silence is violence'. It has racialist undertones: it essentialises white people everywhere, and assumes that what white people have in common is racism against black people. This assumption has served to justify BLM supporters in Washington, DC attacking whites in cafes and restaurants for not raising their fists in support of the anti-racist movement.
Such assumptions are clearly wide of the mark, not only because most white people are not racist, but also because some clearly support anti-racist causes, including misguided ones like the 'Free Black University' project.
Like black people, white people are not united by any racial essence. They also have multiple and overlapping identities. Perhaps the white person who does not join anti-racist protests is a Quaker for whom non-violence is a core tenet of their religious identity. Perhaps he or she simply did not want to be coerced into doing something by an aggressive crowd. We may never know. But we do know white people's judgements and decisions are not reducible to some all-determining racial essence.
The psychologist Gordon Allport propounded the 'contact hypothesis', which posits that prejudice between majority and minority groups can be overcome under conditions of rough equality. The truth about some of the manifestations of anti-racism today is that, owing to their racial fixation, they do not allow for interactions between whites and blacks in conditions conducive to understanding and tolerance. Instead, they encourage racial segregation and hatred of white people.
We should be trying to transcend racialism today, not entrenching it. A true anti-racist project would aspire to go beyond racial divisions. It would accentuate our substantive commonalities rather than the accidental configurations of our personhood. It would transcend the racial fixation and the tendency to explain the problems of peoples of African heritage solely in terms of racial characteristics. After all, the world is much more complicated than race. In a world of black, white and brown peoples with multifarious identities, we need to realise that what we all share in common is not race but humanity. Our shared future, beyond the colour line, depends on it.
Promise Frank Ejiofor holds an MA in political science from the Central European University (CEU) in Budapest, Hungary. His research interests span constitutional politics, nationalism, moral and political theory. Follow him on Twitter: @ejioforpromise
Picture by: Getty.
To enquire about republishing spiked's content, a right to reply or to request a correction, please contact the managing editor, Viv Regan.