Mobbing Rand Paul: the idiocy of woke activists
While protesters have been ruining brunches, Paul has actually been changing things for the better.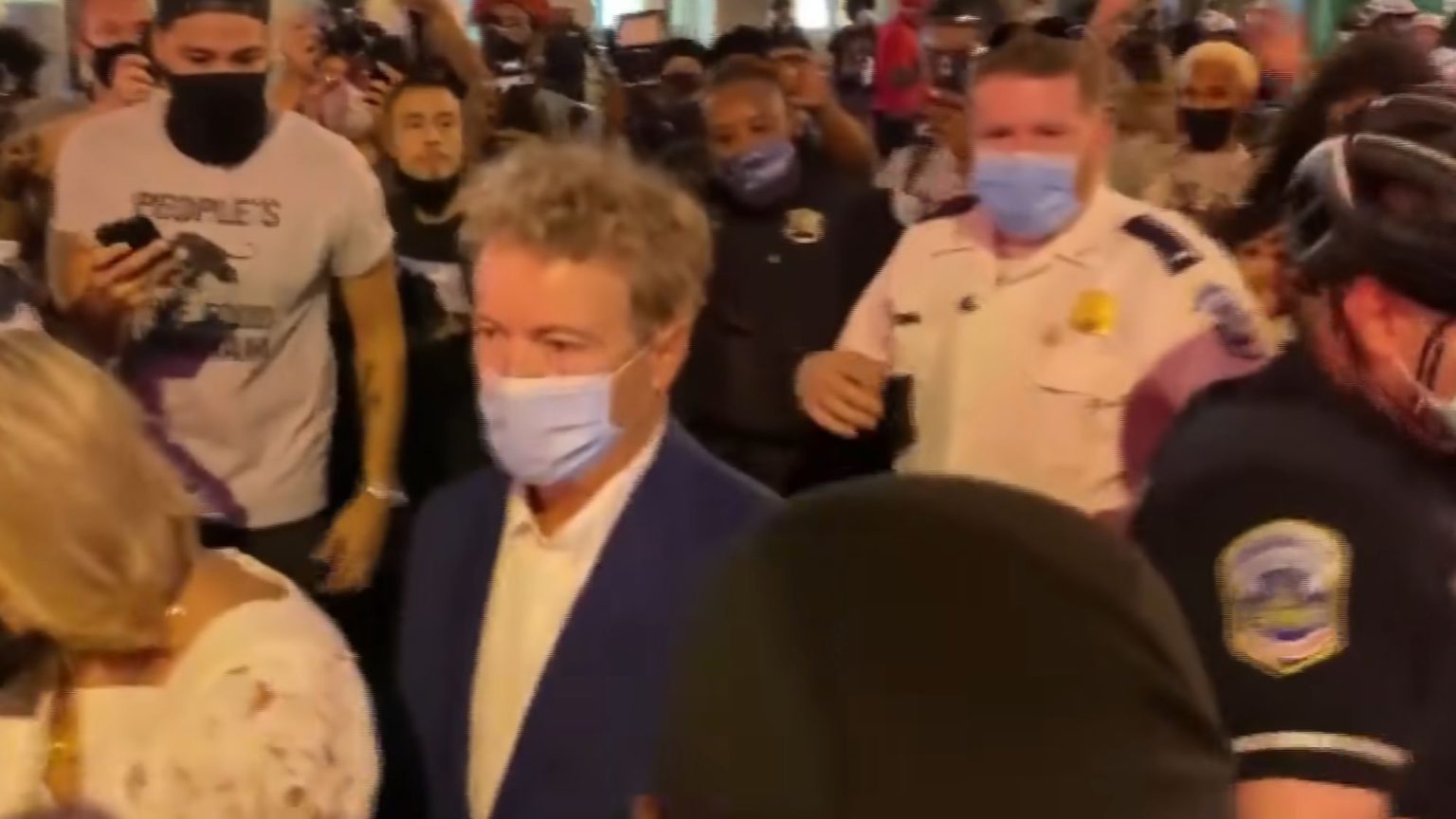 As my country slouches towards election day, I wonder, which riots are going to be more destructive – if Trump wins or if Trump loses? The months following the death of George Floyd have been so unpredictable, I'm not going to place any bets.
What do you make of riots that have been justified with a quote from Martin Luther King Jr as 'the language of the unheard', while simultaneously condemned as the work of white supremacists? Protests that are 'fiery but mostly peaceful'? And how can antifa both not exist and be the good guys?
You don't have to answer any of these questions to take part in the civil unrest rocking the United States. You could say that for all the bad that mobs do, at least they're inclusive. There are no entrance exams. Mayhem just needs bodies. No brains.
That's the only way I can explain how monuments to abolitionists are given the same vandal's treatment as the statues of slaveholders; how arsonists in favour of black lives can set fire to black-owned businesses; and how a mob can swarm the US senator who wrote the Justice for Breonna Taylor Act and demand he, 'Say her name!'.
Senator Rand Paul and his wife, Kelley, were hounded by a mob in Washington, DC following the end of the Republican National Convention. According to the Associated Press, 'It was not clear whether any protesters made physical contact with Paul. The senator and his wife kept walking and did not appear to have suffered any injuries.'
If you don't count the mob shoving a police officer into the senator, I guess no physical contact was made. But as you can see in the video of the incident, were it not for police protection, the mob could easily have made more physical contact with the Pauls.
Kelley Paul recounts the event in the Washington Examiner. She 'attempted to meet the eyes of one of the protesters and tried to explain that Rand authored the Justice for Breonna Taylor Act, but it seemed to just infuriate them more, as they called me a "bitch" and "racist wh—" alongside an endless torrent of "f— yous".'
Unfortunately, Mrs Paul had to learn firsthand that there is no reasoning with the mob. And there is no reasoning with the mob's online defenders, either.
Blue-check Lauren Hough had a laugh – not over the irony of the situation, but over 'this image of the little crybaby hiding behind a cop because protesters said things like "say her name", and the hysterical "attacked and almost killed by a mob" tweets are fucking cracking me up'.
I can imagine how traumatic it must have been for the Pauls in these 'mostly peaceful' days of lootings and shootouts and mob beatdowns. Let's not forget that in 2017, Rand Paul was targeted in a mass assassination attempt, and later that year had his ribs broken when his neighbour attacked him.
No matter, blue-check Tony Posnanski is still on 'team Rand Paul's neighbour'. Hey, at least he's not on team Rand Paul's would-be assassin.
Some of Paul's critics accuse him of blocking the recent anti-lynching bill when it came before the Senate. But he simply took issue with how the bill was written. In his own words: 'The terrible act of lynching deserves the most severe penalty we can apply. But the bill as written could potentially define slapping someone as a "lynching" and thereby eligible for 10 years in prison.'
Rand Paul was speaking out against no-knock search warrants (the kind that led to the murder of Breonna Taylor), civil asset forfeiture and police militarisation long before protesters were roaming dining districts demanding white people raise their fists in solidarity with Black Lives Matter.
These activists would rather ruin brunches than change things for the better.
Lou Perez is head writer and executive producer at We the Internet TV. Follow him on Twitter: @TheLouPerez
Picture by: YouTube.
To enquire about republishing spiked's content, a right to reply or to request a correction, please contact the managing editor, Viv Regan.