The fall of Lukashenko would cheer any democrat
But it is down to the people of Belarus, not external actors, to oust him.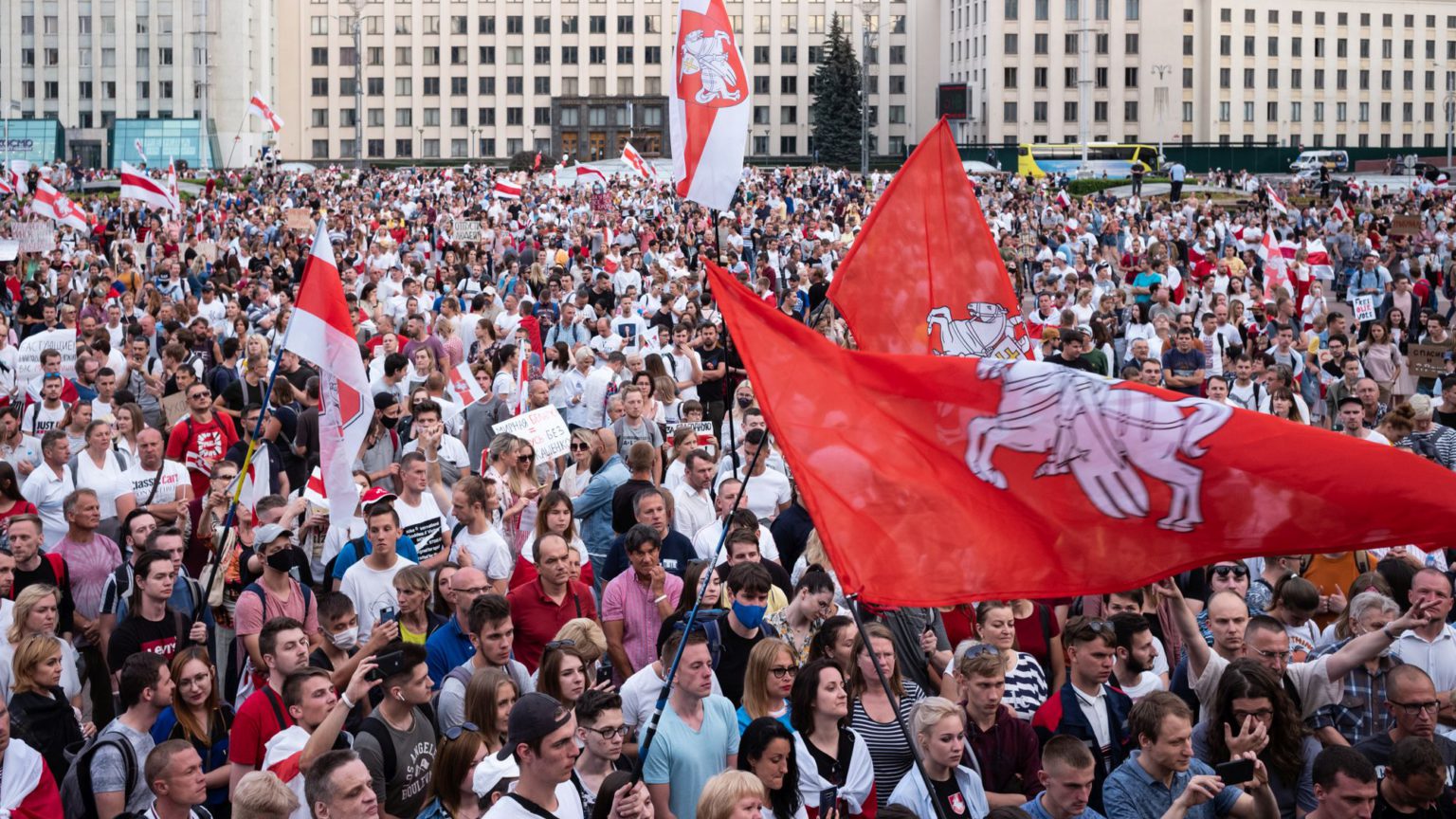 Valery Tsepkalo, a Belarusian politician currently exiled in Russia, does not think Alexander Lukashenko, the president of Belarus, has long left in power: 'Maybe a couple of weeks. Maximum a couple of months.'
Tsepkalo may be right. Since Lukashenko's sixth consecutive victory in consistently rigged presidential elections earlier this month, Belarus has erupted in protest. The day after Lukashenko triumphed over the main opposition candidate, Svetlana Tikhanovskaya, and claimed to have won 80 per cent of the vote, over 60,000 people flooded the streets of Minsk. The response was brutal. Over 7,000 were arrested by security forces, and many were injured, as police used rubber bullets and water cannons.
But Lukashenko's harsh crackdown, a product of his increasing political weakness as much as the strength of the security forces, did nothing to quell the unrest. Quite the opposite. On Monday, over 100,000 attended an opposition rally against Lukashenko's rule, while Minsk factory workers, traditionally supportive of Lukashenko, disrupted his attempt to address them with chants of 'Leave now!'. There are even reports that many in his rural strongholds have turned against him.
Perhaps sensing the way the wind is blowing, state employees have started to switch allegiance. At Belarus's state television company, newsreaders left their seats empty for a morning broadcast; the ambassador to Slovakia came out in support of 'the people'; and there are reports that some police officers are siding with the protesters. As one observer put it, the end could well be nigh.
If it is, the fall of Lukashenko should cheer democrats everywhere.
In theory, post-Soviet Belarus is already a representative democracy, with a directly elected president and a bicameral parliament. In practice, of course, it is nothing of the sort. It is an authoritarian state, ruled by an all-powerful president, who has emasculated parliament, rigged elections and silenced any form of dissent. Political opponents, such as one-time interior minister Yury Zakharanka and journalist Zmitser Zavadski, are 'disappeared', while many others flee before Lukashenko's heavies can deliver a similar fate.
For much of Lukashenko's rule, the Belarusian public has acquiesced, thanks, in the main, to his strangulation of any form of civil society and his delivery of relative economic and political security. Observers reckon that while Lukashenko has never commanded the support of 80 per cent of the electorate, he still had the support of an electoral majority, upwards of 50 per cent.
But the mood, facilitated in part by activists' use of encrypted social media, has shifted markedly in recent months. This was evident before this month's election, when an anti-Lukashenko rally outside Minsk in May drew a crowd of nearly 60,000, which was, until this past week, the largest protest since the collapse of the Soviet Union. This all suggests that, amid Belarus's growing economic struggles and now Lukashenko's dismissive handling of the pandemic, the chronic lack of civil liberty and political accountability has proved too much for many Belarusians.
Yet, for all that, Lukashenko's fall is not certain. He himself is digging in. In Minsk on Monday, standing before striking workers, who were jeering his every word, he remained resolute: 'We held the elections and until you kill me, there won't be any new elections.'
And, so far at least, his opponents seem reluctant to lead the public protests, or articulate what it is they want. The consultation council, formed by Tikhanovskaya and fellow opponents of Lukashenko in the aftermath of the election, has pledged to form an interim government if Lukashenko departs. But, as one report put it, it has so far proven 'unable to give direct answers when… repeatedly asked about possible steps [to be considered] in order to move forward'. The lack of leadership is reportedly already undermining the possibility of a general strike next week, with many workers more fearful of the sack than they are supportive of an uncertain cause.
But perhaps the greatest threat to this incipient rebellion is external to Belarus.
Western European states have already started to flex their muscles in the direction of the Belarusian protesters. German finance minister Olaf Sholz said Lukashenko 'no longer has any legitimacy'. More ominously, French president Emmanuel Macron said the EU 'must continue to mobilise alongside the hundreds of thousands of Belarusians who demonstrate peacefully for the respect of their rights, their freedom and their sovereignty'. And the European Union itself is now discussing what sanctions to impose on Lukashenko.
More worrying still, NATO spokesperson Oana Lungescu said NATO was 'closely monitoring' the situation in Belarus, while declaring – none too convincingly – that 'NATO's multinational presence in the eastern part of the Alliance… is strictly defensive, proportionate and designed to prevent conflict and preserve peace'.
Such posturing is so dangerous precisely because it threatens to drag Russia further into the crisis in Belarus. After all, Belarus is a close ally, sitting, like Ukraine, on its Western border. If the Kremlin thinks that the EU, let alone NATO, is dragging a post-Lukashenko Belarus further into its orbit and out of Russia's, it will respond. Such was the message Russian president Vladimir Putin delivered to German chancellor Angela Merkel on Tuesday, in which he warned of an escalation in the crisis if 'external actors tried to meddle in the republic's internal affairs'.
For as much as some of the EU's more sabre-rattling supporters would like to believe that Belarus is desperate to escape Russia's historic embrace, this is simply untrue. The protests against Lukashenko, unlike those against Ukraine's corrupt former president Viktor Yanukovich, are not driven by any desire to align Belarus with the EU or NATO. There are no yellow-starred blue flags on show, or love letters to Brussels being penned. The Belarus protests are pro-democracy, pro-civil rights and anti-Lukashenko. They are not anti-Russia, just as the Belarusian public is not anti-Russia.
Moreover, as it stands, there is no indication Moscow is willing to prop up Lukashenko. As the Financial Times reports, 'The Kremlin is under no illusion about the collapse of Lukashenko's political legitimacy', before adding, 'military intervention on his behalf would be a waste of Russian effort and prestige'.
But that could all change if the Kremlin suspects that 'external actors' are trying 'to meddle in the republic's internal affairs'. A civil struggle would then be transformed, just like Ukraine's was, into an international conflict. That would be a blow to Belarus's democratic hopes far greater than even Lukashenko could deliver. For the greater the involvement of Russia, the EU and NATO in deciding the future of Belarus, the lesser the involvement of the Belarusians themselves.
That would be a tragic development. For if Belarus is to have a more liberal, democratic future, that can only be realised by the people of Belarus themselves.
Tim Black is a spiked columnist.
Picture by: Getty.
To enquire about republishing spiked's content, a right to reply or to request a correction, please contact the managing editor, Viv Regan.