The naff symbolism of modern eco-protest
Protesters in fancy dress, vandalising monuments, know nothing about the issues they want to raise awareness of.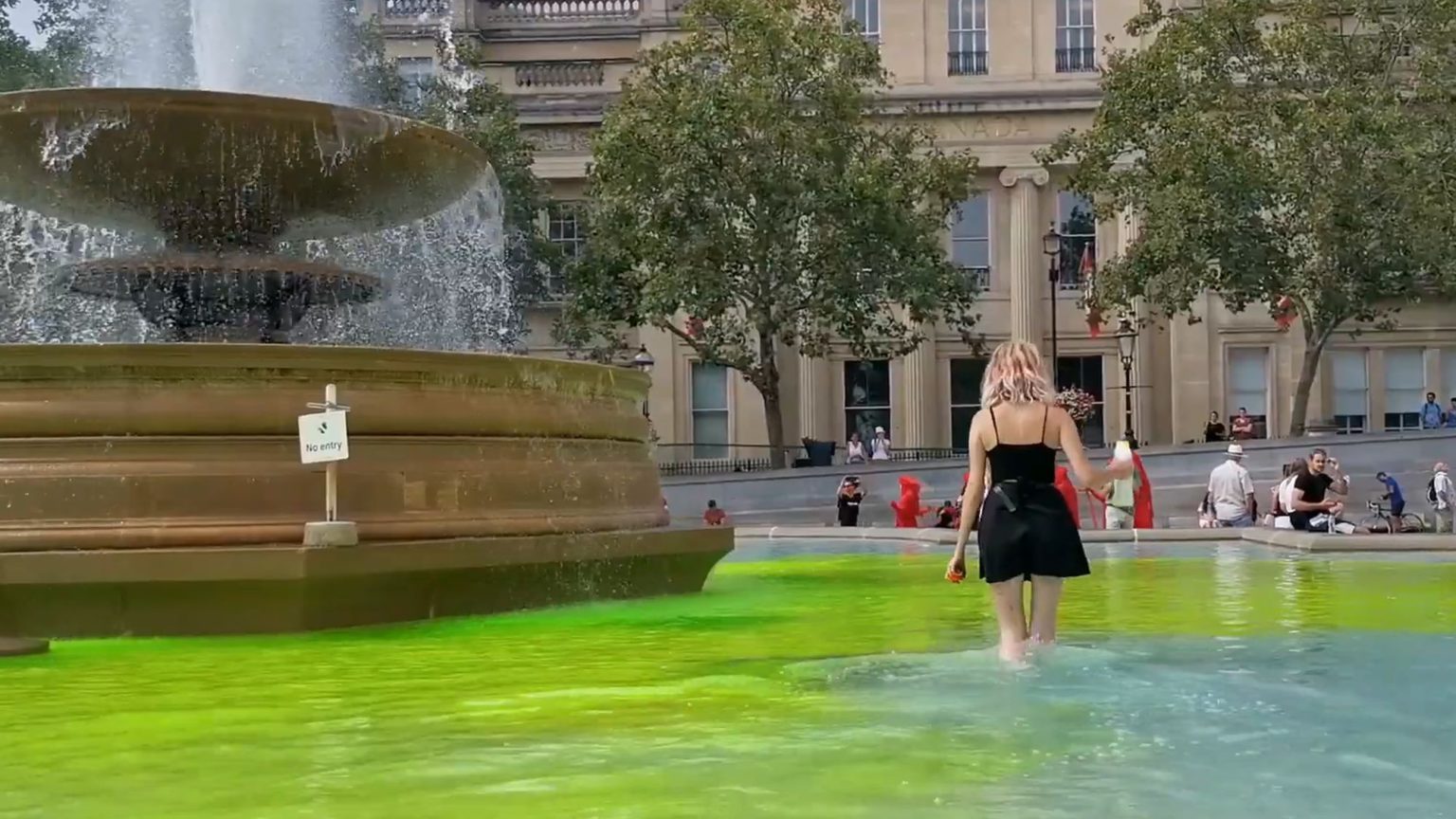 Earlier this month, activists from Extinction Rebellion (XR) poured red paint on the steps of Trafalgar Square and threw luminous green ink into its fountains. The colours, representing 'ecocide' (green) and genocide (red), were intended to raise awareness about the impact of Covid-19 on indigenous Brazilian people.
Or perhaps the aim was merely to draw attention to XR themselves. After all, it's not clear how pigment poured over the UK capital's iconic landmarks is going to make a difference to indigenous people. What will Londoners do with their new-found 'awareness'? And what kind of solidarity is created by acts that most people will see as nothing more than petty vandalism?
Moreover, XR's latest stunt might have been better directed towards fellow environmental campaigners at the WWF. As has been exposed by indigenous-rights organisation Survival International, the massive green NGO stands accused of an endless list of human-rights abuses against indigenous people living – or trying to live – in the path of WWF's conservation agenda. Such 'solidarity' ought to raise questions about the green movement. Instead, WWF continues to be given tens of millions from the UK taxpayer.
XR and WWF are not the only green NGOs to have developed a strange interest in indigenous peoples. In 2013, Greenpeace's recruitment of Canada's First Nations voices to their Save the Arctic campaign was frustrated by the Inuit Circumpolar Council's rejection of the 'questionable use of the Indigenous voice'.
It turns out that some indigenous people, living in very cold places, might find fossil fuels quite useful, and some might even aspire to work in the oil and gas industries. But greens take for granted the idea that indigenous peoples want to live 'traditional' lifestyles. This presupposition speaks to the green fetish for lifestyles which are closely dependent on nature. When they are not murdering and evicting indigenous people or using them as political puppets, greens celebrate indigenous people as symbols of pre-industrial authenticity. But not as people. When voiceless indigenous people come into opposition with Western NGOs, greens turn out to be as indifferent to them as any logging, mining or agricultural corporation.
The image of helpless, voiceless victims helps green NGOs to cast simple moral categories over the messy business of societies and their development. But Greenpeace and WWF let the cat out of the bag. This is how they want all humans to be: both literally and figuratively powerless, living pre-industrial lifestyles. As soon as indigenous people become politically independent – that is, able to assert themselves politically – or participate in the economy as producers and consumers, or simply stand in the way of green ambitions, their symbolic power fades.
Many have observed the recent trend of political protest's convergence with performance art. Green NGOs and campaigners, unable to produce mass support for their political views, have had to turn protest into a different kind of spectacle than the one produced by demonstrations of the popular will through the weight of numbers. Every eco-protest today is sparsely populated, but rich with deeply naff symbolism, combined with seemingly transgressive performance – colours and vandalism – to attract attention.
This formula for protest probably reflects the full extent of the protesters' understanding of the issues facing indigenous people (or people in the developing world more broadly). Indigenous people are just useful symbols to green campaigns: objects of both pity and aspiration. But eco-warriors' grasp of the 'environment' is also entirely symbolic. Trees become lungs, nature becomes Gaia, and industry becomes sin. Greens claim that their perspective is grounded in science, but the logic of the symbolic order haunting green claims is much more often based on mystical mumbo-jumbo and allegories of fire and brimstone than on any attempt to understand society's interactions with the natural world.
The problem for the ecological zealots that think nothing of inflicting themselves on the rest of society is that very few people speak their language, much less share their views. Most people don't want to be the eco-serfs in the green lunatics' designs for an eco-political order that will please Gaia. Most people don't think their interests are going to be served, let alone understood, by people in fancy dress committing acts of vandalism against a nation's monuments.
If you think environmentalists are champions of indigenous people's – or any people's – rights, you probably think Avatar was a documentary.
Ben Pile blogs at Climate Resistance.
Picture by: YouTube.
To enquire about republishing spiked's content, a right to reply or to request a correction, please contact the managing editor, Viv Regan.