Will segregation come to King's College London?
A new report suggests students should be allowed to pick the race, gender and religion of their mentors.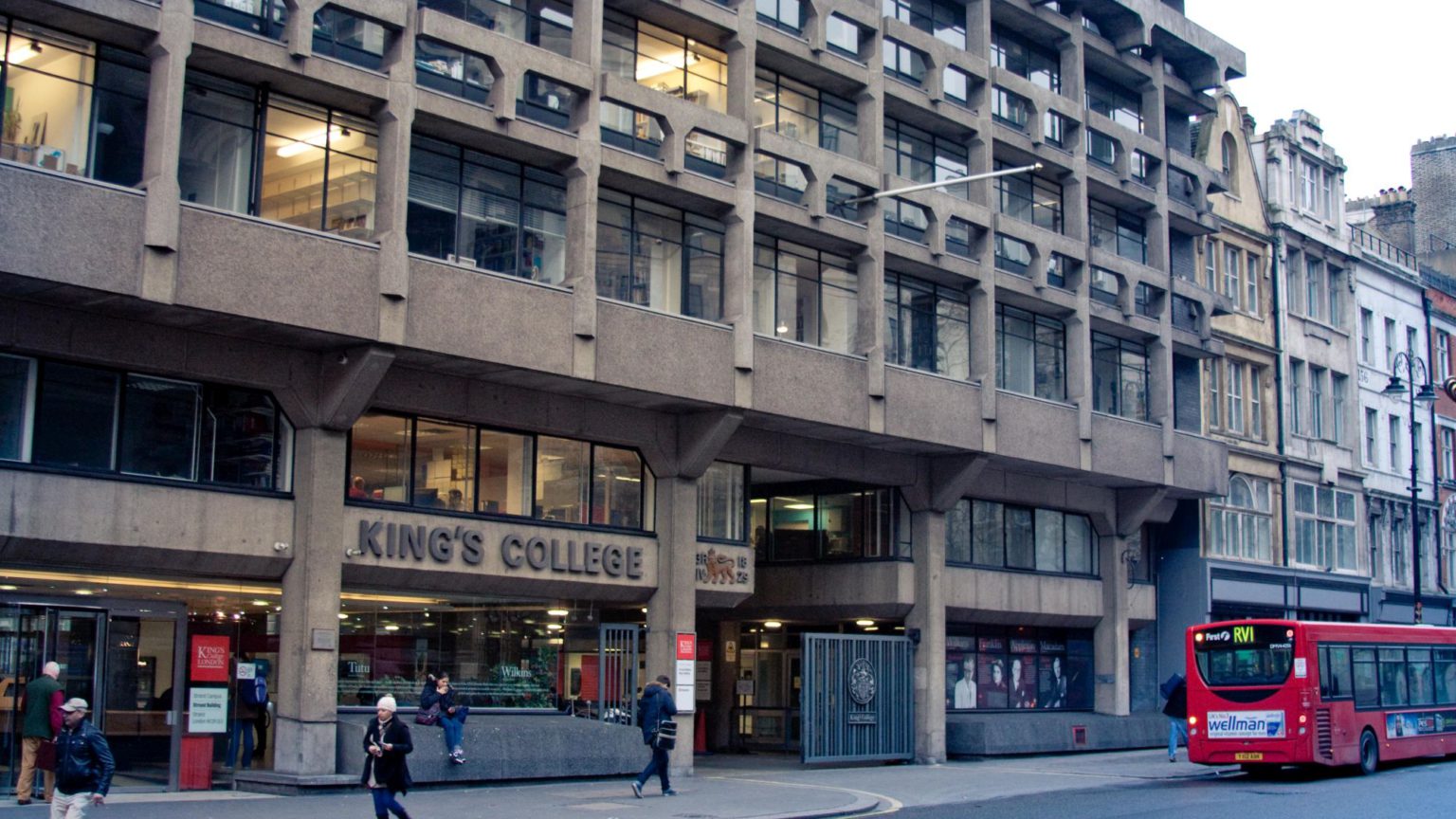 Although founded as an orthodox Anglican institution in 1836, King's College London became officially secular in 1903. After that, its steadfast refusal to classify people in terms of their religion or personal opinion, whether in teaching or otherwise, for a long time made it an intellectual powerhouse where independent scholarship flourished.
No longer, unfortunately. Identity politics has caught up with King's with a vengeance. An eight-page report from its geography department was picked up by the press last week. It is apparently officially sanctioned – at the very least, it was partly funded by the department, and appears on the departmental website under the KCL logo with no disclaimer or statement that it merely represents one point of view. It makes for some interesting reading.
Entitled Inclusivity at University: Muslim Student Experiences, this document supposedly promotes 'inclusivity'. When dissected, however, it actually turns out to be a demand for education to take second place to identity.
The report starts with statistics showing that nationally Muslims are poorer than other religious groups. They also drop out of university more frequently than other faith groups, and get less good degrees when they stay. It then identifies Muslims with BAME people more generally, on the slightly facile ground that most Muslims are non-white. Finally, it goes on to make quite a number of recommendations. These are worth a close look. All of them should worry anyone who believes in a university as a group of scholars united dispassionately in the pursuit of knowledge.
First, inclusivity means more student society get-togethers must, it is argued, be non-alcoholic. Apart from the innate puritanism and bossiness of this proposal, it's not the end of the world, although it is still a bit much to ask not only that non-alcoholic drink be made available, but also that alcohol not be served at all in order to satisfy the desires of a minority. But there are bigger fish to fry here.
More significant is the demand to curb the proliferation of 'white geographies' (sic). What is taught must instead, it is said, 'reflect the experiences of a diverse range of students, allowing minority students to see themselves as legitimate creators of knowledge'. 'White geographies' presumably means something more than the geography of European and other white countries, since the KCL curriculum already goes well beyond that. What this seems to indicate is that geography teaching at KCL, rather than embodying the sceptical empiricism usually associated with universities, should take as a starting point the existence of institutional racism, colonial structures, and so on. Put shortly, this is a proposal for the blatant politicisation of teaching as instruction would be given from one preferred point of view.
Next, we have a proposal that the work of Muslim scholars, as well as black and indigenous writers, must be emphasised because they are 'relevant to the lived experiences of students', and that the curriculum should be adjusted according to what those students demand. It is difficult to see what is most insulting here to any academic or student who genuinely wants to learn. It could be the suggestion that, in a world where academic publication is overwhelmingly subject to blind peer review, the quality or relevance of a scholar's work should be judged according to his religious conviction or the colour of his skin. It also insinuates that Muslim students value intellectual production more highly according to whether the writer is a co-religionist, and that – unlike traditional students – they come to university not to have their minds stretched, but just to see what is already familiar to them.
Much the same goes for the now-familiar insistence that universities need to hire more BAME staff. This particular report calls for more 'Muslim role models'. But a respectable student surely does not care about the religion or ethnicity of those teaching him: the suggestion that Muslims are any different in this respect, or that they need some kind of remedial help from 'role models', should have any Muslim student who wishes to participate equally in university life up in arms.
Right at the end, however, is something even more interesting. It is worth quoting as it appears:
'Departments should also ensure that Muslim students are finding the support and connections they seek… The geography department runs an excellent mentoring programme which may be further improved if mentees had the option of highlighting different preferences for their mentors – in relation to gender, ethnicity and religion.'
You read the second sentence right. Segregation by reference to sex and religious affiliation should be not just be tolerated but actively encouraged by the university. A woman should be able to request not to be mentored except by a woman, a man by a man, and a Muslim by a Muslim (or does it go further: should a Shiite be given the opportunity to say he would really rather not have a Sufi or liberal Muslim as a mentor?). So much for the idea of KCL as a liberal, secular institution that transcends religious divides and doesn't believe in sex discrimination.
The third criterion – ethnicity – should worry us even more. Yes, a black student should, it seems, be given the opportunity to request a black personal mentor, apparently on the basis that this would be to everyone's advantage because, well, black people understand black people better, and then everyone gets on. This sort of venomous nonsense was bad enough when spouted in broad South-African accents by blockheaded Boers in Bloemfontein in 1970. That it should be repeated and apparently believed by otherwise bright students in 2020 is much more worrying.
If KCL really does accept this view, it is a scandal. If it doesn't, then it needs to make its position clear very quickly indeed.
Andrew Tettenborn is a professor of commercial law and a former Cambridge admissions officer.
Clarification: An earlier version of this article said the report was 'funded by Athena SWAN'. The report does indeed say it was made possible with 'Athena SWAN funds', but Athena SWAN did not directly finance this project. It also said that 'tutors' could potentially be chosen on the basis of ethnicity, when the report specifically says 'mentors' could be chosen on the basis of ethnicity.
Picture by: poppet with a camera, published under a creative-commons licence.
To enquire about republishing spiked's content, a right to reply or to request a correction, please contact the managing editor, Viv Regan.