Without exams, education falls apart
This year's results are totally meaningless.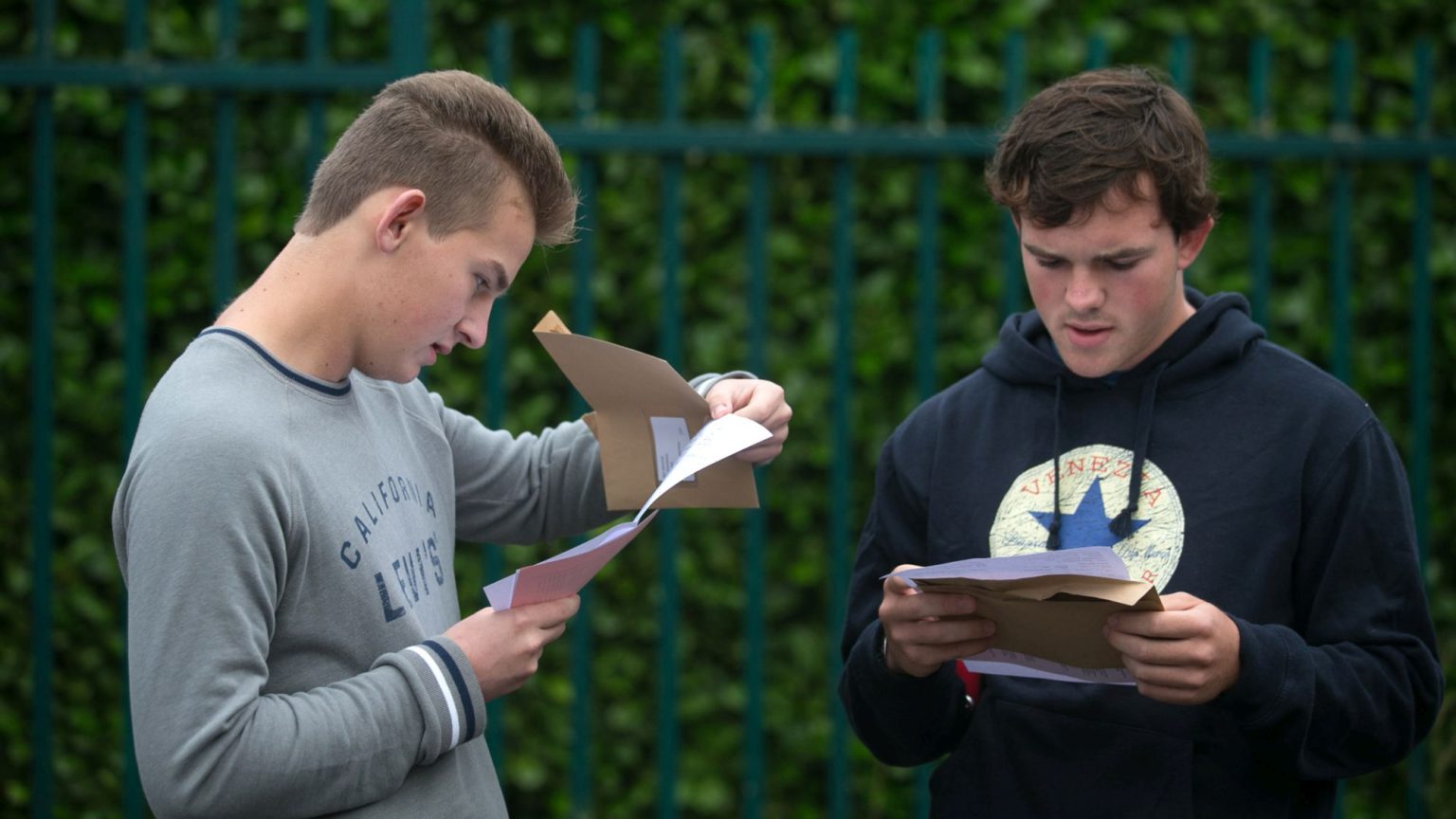 The integrity of public exams is set to be the latest victim of the coronavirus lockdown. Fears are mounting that results for English schools over the next couple of weeks will be engulfed by the same furore that has gripped Scotland.
All national exams were cancelled this summer as part of the Covid-19 measures. Instead, grades were awarded based on a combination of teacher judgement and exam-board moderation. But as the Scottish results have already shown, this is a recipe for disaster.
If Scotland had used teacher-assessed grades alone, results would have improved by their biggest ever margin. However, following the exam boards' moderation processes, over a quarter of all grades were changed. Around 125,000 results were downgraded, with pupils from disadvantaged backgrounds disproportionately affected. Scottish students have been demonstrating in response, and a no-confidence vote was proposed against the SNP education secretary John Swinney. Yesterday, he made a u-turn, promising to restore the grades to those recommended by teachers.
Meanwhile, the Times Educational Supplement reports that the English exams regulator Ofqual has already instructed exam boards to ignore teacher-assessed grades for the majority of awards – most grades will instead be based on statistical modelling. Education secretary Gavin Williamson has belatedly introduced a 'triple lock' for A-Level grades, meaning that students can appeal to exam boards to get whichever grade is the highest from their estimated grade, from mock exams already taken and from a resit in the autumn.
To understand what's going on here, it is important first of all to recognise that methods for producing grades have varied from school to school. Some have required their pupils to sit past exam papers and marked them in line with the original grade boundaries. Others have extrapolated from student attainment data from the rest of the year. Some schools have produced bespoke assessments, while some schools have no doubt not codified the process at all and have left the matter entirely up to the estimation of individual teachers.
In this way, schools have been placed in a difficult position. The evidence they have provided for these grades has been non-uniform, partly subjective, retrospective, and somewhat cobbled together. It does not represent a level playing field.
This is why the exam boards have compared these grades with historical data indicating what the school would deliver in an average year. Where discrepancies have occurred, the exam board has changed the teacher grade to bring it more in line with previous trends.
So a ragbag of evidence, thrown together on the hoof, has been compared with data generated during 'business as usual' times. This predicament was made even worse by a perception across the secondary sector that there was no alternative. Added to that was a sense of urgency because students need these grades for entrance to university, further education and employment.
How could anyone have ever hoped such an arrangement might work? This was a slow-motion car crash set in train from the beginning of lockdown. It has revealed the unbelievably weak grip the UK and devolved governments have had on education during the pandemic.
Yet it was not unreasonable to expect that results would be down this year anyway. School teaching was largely abandoned during the lockdown. It is obvious that if you leave students to study in isolation through a computer, many are not going to perform well under assessment. However, the current crisis isn't so much about the performance of pupils. Instead, it reveals the vital role exams play in holding two competing views of education in tension.
It is a teacher's job to see every pupil as an individual case, to work out what the subject means to that individual, the extent of his or her desire to learn, and where the points of cohesion and resistance sit. Examiners, on the other hand, necessarily take a statistical viewpoint. Candidates are just so many numbers on a bell curve, and what has happened before will likely repeat without much change. Increased commercial competition between exam boards and a business-model approach to school improvement have both entrenched this economistic and algorithmic view.
That's why exams are fundamentally good in principle. They mediate between the two viewpoints. Exams represent the culmination of an education in a particular discipline on a single day. The subjectivity of the teacher finally reaches full expression in the subjectivity of the learner, in a way that permits direct objective comparisons between learners. Subjective and objective aspects are united and what is created is put to scrutiny.
However, education is losing sight of its subjective elements, and as teacher authority and autonomy rest on this subjectivity, they have been increasingly contested. Teaching has become more tightly focused around instrumental methods and, as a result, teachers are principally valued as the means to achieving the necessary exam grades.
Where personal judgement counts for little and exam grades count for everything, it is hardly surprising that predictions tend to inflate. When your honest view as a teacher isn't valuable on its own terms, you will start making predictions as a way of signalling that expectations remain high, to guard against negative perceptions of your performance, to reassure or motivate pupils, or simply to keep parents off your back.
Exams are the glue that holds the edifice of education together. And without exams – as spiked was quick to point out – the whole project of education is dangerously unbalanced.
Students would have been much better off taking to the streets to protest for the right to sit their exams in the first place rather than complaining they haven't got what they were expecting. But it is even more naive to believe that putting government ministers under pressure to intervene with a technical fix will make the problem go away.
Ultimately, nobody wins in this situation. The information on this year's certificates won't really help any of the various stakeholders: pupils and their families, universities, employers, boards, quangos or central government. The rows set teachers against examiners, and create an impression that neither has a clear view of students' capabilities. This ultimately will erode trust in this system even further.
If education is about nothing more than grades, it has little meaning. But in essence, exams are important. As we are seeing, without them education falls apart.
Gareth Sturdy teaches mathematics and English in London and is co-organiser of the Academy of Ideas Education Forum.
To enquire about republishing spiked's content, a right to reply or to request a correction, please contact the managing editor, Viv Regan.