Why the migrant crisis matters
Both sides are dehumanising the dinghy people.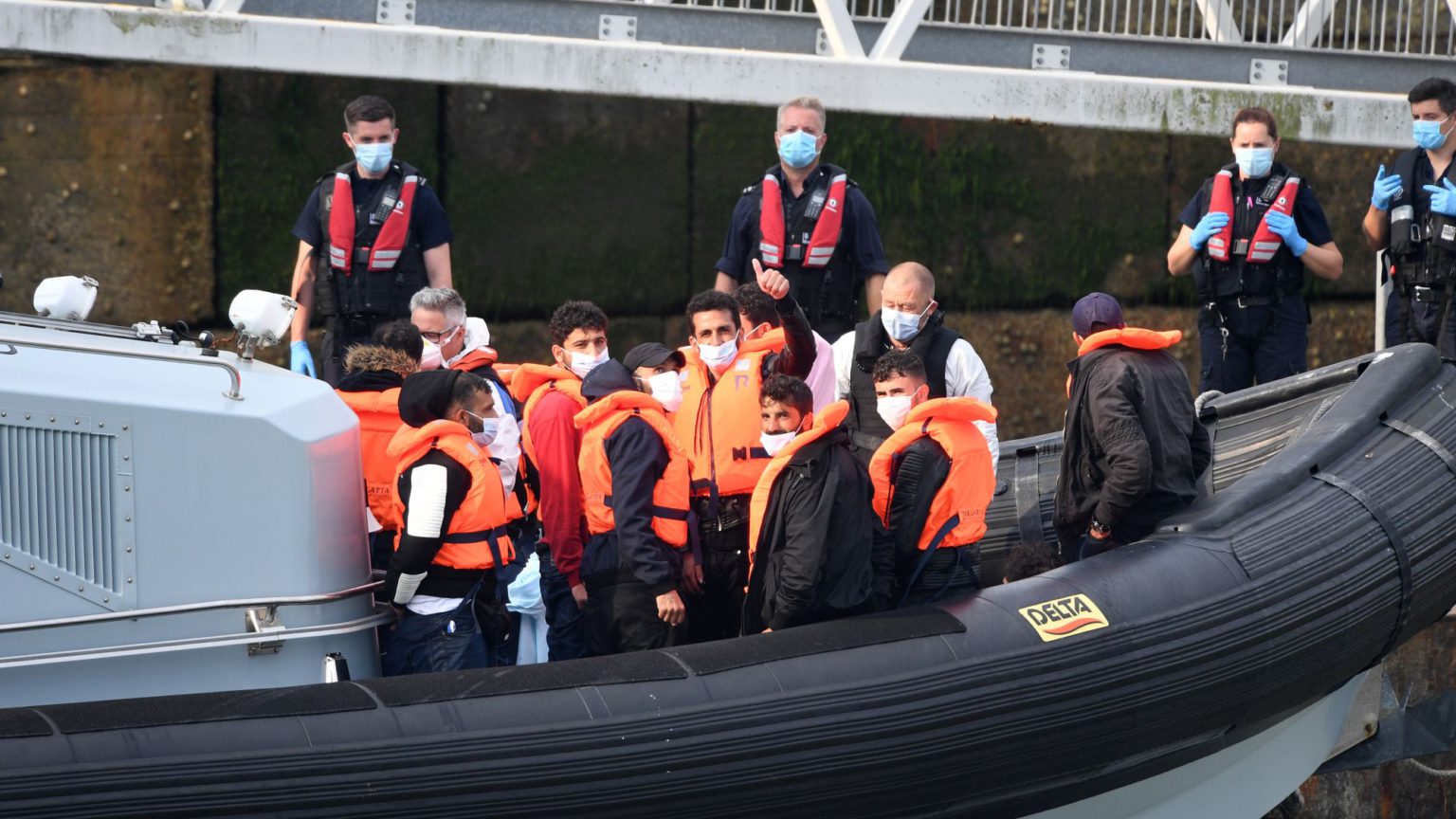 Is the arrival of migrants on dinghies an 'invasion' of the UK? Or is it fine, nothing to worry about, just a handful of desperate people, calm down?
It's neither.
The right-wing depiction of the dinghy arrivals as a militaristic-style assault on Britain's beaches and borders is a hysterical overreaction. But the liberal elite's insistence that 'There's nothing to see here' is bad, too. In some ways it's even worse. It speaks to the extent to which the chattering classes now view borders as undesirable, as things only a neo-fascist would want to police or protect.
The 'invasion'-fretting right-wingers might be committing crimes against rhetoric, but the middle-class post-borders cult does something far more concerning: it implicitly cheers reckless journeys across the English Channel as part of its broader ideological campaign to weaken the idea of nationhood and to undermine national democracy.
The migrant issue has exploded, yet again, into the political realm. In recent months numerous dinghies have arrived on Britain's shores from France, carrying people from places as far afield as Yemen, Afghanistan and Sudan. The numbers are significant: so far in 2020, more than 4,000 people have arrived in the UK on small boats. Last weekend alone, hundreds arrived, including 151 at Dover on Saturday.
A political storm is brewing over the dinghy people. Britain is demanding that France should do more to prevent the small boats from setting sail. Home secretary Priti Patel has appointed a Clandestine Channel Threat Commander – echoing the bizarre militaristic rhetoric of certain sections of the right – while also admitting that there are legal and operational barriers to Britain's ability to eject dinghy migrants once they have arrived or even to intercept them at sea and return them to France.
So Patel talks tough, deploying a 'commander' to police the channel, while recognising that Britain's membership of various international refugee and human-rights treaties means it actually has very little leeway to take 'command' of the migrant situation.
That contradiction in particular – where an elected British government is prevented from taking certain courses of action by the global rules and responsibilities it has signed up to – looks set to become a key flashpoint in this era in which so many Britons want to 'take back control' and make decisions about major issues, including immigration, in an independent, democratic fashion.
In commentary circles, meanwhile, the usual divide has emerged. On one side there are the likes of Nigel Farage, who has likened the arrival of the small boats to an invasion. On the other, there are the ostensibly 'pro-migrant' leftists and liberals who believe that any questioning whatsoever of the boat journeys from France to Britain is driven by racism. In the words of a writer for the Guardian, we are living through another 'asylum panic', proof of Britain's 'rightward drift'.
The truth is more complex. The truth is that both the right-wing users of militaristic language and the liberal celebrators of the dinghy arrivals run a very serious risk of dehumanising migrants for political ends.
The former reduce the migrants to invaders in order to bolster their case for a more tightly controlled immigration system. And the latter reduce the migrants to agency-lacking victims whom only a racist would criticise as part of their obsessive pseudo-cosmopolitanism, their ideological conviction that borders are an entirely malevolent phenomenon and that it is legitimate for the democratic wishes of a national population to be overridden by international treaties. In both cases, the migrants' humanity is lost. They become mere bit-part players in the political battles and psychodramas of both wings in the culture war.
The right is wrong to describe the migrants as invaders for the simple reason that this is not an invasion. It is opportunism. It is groups of people trying their hand at crossing from France to the UK. The fault primarily lies with French authorities for failing to police their shores, British authorities for not knowing how to push the small boats back, and more broadly with the globalist system of treaties and so-called human rights that actively chips away at a nation's right to determine how to deal with asylum seekers and illegal immigrants.
The right's focus on the migrants themselves – as invaders – distracts attention from the larger debate we need to be having about how to make immigration a democratic issue again. An issue determined, not by the neoliberal EU's need for the free movement of cheap labour or by treaties drawn up at the United Nations, but rather by democratically elected governments deciding what kind of immigrants their nation needs and how they should be welcomed.
On the other side, there is something very hollow, and cynical, in the supposedly pro-migrant approach. Our alarm bells should ring at the very fact that many of those who are saying 'What's the problem?' in relation to the dinghy arrivals were fervent supporters of the EU in the great Brexit battle of the past four years. The EU, lest we forget, has an explicitly racist immigration policy – granting freedom of movement for primarily white Europeans while violently denying it to non-white Africans – which has led to the deaths of thousands of people in the Mediterranean. It has also paid African mercenaries to police and in some cases punish aspiring migrants who wish to come to Europe. For pro-EU activists to pose as caring, decent pro-migrant people is a sick joke.
What really seems to be driving the side that is downplaying the dinghy arrivals is the post-borders ideology. Witness how their key concern is often with countering ideas and attitudes in Britain itself. They frequently focus less on the needs of the migrants and more on the 'problematic' idea that borders should be tightly policed or the 'racist' criticism some Britons make of unchecked, unplanned immigration. Some are now even demanding that people stop saying 'illegal immigration'.
This policing of British people's language and attitudes by the supposedly pro-migrant lobby suggests that its aim is less to make the case for a more liberal, fair immigration system than to continue a cultural crusade against the idea of borders, against Brexit, and against the valuation of national democracy over the lawyerly declarations of largely unaccountable global institutions and treaties.
Make no mistake: the wealthy human-rights lawyers and well-connected commentators who appear to be expressing sympathy with the dinghy people are in fact defending structures of power from which they have benefited enormously. In this case, the structures of power created in recent decades by technocratic, post-borders elites who diluted the sovereignty of nations in favour of institutionalising global networks of decision-making and even law-making.
Some of these people cheer or sympathise with the dinghy arrivals on British shores not because they are meaningfully pro-migration, but because they see these migrants effectively as footsoldiers of the technocratic elites; as bedraggled forces whose behaviour might help to bolster the case for the pointlessness of borders and remind Britain that its duty is to international treaties, not the 'racist' views of its own electorate.
We need a more principled, democratic and humanist approach to the issue of immigration. spiked has always favoured a liberal immigration policy. But we believe that immigration policy, like all other areas of policy, should be made democratically. The people, and the people we elect, should decide what our immigration system looks like. If you want a tighter immigration system, argue for that – don't obsess over 'invading' migrants. And if you want a more generous immigration system, argue for that – don't give the nod to dangerous journeys across the Channel in the hope that they will do your political work for you. Reason, discussion and democracy are key to the migrant question.
Brendan O'Neill is editor of spiked and host of the spiked podcast, The Brendan O'Neill Show. Subscribe to the podcast here. And find Brendan on Instagram: @burntoakboy
To enquire about republishing spiked's content, a right to reply or to request a correction, please contact the managing editor, Viv Regan.