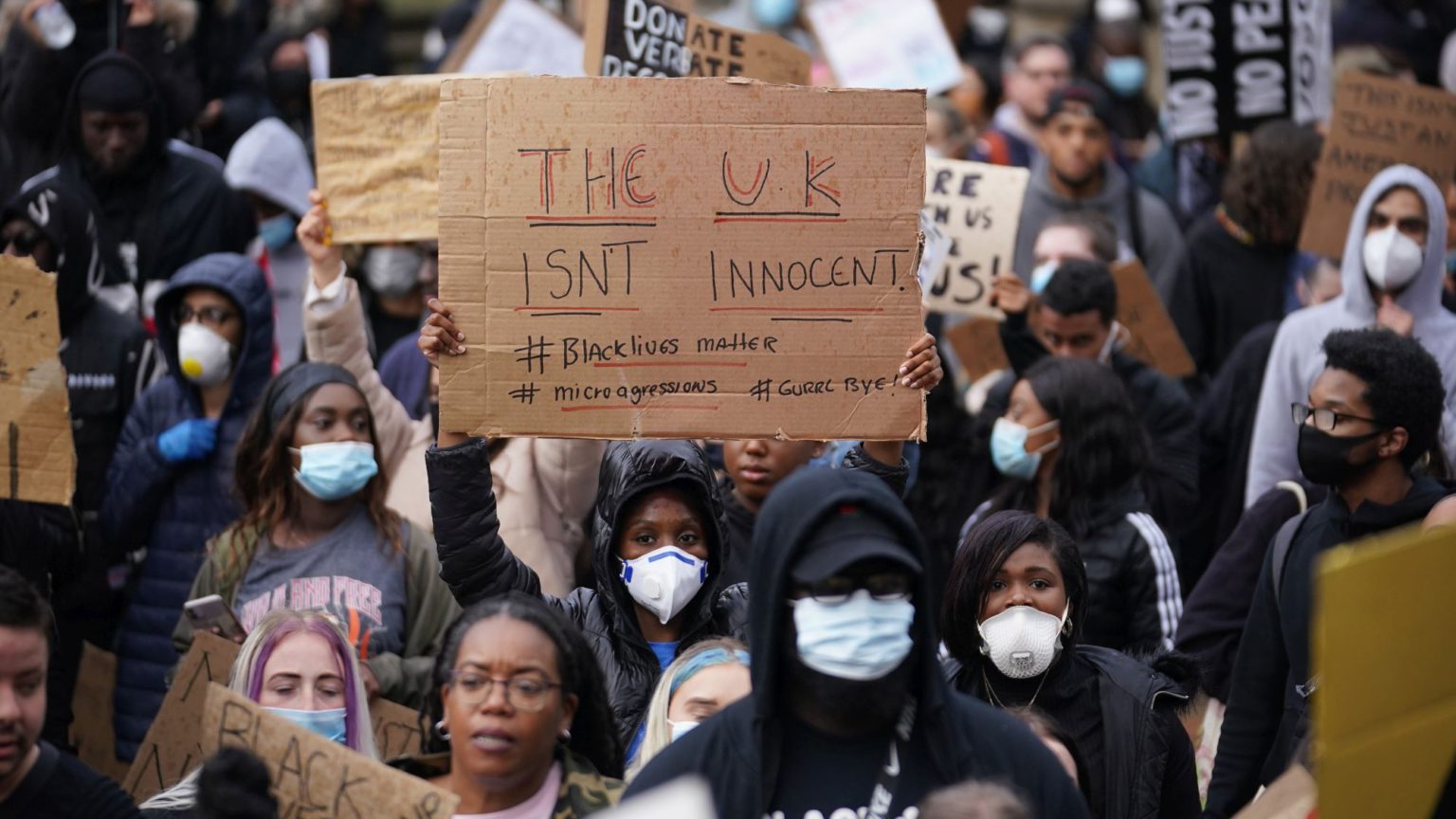 The humiliation of Western history
From the NYT to British schools, powerful institutions are waging war on the past.
The most important issue at stake in the culture war is who controls the narrative through which society understands itself. At present, those controlling the narrative appear to be committed to reorganising society's historical memory, and disputing and delegitimising its ideals, from liberty to equality. Take Netflix, for example. It is dominated by programmes, like Dear White People and Explained: The Racial Wealth Gap, that recast the Western way of life and Western history as irredeemably malevolent.
The humiliation and demonisation of the past and its ideals is now enacted at every important cultural event. Prize-giving ceremonies, be they the Oscars, the Tonys or the Pulitzers, invariably include speeches boasting of the bravery of the recipient for daring to 'speak truth to power'. Ironically, this supposedly rebellious rhetoric is espoused by those who actually wield cultural power. These cultural elites see it as their raison d'être to denounce the culture into which they were born. Moreover, they do so for the public's benefit, in order to 'raise awareness'.
Back in the 1960s, raising awareness was a form of consciousness-raising. It was something one did to change one's own outlook on the world. But in recent years, especially on social media, it has become a means to raise the awareness of others. As such, many use 'awareness-raising' as a way to distinguish themselves from those, who, to use the smug language of the day, 'don't get it'.
One powerful proponent of the dogma of awareness-raising is The New York Times, the most influential newspaper in the US. In August 2019, it decided 'to speak truth to power' by launching the 1619 Project, an ongoing initiative, featuring essays and other contributions, which maintains that the year 1619, and not 1776, is the true origin of the US. This, the project argues, is because the US was founded for the purpose of entrenching slavery, and 1619 was the year African slaves first arrived in Jamestown. All subsequent US history is therefore shaped by this founding, enslaving moment.
From this distorted vantage point, the American Revolution is presented not so much as a War of Independence, but as a selfish attempt to preserve the exploitative and oppressive legacy of 1619. The famous founding assertion that 'all men are created equal', and are entitled to 'Life, Liberty and the pursuit of Happiness', is denigrated as mere cover for the practices of a group of unprincipled and dishonest slave-owners.
Unlike previous initiatives designed to encourage people to look critically at uncomfortable truths about their past, the 1619 Project offers a 'take it or leave it' version of history. Its aim is not to criticise existing historical narratives about the US. It is to negate and even morally annihilate the very foundation on which the US was built. As the NYT put it: 'Our founding ideals of liberty and equality were false when they were written. Black Americans fought to make them true. Without this struggle, America would have no democracy at all.'
In rejecting the founding ideals of liberty and equality as false, the 1619 Project strips America's founding document, the Declaration of Independence, of every shred of moral authority. It also erases the profound contribution the American Revolution made to the development of the Western ideal of freedom.
The 1619 Project does not offer any new insights into the past. Rather, it seeks to contaminate the past and render it toxic. Indeed, one of the main contributors to the project, Nikole Hannah-Jones, admits that its principal objective is not to shed light on the past, but to undermine the moral authority of the present. 'I've always said that the 1619 Project is not history', she writes. 'It is a work of journalism that explicitly seeks to challenge the national narrative and therefore national memory. The project has always been as much about the present as it is about the past.'
Clearly for Hannah-Jones, the objective of the project is to alter America's historical memory in order to gain control of the national narrative.
Through this control over the national narrative, the NYT, like most other leading educational and cultural institutions in the US, is attempting to reinforce its cultural hegemony. The NYT's webpage on the project even declares that 'a re-education is necessary'. It is a chilling exhortation, more like something you would hear in a prison camp rather than a news organisation.
Not that influential public- and private-sector supporters of the project are too concerned by the grim totalitarian spectre invoked by the idea of 're-education'. On the contrary, they seem to be all for it. For example, to demonstrate its support for the project, the Pulitzer Center awarded Hannah-Jones one of its prestigious prizes, and launched a 1619 Project curriculum to promote its narrative in schools. Several US school districts have now adopted the NYT's re-education project, presumably in order to teach children to regard the founders of their nation with shame.
Hollywood celebrities have also rushed in to demonstrate their support for the project. For instance, Oprah Winfrey, backed by entertainment company Lionsgate, teamed up with Hannah-Jones to bring her message to an even wider audience. The attempt to cancel Western culture and gain control of historical memory has rarely been so explicit or so mainstream.
The Memory War
The 1619 Project stands out for its ambitious and systematic attempt to rewrite and discredit the past. But disputes over historical memory are not confined to the US. Since the 1980s, Western culture has exhibited a discernible discomfort with the past. The sense of national pride that inspired generations of British people, for instance, has given way to a powerful mood of estrangement from the past. This sensibility is widely promoted in schools and universities and by cultural institutions such as the BBC. Indeed, the school curriculum is increasingly dominated by projects pointing out the blemishes on Britain's past, rather than drawing attention to its achievements.
This isn't surprising. Many educators regard pride in one's community and nation as a mild form of xenophobia or racism. Any expression of national pride is regarded as a form of prejudice that needs to be neutralised in the classroom. Over a decade ago, many teachers responded to New Labour's plan for compulsory citizenship classes in schools by claiming that patriotism 'should not be taught in school'. Michael Hand and Jo Pearce, from the Institute of Education, concluded that patriotism should only be taught as a 'controversial issue', and that Britain, with its 'morally ambiguous' history, should not become an object of children's love.
What was particularly fascinating about Hand and Pearce's indictment of patriotism is that it went beyond an entirely legitimate critique of narrow nationalism and instead questioned loyalty itself. They wondered if 'countries [are] really appropriate objects of love', and characterised 'national histories' as 'morally ambiguous'. 'Loving things can be bad for us', they wrote, especially when the 'things we love are morally corrupt'. To cultivate a love of the British way of life was therefore deemed immoral.
Hand and Pearce were kicking against an open door. In recent times, the waving of the Union flag has frequently been portrayed as an act of jingoism perpetrated by far-right extremists. As one study of contemporary British political culture observed, the public has become alienated from its national institutions, and its attachment to shared values is too superficial to constitute a 'dynamic community' (1).
This estrangement from Britain's historical legacy transcends conventional political divides. From radical postmodernism to mainstream liberal and conservative thought, British society as a whole has become emotionally disconnected from its past. Thus, in response to several racist incidents at football matches back in 2012, the then Conservative prime minister, David Cameron, could declare that 'we will not let recent events drag us back to the bad old days of the past'. His use of the phrase 'bad old days of the past', rather than just referencing football hooliganism in particular, was telling. It showed just how negatively he felt towards the past in general.
Unease with the legacy of the past is even more pronounced within leftist and liberal circles. Gareth Stedman Jones, a former member of the editorial board of the New Left Review, wrote:
'The once magical invocation of history's numinous and redemptive powers now looks either tawdry or sinister. From Passchendaele to Auschwitz, from the Gulag to Hiroshima, and so on to the Killing Fields, the 20th century has remorselessly torn away from us all remaining vestiges of a simple 19th-century faith in progress.'
Not all accounts of the past are as negative as Stedman Jones'. But within Western culture, positive accounts of a nation's history are thin on the ground. The use of terms like 'Victorian values' or 'Victorian morality' in Britain is now almost entirely derogatory. These terms connote narrow-minded and bigoted attitudes, a rigid social code of conduct, an unhealthy culture of sexual restraint, and the scandal of child labour.
Likewise, the metaphor of the 'bad old days', invoked by Cameron, is often deployed as a corrective to the supposed nostalgia of Brexiteers and so-called populists. Anti-populist commentators frequently ridicule their opponents as simple and gullible people, who, unlike them, actually believe that the past possesses some redeeming features. 'Populists will pine for an imaginary, whitewashed past until politicians offer a credible future', asserts political scientist Cas Mudde. Such a critique of nostalgia does not merely address the problem of living in the past. It also seeks to delegitimise the values and customs of the past. The outcome of this culture war against the past is that societies have never been so distanced from their histories.
Some historians now even claim that European peoples have become so psychically estranged from the past that they no longer need history to cultivate their identity or to make sense of who they are. 'Clearly Europeans have a sense of themselves as survivors of a history they have left far behind them', writes the historian Christian Meier. 'They do not see history as their origin or the foundation on which they stand.' He adds:
'History is not something they desire to carry on (in a better way if possible). Hence they feel no gratitude to their forebears for what they achieved with so much labour; on the contrary, they are fixated on all the things they don't understand (and are making an effort to understand), such as wars, injustice, discrimination against women, slavery and the like. They feel uncoupled from their history, the seriousness of which they are, generally speaking, less and less able to imagine.' (2)
To prove his point, Meier cites the European Union's attempt to detach itself from Europe's historical past: 'Thus, as far as I can see, the EU is emerging as the first political entity of the modern era that has no need for its own history and for a historical orientation.'
A society cannot exist without possessing an understanding of where it comes from. That people still need history to know who they are is demonstrated by the 1619 Project and other initiatives designed to contaminate a people's national memory. After all, these projects do not only aim to re-educate people – they also aspire to offer them another version of history. It is just that the history they offer fosters a climate of guilt and shame towards the past and undermines people's confidence in the way of life into which they were born.
Those who zealously seek to pollute the past are very much devoted to gaining total cultural hegemony in the present. This is not just an intellectual exercise, however. The metaphorical vandalisation of the past justifies the actual vandalisation of statues and national monuments. At present these powerful and influential cultural warriors, from the NYT to various other cultural and educational institutions, have proved remarkably successful in forcing their opponents on to the defensive. They have a project. Those who seek to uphold the legacy of human civilisation do not. Defeating this cultural blitzkrieg will require much more than is currently on show.
Frank Furedi's Why Borders Matter: Why Humanity Must Relearn The Art Of Drawing Boundaries is published by Routledge.
(1) See Risk, Threat And Security; The Case of the United Kingdom, by Gwyn Prins & Robert Salisbury, 2008
(2) The Uses of History: From Athens to Auschwitz, by C Meier, Harvard University Press, 2005, p17
Picture by: Getty.
To enquire about republishing spiked's content, a right to reply or to request a correction, please contact the managing editor, Viv Regan.