Portland has been given over to the mob
Cowardly politicians let the protests spiral out of control.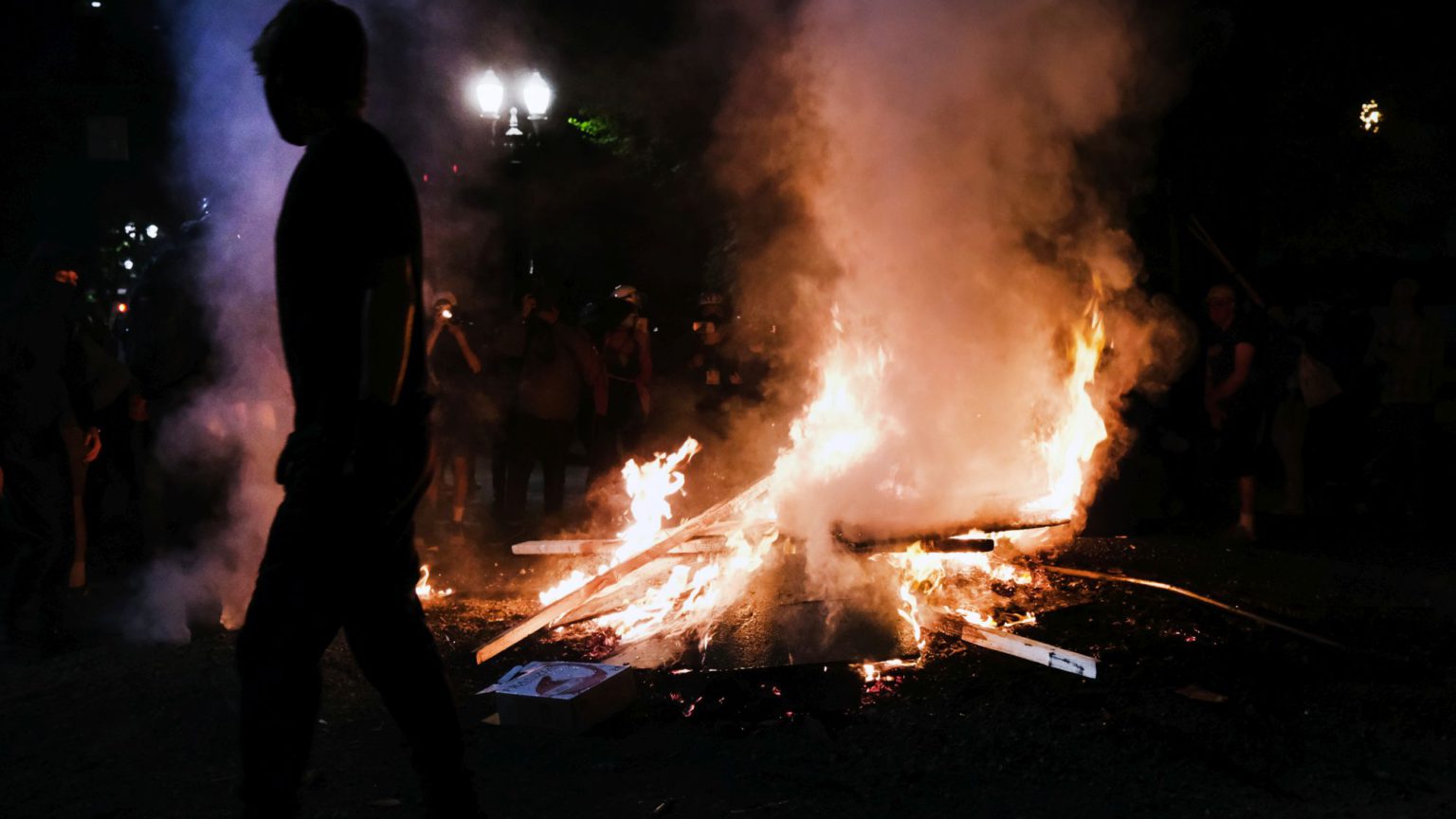 In most US cities, the protests and riots that took off in the days after George Floyd's death have quieted. But not in Portland, Oregon. Yesterday saw the 64th consecutive night of demonstrations, which have included significant violence and property destruction. Among other things, these events have had a devastating impact on the city's economy and people's livelihoods: estimated protest-related damage and lost revenues for businesses, most of them small, are in the tens of millions, according to a survey by Portland Business Alliance.
Many protesters in Portland gather under the slogans of Black Lives Matter, such as 'Defund the police'. But it's hard to see a connection with George Floyd any more. Even as state and local officials have announced police reforms, there is no let-up on the streets. Portland is known for its progressive, woke politics, as anyone who has watched the TV series Portlandia knows. It is one of the whitest, least diverse major cities in the US (six per cent of its population is black), yet it has seen the most protest-related destruction. Meanwhile, largely black cities like Detroit (83 per cent black) remain relatively calm.
In recent weeks, bands of anarchists, along with assorted others, have attacked the Hatfield federal courthouse and the federal law-enforcement officers that President Trump deployed to protect it. Rioters have thrown Molotov cocktails, frozen water bottles, rocks, cans of beans. They have fired commercial-grade fireworks at the officers, smashed glass doors and used saws and power tools to try to break in. One night they set fire to the courthouse. Nearly 245 federal agents have been injured, and the damages are in the millions of dollars. In response, the feds have used tear gas and shot rubber bullets, along with making arrests. As a US deputy marshal said, the street 'looks like downtown Baghdad'.
This level of destruction is exceptional and a major news story. And many Americans have seen the extraordinary nightly battle images from Portland on TV or social media. Yet, when confronted with such scenes, a large section of the media has been going to great lengths to tell its audience that Portland's protests are 'mostly peaceful'. As a CNN write-up put it, 'The protests in Portland were mostly peaceful, though they have at times devolved into violence, vandalism and arson'. Or, as Reuters blandly noted, 'Peaceful protests and more arrests in Portland as demonstrations continue in the city'.
It's true that most protesters in Portland are peaceful. At times there is a carnival-like atmosphere, with thousands of people singing and dancing in the streets – which is not a surprise when you consider that a BLM protest is the only public gathering, amid Covid, that is allowed by government officials. At the same time, when the midnight hour rolls along, the crowd changes and a minority gears up for warfare. Even that warfare should not be overstated, as there is certainly a highly performative aspect to their violent behaviour – these set-piece skirmishes with the feds have devolved into a nightly routine. White youth don ridiculous-looking outfits (black ninja costumes, tear-gas masks, medieval-like shields, sometimes umbrellas), and get to play at rebellion.
But providing a wider context like this should not be an excuse for whitewashing the reality of destruction that is occurring every night in Portland, as much of the media are doing. In a society based on the rule of law, seeking to burn down a courthouse cannot be viewed as acceptable, just a minor thing (it's hard to believe that needs to be said). In the past, an attack on a courthouse would have been readily seen for what it is: an assault on an institution of justice, and an act that usurps democratic decision-making. It also does nothing to advance the cause of fighting racial discrimination.
Our media and other cultural outlets know that rioting and violence are occurring in Portland, but they fear that admitting that fact will undermine their agenda. They worry that these events will tarnish the image of BLM, and bolster Trump's 'law and order' campaign. Better keep your mouth shut, or to assert, as the Democrat congressman Jerry Nadler does, that civil unrest in Portland is a 'myth'. Today's conformism has reached the point where you can be considered a racist for simply acknowledging the reality of what is going on in Portland and some other cities.
That's also why Democratic politicians decided to come up with a counter-narrative: that federal officers deployed to Portland are the real threat. Indeed, in all seriousness, Democrats have presented these law-enforcement professionals as introducing fascism to America. The House speaker, Nancy Pelosi, called them 'stormtroopers', engaged in 'kidnapping protesters'. Alexandria Ocasio-Cortez referred to them as 'secret police'. More locally, the Democrat mayor of Portland, Ted Wheeler, called the federal presence 'a direct threat to our democracy'. The city's commissioner, Choloe Eudaly, said Trump was 'attempting to use Portland as a proving ground for fascism'.
Democrats sought to back up these allegations by pointing to a series of viral videos that purportedly showed Department of Homeland Security (DHS) officers getting out of unmarked cars and arresting people for no reason. Oregon governor Kate Brown said the federal agents are an 'occupying force' and represented an 'unconstitutional' abuse of power.
Despite the hype about incipient fascism, Trump's deployment of federal law enforcers is well within the law. Federal law gives the DHS the right to protect federal property like the Hatfield courthouse. They are allowed to make arrests of those suspected of attacking that property, and in Portland their arrests have not been random – the feds have arrested 74 people and most (60) have been charged. The use of unmarked cars may be news to some, but they have been commonly used in all US cities for many years. You can question the wisdom of Trump sending in these federal agents, but it's clearly legal and not 'fascism'.
Moreover, the Democrats' storyline depends on us believing that, if not for the federal law officers, everything in Portland would be fine. Mayor Wheeler said Trump's men were the ones pouring fuel on the fire, and barring their presence, the protests 'would end in a matter of days'. This of course ignores the fact that rioting – including attacks on the courthouse – had been going on for months, well before the feds turned up.
Of course, the federal agents' tactics, while legal, are open to criticism. For example, it may be that, in trying to quell the attackers, they have indiscriminately tear-gassed the crowds, not all of whom were violent. But denunciations of federal 'fascism' are an attempt to deflect the blame from where it belongs – the state and city leaders who have let Portland get out of control.
Indeed, the mayor and state governor have effectively given a green light to violent protesters, as they have signalled that there will be no negative consequences. They ordered the local police to back off, which ceded the ground to the anarchists. Democratic politicians say that Trump, by sending in federal officers, is seeking to use Portland to his political advantage. That's true, but it's the Democrats' fault for creating the conditions in the city that make it easy for Trump to exploit.
There are reports that Oregon governor Brown and the DHS have reached a deal, whereby the Oregon state police will take over the job of guarding Hatfield courthouse. If so, the burden will fall back mainly on Brown and Wheeler to see if they can bring order. If they can't get control, they will no longer be able to fall back on blaming Trump and the federal authorities for their own mess.
We have enough social problems and divisions to deal with as it is. Media and political figures who deny the truth of what's happening in cities like Portland make it harder to get to grips with our real problems.
To enquire about republishing spiked's content, a right to reply or to request a correction, please contact the managing editor, Viv Regan.