Mandatory face masks: forcing us to be 'safe'
Public-health zealots are now demanding that people be legally required to wear them almost everywhere.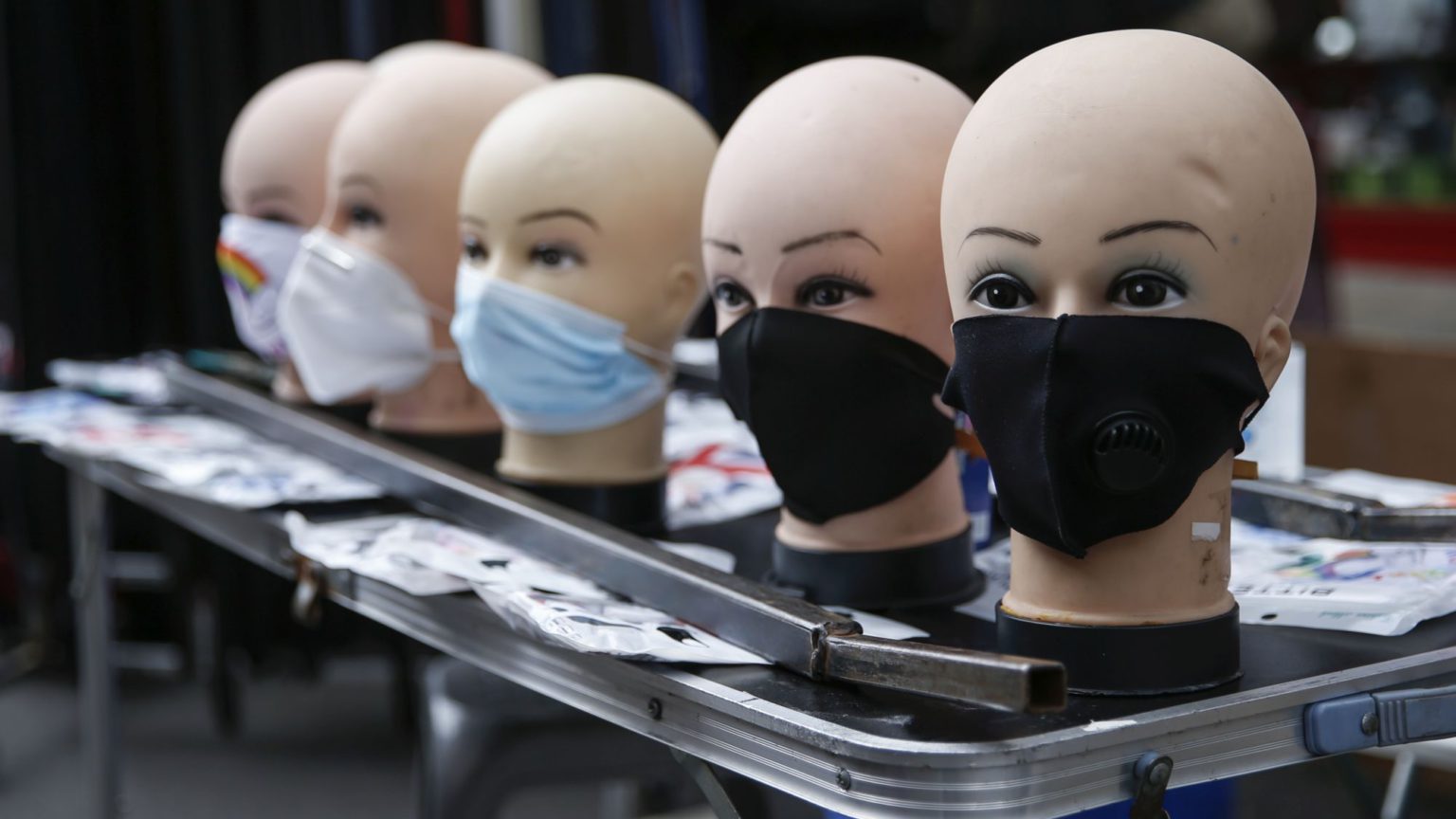 The debate in the UK about face masks continues to run and run. Where once the government went along with the World Health Organisation (WHO) in advising that face masks were unnecessary outside clinical settings, now the debate is about whether they should be compulsory in England beyond public transport. From last Friday, facial coverings have been compulsory when visiting shops in Scotland.
It's odd that we're even here. Back in March, Boris Johnson announced lockdown measures – replicated across the UK – on the grounds that the NHS was in danger of being overwhelmed by the surge of cases of Covid-19. We were basically told to go home and stay home unless our work was essential, with permission to leave only to buy essentials, like food, and to take one spell of exercise. But this was only meant to last for three weeks, when the lockdown measures would be reviewed.
Fast forward to now and, while many of the measures have been significantly softened, we are still left with a lockdown mentality. The shops, pubs, barbers, beauty parlours and restaurants have reopened – with considerable restrictions – but the schools are a mess, not even half-open. Endless warnings to be vigilant and keep our distance remain. No wonder many people are fearful of getting back to normal life.
The aim now is not to save the NHS – which coped in the end, barely using the emergency Nightingale hospitals that were prepared to take the sick when the hospitals overflowed. Instead, we must drive infections down to the point of elimination. Never mind the continuing damage to the economy and to our personal freedoms, the public-health zealots are relentless and never satisfied.
This is despite the declining threat of the disease. According to the most recent figures from the Office for National Statistics (ONS), 'the estimated number of people with Covid-19 in the community in England was 14,000 at any given time between 22 June and 5 July 2020 (1 in 3,900 of the community population)'. Deaths are now below the average for the time of year. And, as reports of outbreaks in Leicester and a farm in Herefordshire show, we're getting better at identifying cases and nipping viral spread in the bud.
The desire to eradicate the disease is misplaced – it is going to be around for many years to come, rumbling along at low levels with the occasional cluster here or there, and a potential rise in cases in the colder months of the year. The best we can reasonably hope to do is take basic precautions and keep an eye out for local outbreaks, isolating those who are infected or who may be infected.
Yet the drumbeat for more public-health measures seems endless. In recent weeks, we have even had the ludicrous and divisive idea of border controls between England and Scotland, built on the myth that Scotland has done much better at controlling the pandemic than the rest of the UK. And now face masks, which everyone seems to agree – pro and anti – have, at best, a modest impact, are being touted as essential, and their use potentially enforced by law.
For those of us who have a long experience of public-health lobbyists in action, this is no big surprise. Take restrictions on smoking. Smoking rates have been in steady decline since the 1970s as the health risks of smoking became common knowledge. Yet we have seen one crusade after another: against all advertising; against smoking in 'public' places and workplaces; against smoking in cars carrying children; and against displaying tobacco in shops and on branding of packs.
All the while, tax rates on tobacco have gone up and up, but the effectiveness of any of these measures has gone down. Smoking rates barely changed after the smoking bans of 2006-07 – although the ban helped to drive many pubs out of business. The idea that people will give up smoking if the packs no longer feature logos and different colours is ludicrous, an insight into the low view that health campaigners have of smokers.
In the pantheon of ludicrous demands, calls for bans on smoking outdoors are perhaps the nuttiest of all. Basic physics makes clear that there is no way anyone could be exposed to a dangerous level of cigarette smoke in an open space. (The junk science on passive smoking indoors is bad enough.) Time and again, these demands have failed – for example, an attempt to ban smoking on Brighton beach. However, smoking in hospital grounds is widely banned and many workplaces – usually local authorities – have banned staff from smoking anywhere on their grounds.
Yet even this ridiculous demand is gaining traction in the light of the coronavirus pandemic. Peers in the House of Lords (aided and abetted by anti-smoking group ASH) are trying to sneak in amendments to legislation to allow councils to ban smoking in newly created outdoor drinking and dining spaces. Heaven forbid we might develop a Parisian-style 'café culture'. As Simon Clark, director of the smokers' rights group Forest, has pointed out, this is 'gross opportunism by a small group of anti-smoking peers who have spotted a chance to advance their extreme anti-smoking agenda'. Plus ça change, as they say in France.
Whether it is minimum pricing for alcohol or whacking sugar levies on soft drinks, public-health campaigners and health-obsessed politicians have a long track record of using health concerns to impose ever-greater restrictions on our freedoms. Now they are at it over Covid-19. It may well be polite in certain circumstances to cover your face in a crowded place. We should be the ones to decide what is necessary. Imposing such rules by law will only encourage ever-more restrictions on freedom.
Rob Lyons is convenor of the Academy of Ideas Economy Forum.
Picture by: Getty.
To enquire about republishing spiked's content, a right to reply or to request a correction, please contact the managing editor, Viv Regan.