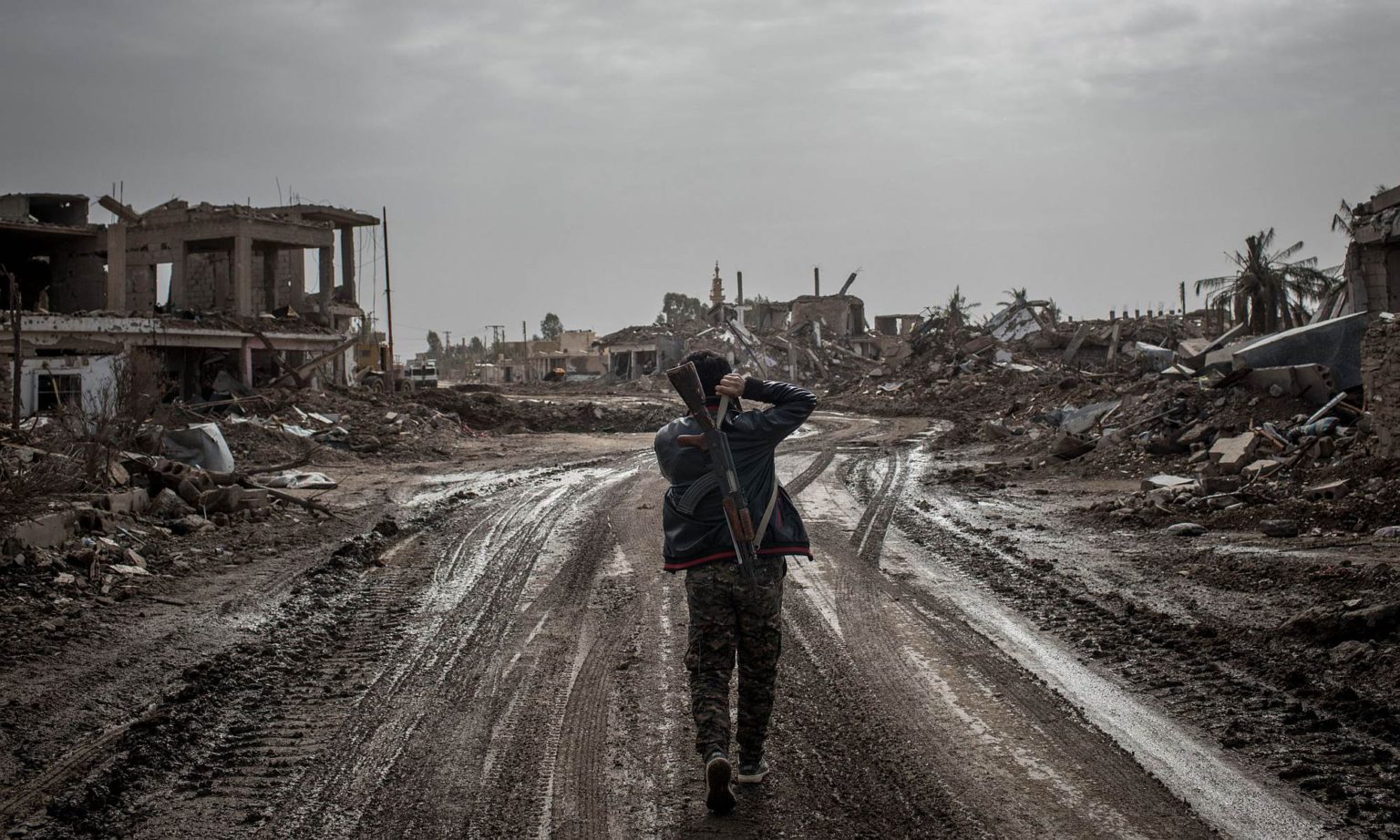 Long-read
Chemical weapons and cover-ups: the Western media's Syrian shame
Inspectors had serious doubts that the Syrian regime used chemical weapons in Douma. Why did the media ignore this?
What should have been one of last year's biggest news stories has gone largely unnoticed. Major Western powers – the US, the UK and France – went to war on dubious grounds. When inspectors at a supposedly neutral UN body, the Organisation for the Prohibition of Chemical Weapons (OPCW), could not find evidence that justified Western powers' actions, their work was censored and manipulated to fit the desired facts.
Here was another dodgy or 'sexed-up' dossier of the kind that led the West to war in Iraq. It is the kind of story you might expect newspaper editors to jump at – it is both explosive and in the public interest. But with a few honourable exceptions, the mainstream media has largely steered clear of it.
The cover-up
Two years ago, in April 2018, the US, the UK and France fired over a hundred missiles against the Syrian regime. It was alleged that Bashar al-Assad's government had carried out a chemical-weapons attack on Douma, a suburb of Damascus, killing nearly 50 people. The airstrikes were launched a day before a planned inspection by the OPCW.
Despite the impending inspection, the Western powers said they had drawn their own conclusions that the Assad regime had carried out a chemical-weapons attack. The White House said that regime helicopters were seen dropping barrel bombs on Douma. Remnants of the bombs were said to look like 'chlorine barrel bombs from past attacks'. In addition, video footage of the victims showed them to have symptoms of chlorine and sarin poisoning.
President Donald Trump put it more starkly in a tweet:
'Many dead, including women and children, in mindless CHEMICAL attack in Syria. Area of atrocity is in lockdown and encircled by Syrian Army, making it completely inaccessible to outside world. President Putin, Russia and Iran are responsible for backing Animal Assad. Big price to pay.'
The OPCW's fact-finding mission appeared to corroborate this version of events. Its final report said that there were 'reasonable grounds' to find that chlorine gas was used in Douma. But dissenting scientists at the OPCW objected that the reports that were eventually published differed sharply from their original findings. Unable to resolve the issues internally, OPCW whistleblowers used leaks to get out their side of the story.
In May 2019, an unpublished report by Ian Henderson was leaked – though not by Henderson himself. Henderson is a ballistics expert who headed the fact-finding mission's engineering subteam, which visited the Douma site. One of Henderson's key claims – supported by all but one of his team members – was that two cylinders that the Syrian opposition claimed contained chlorine were more likely to have been placed manually rather than dropped from the air. This is significant because only Assad's forces had the air capacity to pull off the attack from the air as alleged.
Henderson was sent to Douma as part of the fact-finding mission, but in July 2018, the OPCW announced a new 'core' team, which in Henderson's words, 'essentially resulted in the dismissal of all of the inspectors who had been on the team deployed to locations in Douma and had been following up with their findings and analysis'. Only one of the core members of this team was deployed to Douma, the rest were deployed to Turkey. In a statement to the UN in January 2020, Henderson said: 'The findings in the final FFM [fact-finding mission] report were contradictory, were a complete turnaround with what the team had understood collectively during and after the Douma deployments.'
In November 2019, Jonathan Steele, former chief correspondent for Guardian, interviewed an OPCW whistleblower for Counterpunch magazine. Alex (a pseudonym) told Steele that there had been heated internal arguments over the levels of chlorinated organic chemicals (COCs) present at the site of the alleged attack. Alex explained that earlier, unpublished versions of the OPCW's report essentially said that 'the levels of COCs found were no higher than you would expect in any household environment'. But these findings were excluded from the OPCW's final report.
A week later, a leaked email from an OPCW inspector was seen by Peter Hitchens at the Mail on Sunday. After it was published on Wikileaks, Reuters also verified that the email was genuine. It alleged that the final report had not only redacted 'crucial facts', but that other evidence had 'morphed into something quite different to what was initially drafted'. The final OPCW report was 'highly misleading' and at times 'inaccurate'. 'This redacted version no longer reflects the work of the [fact-finding] team', was the inspector's conclusion.
Since then, even more evidence has emerged showing internal dissent at the OPCW and a cover-up. As Peter Hitchens has reported, when Ian Henderson learned that his findings would not be included in the final OPCW report, he lodged a copy in a secure registry called the Documents Registry Archive (DRA). But emails from a senior OPCW official called for this to be covered up. 'Please get this document out of DRA… And please remove all traces, if any, of its delivery / storage / whatever in DRA', the official wrote. According to an internal memo seen by the Mail on Sunday, 'as many as 20 OPCW staff have expressed private doubts about the suppression of information or the manipulation of evidence'.
And yet the story of the cover-up has been largely ignored in the mainstream media. Though every national outlet covered the 'official' (that is, edited) version of events, few covered any of the leaks that cast doubt on it. Peter Hitchens, Jonathan Steele and the Independent's Robert Fisk are among the few 'mainstream' journalists to have taken the leaks seriously – and Steele's account was published on the radical US website Counterpunch, not in the mainstream press. Aside from that, it has largely fallen to alternative media, such as the Grayzone, to cover the story in detail.
The media
One journalist tried and failed to get his outlet to cover the story. Tareq Haddad was a journalist at Newsweek. He trained at the Press Association, then worked at the Hull Daily Mail and the IB Times, before joining Newsweek in September 2019.
Haddad had a great deal of experience covering the Syrian war. After Turkey invaded Syria, he was investigating allegations that Turkey had used white phosphorus in an attack on a northern Syrian city. White phosphorus is a skin-burning chemical, but its use is not generally regarded as a war crime. It was during that investigation that he came across the story about the OPCW.
Haddad pitched the story. It had already been verified at this stage. 'We had the WikiLeaks releases and then the story by Peter Hitchens', he told me. 'I was kind of going back and forth with my editors trying to get justification for why they would not want it. They did not give me any valid reasons in that time', he said. After around 10 days, Haddad resigned.
The Douma story was an exceptional case, Haddad told me. 'Whenever I pitched a story, even if it was controversial, and if my evidence for the story that I wanted to write was solid – which it was in this case – I would still usually be able to have had the story printed in one way or another', he said.
Yesterday I resigned from Newsweek after my attempts to publish newsworthy revelations about the leaked OPCW letter were refused for no valid reason.

— Tareq Haddad (@Tareq_Haddad) December 7, 2019
Although Peter Hitchens was able to publish his findings in the Mail on Sunday, he also noted the lack of wider interest in the story on one of his blogs: 'I contacted distinguished figures well-known to me in various parts of the British media, people of great integrity, and appealed for their help in getting the story a wider hearing. So far, I have had no success.'
I asked Peter Hitchens why he thought the vast majority of the media was so reluctant to run the story. 'The first problem is that newspapers, broadcast organisations and news agencies don't like admitting that they got something wrong', he said. Back in 2018, 'there was a huge rush to judgement' as allegations were 'more or less swallowed both by a lot of news organisations and by governments as well, particularly because of the harrowing nature of pictures of dead people, including children, which were shared'.
Smears and denials
'I fear very much that if we were now back in 2003, and Iraq had been invaded, and no weapons of mass destruction had been found, I am not sure that story would have got out', says Hitchens. 'If it had got out, those who did cover it would have been called chemical-weapons deniers or Saddam apologists, which is the fate of those who have actually joined in covering the OPCW story', he explains.
Hitchens has been called an 'Assad apologist' and a 'denialist of war crime' for his articles. Similarly, Haddad was accused by his former employer of pitching 'a conspiracy theory rather than an idea for objective reporting'. 'Anyone that opposes military aggression is very quickly smeared', says Haddad.
Many of the smears come from third parties who deny or downplay the significance of the leaks. 'It has been noticeable that the OPCW, which is the principal subject of the leaks and is where the sources to whom I have talked had been working, has at no stage denied anything that I have written', Hitchens tells me. 'They have sort of blustered vaguely about sticking to the original story. But they have not said these documents are false. They have not said that the people involved are lying.'
According to Hitchens, the lesson Western governments learnt after the debacle in Iraq was not to 'stop making stupid wars in parts of the world where they did not know what they were doing'. Instead, governments 'learned to defend themselves better from the attacks of the media'.
As the OPCW did little to defend itself at first, that role fell to Bellingcat, a website which specialises in 'open source' investigations. Belingcat's work is often presented as 'citizen journalism', and is the subject of numerous puff pieces in the press. Among the funders of this 'citizen' journalism is the National Endowment for Democracy, a think tank which promotes Western military intervention and regime change, and which is, in its own words, 'dependent on continued support for the White House'. This is not a disinterested party to the Douma affair.
Bellingcat accuses those who have published the leaks of misunderstanding the issue, even claiming that the redacted OPCW report incorporates the dissenting inspectors' doubts, which it plainly does not. (Read Peter Hitchens's full rebuttal here.) Bellingcat seems to have also devoted a large amount of resources, including a series of articles, videos and computer models, to questioning the leaks and discrediting the whistleblowers. All of it fails to address convincingly the question of a cover-up. Nevertheless, if Bellingcat's intention was to ward journalists off the story, then it succeeded. We know from Tareq Haddad's experience that his foreign-affairs editor at Newsweek cited one of Bellingcat's 'debunkings' as a reason not to run the Douma story.
Although the OPCW cover-up didn't much interest news editors, one story that caught their eye was the existence of a group of academics who had formed a working group on Syria, Propaganda and Media (SPM). The Times splashed this news on its front page. Inside, it devoted a double-page spread to attacking SPM members as apologists for Assad. By this stage the working group had yet to produce any actual work on the conflict. (Tara McCormack, one of the group's members, has written about the experience for spiked.) Whatever the views of the individuals concerned on Syria, or anything else for that matter, The Times treatment acted as a warning shot to those who might challenge the government's position on the alleged chemical attack. The SPM story provided the media with an opportunity for tubthumping denunciations of the alleged traitors and saboteurs in our midst.
Tomorrow's front page: Apologists for Assad working in universities #tomorrowspapertoday pic.twitter.com/Vkg3Am645N

— The Times (@thetimes) April 13, 2018
Propaganda and a failure of skepticism
Journalism during wartime has always been beset with problems. Sources can be murky and information is hard to verify. Propaganda and misinformation are rife. The Syrian conflict has been particularly vulnerable to this.
Back in 2011, a blogger, calling himself 'A Gay Girl in Damascus', who claimed to have been caught up in the revolution, managed to hoax several major media outlets, including the Guardian and CNN. When she was 'abducted' by the Syrian regime, thousands demanded her release. In the end, the 'gay girl' turned out to be Tom McMaster, a middle-aged man from Atlanta, Georgia. A frivolous – and ultimately harmless – example, but nevertheless it illustrates the willingness of many in the media to go along with certain sources, especially if they affirm a pre-existing narrative about the conflict.
Peter Hitchens warns that there are now all kinds of 'open source' bodies reporting on the Syrian conflict, which are taken as good coin by journalists. These are not hoaxers, of course, but they are often not the neutral observers their titles make them out to be. He gives the example of the Syrian Observatory for Human Rights. Its reports on the conflict are regularly referenced by the news media, and even by newswires like AP and AFP. 'As far as I know it was run from a second-hand clothes shop in the English Midlands. But these things are treated with authority and you have to wonder how that happens', says Hitchens. The Coventry-based 'Syrian' observatory has even taken funding from the UK Foreign Office for its media work.
A recent investigation by Middle East Eye found that the British government has played a huge propaganda role in the Syrian conflict. It has given contracts to communications companies which run press offices and give media training to opposition spokespeople. Most of this propaganda effort was geared towards the Syrians themselves, but the UK government also played a role in moulding the story in the UK press. Opposition voices were often vetted and briefed by British handlers before they could speak to journalists.
Hitchens tells me there has been a 'failure of scepticism' and an 'enormous amount of conformism' when it comes to reporting on the Syrian conflict, and in the media and society more broadly. 'What most people are afraid of… is of being outed as a nonconformist, as some sort of weirdo', he says. 'Well, this does not bother me. I was still brought up in the days when it was actually considered admirable to stand against the tide. Not just in theory, but in practice.'
Hitchens readily admits that he used to be a 'warmonger'. 'I was a tremendous enthusiast for the Cold War', he says. But there has been a political shift, especially as the establishment has gone from being largely conservative to largely liberal. And liberal-leaning papers like Guardian, which once might have been the natural home for revelations like the Douma leaks, end up defending the wars waged by a liberal establishment. As Hitchens puts it:
'The patriots have become the anti-war troublemakers, and the anti-war troublemakers have become the authoritarian warmongers… What this really reveals is a complete reversal and inversion of British politics. The left used to be the exposers of untruth and the publishers of the Pentagon Papers, but this tradition has gone. Now you find probably the most conservative columnist in British journalism doing what lefties used to do in the 1960s.'
A willingness to be sceptical and to challenge conformism ought be the bare minimum of what we should expect from the media – even if it means causing trouble. The unwillingness to tell the OPCW story speaks to a far broader journalistic failure.
Fraser Myers is a staff writer at spiked.
Picture by: Getty.
To enquire about republishing spiked's content, a right to reply or to request a correction, please contact the managing editor, Viv Regan.