The tyranny of cancel culture
Trump is right: cancel culture is destroying freedom of thought.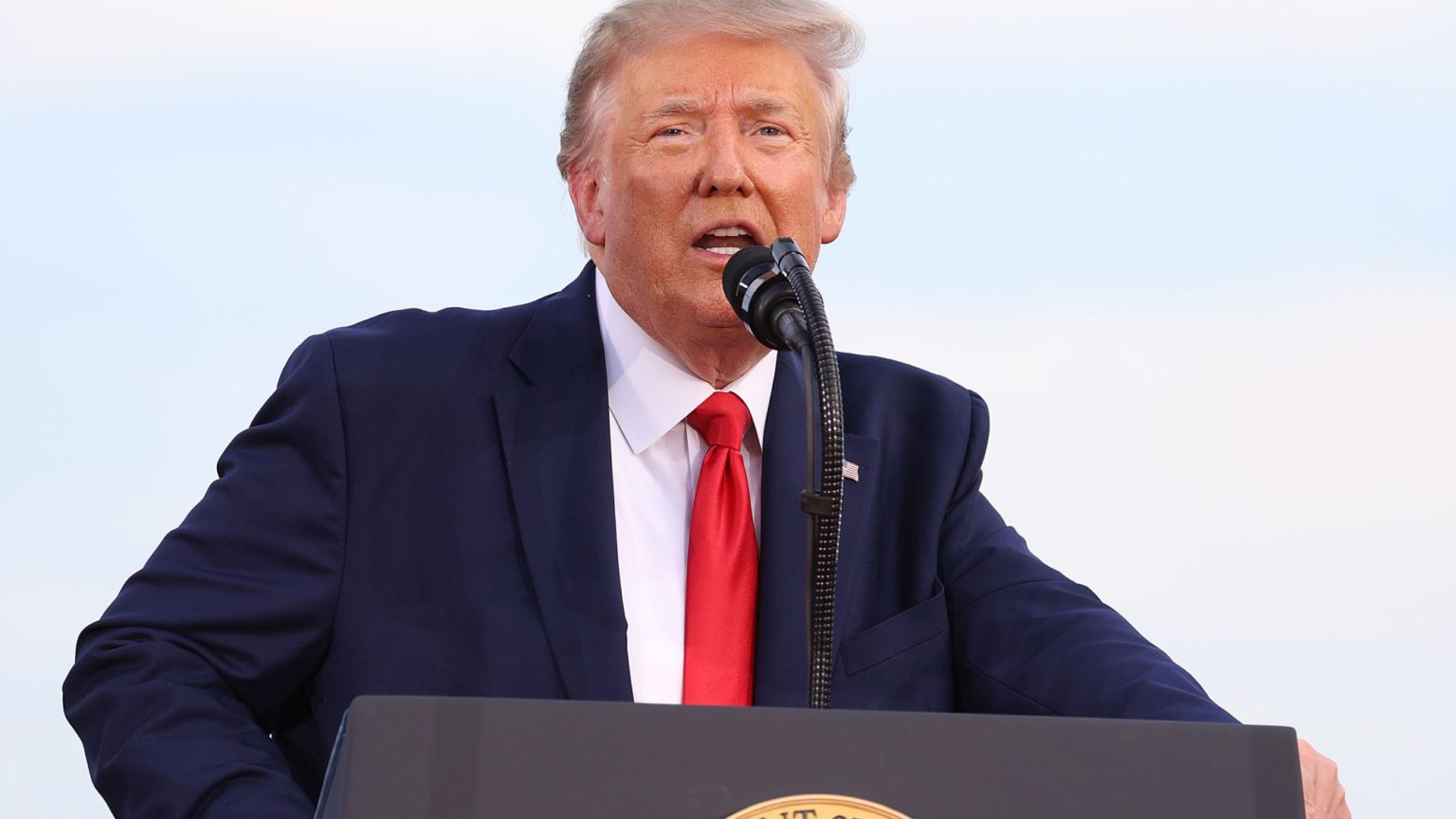 Trump is right. Cancel culture is the key weapon in the armoury of the intolerant. In his 4 July speech at Mount Rushmore, Trump talked about the 'political weapon' of 'cancel culture' – the totalitarian thirst for 'driving people from their jobs, shaming dissenters, and demanding total submission from anyone who disagrees'.
On the cult of wokeness, the ideology of PC that says there is only one way to think about history, race, gender and myriad other issues, Trump declared: 'If you do not speak its language, perform its rituals, recite its mantras, and follow its commandments, then you will be censored, banished, blacklisted, persecuted and punished.'
Anyone who has been awake at any time over the past four weeks will know that Trump is right. They will have witnessed the furious, misogynistic rage against JK Rowling for refusing to 'speak the language' of the new woke elites – in this case the eccentric, science-denying language of 'genderfluidity'. They will have seen Britain's foreign secretary Dominic Raab being mauled for days for refusing to 'perform the rituals' of the correct-think mob – in this case by taking the knee (that is, bowing down) to the slogan of Black Lives Matter and all the identitarian nonsense that lurks behind it.
And they will have seen black actor and TV host Terry Crews being denounced as a race traitor for refusing to 'recite the mantras' of the new identitarianism – in Crews' case by expressing concern that the cry of 'black lives matter' might morph into a belief that 'black lives are better'. In short, Crews was flirting with the great blasphemy of our time – the idea that 'all lives matter'.
And yet what has been the response to Trump's Mount Rushmore speech from the commentariat and the liberal elites? Sheer, bizarre denialism. They insist cancel culture is a myth. They say there is no culture war against the past or against ordinary people's moral and cultural values. That's a lie spread by right-wingers like Trump, they claim. In fact, if anyone is igniting a culture war, it's Trump, they say. 'Trump fuels culture war at Mount Rushmore', as a New York Times headline put it.
Why is it a culture war when Trump criticises cancel culture and defends the American Revolution, but not a culture war when the New York Times launches a vast multimedia project to diminish the importance of 1776, the year America declared independence, and to elevate the importance of 1619, the year slaves first arrived in the US? Why is it a culture war when Trump encourages his supporters to stand up to the new authoritarianism, but not a culture war when the New York Times caves in to its young woke employees and sacks its opinion editor for the crime of publishing a wrongthink piece about the recent George Floyd riots? Why is it a culture war when right-wingers complain about intolerance and censorship, but not a culture war when the cultural elites enforce such things?
The reaction to Trump's Mount Rushmore speech has provided a fascinating insight into contemporary wokeness, into the outlook of those convinced that they are in possession of all the correct thoughts and that they must now cleanse and reorder the minds of those who are not.
The most striking thing is the cognitive dissonance. Even as statues continue to fall, these people claim there is no culture war against the values of the past. Even as likenesses of George Washington are burnt and abused and monuments to Christopher Columbus are decapitated and daubed with slurs, they insist there's no culture war – except from those who say 'Leave the statues alone', of course. Even as JK Rowling continues to be subjected to a slurry of misogynistic insults – telling her to 'suck a lady dick' or 'fuck off and die' – they claim there is no serious culture of intolerance. Even as people literally lose their jobs for criticising BLM, they say PC cancellation is a myth dreamt up by right-wingers.
It's remarkable. And revealing. Such levels of self-deception, such a Kafkaesque ability to be simultaneously engaged in a war against history and wrongthink while publicly insisting that these things only exist in the fevered imaginations of the likes of Trump and the people who vote for him, speaks to the dangers of life in the echo chamber.
For when you inhabit a 'safe space', when you inoculate yourself against what you consider to be difficult, challenging or simply divergent points of view, a number of bad things happen to you. You become dogmatic, since you increasingly cling to your beliefs not because you have tested them in the public sphere (that's too scary) but because you just know they are right. You become less adept at critical thought and critical self-reflection. After all, as Cardinal John Henry Newman put it, 'The human intellect does from opposition grow'. Force-fielding oneself against opposition stunts one's capacity to reason and change.
And you become unworldly. Divorced from reality. So blindly convinced of your own righteousness that you do not even recognise your censorship, your fury and your hatred for what they are. To you, they're good, normal things. To you, it's bizarre when someone accuses you of being engaged in vicious crusades of intolerance against people who merely disagree with you, because you believe that cancel culture is a decent thing, the right response to those who are morally fallen and who refuse to speak the language, perform the rituals and recite the mantras of political communities like yours. Life in the self-reinforcing chamber of correct opinion warps the human intellect to such a degree that the chamber's inhabitants come to mistake their dogma for truth, their censorship for a public good, and their extraordinary cruelty against dissenters for essential moral correction.
In a sense we should sympathise with those who say cancel culture is a myth. Some of them are just lying, sure, desperately trying to deflect criticism of their immoral behaviour. But others say this because they are so lost in the increasingly unstable cult of hyper-fragility, and in the self-protecting campaigns of intolerance that go along with it, that they cannot see the wrongness of what they are doing. That's bad for those of us who want to understand and challenge the new politics of unfreedom, and it's bad for the deniers, too, who live in a fantasy world in which they are the decent, progressive ones on the right side of history, when nothing could be further from the truth. Such self-delusion is not healthy.
So let's get things straight. Cancel culture is real and it is incredibly destructive. Here are just a small proportion of the people cancelled for wrongthink in the UK in recent years. Labour MP Sarah Champion lost her place in the shadow cabinet for daring to speak about working-class girls who were being raped by largely Muslim grooming gangs. Alastair Stewart lost his job at ITV News for a tweet that some wrongly said was racist. Same with radio host Danny Baker.
Maya Forstater has lost work for daring to criticise the cult of transgenderism. Selina Todd and Julie Bindel are No Platformed for the same thoughtcrime. Graham Linehan has been expelled from Twitter for likewise doubting the ability of men to become women. Toby Young lost education jobs after Twittermobs subjected him to a politically vindictive round of offence archaeology and dug up some old jokes he'd made. Baroness Nicholson was dumped by the Booker Prize for 'transphobia', a radio presenter on the Isle of Man was suspended for criticising the idea of white privilege (he's now been reinstated), and a Welsh journalist was removed from the judging panel of a literary prize after he criticised BLM.
Here's the critical thing, though: even when targets for cancellation don't lose their jobs, cancel culture still has its desired noxious effect. It still chills public debate. It still sends a clear warning to the public: express these views and you could be punished; you might even lose your income. Indeed, the central problem with cancel culture is not what it does to individuals – awful as that is – but rather what it does to public life more broadly. Consider the case of JK Rowling. 'She's still a successful author. She hasn't been cancelled', say the misogynistic apologists for the abuse that she receives. Rowling, of course, is too much of a global cultural phenomenon to be cancelled. It doesn't work on her. But what about people who share her views but do not enjoy her level of financial or cultural security? They will see her being subjected to rape threats, death threats, boycotts and defamation and conclude: 'Expressing biological truths is too risky. I won't do it.'
This is cancel culture's most grotesque achievement: to chill everyday discussion; to make examples of prominent wrongthinkers in order to warn the entire population; to enforce and police parameters of acceptable thought and to make it clear that anyone who steps outside of them risks, in Trump's words, being 'censored, banished, blacklisted, persecuted and punished'. It is real, it is wrong, and it is destructive. It harms individuals and it shatters liberty. It induces fear in ordinary people and it stultifies public debate. A healthy society is built on freedom, openness and the rights of dissent and intellectual experimentation. Cancel culture undermines all of those things. That's why it must be defeated.
Brendan O'Neill is editor of spiked and host of the spiked podcast, The Brendan O'Neill Show. Subscribe to the podcast here. And find Brendan on Instagram: @burntoakboy
To enquire about republishing spiked's content, a right to reply or to request a correction, please contact the managing editor, Viv Regan.