Why so many BLM ultras are white
The race wars they are stoking won't blight their affluent neighbourhoods.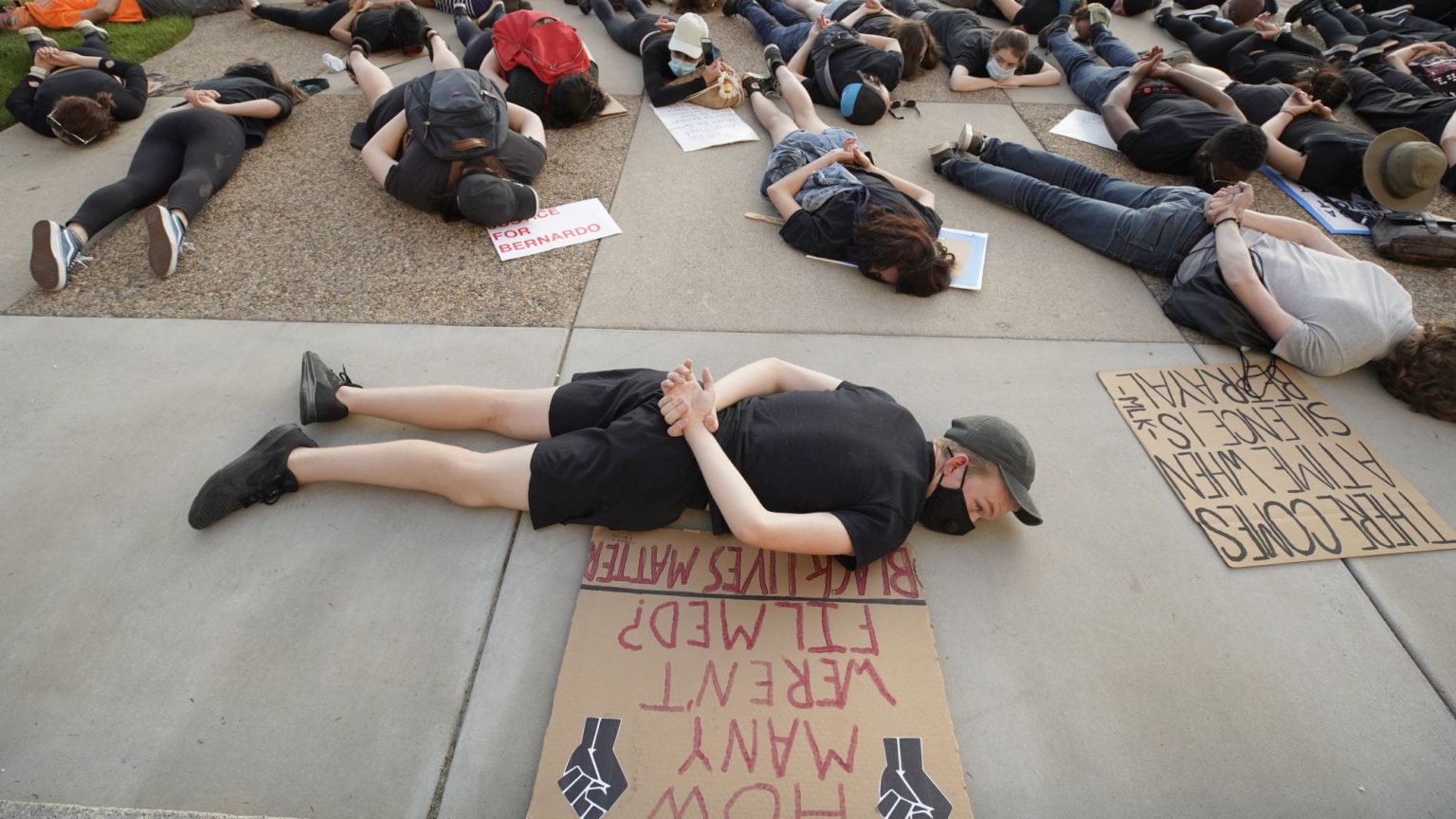 Many people have made the observation that most Black Lives Matter activists aren't actually black. To judge by television coverage, photographs and YouTube videos, most BLM protesters indeed seem to be white, middle-class students. In a further paradox, it is becoming more evident by the day that many black people and ethnic minorities vehemently oppose BLM.
On Tuesday, the black comedian and actor Terry Crews, known to UK viewers from E4's cop comedy Brooklyn Nine-Nine, warned that Black Lives Matter shouldn't morph into 'Black Lives Better'. The devout Christian tweeted: 'If you are a child of God, you are my brother and sister. I have family of every race, creed and ideology.' Crews was consequently subject to online denunciation, which is not surprising, as he was essentially saying that all lives mattered – a sentiment that infuriates BLM advocates.
Closer to home, this week also saw the mixed-race former footballer Karl Henry publicly call into question BLM UK. 'I think the majority of the UK have now had enough of that organisation', he tweeted. 'Black people's lives matter! The divisive #BlackLivesMatter organisation, however, DOES NOT!'
Another British mixed-race former sportsman, Matthew Syed of The Sunday Times, asked of BLM whether 'toppling another statue' will 'help the black person cowering from gangs in a drug-infested neighbourhood, the graduate denied promotion because of unconscious bias, the child growing up without hope in a tower block?'.
While in Britain we have the brave Trevor Phillips, in Australia one of the best-known detractors of woke politics and BLM is the journalist and television presenter Rita Panahi, who this summer has described BLM as 'anti-police, anti-white, anti-capitalist but also proudly neo-Marxist'.
America's veteran conservative writer Dinesh D'Souza has said that 'the left has deployed a paramilitary' in militant anti-racist protesting. 'It's not just Antifa. It's all the other groups: Refuse Fascism, Black Lives Matter, and on it goes… This is something that Mussolini had, the black shirts… A roving band of thugs that are protected by powerful people in Hollywood [and] the media.'
It's not only conservative ethnic-minority voices who reject BLM. Last week Africa's elder stateswoman, the politician and humanitarian Graça Machel, formerly of Mozambique's freedom movement and widow of Nelson Mandela, criticised BLM's tactic of pulling down statues of slave-owners. They should remain, to 'tell generations to come, this is how it started, and this is how it never should continue to be'.
In Britain, Sir Geoff Palmer, Scotland's first black professor, has campaigned for years for explanatory plaques to accompany statues of slave traders. He believes toppling monuments will only erase the memory of their crimes against humanity: 'You remove the evidence, you remove the deed.' Indeed. Many black Americans have this summer come out in defence of the Emancipation Statue in Washington DC, paid for by freed slaves.
This paradox veers into genuine irony. Witness the spectacle of a white man attacking a black man for trying to remove BLM posters from a fence. Observe the white man scream at his uppity, negro inferior.
What's behind such dissonance between whites who think they know best for blacks, and many blacks who disagree? Why are there black people proposing constructive ways of dealing with the past, but nihilist woke white protesters hellbent on destruction of statues, and capitalism itself, who offer no vision and no future?
It's because for black people racism is a real-life everyday potential experience. It may not be as bad as times past, and race relations are worse in the US than the UK, but racism remains in black folk memory and its shadow is always there. Hence the real desire to educate and to offer positive solutions that encourage mutual understanding and erase superficial differences. Many black people are also more concerned about the present than the past: in 2018, 2,925 black people were murdered in the United States, 2,600 of that number by other blacks.
For Black Lives Matter – the very name epitomises its philosophy of division – it's all a bit of a posture and a pastime. Racism rarely affects white liberal twentysomethings. But street protests do afford a feeling of righteousness, an opportunity to virtue-signal, to satiate that young man's power-lust and feeling of importance – and to alleviate the boredom of lockdown. The white BLM protesters don't think about the dangerous consequences of their actions or politics because they won't be affected by them. The race wars that they are stoking won't blight their affluent all-white neighbourhoods.
Black Lives Matter are dangerous narcissists whose driving force is self-aggrandisement. Let's hope the tide really is turning against them.
---
There's nothing racist about White Jesus
The Archbishop of Canterbury, Justin Welby, has called for a review to decide which representations of Jesus should remain in Anglican cathedrals and churches, given that most of them portray Christ as white and north-European looking, whereas he was Middle Eastern.
This literal-mindedness is dubious – and for the church, dangerous. Christ is white in most churches because, before Windrush, so was England. Religious icons are always traditionally portrayed in accordance to the ethnicity and culture of worshippers, with Jesus being black in Sub-Saharan Africa, Filipino in the Philippines and resembling previous depictions of Zeus in Greece.
Most cathedrals were built in the Middle Ages, when most people didn't even leave their hometown in their lifetimes let alone travel to the Middle East. There was very little comprehension of there being people who weren't white.
The archbishop's literal-mindedness sets a perilous precedent. If Jesus should be rendered 'realistic', should the Bible be rewritten to make it historically accurate?
I really wouldn't recommend going down that path. The 'virgin' Mary was originally the 'maid' Mary, and Lazarus was returned from social ostracism, not brought back from the dead. Such are the legion translation mistakes from the Hebrew to the Greek.
---
The real reason there aren't more women on Mock the Week
The female comic Katherine Ryan has attacked the gender tokenism on BBC panel show Mock the Week.
I can explain why the programme has always been dominated by men, despite efforts in recent years to introduce more gender balance. It's because the format of the programme is competitive, and men are more competitive than women.
It's also because on average men are funnier than women. As Camille Paglia famously argued, men are given to extremes: there are more men of genius for the same reason most serial killers and lunatics are male.
Comedy is fundamentally about cruelty or the distortion of reality: it appeals to the dark side of humanity found mostly in the male of the species.
Patrick West is a spiked columnist. His latest book, Get Over Yourself: Nietzsche For Our Times, is published by Societas.
Image by: Getty.
To enquire about republishing spiked's content, a right to reply or to request a correction, please contact the managing editor, Viv Regan.