What BLM gets right – and wrong – about the police
We need a serious debate about criminal-justice reform, not virtue-signalling platitudes.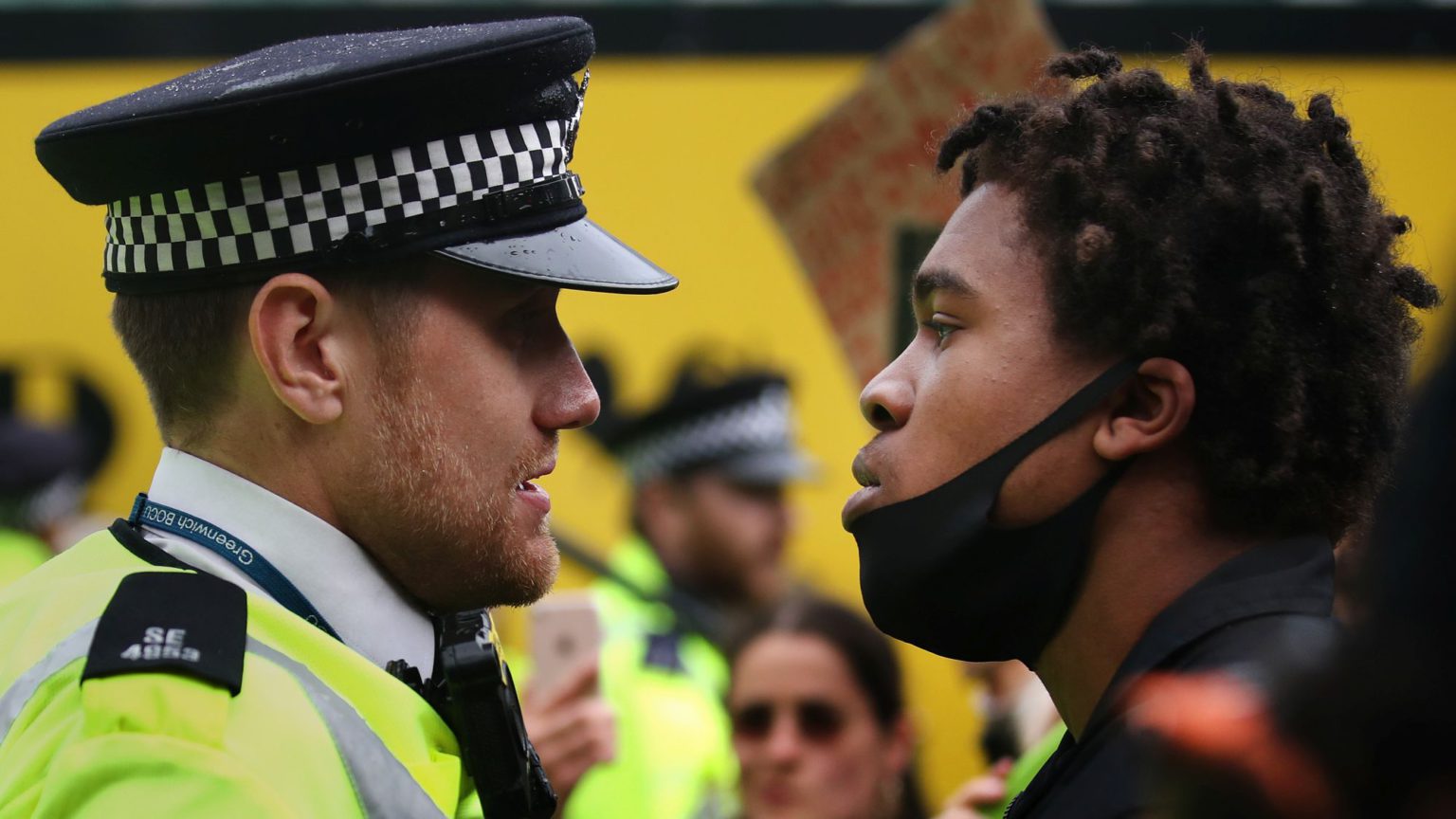 UK police forces seem desperate to prove they are not racist.
Last week, Northumbria Police tweeted that they would be 'in attendance to facilitate a Black Lives Matter vigil' at Keel Square in Sunderland. At the same time, they implemented a 'Section 14 notice' forbidding any other public assembly, including any counterprotest. They used draconian, anti-protest legislation to allow one protest while preventing all others.
Northumbria Police are not alone. Images have been circulated on social media of police officers across the country 'taking the knee' in solidarity with Black Lives Matter. Cressida Dick, head of the Metropolitan Police, is among the only police officers to push back against the allegation that the police are racist.
Supporters of Black Lives Matter UK argue that police brutality is just as much an issue in the UK as it is in the US. Black people in the UK, they point out, are more adversely affected by stop and search and are more likely to die once in police custody.
The 2017 Lammy Review into racial disparities in the justice sytem found that while black people comprise three per cent of the population of England and Wales, they currently make up 12 per cent of the prison population. And you do not have to go far into history to find examples of police brutality against black Britons. For instance, in 1993 Joy Gardner was killed after officers pinned her to the ground, handcuffed her and then gagged her with 13-feet of electrical tape.
But the statistics defy easy explanations. Take deaths in police custody. Figures show that over the past 10 years, a white individual who has been arrested was actually about 25 per cent more likely to die in custody than a black person. Things change when you look at the use of force. Of the 17 people who have died in police custody over the past two years following the use of police force, six were black and 11 were white. In other words, once force was used, black people were disproportionately more likely to die. But white people were more likely to die in custody, overall.
Drugs and alcohol have played a significant role in many of the deaths in custody – arguably more than racial prejudice. During the 11 years between 2004-2005 and 2014-2015, 82 per cent of people who died in or following police custody had some link to alcohol and / or drugs. Overall, 49 per cent of those who died had alcohol- or drug-related factors identified specifically as a cause of death in a post-mortem examination. In 2018-2019, in almost two-thirds of the custody-related deaths, the person was intoxicated or known to have drug or alcohol issues at the time of arrest.
Figures obtained between 2004 and 2015 showed that just over half of deaths in police custody arose from natural causes. The proportion of deaths in police custody in which restraint was a cause of death is similar across white and BAME backgrounds – 10 per cent and 11 per cent respectively.
While we don't have access to all the details of each case, the reality is that very few of them seem to resemble the Joy Gardiner case. Instead, they tend to represent failures in management and monitoring. These deaths could be prevented by reducing the numbers of heavily intoxicated and mentally ill people brought into police custody and managing them better once they are there.
Then consider stop and search. In 2018-2019, around 97 per cent of all stop and searches in England and Wales took place under Section 1 of the Police and Criminal Evidence Act, which empowers officers to search those suspected of carrying drugs or stolen property. In the same year, there were four stop and searches for every 1,000 white people, compared with 38 for every 1,000 black people. Black people had the highest stop-and-search rates in every police force area for which there was data.
When it comes to racial disparities associated with the outcome of stop and search, there is a clear case to answer. Across London, black people are charged for possession of cannabis at five times the rate of white people. And black people in London who are caught in possession of cocaine are charged, rather than cautioned, at a much higher rate than their white counterparts. In 2009-2010, the Metropolitan Police charged 78 per cent of black people caught in possession of cocaine compared with 44 per cent of white people. This shows that the law is applied more harshly on black people than white people.
There may be a rational explanation for the disparity. It may be that black people were found to be carrying larger quantities of drugs, thereby necessitating a charge rather than a caution. The data do not say. But there is at least a risk that some officers are making the decision to charge based on racial prejudice. And this has real consequences. Being charged, rather than cautioned, means a criminal record. And our absurd rules around safeguarding mean that a single drug conviction could be enough to close off particular lines of employment to anyone with a criminal record.
But the problem here is not simply racist police officers. The decision to charge someone is normally taken by an officer or lawyer independent to the investigation. It could be that there is rampant racism among this particular section of the police and prosecution services.
But to argue that the issues with stop and search are about race is to argue that our system of drug enforcement would be perfectly just if only it was applied to all races equally. Stop and search is a minute element of a system of dysfunctional drug laws that allow too many people – black and white – to be charged and convicted for petty drugs offences. These are compounded by rules that mean these convictions live on someone's record forever.
To discuss issues around stop and search and deaths in police custody through the prism of race might make us feel like we are changing the world. It may also give the police plenty of opportunities to virtue-signal. But it does nothing to resolve the complex problems within the justice system.
We should all get up off our knees and have a grown-up debate about the future of our criminal law. This has far more potential to change things for the better than 'facilitating' another BLM demo.
Luke Gittos is a spiked columnist and author. His latest book Human Rights – Illusory Freedom: Why We Should Repeal the Human Rights Act, is published by Zero Books. Order it here.
Picture by: Getty.
To enquire about republishing spiked's content, a right to reply or to request a correction, please contact the managing editor, Viv Regan.