A chance to reclaim the streets
The lockdown has allowed us to appreciate the beauty of our towns and cities.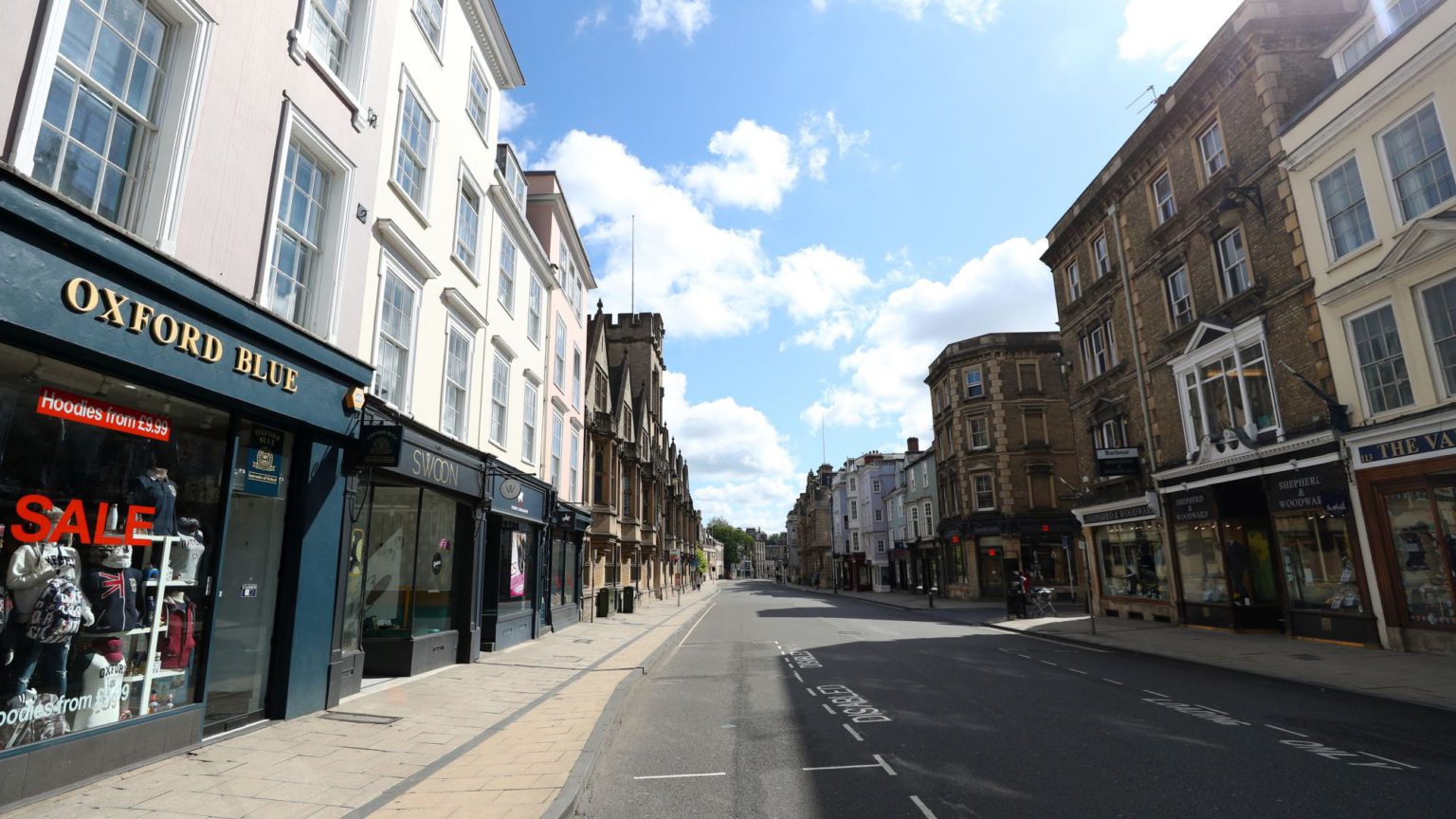 It's safe to assume that many of us have been walking more than ever before. With most outdoor activities only now being permitted again, sauntering through a built or natural environment had been one of the few recreational suspensions from the chaos and anxiety erupting across the globe.
Walking has many benefits. Not only is it good for our bodily health, but also major historical thinkers have attributed their best ideas to routine strolls. Charles Darwin would take the same sandstone 'thinking path' in Kent every day, and Immanuel Kant stuck to his routine path in Königsberg throughout his entire life. The anti-capitalist Situationists even said aimless wandering is good for political consciousness. And there has indeed been something rather anti-capitalist about the effects of coronavirus – by bringing the economy to a standstill, it has freed many from the overwhelming utilitarian pressures of productivity.
When we speak of liberation from the tyranny of the useful, we are talking of something that has an aesthetic dimension. To adopt the 'aesthetic attitude' is to appreciate a useless thing (for instance, an ornament or a work of art) for no particular reason other than its pleasure (l'art pour l'art, as the French say). With citizens emerging out of their homes to meander through a topography with no particular agenda, it is highly likely that you have come to re-engage with your living space in this aesthetic way, wherein surplus time and ocular absorption reveal hidden depths (or 'concealed beauties', to use Joseph Addison's phrase).
In this manner, coronavirus has made aesthetes of us all. While we've been humbled by nature's terrible power, we've also been given the time and inclination to rediscover its splendour. Parks have never felt like such a blessing – the only place one can conceivably socialise and enjoy the natural world's bounty. And in our cities, the drastic novelty of the change can hardly go unconsidered: with most cars off the road and crowds kept at bay, the imagistic power of empty spaces has induced terror and awe in a sublime manner, as described by Edmund Burke.
Our built environments have certainly taken on a new dimension. Everything has been palpably slower and the spaces wider. We have been able to stop, gaze up and look around without concern for blocking the paths of our fellow citizens. Our ghostly milieu has made us feel as if we're in a Hollywood disaster movie or, if you're in London, Danny Boyle's 28 Days Later (2002). What was once only possible in film became the default spectacular during lockdown.
But our attraction to decluttered spaces does not always have such apocalyptic undertones. One of the many pleasures of watching the Trevi Fountain sequence in Federico Fellini's La Dolce Vita (1960) comes from the fact that this usually crowded part of Rome has been duly cordoned off and muted. The dramatic staging gives the scene its romantic, dream-like fancy. Actress Anita Ekberg merges with the space as an unattainable experience (chased by crowds throughout the movie), and the kiss becomes a fantasy of serene, erotic silence.
Instagram is another medium that understands the aesthetic prerogative to declutter. Influencers and insta-aesthetes are a dab-hand at what Henri Cartier Bresson called 'the decisive moment'. To them this occurs at the moment of least visual pollution. They take the snap as cars have left the frame and the crowd has dispersed just long enough for visual impact. People like these minimalist compositions as they capture a moment that is otherwise completely fleeting in its arrangement. But what was once impressive for being so rare has, since lockdown, been occurring all around us.
Take, for example, a newfound hobby during this crisis to indulge in drone footage taken from the empty streets of resplendent European cities like Rome. These images are spectacular and arresting; it feels odd to see such beauty, gazed upon for many hundreds of years without interruption, suddenly go un-looked upon. And has there been a more striking artistic event throughout this crisis than Andrea Bocelli performing 'Amazing Grace' outside the Duomo di Milano to a vacated piazza?
I'm sure many had the impulse to walk the empty streets during lockdown, just to see, as if this crisis presents a unique aesthetic opportunity. It's not uncommon to fantasise about being left alone with special things and in special places. Who doesn't, just once, desire the Louvre, the Sistine Chapel or the Trevi Fountain all to themselves? Religiously minded people say that in emptiness, and its silence, you find God. 'Be still and know that I am God', the Bible says. In the distractions, pressures and noise of everyday life, we are denied contact with the numinous. Perhaps the resonance of Bocelli's recent performance, and the power of the Trevi Fountain kiss, rests on this encounter with silence.
Yet a city is nothing without its bustling population. People give the city its life and value, and only a misanthrope would want what we have seen around us during the lockdown to continue in perpetuity. But what about cars? Many towns and cities are now proposing the pedestrianisation of their centres, including Birmingham and Bristol in the UK, Vilnius in Lithuania and Freiburg in Germany. By removing cars, pedestrians, restaurants and cafes will be free to reclaim the streets. This is for social-distancing reasons, but removing automobiles from city centres offers an exciting opportunity to reshape our cities in favour of its residents' quality of life.
Cars are of course useful and necessary to many, but they've been a blight on our city space, and an assault on our visual and audible senses. This is to say nothing of ancient cities that have been reshaped around automobiles and traffic lights, when it should have been the other way around. In our era of utilitarian maximisation, public space once left for being within became merely a tarmacked means of getting from A to B as quickly as possible. Meanwhile, pedestrians and recreational wayfarers are forced to remain vigilant and coddled to narrow sidewalks.
The pragmatic British are often shy about discussing beauty. As a class-organised nation, many could hardly begin to think about the cultivation of something like beauty, which was seemingly reserved for the bourgeoisie. While intellectuals continue to praise Le Corbusian utopianism and postwar British housing, they forget that these top-down social experiments in utilitarian housing — which have fundamentally failed — were conducted on the working class, whose members are regarded as little more than machines in need of oiling. This needs to change. As the 'fifth richest nation in the world', as we so proudly and often state, and in a culture purporting to raise awareness of mental-health issues, why is no one talking about the importance of calming, beautiful spaces in our lives?
The specious reasoning that beauty lies in the eye of the beholder has been convenient to no one but shoddy developers, talentless architects and venture capitalists. There is, in fact, something that the wandering aesthetic philosopher Kant called sensus communis – a commonly held agreement on what is and what is not beautiful. And where there is not one, it should be developed. In a built environment it tends overwhelmingly to involve integration with nature and respect for tradition. Like a moth to a flame, crowds are often testament to this fact. Must we pretend that we don't understand why so many like to visit cities like Bath and Oxford, or vacation to Bruges, Venice or Amsterdam?
Covid-19 has indeed exposed the risible conditions in which so many people live in the fifth richest nation on the planet. Squeezed into small rooms with no gardens, ruled by unscrupulous landlords or in stress-induced conflict with our neighbours, the result has been the atomisation of society and working people bursting out of their homes only to be shamed by the garden-dwelling middle class for 'breaking quarantine'. Now conversations are taking place about 'post-coronavirus' housing that implements gardens and balconies, as if we needed a global pandemic to know that most do not choose to forego such luxuries. Make no mistake: suffocation from beauty is a class issue, and the left would do well to acknowledge its humanistic importance.
Philosopher Friedrich Schiller acknowledged this 300 years ago. He theorised that beauty has the radical potential to transform society by cultivating harmony that encourages moral good and our highest potential. Not merely a theory of aesthetics, it is a sociological and psychological theory of aspiration in response to failed political projects. But it wasn't the left taking up Schiller's radical humanism. Instead it was the late conservative philosopher Sir Roger Scruton who was fighting for people's everyday living conditions. In a recently published government report entitled Living with Beauty, it is stated that beauty is 'the benchmark that all new developments should meet. It includes everything that promotes a healthy and happy life.' Scruton's work, part of the Building Better, Building Beautiful Commission, is a noble and ambitious call to reshape the values of urban development in favour of the human within it, and his or her flourishing. It should be supported.
During my own quarantine, I have indulged, like so many of us, in a Netflix series. Medici: Masters of Florence is a fascinating show for depicting how the pursuit of beauty, even through Black Death and political turmoil, was the noblest ambition of the state that, in the end, pays for itself – a point made in Living with Beauty.
We tend to recoil from a seemingly anachronistic sentiment like this. But it's worth reminding ourselves that the ambitions of that era remain our pleasures today. It is also following disasters that we begin to think about the values and consequences of our built environment. During the many plagues of the Italian Quattrocento, beautiful buildings were commissioned to appease a wrathful God. Following the Great Fire of Rome in AD 64, streets were widened and safety regulations put in place. In London, English Baroque (exemplified by St Pauls) emerged following the Great Fire of London in 1666.
Removing cars from our city centres certainly won't give us a Renaissance or a utopia. But as we reconsider our built environments in the name of public health and social distancing, we would do well to take the opportunity to smuggle in the role of beauty as something agreeable to our collective spirit and crucial to our social contentment.
David G Hughes is founder and editor of Electric Ghost Magazine. Follow him on Twitter: @BelovedFire_
To enquire about republishing spiked's content, a right to reply or to request a correction, please contact the managing editor, Viv Regan.