The myth of civil-service neutrality
Removing Remainer civil servant Sir Mark Sedwill from the top job is hardly an anti-democratic 'coup'.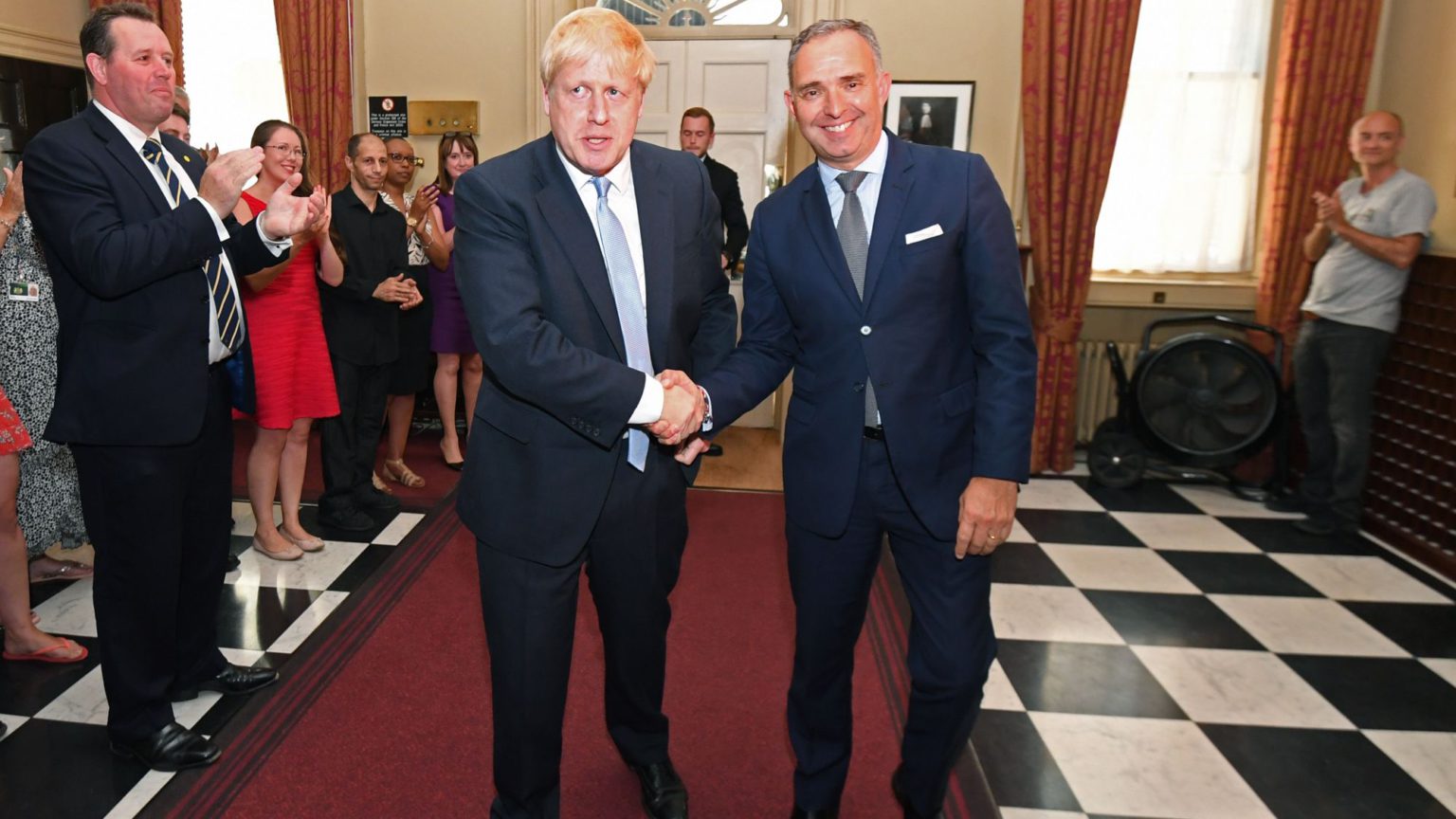 Britain has just suffered a 'coup'. A trusted and selfless public servant at the top of the UK's system of government has been ousted by a 'cabal' of plotters, intent on 'destroying our democratic system'. This proves Britain is becoming 'totalitarian', a 'third-world Tory dictatorship' and the envy of foreign despots such as Turkey's President Erdogan.
That, at least, is the version of reality presented this week by the howling banshees of social media – and even reflected in supposedly serious news reports. Anybody glancing at this stuff might imagine that the queen had been deposed as head of state and imprisoned in the Tower of London, the elected government forcibly removed from office and parliament shut down by violence rather than a virus.
In fact, all that has happened is that Britain's most senior public official, the head of the civil service, has written a letter of resignation at the behest of Boris Johnson, the elected prime minister he was appointed to serve. Sir Mark Sedwill (for it is he) has not been sent to the Tower, but to the House of Lords, where he will suffer an expenses-paid life on a fat government pension.
But no, the cry goes up, the martyrdom of St Mark of Whitehall destroys one of the main pillars of British democracy – the precious political neutrality and objectivity of our senior civil servants. His replacement by David Frost – Boris's ally and lead Brexit negotiator – proves that Britain now has a 'Trumpian' system of biased political appointments.
'Politically neutral' civil service mandarins in Whitehall? Next they'll be tweeting about fairies at the bottom of the garden. Anybody who cares about democracy should forget about that political fantasy world and remember how Sir Mark Sedwill and his allies tried to undermine and overthrow the biggest democratic vote in British history – Brexit.
Sedwill occupies not one but the two most powerful jobs in government – as both cabinet secretary and national-security adviser. It might seem strange to see so many on the British left now championing the cause of such a central pillar of the establishment. But they have one crucial thing in common: Sir Mark, like many of those phoney radicals, is an arch Remainer. Under former prime minister Theresa May, he used his considerable state powers and skills as a top spook to try to thwart the will of 17.4million Leave voters.
Sedwill was a leading figure in Project Fear, the black propaganda campaign designed to spread the bad news about how terrible Brexit would be for Britain. In April 2019, he wrote an infamous letter to May's cabinet, warning not only that a No Deal Brexit would be a disaster for Britain's economy – allegedly causing an immediate one-country recession, a 10 per cent leap in food prices and a collapse in the pound – but also that 'the UK would be less safe as a result', unable to defend itself or keep crime at bay.
Sir Mark's imaginative horror fantasy – supposedly a confidential letter to the government yet conveniently published across the media – just happened to coincide with Mrs May's desperate attempts to get parliament to pass her dreadful deal, aka her 'surrender treaty', with the EU. Meanwhile, his junior crony and fellow Remainer, Olly Robbins, was 'leading' the Brexit negotiations by accepting every EU demand, as if the British people had lost a war rather than winning a referendum.
If anything in recent British history resembled a 'coup', it was surely the coordinated attempt by unelected state officials, backed by Remainer elites inside and outside parliament, to defy democracy to stop a proper Brexit.
Since Johnson swept to victory in December's General Election on a promise to 'Get Brexit Done', and Britain formally left the European Union on 31 January, bitter Whitehall figures have been seeking Remainer Revenge against Boris and the Brexiteers.
Their anti-democratic instincts were revealed by that anonymous tweet posted on the official @UKCivilService account in May, after Johnson's press conference defending his adviser Dominic Cummings' trip to Durham. 'Arrogant and offensive', it declared: 'Can you imagine having to work with these truth twisters?' Whatever anybody thinks of Cummings, that remarkable tweet laid bare the elitist arrogance of unaccountable Remainer civil-service mandarins who find it offensive to have to deign to work with – never mind for – a PM democratically elected to pursue a Brexit policy which the Whitehall machine deems unacceptable.
Brexit has exposed the myth of civil-service neutrality. Top officials are state agents, not independent angels floating above politics. They are far from the merely competent, objective administrators now claimed. (Indeed, as the state bureaucracy's incompetent response to the coronavirus crisis shows, they are nothing of that sort.) Of course, the civil-service code, as quoted by every overnight constitutional expert this week, says that top civil servants must steer clear of party politics. That has never stopped them doing their primary job behind closed doors – protecting the broader political interests of the establishment of the day, regardless of which party happens to be in power.
In the past, it was radical reformers from the liberal / left side of British politics who tried to reform the entrenched powers of the state bureaucracy. In the 19th century, Liberal prime minister William Gladstone pushed to create an imperial civil service based on a degree of professional meritocracy in order to replace the existing chaos of aristocratic amateurism and patronage. In the 20th century, radical Labour governments fought against the Tory mandarins in Whitehall. It seems a sign of how far politics and the nature of the British establishment has shifted that it is now a 'populist' Conservative government taking on the metropolitan, Guardianista elites of Whitehall.
Over the past 40 years, every British prime minister since Margaret Thatcher has been accused by opponents of 'politicising' the civil service through their attempts at reform and appointment policies. Tony Blair's Labour government was denounced for giving political appointees such as spindoctor Alastair Campbell dominion over civil servants. Now Johnson is accused of mounting a coup for pursuing political adviser Cummings' plan to shake up the civil service, replacing Whitehall insider and 'securocrat' Sir Mark Sedwill with Boris's Brexiteer 'sherpa' David Frost. (Alastair couldn't-make-it-up Campbell is, of course, now in the front row of the protesting Twittermob, screeching that 'Trump and Orban would approve'.)
Through all these rows over the civil service, 'politicised' is treated as an inherently bad thing, a boo-word. Yet as a key part of the state machinery, the civil service has always been a political weapon in the hands of the establishment. What's wrong with anybody wanting to make that power more accountable to the elected government, and more in line with the wishes of the electorate? Some of us might even imagine that could be closer to a democratic change than a coup.
There is no guarantee that the Conservative government will succeed in changing Whitehall for the better, of course, and we should not give any government a blank cheque to do as it pleases. But whatever happens next, we should surely begin by dismissing all of the nonsense about elitist Remainer mandarins being bastions of democracy and Sir Mark Sedwill being a martyred secular saint.
Mick Hume is a spiked columnist. His latest book, Revolting! How the Establishment is Undermining Democracy – and what they're afraid of, is published by William Collins.
To enquire about republishing spiked's content, a right to reply or to request a correction, please contact the managing editor, Viv Regan.