Who's behind the war on statues?
This mob iconoclasm is being encouraged by America's self-loathing elites.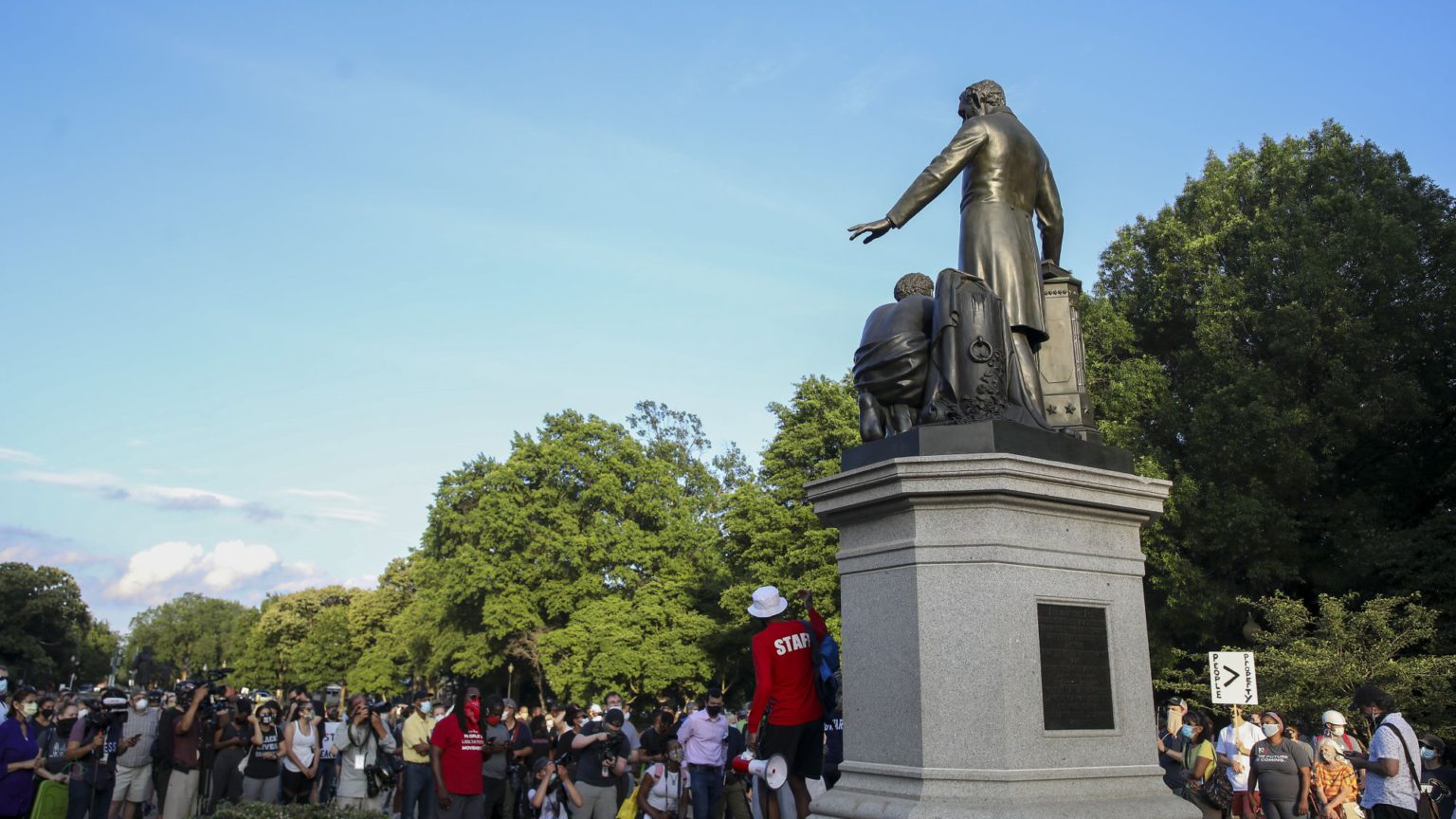 Night after night, in cities across the US, we witness marauding mobs toppling statues and celebrating as if such destruction constituted a great accomplishment.
To these statute demolishers, and their apologists in our politics and the media, these destructive acts are righteous victories over the forces of racism. But performative violence against marble figures has nothing to do with George Floyd, police brutality or discrimination.
At first, media reports stressed that vandals were concentrating on Confederate monuments. They presented the vandals as valiant avengers who were righting historical wrongs and ridding the US of symbols of its racist past. But it has quickly become clear that Confederate figures are not the only focus of these activists' wrath.
In Portland, Oregon, protesters recently tore down statues of George Washington and Thomas Jefferson. Back in 2017, Donald Trump predicted that the people protesting against Confederate monuments would set their sights on Washington and Jefferson next. His critics scoffed, called him paranoid, and blamed him for stirring up division. But he was right.
Toppling Washington and Jefferson is a justifiable act of anti-racism, say the apologists, because these Founding Fathers were slave-holders. But the US has never honoured Washington and Jefferson for owning black slaves. Without Washington, there is no US as a country. Jefferson, among his many achievements, penned the famous words of the Declaration of Independence, 'all men are created equal'. In doing so, he paved the way for Abraham Lincoln to go to war to end slavery, and inspired Martin Luther King and countless others around the world to fight for equality. But that counts for nothing with these myopic vandals.
The arguments made in favour of destroying images of the Founding Fathers, which the media indulge with sympathy, are deeply flawed. They offer no balanced assessment of history. But they also have no limit. What comes down next – the Washington Monument? The Jefferson Memorial? Mount Rushmore? All would seem to be fair game by this logic.
Any claim that this statue-toppling is about anti-racism has already been demolished by the mob themselves. In San Francisco, demonstrators tore down a statue of Ulysses S Grant. That's right, the general who defeated the Confederates in the Civil War, and the president who worked to secure the rights of former slaves in the South during Reconstruction. Even more insanely, protesters in Washington, DC have taken aim at Lincoln, and a statue known as the Emancipation Memorial.
It is as if these people are deeply proud of their historical illiteracy and want everyone to know it. The Emancipation Memorial was funded entirely by free slaves (an amazing story), and its unveiling in 1876 was commemorated by the famous former slave and abolitionist, Frederick Douglass. But to these idiots, tearing down a statue of Lincoln funded by slaves is somehow a blow for racial equality.
Similarly, protesters in Madison, Wisconsin, pulled down a statue of Hans Christian Heg, an abolitionist immigrant who died fighting for the union. For good measure, they also toppled a statue commemorating women's suffrage and beat up a 60-year-old Democratic state senator. It seems that, in the battle against white supremacy, attacking any white person will do.
After the attacks in Wisconsin and elsewhere, it is clear to see that these 'activists' across the country are irrational. Toppling statues simply offers them a nihilistic thrill. This is not a principled statement about racism in America.
Watching all this, many people are asking: why is no one in authority stopping them? There are laws against such vandalism. Why aren't city mayors and state governors enforcing those laws? The short answer is: because the political and cultural elite sympathise with the vandals.
Indeed, some political leaders seem to be actively supporting the activists. In Philadelphia, Mayor Jim Kenney and district attorney Larry Krasner, after doing little to stop nights of looting and arson, pre-emptively removed a statue of former mayor Frank Rizzo. When rumors spread that they were about to do the same with a Christopher Columbus statue, people in the neighborhood formed an armed militia to protect it. Only then did Kenney and Krasner start evoking the law, and had the police disperse the Columbus defenders. Meanwhile, they looked the other way when a mob defaced a statue of Matthias Baldwin, a white abolitionist. The message from these politicos was clear: not only will we do nothing to prevent mobs from tearing down and damaging statues, but we will also crack down on anyone who tries to stop this from happening.
It is wrong to view the extremists as isolated hotheads, or radicals bent on challenging the establishment. No, their outlook is shared with those in the highest echelons of society. In sync with those taking to the streets, the head of the American Museum of Natural History in New York has asked the mayor to remove the equestrian statue of Theodore Roosevelt. The museum's board members believe the monument is racist, and offensive to blacks and Native Americans – a view that is debatable, but now won't be debated. The vandals are not just on the street, they can also be found in the boardrooms of our cultural institutions.
And where did our street activists get the idea that all of American history, including statues of its leaders and heroes, is 'problematic' and needs to be eradicated from our sight? Most likely, from our elite universities and most prominent media institutions. When protesters in Portland toppled George Washington this week, they spraypainted '1619' on it. That was apt, because the toppling of statues embodies the outlook of the New York Times' 1619 Project – an initiative that claims that the US was founded for the purpose of entrenching slavery, and will never escape that legacy. The ideology of '1619' is one that says burn it all down and start over.
There is a parallel between the fervour and indiscriminate destruction we're seeing applied to inanimate objects in city squares and a different kind of force being used on people in social life. The rapid spread of 'cancel culture' – where individuals are accused of racism and shunned from public life – is destroying careers, livelihoods and reputations. At the same time that mobs are raging on our streets, another type of mob is, with the same ferocity and recklessness, tearing apart people's lives.
The destruction of public monuments has got to stop. For a start, this does nothing to help black Americans who face discrimination. Instead, it hijacks that cause and turns it towards vindictive and intolerant ends.
Further, those who say 'they're just statues, not real people' are misguided. Our public monuments do matter, because they embody our cultural values and historical memory. They are part of what we call our civilisation. Of course, once erected, not all should stand for eternity, and our views on who deserves to be honored are likely to change over time. But that decision to remove a monument has to follow a democratic process, so all get a say, not just a mob that thinks it knows best. To give vandals free rein is to attack democracy and civic tolerance.
There will always be those who want to destroy rather than build. What's unusual about the situation we find ourselves in today is that that outlook is widespread among people in positions of power. Those who are supposed to be leading society are instead tearing it down from within. As much as a street mob is a problem, our self-loathing and destructive elites in politics and culture are a far bigger problem.
Sean Collins is a writer based in New York. Visit his blog, The American Situation.
To enquire about republishing spiked's content, a right to reply or to request a correction, please contact the managing editor, Viv Regan.