We should not bend the knee to BLM conformism
The outrage against Dominic Raab for refusing to 'take the knee' shows what stifling and conformist times we live in.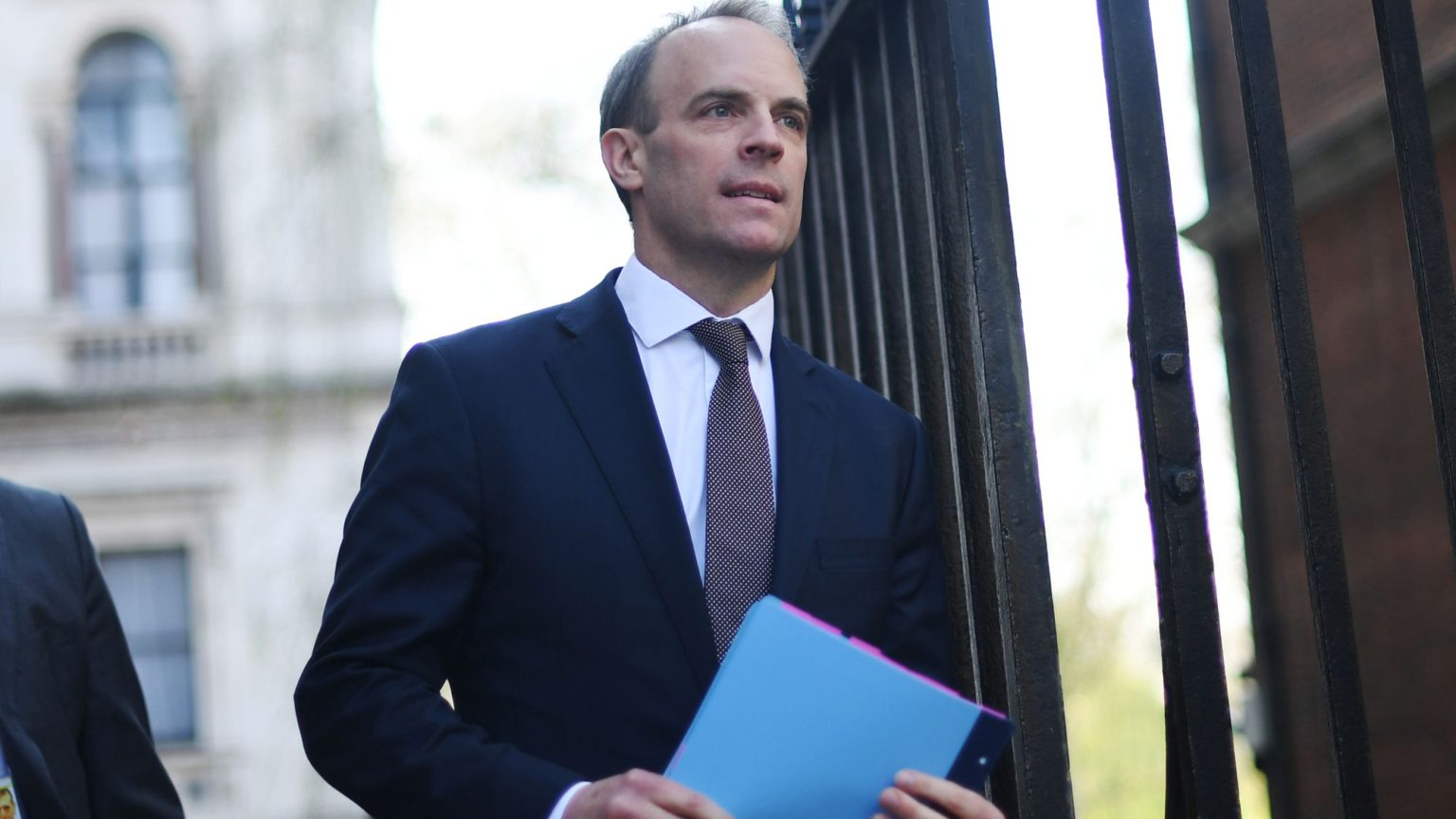 Outrage-seeking, offence-taking and demands for apologies have become part and parcel of political debate in recent years. The most recent example of this is the overblown reaction to Dominic Raab's comments on 'taking the knee'.
Appearing on TalkRadio with Julia Hartley-Brewer, when asked if he would take a knee in support of Black Lives Matter, the foreign secretary said it 'feels to me like a symbol of subjugation and subordination, rather than one of liberation and emancipation, but I understand people feel differently about it, so it's a matter of personal choice'.
Despite the fact that Raab embarrassingly seemed to believe that taking the knee came from Game of Thrones, his comment was, on the whole, nothing more than a respectfully and diplomatically stated opinion. But not for some. Labour's Lisa Nandy criticised Raab's 'flippant tone'. David Lammy said Raab was 'insulting the Black Lives Matter movement'. Ed Davey, the acting Lib Dem leader, called on Raab to offer a 'fulsome apology'. During BBC News' unbiased and impartial coverage of what was apparently deemed an enormous news story, political editor Laura Kuenssberg called the comments 'less than diplomatic', adding that our politicians 'might be advised to proceed with care'.
It is difficult, however, to imagine exactly how much more care Raab could have proceeded with. He even gave the caveat that this was merely his opinion, recognising that others may feel differently. He also made sure to pay tribute to the 'frustration and restlessness' that is driving the Black Lives Matter movement. But none of that was enough. It seems that the only correct response one can give is to say 'Of course I will take the knee'. Raab's critics may consider the fact that, were he to take the knee under such circumstances, then it truly would be an act of subordination.
Of course the overblown reaction to Raab is nothing new. Many today will find offence where none is intended. There is also a huge amount of forced conformism when it comes to Black Lives Matter. Whenever someone questions any claim, demand or symbol of the movement, it is assumed that they are indifferent to the problem of racism.
However, for those of us who feel there is a lot which is problematic in the current wave of Black Lives Matter protests, taking a knee may feel like condoning something that we do not condone – which of course does not mean rejecting anti-racism. The penetration of this symbolic act of kneeling into public and corporate life has turned it largely into a ritualistic demonstration of virtuousness. It acts as insurance against being put on a blacklist for supposed 'complicity-in-racism'. Raab's comments could be read as saying 'I don't need to participate in kneeling to prove I am against racism'. He doesn't, and nor should anyone else in public life.
Symbols and slogans are hugely important for mass movements. Politicians and protesters have the right to engage in the act if they feel it to be useful, but they should not be able to demand that everyone else take part as well.
The 'with us or against us' undertone which pervades the current protest movement must be challenged. Pluralism and dissent are necessary for healthy public debate in a democracy. Forced conformity is certainly not.
Patrick Hess is a writer.
To enquire about republishing spiked's content, a right to reply or to request a correction, please contact the managing editor, Viv Regan.