Welcome to the Covid depression
Until the UK lifts the lockdown entirely, we are facing a grim future.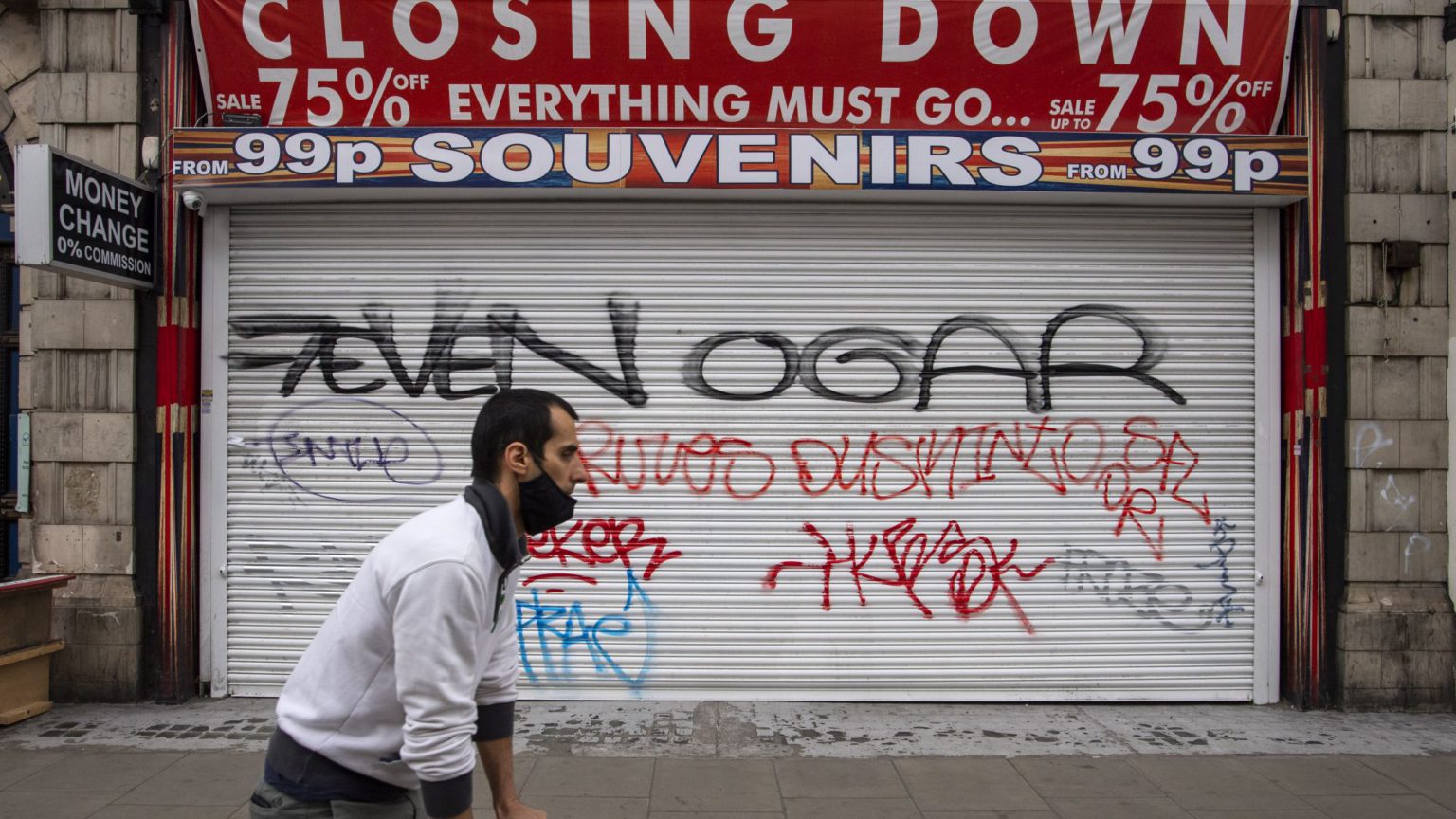 Today's employment data from the Office for National Statistics (ONS) confirms that the UK has fallen into an economic black hole – and reinforces the need to end the lockdown as soon as possible.
The headline figures are a bit of a 'twilight zone' of misleading impressions. Based on the Labour Force Survey, the UK employment rate in the three months to April 2020 was estimated at 76.4 per cent – which is actually 0.3 percentage points higher than it was a year earlier, but 0.1 percentage points down on that for the previous quarter. The unemployment rate for the three months to April 2020 was estimated at 3.9 per cent, which was very similar to that of the previous quarter.
The reason why the UK employment figures look superficially healthy is because the government is paying the wages of millions of people through its furlough scheme, which is due to end in October. Look elsewhere in the data, however, and the true horrors to come are clear. For instance, the number of people claiming unemployment benefits shot up in April to over two million, and jumped by over half a million in May, to 2.8milllion. The total number of weekly hours worked in the three months to April 2020 – only half of that period was in lockdown – was 959.9 million, down a record 94.2 million (8.9 per cent) on the previous year's equivalent three-month total.
This mirrors the picture from the April GDP figures for the UK, released last week. They were more than a mere record. They were unprecedented in three centuries of economic data. In April alone, economic output fell by over 20 per cent, largely thanks to the lockdown measures imposed on 23 March. In total, UK economic output has collapsed by a quarter this year. To put that into perspective, the previous monthly record was a one-off fall in economic output of 2.2 per cent, thanks to an extra bank holiday in 2002 for the queen's golden jubilee, a fall that was quickly reversed.
The present plunge in output was inevitable. Indeed, the only surprise is that it wasn't more. Where on earth has the other 80 per cent of economic activity been happening? Most of us spent April under virtual house arrest, allowed out only to stretch our legs once a day. Food shops aside, pretty much everything else seemed to be shut.
With the lockdown measures still largely in place for May and the first half of June, there is little prospect of the economy recovering anytime soon. Millions of people are about to find out the job that they've been furloughed from no longer exists. The OECD estimates that the UK economy will be 11.5 per cent smaller by the end of 2020 than it was at the beginning — a decline even worse than France (down 11.4 per cent), Italy (11.3 per cent), Spain (11.1 per cent), Germany (6.6 per cent) and the US (7.3 per cent). Even these figures depend on avoiding a significant 'second wave' of infection and further lockdowns.
What a mess. The UK governments – many of the rules about lockdowns are devolved to Scotland, Wales and Northern Ireland – have achieved the worst of all possible worlds. 'Guided by the science', no real restrictions were imposed until 16 March, when social-distancing measures were first announced. Then, confronted by media and political pressure, and terrified by the scenes emerging from Italian hospitals, the UK locked down without giving that first tranche of measures any real time to take effect. Several studies now suggest that the epidemic was in decline before the lockdown.
The result is a relatively high level of mortality, particularly thanks to the failure to keep coronavirus out of care homes, combined with maximum economic disruption that is being unwound in baby steps. Older people, the most vulnerable to this disease, have not been properly protected. The majority of deaths in the UK are still in care homes. Meanwhile, young adults – at little risk from the disease and who work disproportionately in retail and hospitality – will see their job prospects crushed.
These botched policies are not solely to blame for the economic crisis. Even Sweden, which has imposed far lighter measures than elsewhere in Europe, will see its economy shrink sharply in 2020. Some of those losses would have occurred simply because people would have voluntarily avoided travelling to work, going to pubs and restaurants and so on. Exports have been hit when so much of the world economy has been in lockdown. Some of the losses are simply due to people being ill, or being asked to self-isolate.
Nonetheless, it's hard to imagine how things could have been handled more badly. By delaying any significant action, then flip-flopping to excessive caution in both the lockdown measures and in unwinding them, the government has condemned thousands of businesses. According to The Sunday Times, 'senior sources say cabinet ministers have said their "central assumption" is unemployment will more than double to 4.5million over the next year as the state-funded furlough scheme winds down'.
Meanwhile, the government has been paralysed about what to do next. One obvious issue is the guidance that people should stay two metres apart from each other when in social contact. That will make many pubs, restaurants and other businesses unviable, given they will only be able to accommodate a fraction of the customers they would normally. It makes reopening schools, which is crucial to allowing parents to return to work, much harder, too.
Given that even the World Health Organisation believes one-metre social distancing is reasonable, sticking with the current policy seems madness. Yet Johnson, Scottish first minister Nicola Sturgeon and the rest have painted themselves into such a corner over being led by 'the science' that they are finding it difficult to change course.
The lockdown needs to end as soon as possible. As Sweden has ably demonstrated, sensible social-distancing measures can restrain the epidemic while sustaining a semblance of normality. As it stands, thousands of businesses have already disappeared or will collapse as soon as government support tapers off. Thousands more will join them if we don't change course immediately – and millions of people will be left jobless and impoverished.
To enquire about republishing spiked's content, a right to reply or to request a correction, please contact the managing editor, Viv Regan.