Why the PC establishment loathes the 'pro-statue' protesters
The mad media fury against Saturday's 'pro-statue' protest has been incredibly revealing.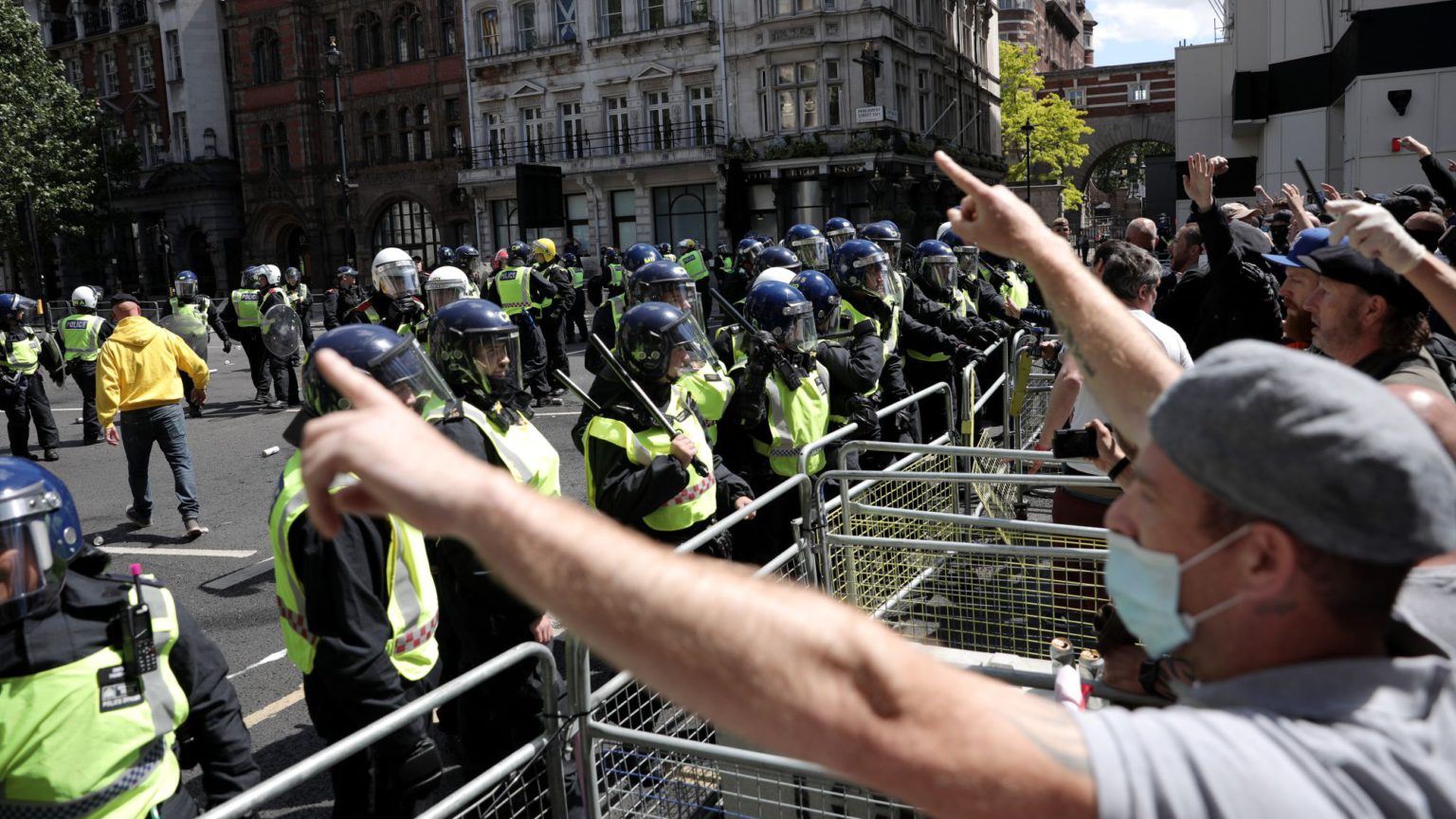 When is a mass brawl with the cops a 'peaceful protest' and when is it a 'riot'? It all depends on who's doing the brawling. If you're a woke middle-class kid or a hip youth who is au fait with current PC thinking, your clash with police will be talked about as a protest. But if you're a working-class bloke with a bit of a belly and tattoos on your forearms, your run-in with the Old Bill will be denounced as a riot. University-educated youths protest, gruff blokes from Essex riot – got it?
That, at least, is the takeaway message of the breathtaking double standards applied by the media elites and the chattering classes to Saturday's 'pro-statue' gathering in central London. I've seen some double standards in my time, but the middle classes' rage against the men who descended on Westminster ostensibly to protect monuments (but also no doubt looking for a scrap) has really taken the biscuit.
For two weeks these people cheered and whooped as groups of respectable-looking youths fought with cops, tore down statues and sprayed graffiti over every monument that offends them. But as soon as some men wearing football tops and speaking in gruff accents likewise took to the streets, these people were reaching for the smelling salts. 'Esme, have you seen these frightful creatures on the news?!'
And the double standards didn't only come from the commentariat. The authorities themselves treated the two groups of protesters very differently. Police in Bristol actually stood back and allowed woke protesters to tear down a statue and throw it in the river. Other police forces have also said they are unlikely to intervene if protesters attack statues. But when some of the protesters on Saturday became an angry mob, throwing up their fists at the police and shouting out offensive slogans, they were given short shrift.
There were far more bloodied faces on Saturday than there have been during other rowdy protests in the past week. So now we know what is the best way to protect yourself from police heavy-handedness on demos: be a correct-thinker, and ideally a middle-class one. It's like a forcefield against truncheons.
The double standards were summed up in the BBC's reporting. When Black Lives Matter protesters clashed with the cops, the Beeb informed us that 27 police officers had been injured during a 'largely peaceful' protest. And yet even though only six police officers were injured during Saturday's assembly, that protest was talked about in riotous language, as 'violent clashes with the police'. It seems the national broadcaster will confer or deny legitimacy to your protest depending on whether it likes the people and the ideas involved.
The hypocrisy was most stark in the hysteria over an image of a completely drunk, clearly anti-social man urinating beside the monument to PC Keith Palmer, the police officer who was killed while fighting off an Islamist terrorist outside parliament in 2017. The image was widely shared. It was held up as proof that fascism is rampant in Brexit Britain. This was an act of intolerable desecration, we were told. (Even though it was pretty clear that the pissing idiot was not urinating on the memorial, and probably didn't even know it was there.) The urinator was swiftly arrested and has even been jailed, to cheers from the media elites.
Contrast this to the way that the PC statue vandals have been talked about for the past week. These people have torn down a statue of a slaver, sprayed pink paint on Queen Victoria's breasts, daubed 'racist' on the Westminster monument to Churchill. And they have been celebrated by much of the media and even by sections of the political class. There has been so much hostility to the idea of arresting them that I was invited on to a radio show to discuss the question: 'Should the people who tore down a statue be arrested?' Imagine a radio discussion asking: 'Should the man who urinated next to PC Palmer's memorial be arrested?'
Think about what this means. If you hold the correct views, as defined by the liberal establishment, you can attack public property virtually with impunity. But if you are guilty of wrongthink, if you have ugly or far-right views, as the urinating man may have, you cannot. You will be arrested for doing what other people are implicitly allowed to do. This is political policing. This is an attack on the idea of equality before the law. Correct thinkers are now more equal than un-PC people.
That's the thing that should worry us about this explosion in double standards. Were there far-right thugs on Saturday's demo? Absolutely. Doing Nazi salutes and shouting 'black bastard' at passers-by – as some of these people did – is grotesque, misanthropic behaviour. It's not at all surprising that the racists got slapped by non-racists who were nearby. But many others on the protest were there to show their support for the memorialisation of British history and to do what they think the police have failed to do: protect the public square.
Whether you agree with that outlook or not, it is a legitimate reason to form a public assembly, just as it is entirely legitimate to protest about the brutal police execution of George Floyd. The demonisation of everyone on Saturday's demo as a fascist thug deserving of the full force of the law speaks volumes about the class-based elitism and authoritarianism of the woke sections of the elite. It also confirmed that some people in PC circles think there should be one law for people like them, whose vandalism is apparently noble, and another law for the alleged dregs of society. That is not how law should work.
The reason the opinion-forming set has lost the plot over a mob of blokes doing stupid, racist things in central London is because, to them, this is the working class; this is Brexit Britain; this is what those people are like. They don't see a tiny, unrepresentative minority, which is what those men are; they see the 'true face' of the horrible, racist nation that the UK has become since Brexit. The fact that the vast majority of working-class people and football fans do not share these men's views and hold no racist sentiments whatsoever makes no difference to the people who are convinced that Britain is racist, that Brexit was a disaster, and that all whites (especially those ones) are complicit in racism. That's the irony: in raging against the prejudices of the small mob of men who turned violent on Saturday, the right-on reveal their own prejudices.
Brendan O'Neill is editor of spiked and host of the spiked podcast, The Brendan O'Neill Show. Subscribe to the podcast here. And find Brendan on Instagram: @burntoakboy
To enquire about republishing spiked's content, a right to reply or to request a correction, please contact the managing editor, Viv Regan.