The strange incoherence of Black Lives Matter
Demands to acknowledge your white privilege don't really amount to progressive action.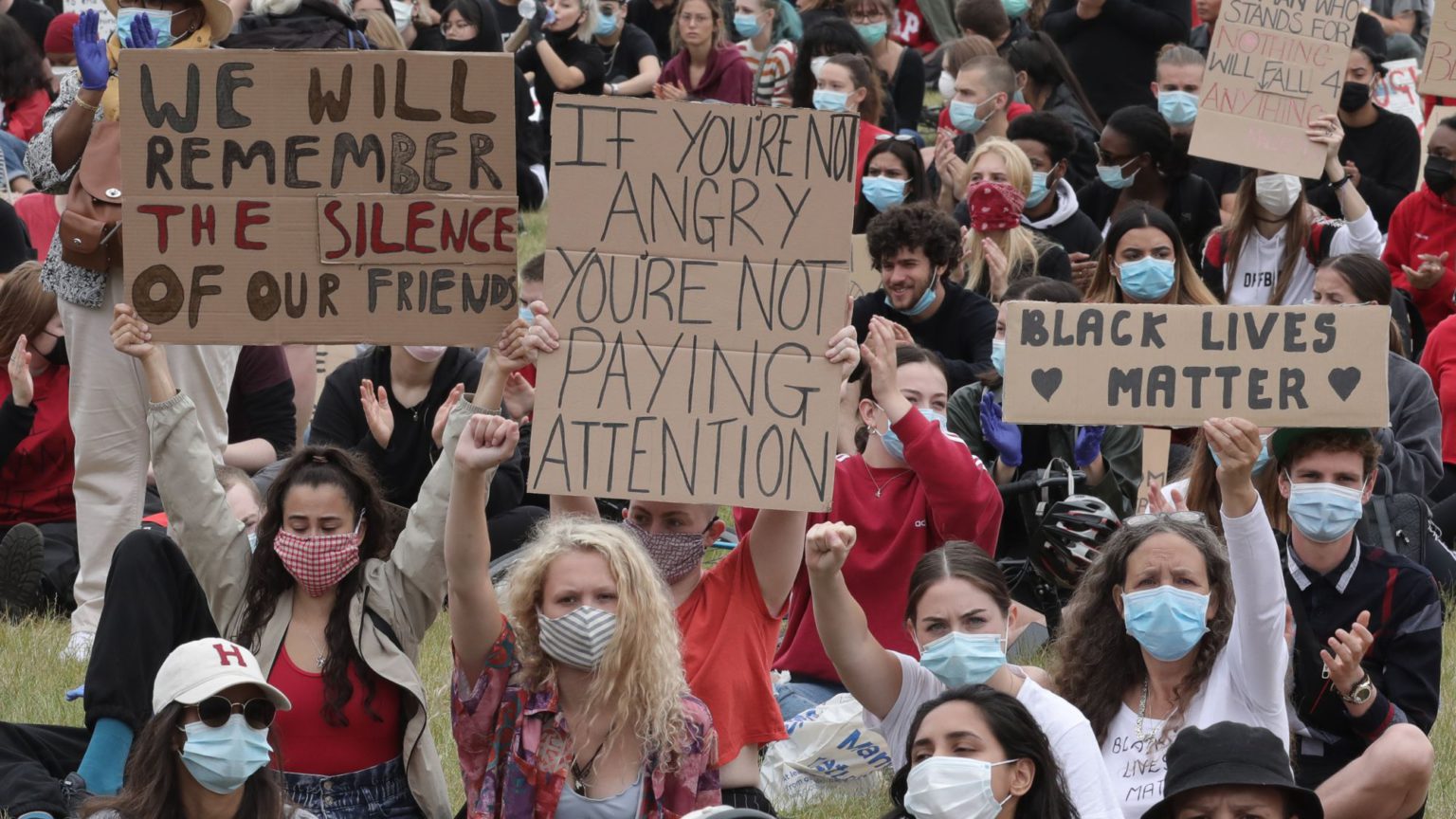 Social media are full of statements of intense urgency, telling us to take action in response to events unfolding in Minnesota and elsewhere in the United States. The importance of taking action is said to be non-negotiable. 'Silence is violence', goes the slogan. Yet almost none offer any sense as to what action should be taken.
'Educate yourself' is one call to action. Apparently we can read our way out of the crisis. What kind of books do we need to read? Economics? Science? No. What is universally suggested is a collection of books that describe white people as the master puppeteers behind a white-supremacist system of oppression.
The online response to George Floyd's tragic killing has at times resembled an internet-wide PR campaign for Reni Eddo-Lodge's book, Why I'm No Longer Talking to White People About Race. Eddo-Lodge's book, as well as White Supremacy and Me by Layla Saad, and White Fragility by Robin DiAngelo, are the main three books lined up as mandatory reading for white people. Hundreds of thousands have signed online petitionscalling to have them included on the national curriculum.
These books have become very useful tools in restructuring the terms and conditions by which someone may be condemned as racist. Now it seems it is possible to be racist simply by being white. The authors have expanded the definition of racism to mean that racism works as a system. It is a system that is said to be so ever-present and entrenched globally that it is impossible to get rid of. Most people won't have even read the books, but the same arguments have been made mainstream by the likes of Teen Vogue and Buzzfeed.
When activists tell you to 'educate yourself', they mean you need to imbibe a very specific ideological worldview, one that is tantamount to a conspiracy theory. You need to accept that white people have only ever brought pain into the world and that police brutality, crime and poverty are issues which can only be tackled by white people acknowledging their white privilege. Also, if you disagree, you are 'gaslighting', complicit and probably racist.
On some occasions, there are pleas to take a more practical approach and donate. Most commonly, people are asked to give money toward bail funds such as the one run by ActBlue, which is affiliated to the Democrats, or to other grassroots organisations that have recently cropped up. But who exactly will be bailed out is unclear. Will it bail out someone who started a fire? Or a person responsible for helping to destroy their local community? Will it be someone who has committed a violent assault? Could it be the person that shot dead David Dorn – a black, former chief of police in St Louis on Tuesday morning, while he protected his friend's pawn shop from being looted? There is no doubt that there are innocent people who will have found themselves in police custody despite protesting peacefully, but it is astounding to think that anyone could donate without any sense of certainty as to who their money is helping.
Many have made the comical suggestion that people should fight racism by donating to gal-dem magazine, known for its stellar journalism, with articles such as 'Have you noticed white people never move out of your way? The politics of the pavement.' Others say you should give to 'Reclaim The Block' which campaigns to defund the police.
There is also a great deal of dishonesty in the attempts to create a similar sense of urgency in the calls to action here in the UK. Continued claims that the UK is 'just as bad', if not worse than America when it comes to racial tensions, are being commonly spread. Campaigners point to the number of black men who have died in police custody. Names include Mark Duggan, Rashan Charles and Darren Cumberbatch.
It is beyond tragic that anybody dies at the hands of those whose job it is to protect us. It is also completely dishonest to claim that all the men listed died as a result of racial hatred. Included on the lists being circulated are armed gang members and an instance of cocaine overdose. In the case of Rashan Charles, policemen restrained Charles in order to try to remove the bag of caffeine and paracetamol from his throat that he had swallowed, and that would eventually kill him.
The annual report by the Independent Office for Police Conduct found that out of the 33 people who died in or following being taken into custody last year, 15 were white and only one was black. There are certainly examples of tragic and needless deaths that the police must do more to reckon with. But to describe British society as systemically or institutionally racist on this basis is misleading.
But the clearest sign of the movement's aimlessness was when, earlier this month, social-media users unanimously shared images of black tiles. Within hours, black-tile posters found themselves out-woked by other users who pointed out that simply filling up everybody's social media feeds with nothing was blocking out the real information people needed (ie, the bail funds and reading lists). To be fair, some did state the intention was to mute white voices and to amplify the voices of black people. However, this also seems a strange tactic if you agree with the BLM view that the world's ills are the fault of white people — that responsibility for resolving these ills lies solely with white people, and that black people are too exhausted to talk about racism.
Progress has never been achieved through the avoidance of communication – best epitomised by the posting of black tiles to social media. But clearly this is a movement that really doesn't have much to say.
Alfred Cassels is an artist, writer and design researcher based in London, and an MA graduate of Visual Communication from the Royal College of Art. Find Alfred here.
To enquire about republishing spiked's content, a right to reply or to request a correction, please contact the managing editor, Viv Regan.