Taking it to the streets
The protests remind us that Trump does not – and has never – had the support of the nation.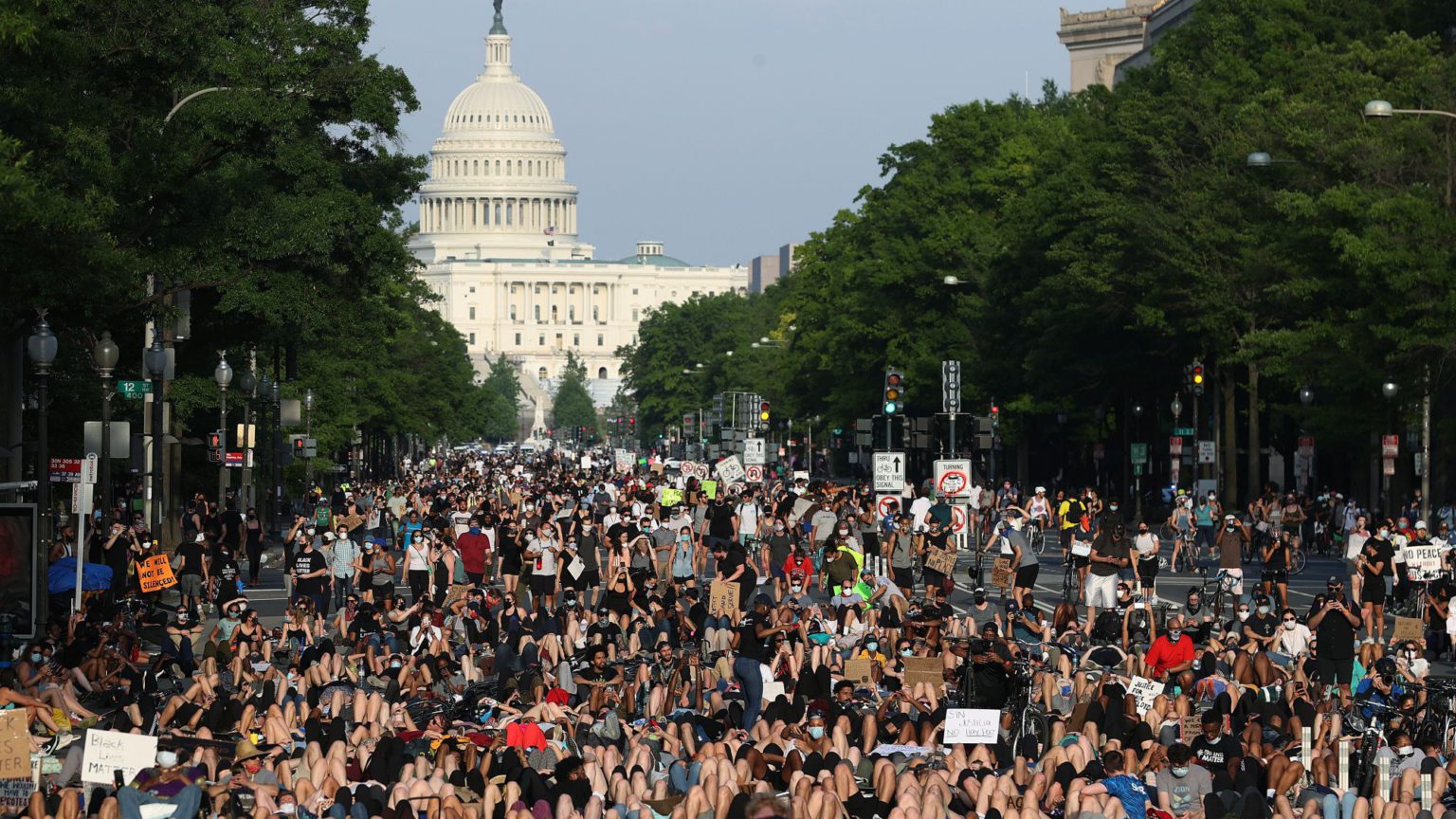 Retail stores in my neighbourhood are supposed to be opening up now, yet many are boarded up instead. Thousands of people have protested peacefully in Boston over the past two weeks, but one night of violence by a relatively small number of looters who apparently care more about sneakers than social justice brought out the National Guard. They're about to leave and I can't wait. Perhaps because I was in college in 1970 when National Guardsmen shot and killed four unarmed students at an anti-war demonstration at Kent State, their presence here does not make me feel safe.
Some of us old enough to remember the Sixties are experiencing déjà vu all over again, although the pandemic casts a shadow over marches and rallies that we could not have imagined. Back then, demonstrations were sometimes dangerous, especially for civil-rights activists set upon by vicious dogs and equally vicious human beings, although at least then the dangers were visible, not microscopic. But it's not the mass protests that remind me of mid-20th-century anti-war and liberation movements. It's a change in the weather, the sense that protesters, mostly representing a rising generation, might once again have the wind at their back.
The latest public-opinion surveys can give you whiplash. 'Over the last two weeks, support for Black Lives Matter increased by nearly as much as it had over the previous two years', the New York Times reports. Public support for protests that have followed the killing of George Floyd is 'overwhelming' and even bipartisan, according to the Washington Post. Three quarters of Americans say they support the protests and two thirds believe that Floyd's killing 'represents a broader problem within law enforcement'. These findings represent a remarkable and remarkably rapid change in public opinion. For decades, 'law and order' has been a potent political message, especially for Republicans, ever since Richard Nixon won the presidency in 1968 on a pro-police platform that exploited the backlash to civil unrest. Twenty-five years ago, President Bill Clinton, Senator Joe Biden and congressional Democrats bowed to what was then a political reality when they passed the harsh, anti-libertarian crime bills of the 1990s, for which they are now repenting.
Left of centre, repentance is reflected in the embrace of progressive policies that seemed well outside the mainstream only a month ago, including, most surprisingly, budget cuts for law enforcement and a reallocation of funds to social service and violence-prevention initiatives. House Democrats will not support demands to defund the police (which pandemic budget deficits may require in any case); but they have put forth a broad police reform bill, aimed at curbing abuses, insuring oversight and accountability, and including limitations on immunity from civil suits against officers for civil-rights violations. Even long-time law-and-order Republicans are moderating their rhetoric, and the Republican Senate will issue its own, much more moderate, reform bill.
Democrats and Republicans are unlikely to agree on a compromise, and it's much too soon to tell the fate of reform, but support for it seems virtually unprecedented. Trump's rage-filled, fearmongering rhetoric, including his praise for abusive police practices, may misapprehend the moment. His marshalling of military forces to attack peaceful protesters in Washington, DC for the sake of a bizarre photo op – Trump holding a Bible aloft in front of a church – shocked a lot of people who seemed resigned to his extra-constitutional antics. Perhaps most notably, the top US general, chair of the Joint Chiefs of Staff, Mark Milley, publicly apologised for participating in the president's photo op and creating the 'perception of the military involved in domestic politics'. A former draft-dodger, Trump likes to wrap himself in the military, but its leaders are beginning to disoblige.
Of course, the shifting political winds owe much to technology. People who might once have believed dishonest police accounts of officers' fatal interactions with civilians are viewing damning evidence of gross police abuses, now including police attacks on protesters. Fiercely devoted members of Trump's base will accept whatever alternative facts he offers; as the president once advised his followers, 'Just remember, what you're seeing and what you're reading is not what's happening… just stick with us'. But a majority of Americans consider Trump dishonest and may prefer to believe what they see and experience, not what he says.
A majority of Americans don't support the president (elected by a minority of voters) and aren't represented by the US Senate: every state, regardless of population, elects two senators, so residents of sparsely populated states, like Wyoming or Oklahoma, enjoy much greater representation than residents of, say, New York and California. Trump owes his unchecked power to the Republican Senate, also elected by a minority of voters nationwide. It helps shape the federal government, confirming federal judges, cabinet members and other high-ranking executive branch appointees.
America is not, therefore, a majority-rule democracy, and the persistence of minority rule partly underlies the current wave of protests and the unusual public support they've enjoyed. Brexiteers should recognise that even in a partial, dysfunctional democracy you can't deny the will of the majority indefinitely; at least you can't do so without consequences. Sooner or later, people will take to the streets.
Wendy Kaminer is an author, a lawyer and a former national board member of the American Civil Liberties Union.
Picture by: Getty.
To enquire about republishing spiked's content, a right to reply or to request a correction, please contact the managing editor, Viv Regan.