These protests have nothing to do with racism
Black Lives Matter UK is pushing a debilitating, fact-free victim narrative.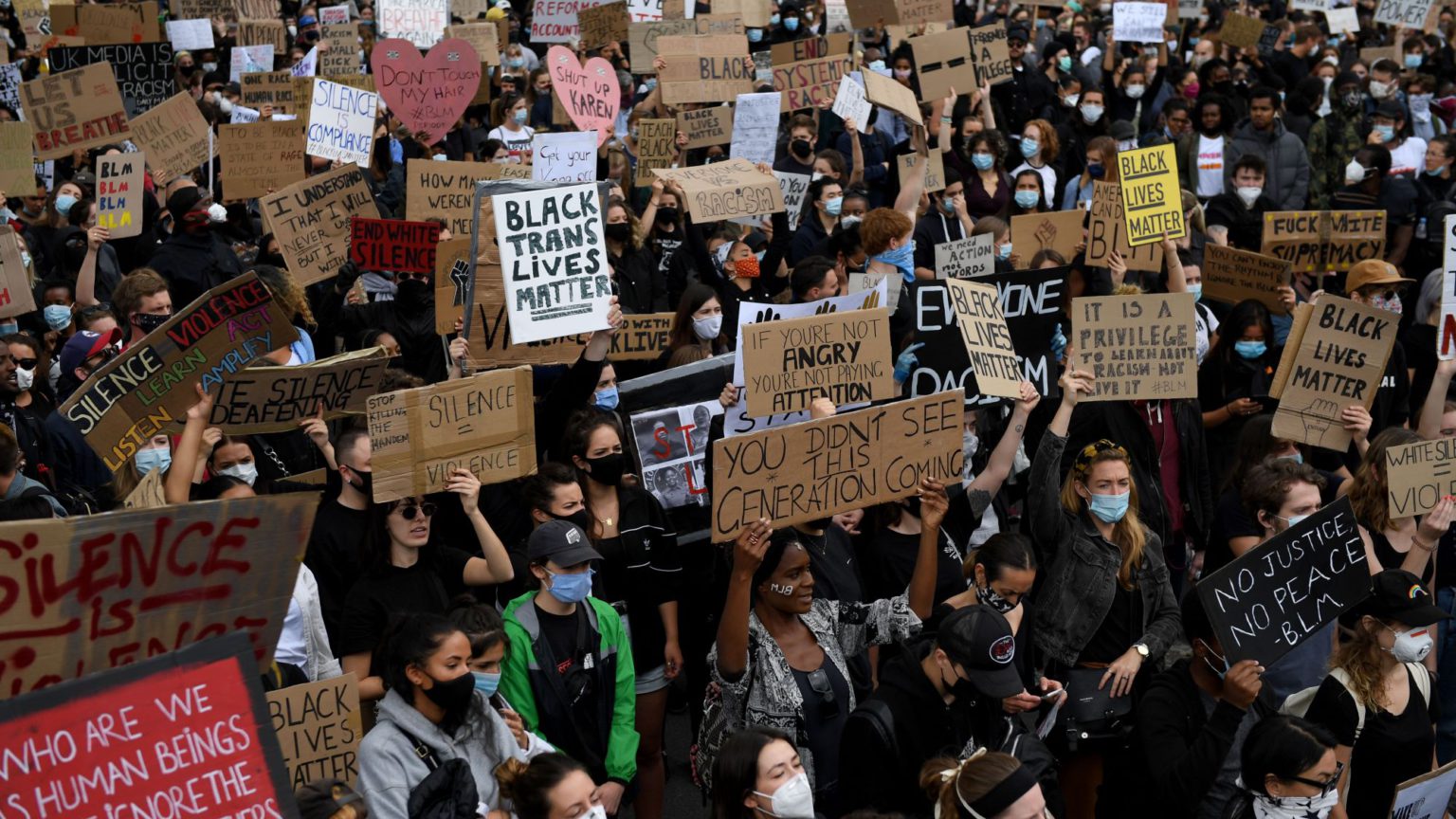 In an already fractious social context, what has been perceived by some to be a racially motivated killing – the murder of George Floyd by a police officer in the US – has sparked protests and riots across America. These protests have spilled over into the UK and have amalgamated into a wider crusade against what is claimed to be 'systemic' racism and injustice.
But far from working to address social injustice and extreme inequality, the dominant narratives emerging from the Black Lives Matter (BLM) protests simply recycle and rehabilitate tired, divisive, unfounded, counterproductive and destructive arguments. These protests threaten to wind the clock back on race relations and social progress in the UK.
The UK BLM protests are not about racial injustice. It is one thing to march 'in solidarity' and to demand justice. But what we are seeing here is a concerted effort to construct an all-encompassing mythology about what it means to be black in the world today – one that essentialises the black experience to be one of racism, oppression and victimisation, irrespective of any facts to the contrary. This pseudo-radical movement robs people of their agency and manipulates the goodwill of others.
The attempt by these protesters to compare race relations in America to those in Britain is ridiculous and insulting. The two countries have vastly different histories and contexts. There is of course a history of racism here, but Britain today is a very different place to that of 30 or 40 years ago.
We cannot change the past, only our present and our future. By binding people down by their history, we are sending a deeply demoralising message to a young generation of black people in the UK, people who are living in a society that has made leaps and bounds when it comes to racial equality. Despite polls consistently showing high levels of trust in police and faith in British democracy among black people in the UK, and despite the current cabinet being among the most diverse ever, BLM activists are determined to argue that British society is riddled with racism.
There are genuine and legitimate social ills that are disproportionately plaguing people of black and minority-ethnic heritage – such as the grotesque levels of knife crime among youths in London, the disproportionate number of deaths from Covid-19, and ongoing unfair treatment in the immigration system. But if we are to address these complex issues, we need to look at a range of contributing factors. Racism no doubt plays a part in some of the disadvantages people face. But the kneejerk assumption that all racialised outcomes and disparities are a result of racism does a huge disservice to those who are most affected by these problems. Targeted and nuanced solutions get drowned out by blanket generalisations.
What's more, the diversity of BAME voices on these issues is being erased. There are many different ideas of what progress, equality and fairness looks like, and how we could achieve those goals. But the one-dimensional narrative about white privilege, systemic racism and black victimhood is purported to be self-evidently true and indisputable.
Several misleading statistics have been used to paint a picture of the UK as a racist society. One example is deaths in police custody. In reality, as the BBC has noted, 'over the past 10 years, 163 people have died in or following police custody in England and Wales'. Of the 163, 13 were black. In fact, over the past 10 years, 'a white individual who has been arrested was about 25 per cent more likely to die in custody than a black individual who had been arrested'. No one should die unnecessarily in police custody. But as the figures show, this problem is hardly an example of an epidemic of systemic racism in policing in Britain.
Many BAME people have come from or are the children of recent immigrants to the UK. It takes time for things to change, to build intergenerational wealth, and to move up the social ladder. But this is happening for many, although it is happening at different rates for different groups (which further complicates the 'systemic racism' argument). An example of this is the achievements of British-Nigerian children. According to the Institute for Public Policy Research, the proportion of British-Nigerian pupils who gained 5 A*–C grades at GCSE (including maths and English) in 2010-11 was 21.8 percentage points higher than the England mean of 56.9 per cent, and much higher than the attainment of white British and British Jamaican children.
Another example of things getting better is representation in the media. A recent report by the Creative Diversity Network (CDN) found that BAME on-screen representation is at a 'remarkable' 23 per cent — this figure is actually higher than the BAME share of the British general population, which is estimated to be 14 per cent.
In society at large, the trends are positive. Interracial relationships have significantly increased over the past 10 years. Although this is not full proof that social and cultural boundaries are diminishing, it is a strong indication that they are beginning to. Far-right politics in the UK, meanwhile, has collapsed, and social-attitudes surveys consistently show that racial prejudice is in long-term decline in the UK.
There is much more that needs improving. But I fundamentally reject the overly negative characterisation of British society we are being presented with, and I begrudge being homogenised into a narrative that does not speak to my reality or my experience.
The goodwill and naivety of many is being exploited to push a toxic agenda. An agenda that, if taken to its logical conclusion, would produce a new form of racial prejudice. As we've seen, groups of white people at protests are kneeling, apologising and begging for forgiveness for actions they did not commit, in a depressing display of self-flagellation and white guilt. It's embarrassing. And it does absolutely nothing to move society forward. No ideas or policies are being offered – there is just virtue-signalling, power games and a pathetic spectacle that will only breed resentment and lead to a further descent into social disorientation.
The last few days have been mentally exhausting, but also incredibly revealing. Anti-racism is no longer about fighting for the right of all people to be seen as individuals. It has become a corporation-endorsed movement about making meaningless gestures that do little to address complex issues. It has become a movement that refuses to look at the root of the problems it claims to care about.
If you want to change society, start with yourself, start at home. I do not need to be told that my life matters. I know that my life matters, and I do not define my self-worth by the validation of others. White people owe me nothing and I expect nothing from them, other than basic respect for me as a human being.
Inaya Folarin Iman is a writer.
Picture by: Getty.
To enquire about republishing spiked's content, a right to reply or to request a correction, please contact the managing editor, Viv Regan.