Antifa is not the problem here
Labelling these cosplaying goons a terrorist organisation would have a disastrous impact on civil liberties.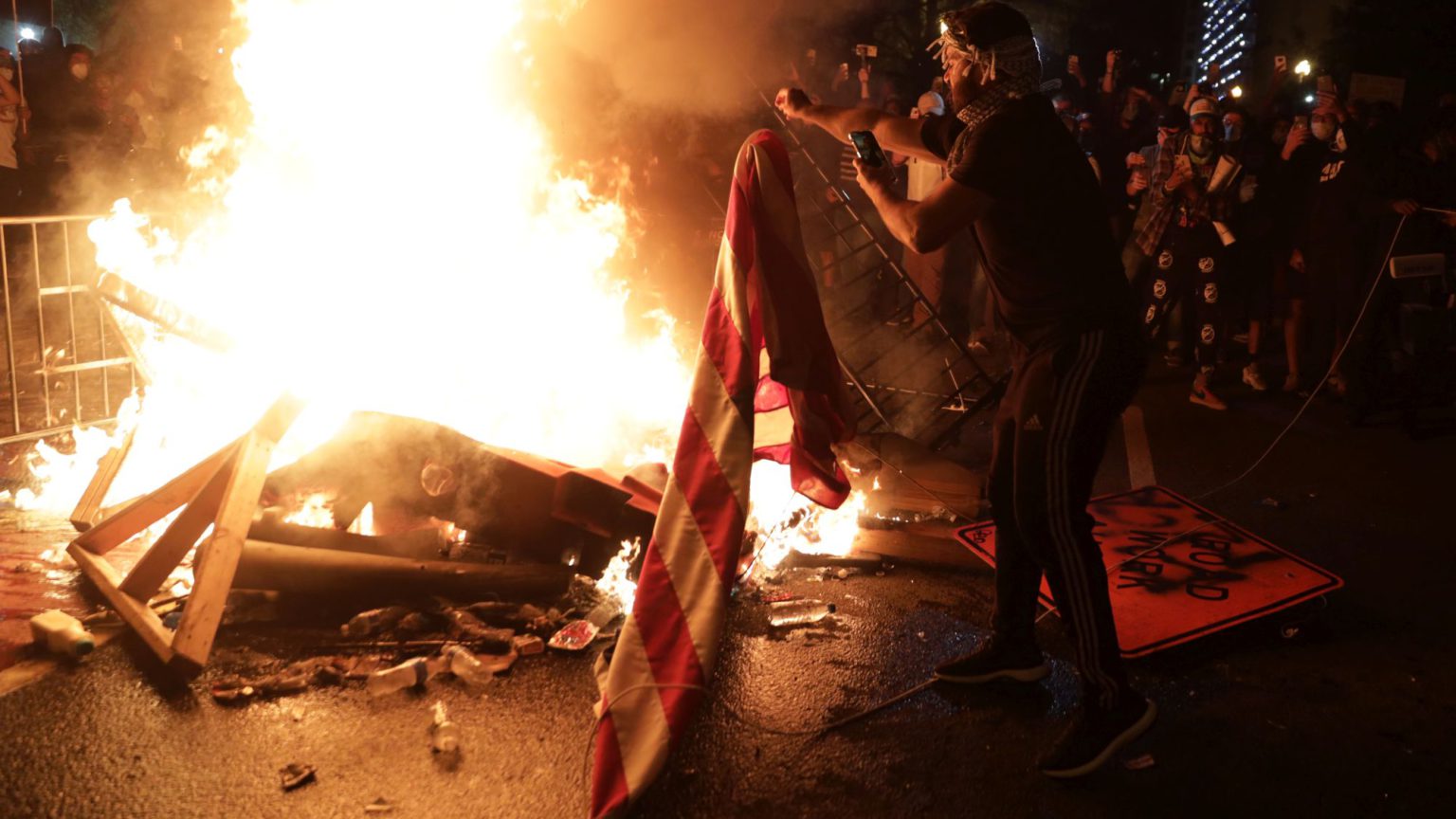 Donald Trump is trying to turn the riots that continue to roil America – in the wake of the brutal police killing of George Floyd in Minneapolis – into a battle against left-wing fringe groups. It is one of many reminders in recent days of how profoundly unfit he is to hold the great office that he does.
On Sunday, Trump announced that he would be designating Antifa, a loose collection of black-clad 'anti-fascist' cells, as a terrorist organisation. Trump and his officials have blamed Antifa for instigating the arson, looting and violence that have overrun dozens of US cities this past week.
In Trump's alarming statement yesterday, in which he said he may send in the army to crush the riots, he presented himself as an 'ally of all peaceful protesters' and took aim at 'Antifa, and others, who are leading instigators of this violence', telling them they would face harsh punishment if they didn't stop.
As he spoke, in the pomp of the White House Rose Garden, intoning about his great support for peaceful protest, peaceful protesters nearby were being cleared from the streets by police and soldiers armed with tear-gas. This was all so that Trump could pose for a photo-op in front of a vandalised church nearby.
It was all a potent reminder of the mix of unseriousness and authoritarianism that defines this president's reign.
The idea that Antifa members, travelling into cities to stir up violence, are the driving force behind this unrest is ridiculous. Undoubtedly, they are a factor in the riots. But Antifa is made up of small, autonomous, tightly knit groups who engage in street fights with those they deem far-right figures (an increasingly bloated category). While they are undoubtedly violent and criminal, their numbers are tiny.
To suggest that Antifa types are single-handedly carrying out or inspiring this carnage is ridiculous. A number of videos online, showing peaceful black protesters admonishing bespectacled, anarchists for trying to start trouble, suggest these middle-class interlopers aren't exactly getting a warm reception from inner-city communities.
As Sean Collins wrote on spiked yesterday, the focus on out-of-town agitators only distracts from the fact that a significant proportion of the carnage is people smashing up their own cities and neighbourhoods – revealing a deep disaffection and alienation among sections of the African-American population that Trump is fundamentally ill-equipped to reckon with, even if he wanted to.
What's more, proscribing Antifa as a domestic terror group would have a devastating impact on civil liberties. Antifa is not a centralised organisation. It has no set membership or leadership. This would be a green-light for the arbitrary policing and surveillance of anyone the authorities deem to be involved or affiliated with this nebulous political subculture.
This plan's one saving grace is that it is probably impossible to implement. As Mary McCord, a former senior Justice Department official, told Reuters, 'No current legal authority exists for designating domestic organisations as terrorist organisations'. Still, the casual labelling of loosely defined groups in this way could raise the temperature further and lead some within law enforcement into even more brutal tactics.
None of this is to say that the modern Antifa movement isn't nasty and contemptible. Its recent rise in violent activities has less to do with a real resurgence of violent street fascism than it does with Antifa types' increasingly promiscuous definition of fascism. Some of their targets in recent years have included black Trump supporters and an Asian-American journalist.
These people aren't anti-fascists. They are the militant wing of intolerant woke culture, seeking meaning and purpose in a kind of ultra-violent cosplay. That these middle-class goons see themselves in the tradition of the International Brigades or the Battle of Cable Street is a sick joke. They shame the proud history of anti-fascist mobilisation.
Like everyone else, Antifa members should be punished when they break the law. That the authorities in cities like Portland, a hub of Antifa lunacy, have in some cases let them run riot is remarkable. But labelling them a domestic terror group is a ludicrous overreaction that could harm civil liberties while inflating the threat these people actually pose.
Now, as ever, Trump seems more interested in fighting the last Culture War than dealing with the profound problems and tensions within the society he is supposed to be leading.
Tom Slater is deputy editor at spiked. Follow him on Twitter: @Tom_Slater_
Picture by: Getty.
To enquire about republishing spiked's content, a right to reply or to request a correction, please contact the managing editor, Viv Regan.