How the media lost the plot
An anonymous insider on why 'gotcha' journalism is failing in the age of coronavirus.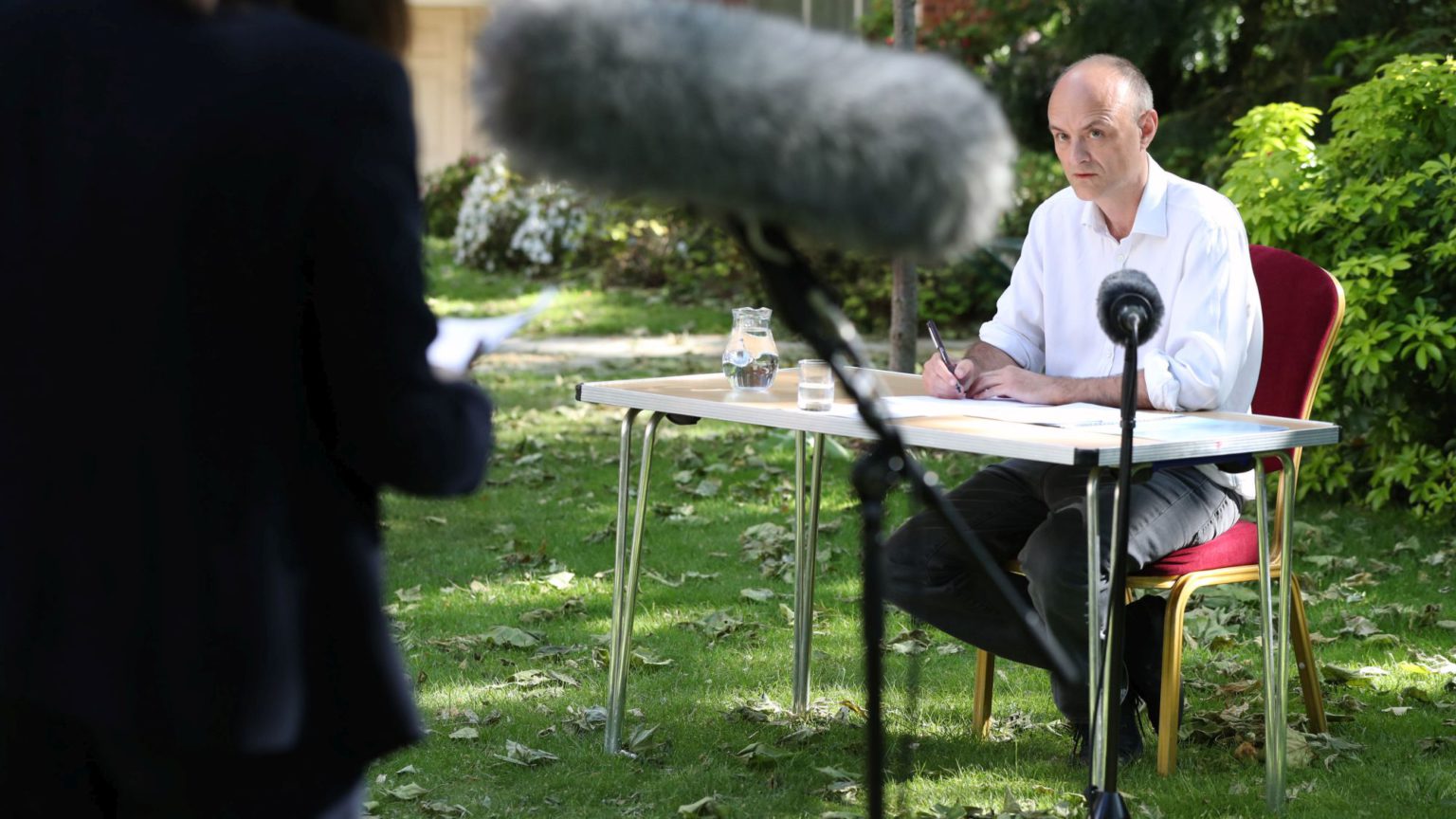 I have a confession to make. I work for a national media outlet. And as you know, we the media aren't so hot right now – with anyone really. Across the Western world, in fact, the media have almost become public enemy number one. The coronavirus pandemic we are all going through has been a challenge for our industry. How do we get it right? What do we report? Are we telling people the truth they need to hear, or are we alarming them with endless notifications of death and doom? Getting the balance right is always difficult. But the ultimate showdown between the media and Dominic Cummings has put the nail in the coffin… for us. We have failed.
Since the story broke last week about Cummings driving up to Durham, potentially breaking lockdown rules, all the London newsrooms have been buzzing with Cummings-fever. Why? Because he is someone many of us hate. A mysterious, dark, controlling Alastair Campbell-like figure who has no time for us and our questions. He likes to remind us that the media got Brexit wrong, and that he got it right, which is to some extent true.
Ever since Brexit, and especially since he got into No10 with Boris Johnson, Cummings has had it in for us. He dreams of being like Trump, excluding journalists, decrying 'fake news', and shouting journalists down. We have, of course, had it in for him in equal measure – often lowering ourselves to endless 'gotcha' moments and invasive doorstep filming at his house. I wouldn't be surprised if some journos have already gone through his bins as the Fleet Street-ers used to do.
So when it was announced that chief adviser and prime minister-maker Dominic Cummings was to do a press conference in the historic Downing Street Rose Garden, shit hit the newsroom fans. We Westminster political junkies were about to get the best high of our lives. Cummings vs the media was going to be the political equivalent of Muhammad Ali vs George Foreman – a battle of titans. The irony is that most of the public probably weren't watching and were carrying on going about their daily lockdown lives. But for those of us who did watch, it was clearly a total knockout.
The briefing started late. Of course it did. Cummings did it to piss us off – he left the journalists sweating in the sun. To take on the self-professed political mastermind, we wheeled out the best political journalists the UK has to offer. Laura Kuenssberg, BBC, went up first. Followed by Robert Peston, ITV. Next up, Beth Rigby, Sky News. The list goes on. One after another, the best and brightest journos took position in front of the fluffy dead-cat microphone. They swung. And they missed. No one landed a single blow.
But that wasn't the worst of it. Not only had none of our questions landed, but we came off looking much worse than Dom. Rightly so. We acted poorly, and brought journalism down. Why? What went wrong? How did this happen? I have seen this sort of thing happen before, but it has never been quite this bad. So let's break it down.
The first problem was the media's hypocrisy, which was clear well before the press conference. Cummings had been accused of breaking the rules he had set out on coronavirus by not social distancing and by travelling a long distance, thereby risking its spread. But we have been doing the same throughout. Even – rather hilariously and notoriously – outside Cummings' house the other day, where we doorstepped him in a massive media scrum of journalists and camera crews. None of us were obeying social-distancing guidelines.
The second problem: there was no respect. Cummings delivered a semi-decent defence of his actions and why he did what he did. But something we did not know until that point was the extent to which he and his family had been hit by the virus. All of them became sick and his young child was rushed to hospital. We might have stood a better chance of extracting an honest answer from Cummings had we shown a semblance of humility and sympathy, even in spite of his mistake.
The third problem – the real issue – was the bad questioning. As one barrister rightly pointed out, the journalists' cross-examination was dreadful and unworthy of a first-year barrister. 'Listen to the answers, think, adapt the questions. Who checks their eyesight by driving for an hour? It makes no sense, whatsoever', he tweeted. Cummings' statement was a precarious defence. In the small amount of time they had, the journalists should have adapted their line of questioning. Instead, they delivered rehearsed pre-prepared questions:
'Do you regret your actions?'
'Will you apologise?'
'Why don't you resign?'
The same old boring questions that are asked at every one of those daily briefings. The public wants us to stop asking such irrelevant questions. As the holes in Cummings' defence were becoming clearer the more he spoke, everyone watching must have thought the same thing: 'I could have done a much better job than that lot in the Rose Garden!'
Sometimes bad questioning happens because instead of chasing genuine truth or exploring a story, journalists go for the easier 'gotcha' question. These questions are designed specifically to set off a push notification, for a quote to put in a report or to include in a TV package which has already been pre-planned. The media need to go back to the original purpose of journalism – discovery. Instead, snappy soundbites and decontextualised quotes have become the norm. This isn't a new problem. But it does seem to be getting worse. And it has been exposed by the challenge of coronavirus.
The reason the media are so important is that they play a unique role in scrutinising the government and keeping it accountable. Good journalism can make government better. But we are not meeting that challenge.
The media establishment needs shaking up. It is the old guard who are the problem. They keep pursuing 20th-century journalism. They sound the same, they write the same and, of course, they come from the same places. But we shouldn't lose all hope for journalism. Many in the younger generation get it. I have seen first-hand what my peers can do and are doing. Once the new wave of journalists take the reins, the governments of the future will have to up their game.
The author works at a national media outlet.
To enquire about republishing spiked's content, a right to reply or to request a correction, please contact the managing editor, Viv Regan.