Britain's chilling slide into totalitarianism
The arrest of peaceful anti-lockdown protesters heralds a new era of authoritarianism.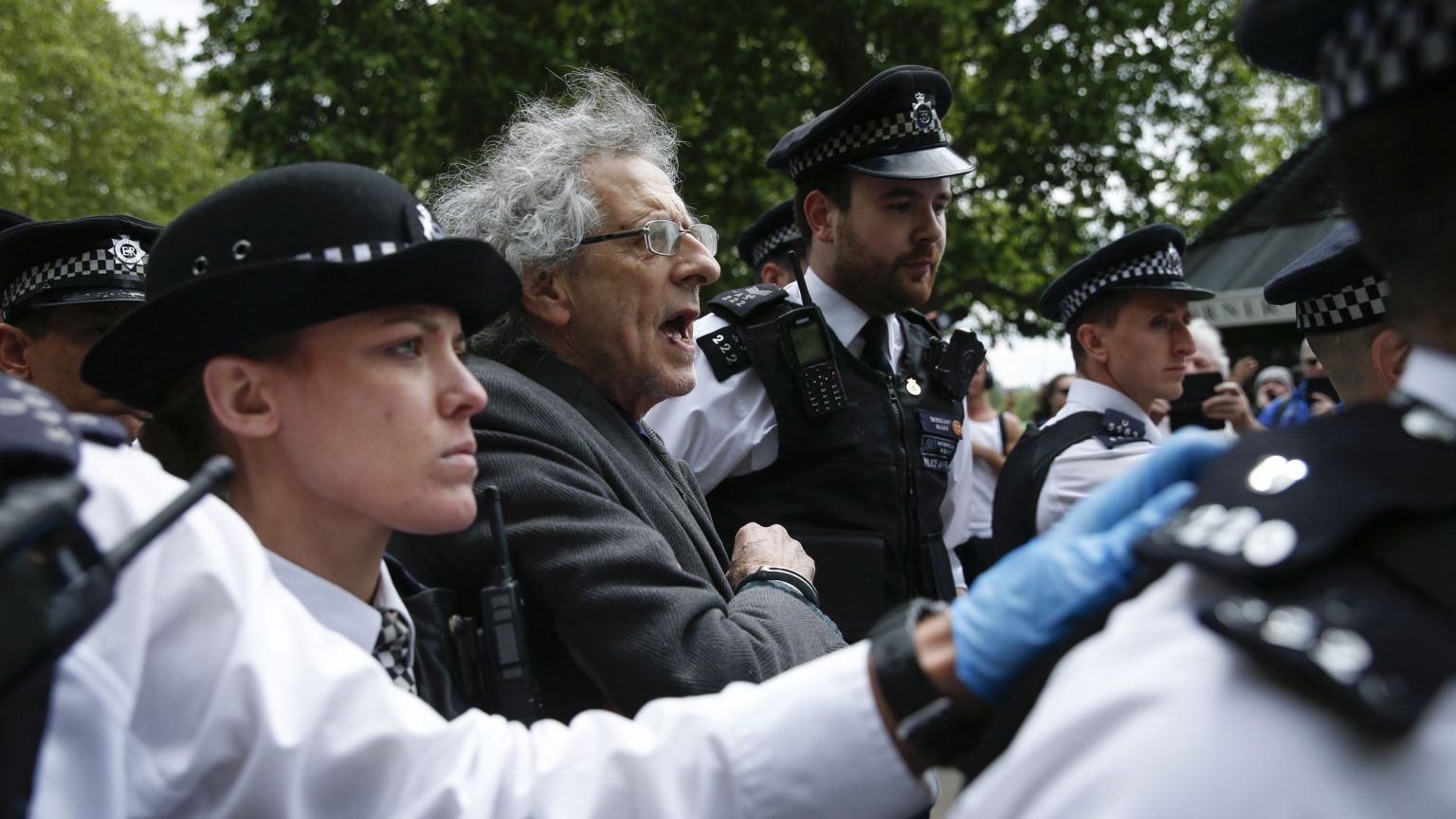 On Saturday, Hyde Park's Speakers' Corner was host to an unusual scene. As onlookers booed, police officers dragged 19 activists from the scene in handcuffs. Ten people were fined. Their crime? Refusing to disband their small protest in contravention of lockdown measures.
The protesters, who included Piers Corbyn (eccentric sibling of Jeremy Corbyn), were an odd conglomeration of anti-vaxxers and anti-lockdown preachers. Piers, who makes his brother look like a yuppie sell-out, was determined to warn his audience about what he saw as the virus-spreading horrors of 5G. Most people greeted the news of the protest with a mixture of bemusement and irritation. 'Mad as box badgers' and 'The police have enough to do without this extra nonsense' were typical of the comments on Twitter.
True, the protesters' assertions that Bill Gates was the mastermind behind this crisis probably have not added much to the public discourse. The weirdness of the display aside, there is something deeply unsettling about non-disruptive peaceful protesters being bundled into police vans. For the first time in my lifetime, a British government has drawn a utilitarian line in the sand and declared that no peaceful protest can be tolerated.
Well, not utilitarian in a strictly calculated sense. We still don't know what the effect of lockdown has actually been, or exactly how the disease spreads. In New York, for example, 66 per cent of the people hospitalised were 'sheltering in place' – that is, obeying the rules of the lockdown – when they caught the disease. Sweden, which never locked down, has just 60 per cent of the confirmed cases per capita of Ireland, which did.
Nor do we know what the ultimate stacking of lives saved versus lives lost due to lockdown will be. Cancer referrals in the UK are down by 76 per cent and there has been an alarming drop in hospitalisations for strokes and heart attacks. Perhaps, then, the British government's reasoning behind banning protest can be best summed up as: 'We are not sure it is worth the risk, but we could be wrong.'
This 'better safe than sorry' authoritarianism hasn't been limited to the government. In lieu of a scientific consensus on the merits of any particular policy direction, Facebook has nonetheless decided to stick its neck out and remove posts that contradict official lockdown advice (presumably while crossing its fingers that such dissenters don't have any valid observations). Facebook has even taken down posts promoting protests against the lockdowns in certain US states.
Unsurprisingly, lots of authoritarian leaders see merit in this approach. President Erdogan of Turkey, for example, is so concerned about the risk of misinformation being spread about the virus that he has taken to going after journalists suspected of spreading it. Ever vigilant of threats to the health of his countrymen, prime minister Hun Sen of Cambodia has awarded himself emergency powers to ban opposition gatherings and declare martial law. Wary of the contagion risk of marches, China's benevolent central planners have been forced to round up known trouble-makers in Hong Kong. According to Journalists Without Borders, 38 countries have introduced emergency measures to restrict journalistic freedom in the wake of coronavirus.
Is it facetious to make such comparisons? Seen from abroad, probably not. If Britain is to abandon its principles by banning protest on the basis of an uncertain estimation of the potential for infection, on what basis can we condemn authoritarian regimes which do the same?
The truth is, however much self-interest feeds into the calculation, the operators of many authoritarian regimes genuinely believe their actions are needed to avoid catastrophe. If law and order are the overriding concern, then this is not unreasonable. When protests toppled Egypt's Hosni Mubarak in 2011, the immediate consequence was violence and economic collapse. Last year's deposition of Sudanese president Omar al-Bashir was followed by a massacre and unchecked pillaging by armed gangs.
Even when, in 1819, British MPs voted through the Six Acts to restrict gatherings following the Peterloo massacre, most did so in the sincere belief that they were saving their country from a violent French-style revolutionary terror. The nature of principles like freedom of expression is that they are easily diminished if short-term considerations take precedence – that is why they must be principles which we defend regardless.
This brings us back to lockdown Britain. Say it turns out that the government is sticking to the restrictions, even if a consensus was emerging that lockdown could be killing more people than it is saving, would you still be happy that ministers get the final say on your right to protest or that Facebook could be preventing you from organising one?
All of this is worth bearing in mind the next time you find yourself getting angry at an idiot with a placard.
James McSweeney is a freelance writer and videographer. Follow him on Twitter: @maccyjames1
To enquire about republishing spiked's content, a right to reply or to request a correction, please contact the managing editor, Viv Regan.