How Covid panic caused the carnage in care homes
The virus was pushed into care homes in anticipation of a hospital surge that never happened.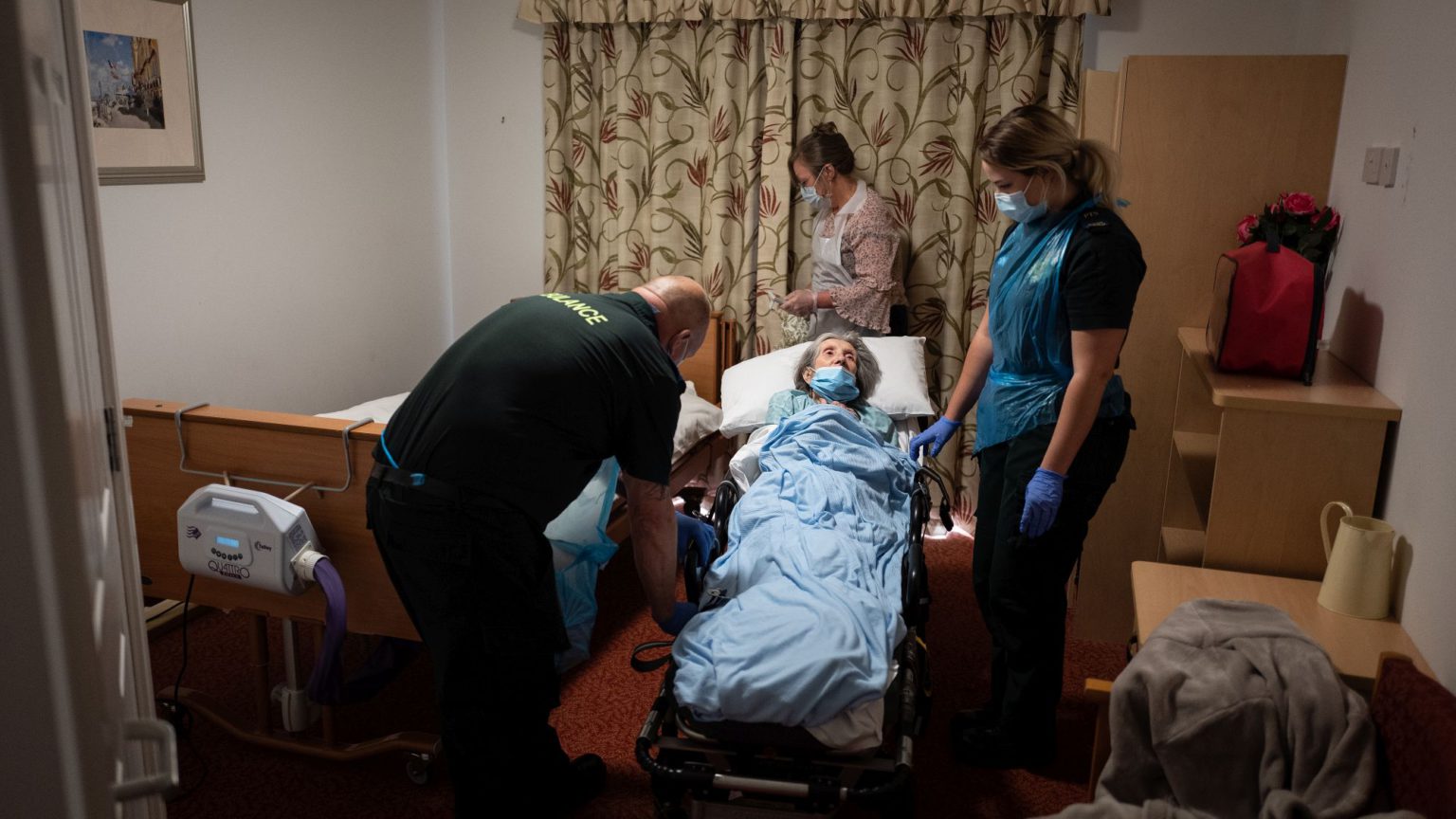 Has government policy killed people? That has been the question on everyone's mind since the outbreak of Covid-19. Most of the time, only one policy is considered – did we lock down early enough or hard enough to save lives? But the government's policy on care homes is likely to be far more significant.
Health secretary Matt Hancock insists that protecting care homes has always been a top priority for the government. 'Right from the start, we have tried to throw a protective ring around our care homes', he said at one of last week's press conferences. Prime minister Boris Johnson made a similar claim in parliament last week: 'We brought in the lockdown in care homes ahead of the general lockdown.'
It is now abundantly clear that the opposite was true. Contrary to Johnson's claim, there were no mandatory restrictions on care homes prior to the general lockdown. Indeed, until 12 March, 11 days before the lockdown, Public Health England's advice was still that 'it remains very unlikely that people receiving care in a care home will become infected'.
Worse still, as I reported on spiked last month, rather than protecting care homes from the virus, government policy unwittingly promoted its spread.
One of the key justifications for the lockdown was to 'Protect the NHS'. Officials feared that the NHS could have been so overrun during the pandemic that it would have collapsed. This would, of course, have been a catastrophe, causing needless deaths. To help prevent this, the NHS exhorted the care sector to play a role in shielding hospitals.
An NHS plan in early March called for the 'timely discharge' of patients to free up capacity. Guidance from the Department of Health, issued on 2 April, reiterated this: 'Hospitals around the country need as many beds as possible to support and treat an increasing number of Covid-19 cases. This means the NHS will seek to discharge more patients into care homes for the recovery period.'
Hospitals were ordered to clear thousands of beds in anticipation of a surge in Covid cases. Many patients were sent into care homes. And it is now clear that some of those patients had Covid-19. The 2 April guidance provides the smoking gun: 'Negative tests are not required prior to transfers / admissions into the care home.'
On top of that, pressure on care homes to take in Covid-19 patients also came from local authorities. According to a Sky News investigation, several councils threatened to withhold funding to care homes if they refused.
Overall, according to a Sky News survey of 90 care homes, 70 per cent of care homes said they felt pressure from hospitals to accept coronavirus patients, 41 per cent said they took in patients with Covid symptoms, and 38 per cent said they believed a Covid-positive patient discharged from hospital caused an outbreak in their home.
This is all despite the fact that care homes hosted the group of people who were by far the most vulnerable to Covid-19. To make matters worse, care homes were also far less prepared for the outbreak than hospitals. An owner of a care-home chain, writing anonymously in The Times, says that two of his or her care homes became infected with Covid-19 which can be traced back to hospital discharges. Once patients were in care homes, the NHS was no longer interested in helping them. The owner received a letter on 13 March which said, 'If any of our residents got significantly ill, they wouldn't be allowed into hospital and would have to die in their home'.
Staff were neglected, too. Testing has been shambolic. Even carers with Covid symptoms have struggled to get tested. Results can take nine days to arrive. PPE was also a huge problem initially. The care-home owner writing in The Times claims that supplies were commandeered by the NHS in early March. This neglect has clearly taken its toll. ONS figures show that care staff have been far more likely to die of Covid-19 than regular healthcare workers.
All along, the justification for pushing the crisis into care homes was to prevent the NHS from being overrun. But we can now see that there was no danger of this happening.
Around the peak of hospital cases on 10 April, only 51 per cent of the NHS's acute beds were occupied by a Covid patient. Around the same time, 41 per cent of acute beds were not occupied at all – more than four times the normal number. The emergency Nightingale hospitals have also been largely empty. The Nightingale in London's Excel Centre, which had space for 4,000 beds, only treated 51 patients in its first three weeks of operation. It was closed at the beginning of May.
As Professor Carl Henegan, director of Oxford University's Centre for Evidence-Based Medicine, has argued, the fact that Covid cases and deaths peaked in early April suggests that the number of people getting infected peaked before the lockdown was introduced on 23 March.
In other words, putting the public under house arrest and wrecking the economy – which has also contributed to thousands of unnecessary deaths – was never necessary to 'Protect the NHS' in any case. But by the time the lockdown was introduced, the government was convinced that the NHS faced a tsunami of Covid cases. The infamous Imperial College model predicted 500,000 deaths from an unmitigated epidemic. Fear and panic drove the decision-making. And those decisions cost lives.
Shockingly, the UK government was not alone in pushing the crisis into care homes. In New York, the centre of the world's worst outbreak, it is a similar story. Care homes were not only neglected for PPE and testing, but were also ordered to take in Covid patients. Homes could be fined $10,000 or lose their operating licence if they refused to comply with the rules. In Lombardy, the hardest-hit region of Italy, care homes were paid extra to take in Covid patients from hospitals.
The carnage in care homes ought to be the biggest scandal of the Covid crisis.
Fraser Myers is a staff writer at spiked and host of the spiked podcast. Follow him on Twitter: @FraserMyers.
To enquire about republishing spiked's content, a right to reply or to request a correction, please contact the managing editor, Viv Regan.