The rise of cutesy radicals
How primary-school drawings and facepaint became the aesthetic of the middle-class left.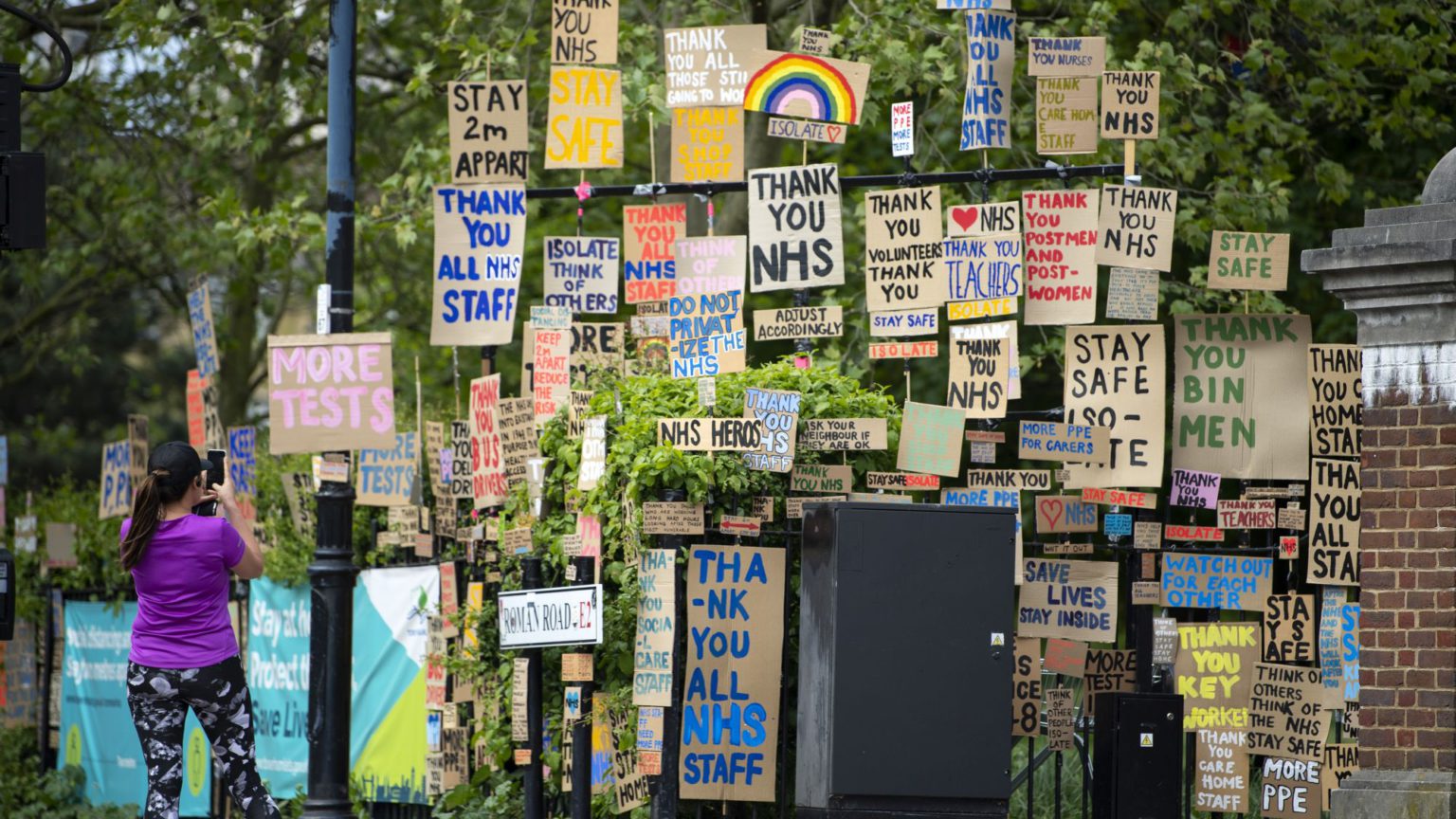 The cover of last week's Radio Times features a badly painted rainbow with the words 'Our NHS Heroes' underneath. It reflects how such primary-school paintings, drawn by kids and hung in families' front windows to express support for the NHS, have come to symbolise the lockdown era in the UK. They've supposedly become the unifying symbol of a nation stuck in a health crisis, but united in solidarity with frontline workers. But these kiddie rainbow paintings, often complete with 'I Heart the NHS' and 'PPE Now!' scrawled in crayon, also reflect the broader symbolism of middle-class radicals today.
These rainbow pictures are ubiquitous in many different parts of the country. But in well-to-do districts of north London, they seem to have replaced EU flags or Vote Labour posters as conspicuous symbols of a radical household. Still, it's not clear how children's paintings fit in with the Covid-19 crisis. Children are far less likely to contract the disease and suffer fatalities – it's the old folk you have to worry about. It's good to express solidarity with health workers and other key workers, but why use an eight-year-old's rubbish daubing to do that?
The children involved here are themselves blameless, even if their grasp of a paintbrush is shocking. It is middle-class parents who have become oddly attached to primary-school aesthetics. It pops up everywhere. Long before the Covid lockdown, we were staring at children's eco-doom posters held up at school strikes. They're often seen on Extinction Rebellion carnivals and other protests against climate change, too. At the big People's Vote demonstrations against Brexit last year, the combination of facepaint and homemade placards created a feel closer to a school outing than an edgy protest.
Primary-school imagery has also become a marketing device for big companies. Ice-cream company Ben & Jerry's (part of the Unilever corporation) has long used kiddish paintings on marketing campaigns, including those associated with its One World / One Heart campaign. Then there is the Innocent Drinks company (owned by Coca-Cola), whose images and fonts resemble a primary-school reading book. Delivery service Ocado has a fleet of vans that resemble a children's toy set – all blaring primary colours and 'A is for Apple' images.
The overall effect of all this is to make big companies appear like small cottage industries, and ones that also champion good ethical and environmental causes. Primary-school images, then, have become code for virtue. They are designed to make a political slogan or product appear unquestionably good and wholesome. There's also a whiff of moral blackmail about such kiddie-designed propaganda. It smacks of 'doing it for the kids', and only a misanthrope could possibly object to that.
But there's more going on here than a fad for cutsey aesthetics among so-called radicals. There's an increasing desire among the middle classes for our lives to be similar to a child's on a long summer holiday. Since the lockdown, this desire to retreat from adult domains of work, business and civic life has become more pronounced. Some will say social isolation is about saving lives, but for many middle-class professionals social isolation is good in itself. As one Observer reader put it in a letter to the paper's advice columnist recently: 'I know our freedom has been temporarily taken away from us. But I'm dreading the end of lockdown. For years I've craved a slower pace of life. Lockdown has allowed me to spend time with my family – and not on the relentless promise of success in my career.' Others declare that the lockdown has enabled them to enjoy 'floating along with my thoughts while having no obligations at all'.
Since the Sixties, middle-class radicals have viewed adulthood with disdain. This is because adulthood is interpreted as accepting a formal and regimented social existence. Childhood innocence is seen as preferable to the adult world of responsibilities and difficult decision-making. Covid-19 has provided some people with an ideal opportunity to live out such decadent fantasies, to turn their backs on adulthood and independence. No wonder primary-school paintings have become the symbol of our times.
Neil Davenport is a writer based in London.
Picture by: Getty
To enquire about republishing spiked's content, a right to reply or to request a correction, please contact the managing editor, Viv Regan.