What Australia could learn from Taiwan
Forget this Kafkaesque lockdown – let's take the Taiwanese approach.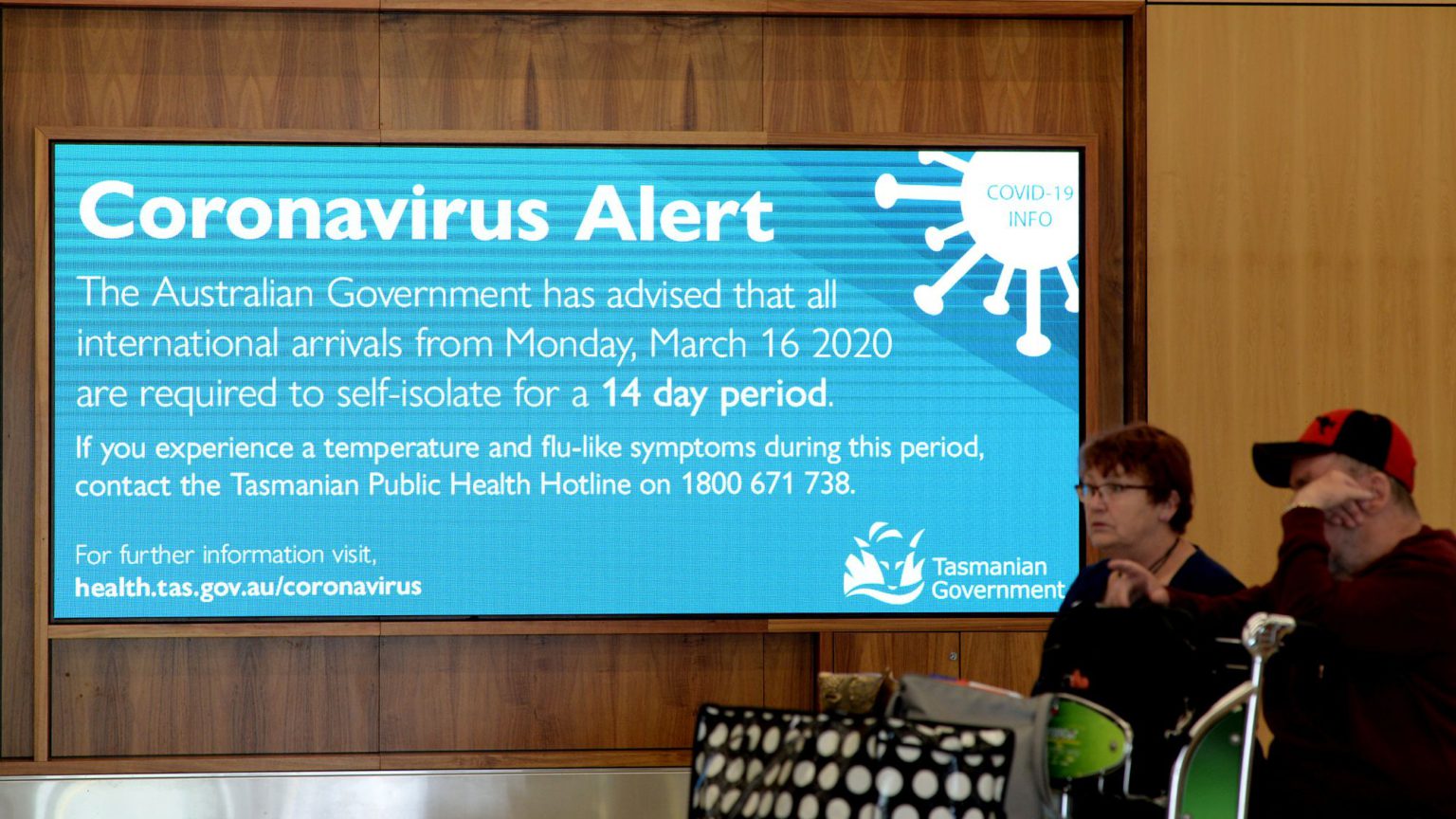 On 31 March, Australians in New South Wales awoke to the discovery that, overnight, they had been put under house arrest. For some at least, the shock could not have been greater if, like Kafka's Gregor Samsa, they had found themselves transformed into an enormous insect. For the last fortnight, Australians have discovered that almost everything other than sitting at home has been criminalised, with neighbourhood snitches just waiting to dob them in.
It reached a nadir at Easter when Tasmanian premier Peter Gutwein announced that police would use helicopters to spot 'unnecessary' travel. 'Today the gloves come off', he snarled. 'We are going to police this. The period of education is over.' Tasmanian police questioned the occupants of 89 vehicles about why they had the temerity to be on the road. It brought to mind Captain Yossarian in Catch-22. 'Morale was deteriorating, and it was all Yossarian's fault. The country was in peril and here he was jeopardising his traditional rights of freedom and independence by daring to exercise them.'
Meanwhile, an 'explosion', at least by Tasmanian standards, of 66 new coronavirus infections was traced not to people reading books on park benches, or jogging on the beach, or even driving their cars, but to two hospitals in northwest Tasmania, which inexplicably proved to be incapable of undertaking basic infection control while treating a passenger from the ill-fated Ruby Princess, and may or may not have had an 'illegal' dinner party.
General Gutwein is only the latest officer in the army of clowns running Australia to come a cropper. His woes directly stem from the mess made by his mess mate, the NSW minister for health, the aptly named Mr Hazzard, who, if he were a packet of cigarettes, would have a sign across his forehead warning: 'This minister is a health hazard.' Alas, Australia's medical authorities match the minister when it comes to incompetence.
Hazzard and his hapless officials learned nothing from the fiasco of the Diamond Princess, in which 712 of 3,711 passengers and crew were infected by Covid-19 during a month-long onboard quarantine and 12 people died, including our first virus victim. When the passengers and crew finally disembarked, US health officials allowed their nationals to fly back even though it was clear that many were probably infected, jeopardising the health of everyone on the plane.
When its sister, the Ruby Princess, sailed into Circular Quay, NSW health officials made exactly the same mistake, allowing the ship's 2,647 passengers to disembark because they assessed them as 'low risk', even though the ship's physician had requested an ambulance for two patients and said that 15 others were sick and had tested negative for influenza. Was Hazzard apologetic? Of course not. He angrily defended his advisers who consulted 'to the WHO in communicable diseases,' no less. Someone needs to tell him Taiwan are the experts.
If that weren't bad enough, on 14 April it was revealed that the company overseeing the management of the Ruby Princess had allowed meals for its 1,000 crew members to be prepared in the ship's galley until last weekend, despite warning signs it was the epicentre of the vessel's infections just as had happened on the Diamond Princess a month earlier.
It's as if The Three Stooges were running the country, and it might be funny if people weren't dying as a result. Three-quarters of all deaths in Australia are linked to just three sources of infection – the Ruby Princess and three other returning cruise ships in NSW, NSW aged-care facilities, and the cancer treatment ward of a major public hospital in Melbourne.
Instead of putting the entire population of Australia under house arrest, state health departments should be putting in place stringent measures to protect vulnerable people – older Australians, particularly those in aged-care facilities, and Australians with underlying health problems. The government did warn Australians not to take cruises on 10 March, but it did nothing to assist elderly people trying to self-isolate at home. One of the saddest coronavirus deaths was that of Labor MP Ged Kearney's father-in-law, an 82-year-old who caught the disease just shopping for groceries. That shouldn't have happened. When supermarkets stopped providing online shopping, the government should have funded shopping services. Likewise, staff in aged-care facilities should all be regularly tested for the virus, as should anyone else providing services to the vulnerable.
The state governments locked down the country, justifying their actions by referring to headlines that warned, 'We're going to run out of ICU beds'. On 18 March it was claimed Australia would need 650,000 ICU beds over the course of a year. On 31 March, the day NSW went into lockdown, there were 2,378 beds in 191 ICUs across the country and there was the capacity to surge to 4,261 if necessary. Even that was deemed insufficient, with a government taskforce 'working around the clock' to procure ventilators to increase capacity to 7,500. Did the tidal wave of deaths arrive? At the time of writing there are 79 people in ICU beds around the country and there have been only 63 deaths – two deaths per million. Even so, this week we were urged by the Grattan Institute to join New Zealand and shoot for zero infections before unlocking the economy. This is absurd. We don't aim for zero road or flu deaths. The cost is not just economic; as unemployment rises so do suicides.
Rather than relying on rubbery figures, our model should be the real-world success of Taiwan. They had no lockdown, like Wuhan. Cafés, restaurants, businesses, museums and schools have to put in place social distancing, people use face masks, there is quarantine for overseas arrivals, and testing, treating and isolating for the infected while tracing their contacts. The result? Only 395 cases and six deaths. Yet the Australian PM Scott Morrison shows no signs of doing this.
On Wednesday, GetUp!'s national director sent an email to his troops praising the PM delivering beyond their wildest dreams, spending $320 billion in a few weeks. It makes the Rudd Labor government look almost modest in comparison. While some businesses go broke, others can't find workers, who'd rather get the JobKeeper subsidy. More than 80,000 businesses have registered for the $130 billion payment, which is so poorly designed that everyone from barristers to baristas is in on the lurk, attempting to qualify. Tenants, too, have been incentivised to stop paying their rent to the chagrin of mum and dad investors. When one reads on the front page of the Australian that the PM has won plaudits from the Australia Institute, a progressive think-tank, one thinks not of Kafka but the sci-fi horror flick, The Fly, and its memorable tagline: 'Be afraid. Be very afraid.'
Rebecca Weisser is a writer.
Picture by: Getty.
To enquire about republishing spiked's content, a right to reply or to request a correction, please contact the managing editor, Viv Regan.