One of Australia's worst ever miscarriages of justice
The monstrous conviction of Cardinal Pell is a stain on the Victorian justice system.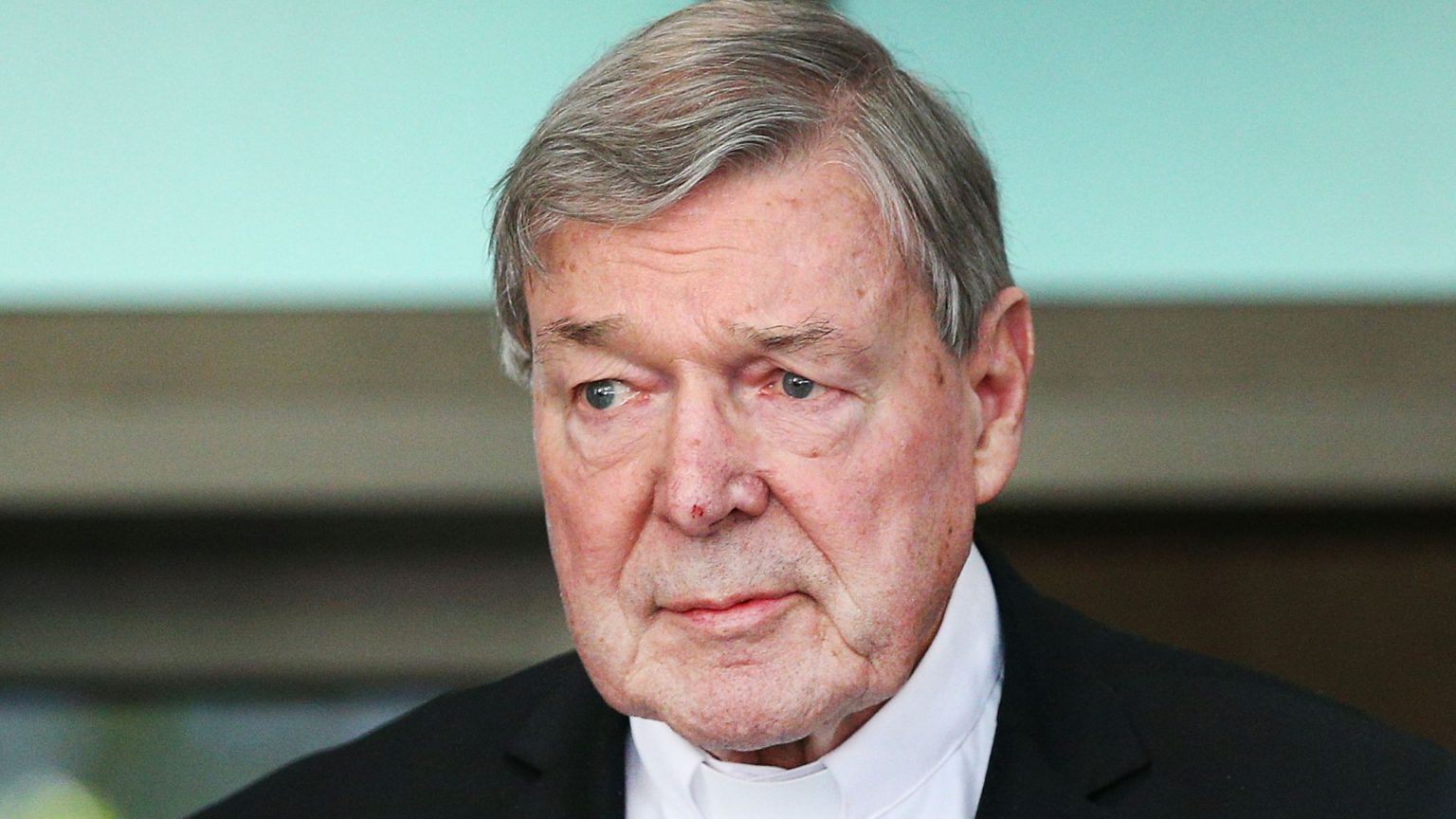 Yes, there is a God, they must be thinking. A God of power, a God of mercy, they must be thinking, all those ABC journalists; Louise Milligan, the author of Cardinal: The Rise and Fall of George Pell; all those journalists at the Age and the Sydney Morning Herald; the Victorian premier; all those sniggering comedians on daytime TV; the Victorian police commissioner; David Marr, tap-tapping away at Guardian Australia.
A God who covers all our sins. A God who surely must have sent the coronavirus to hide our shame at our role in harassing, pursuing, sneering, persecuting, smearing, humiliating and jailing an innocent man for 405 days for a crime he did not commit, an implausible crime, a hideous crime of which he has been completely exonerated in the High Court of Australia.
They must think there is a God because, courtesy of the coronavirus and its domination of global headlines, the eyes of the world are averted from the quashing of Cardinal George Pell's conviction and from these people's ignominy. Praise be! Cardinal Pell has walked free but all our readers can think about is flattening the curve and whether there is toilet paper at the supermarkets. They will forget his vindication. They will forget our sneers. We will keep our funding. We will keep our jobs. Hallelujah!
Yes, this is the chance for a Kanye West-style conversion. 'Every time I look up, I see God's faithfulness', as Kanye sings, 'and it shows just how much He is miraculous'. Let us praise the Almighty for His coronavirus.
And they need a conversion, for the way they treated George Pell was monstrous. They are complicit in the worst miscarriage of justice in Australia's history since Lindy Chamberlain was falsely convicted of murdering her infant daughter in 1982. (It was actually snatched by a dingo.)
In 2019, Pell, who is Australia's most prominent Catholic cleric, a former archbishop of both Melbourne and Sydney, and a former senior figure in the Vatican, was sentenced to six years in jail for sexually abusing two choristers in St Patrick's Cathedral in Melbourne after Sunday Mass in 1996 and 1997. He went to the Victorian Court of Appeal, but that court upheld the jury's verdict in a two-to-one decision.
Yesterday, Australia's High Court ruled that the jury had erred in its verdict and the Court of Appeal had erred in law. Its decision was unanimous. All seven justices agreed that 'the appellant's convictions be quashed and judgements of acquittal be entered in their place'.
It was a stunning vindication of the cardinal's innocence, which he had steadfastly maintained throughout his ordeal.
To the deep shame of the Catholic Church in Australia, there have been ghastly cases of sexual abuse by its priests and in its institutions. As the archbishop of Melbourne, Pell was responsible for establishing one of the first redress processes.
But instead of being esteemed as a pioneer in eliminating abuse, he became a lightning rod for public outrage. The Victorian police set up 'Operation Tethering' to fish for unreported offences. Eventually they found one. Meanwhile, the Twittersphere and the media, especially the ABC, the government broadcaster, made the atmosphere in Melbourne poisonous.
When he sat in the dock, the whole Catholic Church was on trial.
But it is a scandal that this case ever went before a magistrate, let alone the High Court.
The plausibility of Pell's guilt rested entirely upon the truthfulness and reliability of a single witness, the unnamed complainant. Against him were arrayed a host of 'opportunity witnesses' who, one and all, testified that Pell simply could not have performed the vile actions of which he was accused. He did not have enough time; he was present elsewhere; he was surrounded by people. There was no confession; there was no pattern of behaviour; there was no forensic evidence. There was ample room for reasonable doubt.
The Court of Appeal had effectively reversed the burden of proof, the High Court found. In its judgement, it had assumed that the prosecution need only demonstrate that it was not impossible for the defendant to have committed the crime, rather than that it was possible beyond reasonable doubt. In the measured but scathing words of the High Court:
'Upon the assumption that the jury assessed A's evidence as thoroughly credible and reliable, the issue for the Court of Appeal was whether the compounding improbabilities caused by the unchallenged evidence… nonetheless required the jury, acting rationally, to have entertained a doubt as to the applicant's guilt. Plainly they did [require it]. Making full allowance for the advantages enjoyed by the jury, there is a significant possibility… that an innocent person has been convicted.'
The High Court's decision was a devastating demolition of the prosecution's case and it was based squarely on that most fundamental principle of justice: 'beyond reasonable doubt'.
Yet this did not stop one of the ABC's leading journalists, Barrie Cassidy, from tweeting: 'The High Court has found there was not enough evidence to convict. It did not find him innocent. You are then entitled to maintain your view and you are under no obligation to apologise for holding those views.'
I live in a country where people are entitled to a presumption of innocence. Where does Cassidy live?
His death grip on Pell's guilt is a brainless misunderstanding of criminal justice. It must be a widely shared one, as his advice was retweeted thousands of times.
Juries find defendants 'guilty' or 'not guilty'. This is all the law can do. If Cassidy were improbably accused of using infected handkerchiefs to spread the coronavirus, isn't there a 10million-to-one chance that this is possible? But when justice eventually prevailed, he would be found merely 'not guilty', not 'innocent'.
The really guilty party in this debacle is a gaggle of journalists – mostly at the ABC and the Fairfax press – who harried Pell for years and proclaimed his guilt with or without evidence.
In fact, they are still doing it. In its editorial, the Fairfax-owned Sydney Morning Herald declared: 'Cardinal Pell has said he hopes the judgement clearing him will not add to the bitterness felt by the victims of child abuse carried out over decades by Catholic clergy in Australia. One of the best ways to alleviate their pain is to continue the pursuit of Cardinal Pell and the Catholic Church for their handling of these crimes.'
Will they ever face a day of reckoning for destroying the reputation and career of an innocent man, for making him a pariah in his twilight years? Will their books be pulped? Will their Twitterfeeds be purged? Will they be sued for defamation? Will they lose their jobs?
No, praise the Lord who sent the coronavirus! Praise be!
Michael Cook is editor of MercatorNet, an online magazine based in Sydney
Picture by: Getty.
To enquire about republishing spiked's content, a right to reply or to request a correction, please contact the managing editor, Viv Regan.