The ongoing creation of Greta Thunberg
Our House is on Fire turns Greta into a mere cipher for environmentalist angst.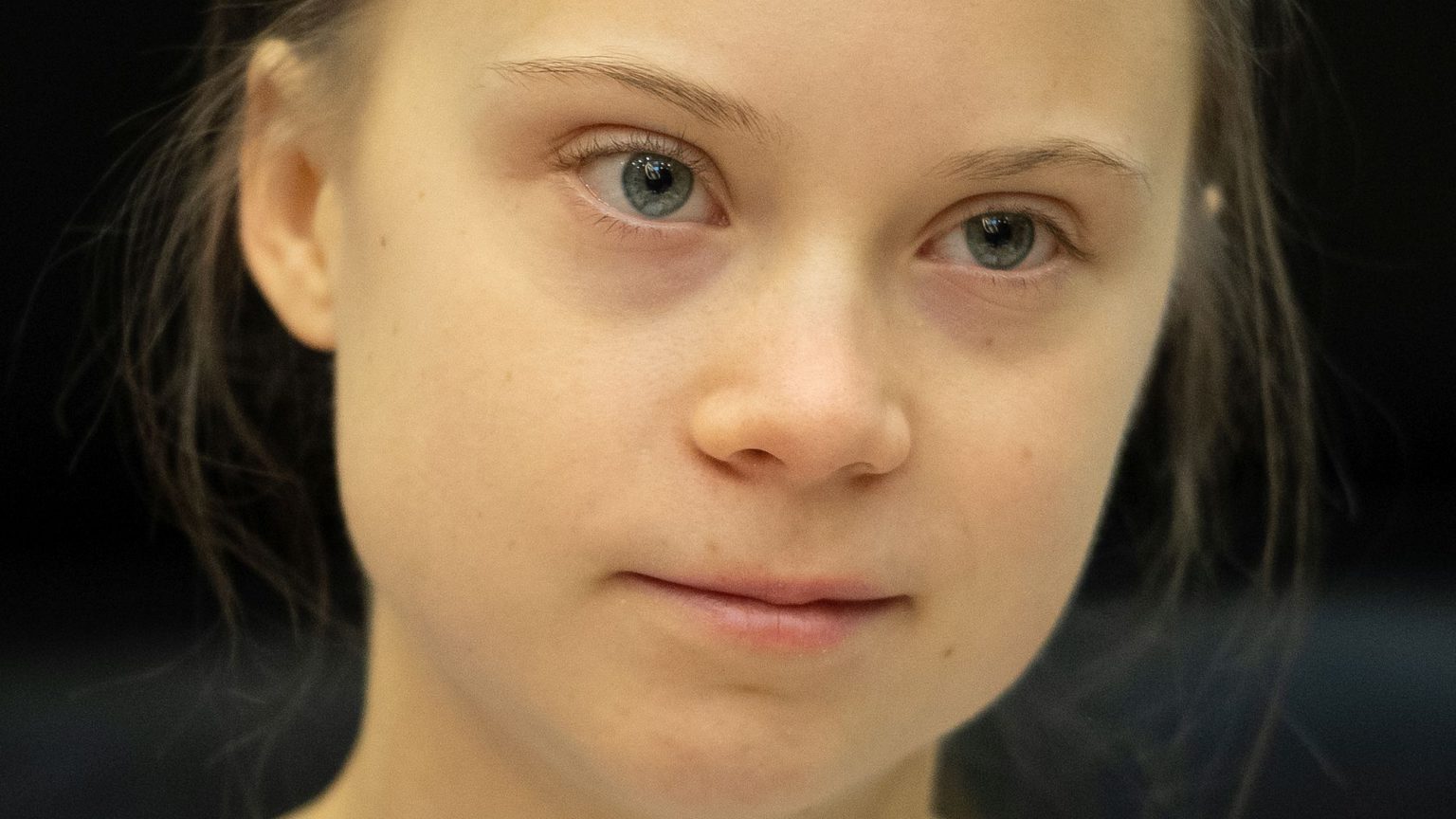 Who is Greta Thunberg?
We know of her, of course. She's the instigator of the school-strike movement, which has finally made truanting acceptable among the middle classes. She's the environmentalist scourge of Western politicians, who can barely hide their squealing delight as she whips them for their ecocidal naughtiness. And she's the high-functioning Aspie, whose neurological difference has seemingly elevated her above mere normies. But beyond the pig-tailed avatar, Greta herself is almost out of sight.
One might expect a glimpse of the real Greta from Our House is on Fire: Scenes of a Family and Planet in Crisis, written by her mother, opera singer Malena Ernman, and originally published in Sweden in 2018 as Scenes from the Heart. (An allusion, perhaps, to the equally domestic-cum-existential drama of Ingmar Bergman's 1973 Swedish TV miniseries, Scenes from a Marriage.) It has now been revised for republication this year, with additional contributions from Greta, her father Svante Thunberg, and occasionally younger sister Beata – although its primary, if digressive, narrative voice remains that of Malena.
And to an extent, a different Greta does emerge in the somewhat desultory 'scenes' that comprise Our House is on Fire. Ernman tells of their early happiness as a family, boosted by her surprise triumph in Melodifestivalen, an X Factor-style show to select Sweden's entry for the Eurovision song contest. And she writes, too, of the joys of the opera circuit, taking in Glyndebourne and Salzburg in the summer, and luxuriating in Europe's aged metropoles in the winter:
'Those were fantastic years. In wintertime we'd sit in bright, beautiful fin-de-siècle apartments, playing with the girls on the floor, and when spring came we'd stroll out through green, leafy parks together. Our everyday life was like no one else's. Our everyday life was absolutely marvellous.'
It all changes in 2014, when, aged 11, Greta's troubles start, as her then undiagnosed Asperger's manifests itself. This is the familial crisis, the moment the Ernman-Thunberg house catches fire. Greta is struggling and being bullied at school. And she's struggling and frustrated at home. 'She was slowly disappearing into some kind of darkness and little by little, bit by bit, she seemed to stop functioning', writes Ernman. 'She stopped playing the piano. She stopped laughing. She stopped talking. And. She stopped eating.'
The account of Greta's plight is undeniably moving. As is the portrait of Malena and Svante's worry and anxiety, as they battle to stop Greta from wasting away. And wasting away she is. After dropping 10 kilograms in weight, the doctors tell Malena and Svante that she will have to be hospitalised unless she starts eating. It takes a heart of stone not to feel for this family, torn apart by a daughter who seems to be willing death.
It takes a heart of stone not to laugh, too, as the other Greta emerges in her mother's proud re-telling, diagnosis in hand, and a cause for which to fight. This Greta is straight from the character stable of the 21st-century sitcom, the super-intelligent nerd whose truth-telling defies social norms, the geek who pays no heed to the feelings of others. Like that of Sheldon in The Big Bang Theory or Moss from the IT Crowd, her comedy is that of the absolutely humourless.
So to her father, who has just returned from Sardinia having taken Beata away for a restorative break, Greta's first words are: 'You just released 2.7 tonnes of CO2 flying there and back. And that's the equivalent of the annual emissions of five people in Senegal.' And to her mother one morning over breakfast, apropos of nothing: 'You celebrities are basically to the environment what anti-immigrant politicians are to multicultural society.'
One could attribute her climate-emergency wit to her Asperger's. But don't underestimate the nurturing role of her mother, who also specialises in peculiarly pompous conversation killers:
'[Beata] doesn't want to play cards during [school] breaks because no one understands her rules where the queen beats the king. "And why should boys always be worth more than girls? Why does everyone always have to laugh at the boys' jokes and why is everything about being seen and heard when it's always the boys who are being seen and heard the most?", Beata asks and turns towards me.
"Mum, what's this about again?"
"The patriarchal structures of society", I answer.'
It will come as little surprise that Greta and Beata don't listen to pop music in the back of the car on family holidays: 'They are listening to This Changes Everything by Naomi Klein. Periodically they pause the audiobook to talk about what she's saying. Then they back up and listen again.'
This isn't a childhood we're glimpsing. It's an education in decadent middle-class leftism.
But beyond the right-on pomposity, there is little mirth to be found in Our House is on Fire. And, sadly, little of Greta, too. Instead, she fades as the narrative progresses, and becomes a mere cipher, a teenage vehicle for climate catastrophism, a mouthpiece for adult angst. Indeed, Our House is on Fire is perhaps best understood as a mirror of the bourgeoisie's own disenchantment with the very modernity – industrialised, liberal and capitalistic – that bore it aloft. Through its exhausted eyes modern society now has no meaning or value, except in the negative terms of CO2 emissions:
'There will be a time when we are all gone and forgotten, and the only thing left of us will be those greenhouse gases that we more or less unwittingly sent up into the atmosphere. On the way to work. At the supermarket. At the shopping centre. Or on the way to a TV recording in Tokyo.'
This jeremiad, be it in Greta's or Malena's mouth, is too familiar, too parrotted, too generic. We read of the unsustainability of modern life: of the supermarkets stocked with items from around the world and of the air-conditioned hotels in near desertified statelets. But we read nothing of what makes this family's take different. And nothing that tells us of Greta the individual. No doubts. No off-piste thoughts. Nothing that intimates any momentary dissent from the familiar neo-Malthusian script of overconsumption and unsustainability.
Worse still, even Greta's Asperger's ceases to be a concrete and a particular psychiatric condition. First, Malena collapses it into the 'ADHD and autism diagnoses [among Swedish children that] have each more than doubled in the past five years'. And she then suggests that this 'mental-health crisis' is both a product and an indictment of modernity. These young people are breaking down, she argues, because they can't cope with the 'sick' demands and values of modern life.
They see, as Greta did at school, 'a film about how much rubbish there is in the oceans', and they cry throughout. But then when the film finishes, their duped peers take their iPhones 'out of fur-trimmed down jackets', and talk about holidays to New York and shopping trips to Barcelona. And those children like Greta, who are not mentally adapted to modern life, who have not yet conformed to the demands of consumption and competition, cannot cope. They start crying and want to go home. 'But going home isn't an option because here in the school cafeteria you have to eat dead animals and talk about fashion, celebrities, make-up and mobile phones.' Their peers know they and their parents are destroying the planet, but they carry on as if they aren't. And more and more children, like Greta, are breaking down in consequence. As Malena writes of Greta's own Asperger's-induced crisis:
'What happened to our daughter can't be explained simply by a medical acronym, a diagnosis or dismissed as "otherness". In the end she simply couldn't reconcile the contradictions of modern life. Things simply just didn't add up.'
It is all very disconcerting. From her breakdown, to her recitation of carbon-emission facts, the Greta that emerges in Our House is on Fire doesn't feel like an individual. She feels like a fictional device. A God's fool-style character, descended down to Earth to expose our folly. Which is exactly what her own mother conjures her up as:
'She saw the invisible, colourless, scentless, soundless abyss that our generation has chosen to ignore; the greenhouse gases streaming out of our chimneys, hovering upwards with the winds and transforming the atmosphere into a gigantic, invisible garbage dump. She was the child, we were the emperor. And we were all naked.'
Perhaps Greta is as happy playing this role, as Our House is on Fire suggests she is. Certainly, by the end, as she's sat outside Sweden's parliament in August 2018, we are told that she is smiling a 'secret smile'. But even then, we are no closer to Greta the individual. She remains, as ever, at the mercy of a script and a narrative that is not her own.
Tim Black is a spiked columnist.
To enquire about republishing spiked's content, a right to reply or to request a correction, please contact the managing editor, Viv Regan.