The worrying rise of 'catastrofashion'
The coronavirus outbreak arrives at a time when it is trendy to be hysterical about everything.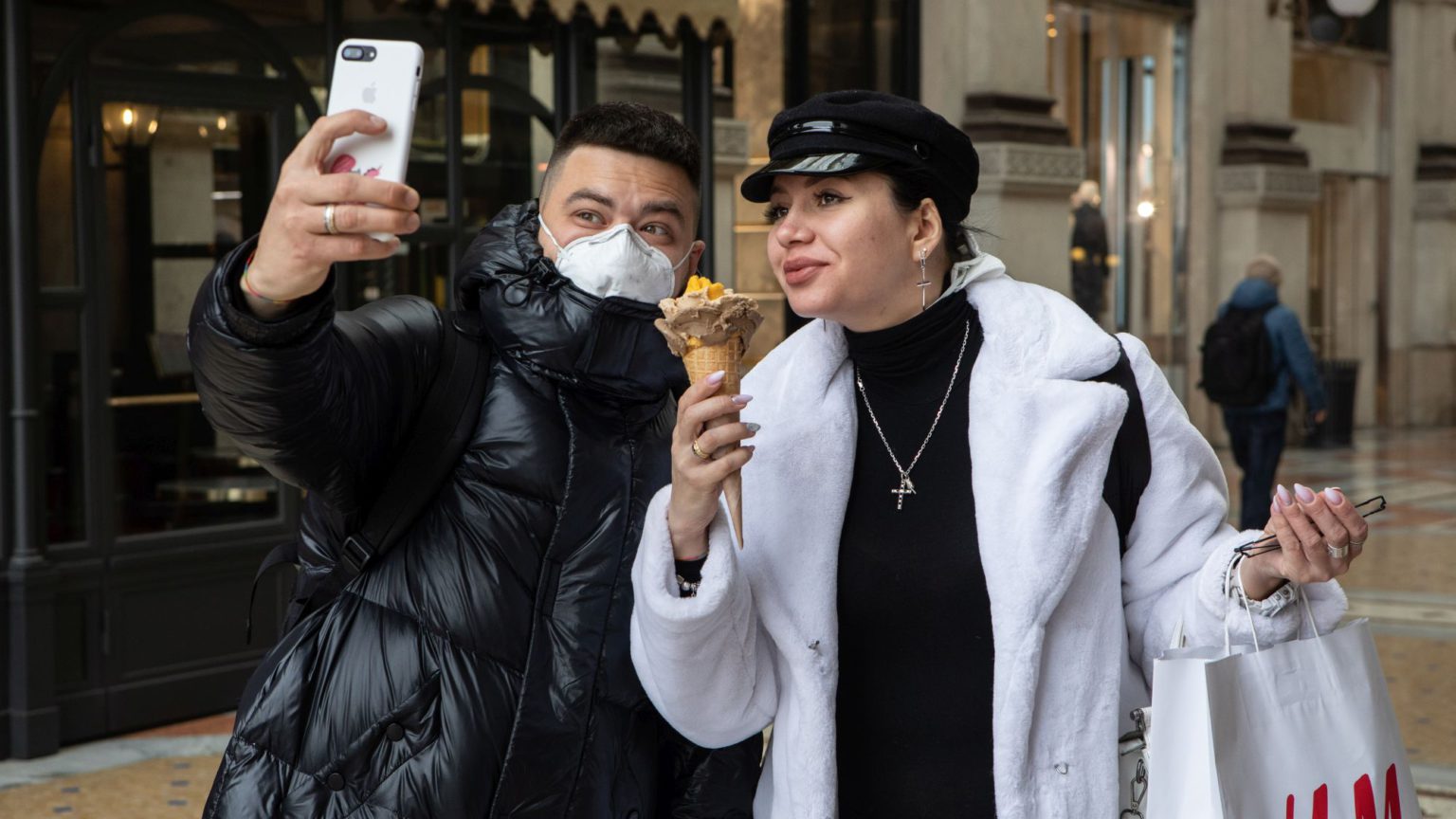 Forget virtue-signalling – the latest online trend is catastrofashion.
Thanks to the outbreak of coronavirus, quarantine selfies and selfies with masks have become the fad du jour on Instagram. Photo galleries are popping up all over the internet of homemade masks using anything from Tesco carrier bags and paper cups to asbestos-soaked Soviet-era gas masks. Sadly, fashioning a muzzle from household waste, Art-Attack-style, performs no other function than making its wearer look like an attention-seeking lunatic.
A stroll around London suggests the majority of people sporting extreme Covid-19 prevention gear are the same kind of people who gridlocked the capital by joining Extinction Rebellion's trance-yoga protests. Similarly, the Remoaners permanently protesting on College Green in Westminster no longer have Brexit to wail about and need a new reason to go down to Hobbycraft to indulge in some DIY fancy dress. Along came a pandemic just in the nick of time.
For a certain section of society, there is always a crisis on the horizon, whether it's the climate emergency or Brexit. And they need us all to know they are worried about it. Coronavirus is undoubtedly dangerous, but there are serious consequences to the hysteria, too.
The usual supermarket sweeps are taking place as fearful faddists stockpile every last supply of hand sanitiser, toilet roll, paracetamol and can of preserved foods. No thought is given to those who might genuinely need those products and will now find the shelves totally empty. Meanwhile, a lifetime's supply of Andrex and Cuticura clog up loft conversions across the country.
Thanks to panic buying, there is now a worldwide shortage of face masks. Price-gouging has become so bad that Facebook and eBay are banning users from listing them – some eBay bids have been for over $200. Masks themselves do very little to stop ordinary folk going about their daily lives catching the virus. The panic buying of masks, however, is causing problems. It actively reduces critical supplies for frontline medics and the infected at the epicentre of the pandemic. The US Surgeon General has resorted to tweeting 'STOP BUYING MASKS!' in capitals amid growing concerns that vital medical supplies won't be readily available for those who actually need them.
Some people are so engulfed in coronavirus panic that they feel the need to walk around like the missing member of Daft Punk. You would think, given their coronavirus obsession, those same people might have spent a bit of time on the internet doing some research. They might have found out that washing your hands and not touching your face are the most effective measures against infection. Fumbling with a spittle-soaked cloth over your gob after riding the tube, on the other hand, is probably more likely to transport pesky microbes to exactly where you don't want them to be.
Although coronavirus is incredibly serious, it arrives at a time when there seems to be a craving for catastrophe. For several years now, it feels like we have been lurching from one impending crisis to the next. Perhaps these crises, real and imagined, help to cultivate an otherwise missing sense of purpose for some people.
The fact that catastrofashion seems to afflict the metropolitan middle classes more than anyone else is notable. The real world might not be coming to an end but perhaps these catastrophes are a symbolic reflection of their world being seriously challenged. The march of populism across the West is being driven by ordinary men and women fighting back at the ballot box against the dominance of a comfortably-off cohort which imposes its narrow worldview on every art form, media platform and political party. Those who are still reeling in shock over the audacity of Brexit and Trump had been advertising their misery with public performance art long before the coronavirus hit.
Every era has some form of 'catastrofashion' and doomsday cultists. Brexit, the climate emergency and now coronavirus have acted as open invitations for the same self-absorbed, healthy, affluent and privileged few to warn us that the end is nigh unless we listen to them.
Alexandra Phillips is a former Brexit Party MEP for South East England.
Picture by: Getty
To enquire about republishing spiked's content, a right to reply or to request a correction, please contact the managing editor, Viv Regan.